Pumpkin Patch Focaccia Bread for HALLOWEEN
The Starving Chef is supported by Hungry People like you. When you make a purchase through an affiliate link on my site, I may earn a little bit of cash on the side (at no extra cost to you) to help keep my kitchen running. Read our disclosures here.
Focaccia garden bread can be made into a Halloween treat! Inspired by all things spooky, this easy focaccia is the perfect side for your Halloween dinner.
Topped with sweet potatoes cut to look like Jack-O-Lanterns, this focaccia is a fun way to create your very own tasty pumpkin patch right at home.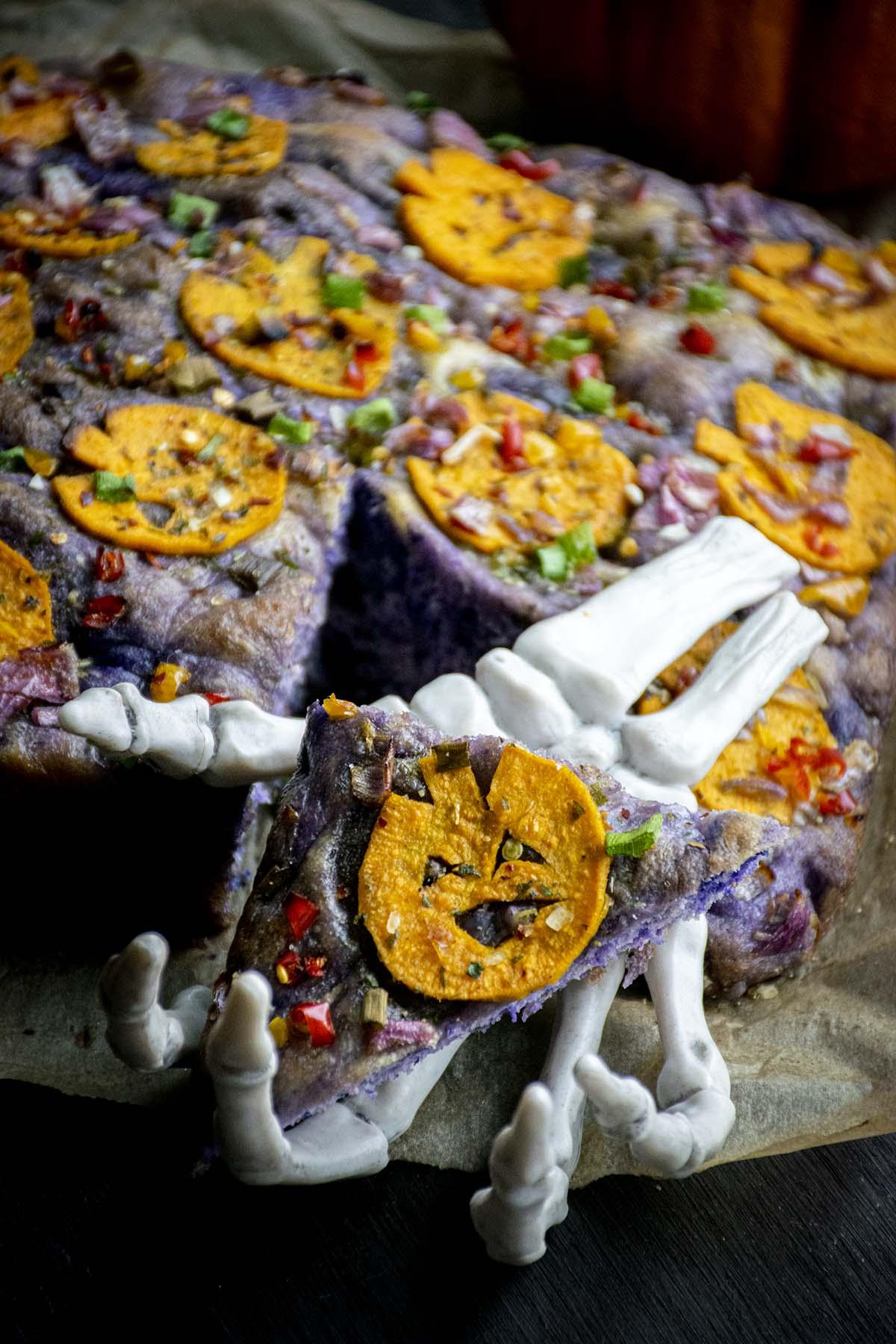 Rise, Rise, RISE from the Bread
Focaccia bread requires yeast to get a nice bubbly rise. Big bubbles and holes in the bread are telltale signs of a perfect focaccia.
In order to get the bubble party started you will need to resurrect your yeast from the dead with the help of luke warm water and a pinch of sugar. Big bubbles should start forming as your yeast comes back to life!
It's also helpful once you've made your dough to use a square box to rise the dough. This will help it hold it's shape on the pan and fill it all the way to the edges. You can use a round bowl to let the dough rise as well, but you will more likely end up with a oval shaped loaf.
Tempting Toppings
Picking the perfect toppings for your focaccia pumpkin patch is easy! Ingredients like sweet potatoes and peppers are best on focaccia before it's baked so that they bake their flavors into the bread directly. Other seasonings like the Green Goddess blend from Trader Joes add notes of savory flavor throughout the focaccia.
sweet potatoes – cut into Jack-O-Lantern faces, these add bright orange color and sweet flavor
Green Goddess seasoning – if you can't get to a Trader Joes for this delicious blend, you can combine garlic powder, onion powder, salt, lemon pepper and dried parsley for a similar flavor profile (see below)
ramp/garlic salt – seasoned salts are great for matching against sweeter flavors. I used a local brand of ramp salt but garlic and onion salts can be found in most spice aisles.
bell peppers – for added colors use red, yellow and orange mini bell peppers
green onion & red onions – bites of savory are added when onions are in the mix
demerara sugar – crunchy, sugary bits add texture and pops of sweetness
honey – for drizzling on top at the end!
purple food coloring – really adds an extra "WOW" factor when it's unnaturally colored
Making Sweet Potato Jack-O-Lanterns
No pumpkins are involved in this pumpkin patch! For my "pumpkins" I used sweet potato slices!
Carefully use a parring knife to cut triangle notches into a handful of pieces of sweet potato slices. I found it was actually easier for me to do them one at a time rather than try to attempt to cut the sweet potato whole first and then slice into individual pumpkins.
Out of my approximately twenty slices of sweet potato, I cut the triangle faces into about half of them. You can be more (or less) ambitious than I was in my carving attempts.
I then tossed the slices in olive oil and a touch of Green Goddess seasoning before adding them to the dough after it's first rise.
For the Green Goddess Seasoning Blend, here is a copycat recipe that will yeild about a half cup – this can be stored in an airtight container for up to a year:
2 tablespoons dried parsley
1 tablespoon garlic powder
1 tablespoon onion powder
1/2 tablespoon dried minced garlic
1/2 tablespoon dried minced onion
1 teaspoon lemon pepper
1 teaspoon sea salt
Happy Halloween!
Pumpkin Patch Focaccia Bread for HALLOWEEN
Topped with sweet potatoes cut to look like Jack-O-Lanterns, this focaccia is a fun way to create your very own tasty pumpkin patch right at home.
Ingredients
FOR PRE-BAKED TOPPINGS:
1

sweet potato

sliced

1

mini multi color sweet bell peppers

chopped

¼

red onion

finely minced

1

tablespoon

Green Goddess seasoning blend

½

tablespoon

garlic salt

or ramp salt

2

green onions

chopped

2

tablespoons

olive oil
FOR AFTER-BAKED TOPPINGS:
1

tablespoon

demerara sugar

1

tablespoon

honey

drizzled

1

teaspoon

Green Goddess seasoning

sprinkled

1

tablespoon

olive oil

drizzled

1

teaspoon

red pepper flakes

optional, to taste

1

teaspoon

salt

to taste
Instructions
In a large bowl of a stand mixer, whisk together the warm water, yeast, sugar and salt. Let sit until foamy and bubbly, about 10-15 minutes.

Whisk in the purple food coloring until the liquid is purple. Then with the stand mixer running on the lowest setting, begin to add in the flour 1/2-3/4 cup at a time until it forms a shaggy, wet dough. Slowly pour in the olive oil before the last cup of flour. The dough will be very wet and sticky.

Dust a clean, flat surface with flour. Tip the dough out onto the floured surface and lightly knead until a smooth dough ball begins to form. The dough will still be wet and feel loose.

Transfer the dough ball into a greased square container, cover with plastic and then proof in a warm spot for about 60 minutes or until doubled in size. The dough should have large air pockets in it.

When the dough has doubled in size, tip the dough onto a greased 9×13 baking pan lined with parchment paper or a silicone mat. Rise for additional 30 minutes.

While the bread rises for a second time, preheat the oven to 425°F. Cut the sweet potato slices into mini Jack-O-Lanterns. Place all of the sweet potato slices into a small bowl and add about a tablespoon of olive oil and a half tablespoon of Green Goddess seasoning. Toss lightly until the slices are coated evenly. Mince the peppers and red onion. Chop green onions down to the whites.

Lightly press the sweet potato slices into the surface of the focaccia bread. Sprinkle on the minced peppers and red onion along with about half of the green onion. Drizzle with olive oil.

Pop the focaccia into the oven and bake until puffed up and just beginning to brown – about 20-25 minutes. Remove from the oven and allow to cool for 30 minutes before attempting to remove from the pan.

Once the focaccia is mostly cooled, drizzle on the remaining olive oil and honey. Then sprinkle on demerara sugar, more Green Goddess seasoning, ramp salt and red pepper flakes (to taste). Slice when cooled and enjoy! Chill any remaining bread in an airtight container for up to a week. Happy Halloween!