Easy Homemade Shrimp Po'Boy with Rémoulade Sauce
The Starving Chef is supported by Hungry People like you. When you make a purchase through an affiliate link on my site, I may earn a little bit of cash on the side (at no extra cost to you) to help keep my kitchen running. Read our disclosures here.
What's Up, Hungry People!
I'm pretty much a sucker for Southern cooking, especially with Mardi Gras coming up fast! I've never had the chance to party it up in the South for this occasion, but hey, we Ohio folks have got our fish fry game on point too.
For Fat Tuesday this year, I'm definitely planning on stuffing my face with as much fried seafood as I possibly can – including making these crazy easy corn breaded shrimp po'boys with a spicy rémoulade sauce and pickles on top.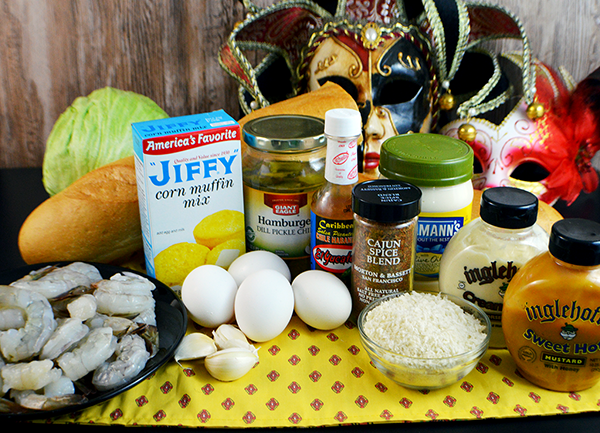 Here's What You Need
Raw shrimp: The star of the show, providing the protein and sea-flavored richness that makes a po'boy a po'boy.
Corn muffin mix: Used for breading the shrimp, it brings a Southern touch and a hint of sweetness to the crust.
Eggs: Act as the binding agent for the breading, ensuring that the corn muffin mix and panko stick to the shrimp.
Panko bread crumbs: Adds an extra layer of crunch to the shrimp, making them irresistibly crispy.
Mayonnaise: The base for the rémoulade sauce, giving it a creamy texture that balances the spiciness.
Garlic: Minced and mixed into the rémoulade for a subtle, aromatic kick that complements the creamy mayonnaise.
Horseradish sauce: Adds a spicy, tangy zing to the rémoulade, elevating its flavor profile.
Sweet hot mustard: Offers a combination of sweetness and heat, enhancing the complexity of the rémoulade sauce.
Cajun spice blend: Brings in the heat and Southern flair to both the shrimp breading and the rémoulade sauce.
Louisiana hot sauce: Intensifies the heat in the rémoulade, making it more vibrant and exciting.
Salt & pepper: Basic seasonings to bring out the natural flavors in all the other ingredients.
French baguette: Serves as the vessel for the po'boy, offering a chewy crust and soft interior.
Dill pickle chips: Adds a tangy crunch, offering a contrast to the creamy and spicy elements in the sandwich.
Shredded lettuce: Provides a fresh, crisp texture, balancing out the richness of the fried shrimp and creamy rémoulade.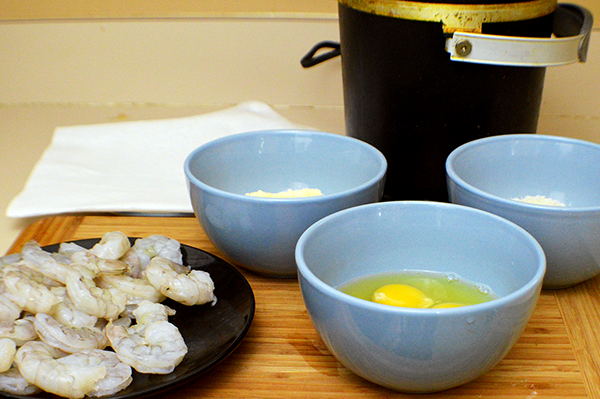 Let's Cook!
I went with cornbread mix for my shrimp breading because it brings in that Southern flair. To really make each shrimp pop, I dipped them in a dry cornbread mix, followed by eggs, and then back into the cornbread. For the final touch, I gave 'em a roll in panko bread crumbs to add that extra crunch.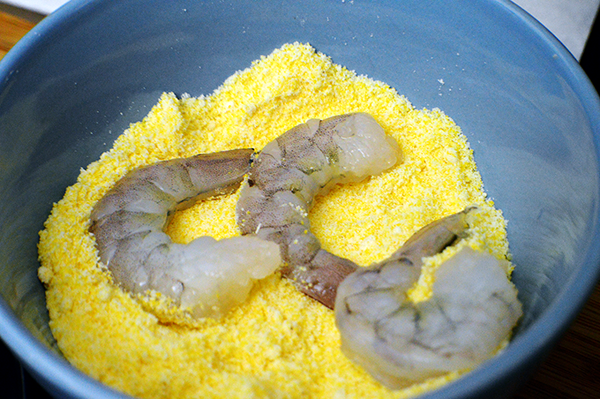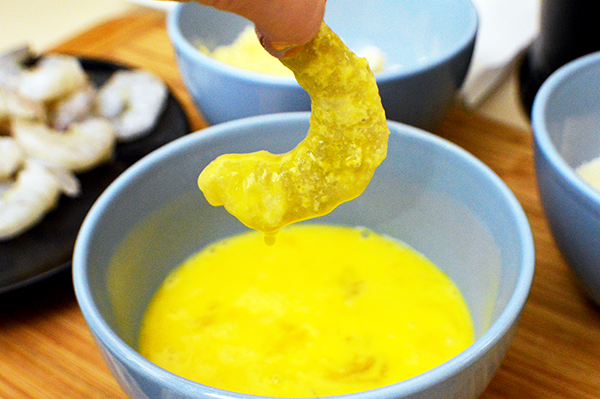 The Cooking Process
I'm lucky enough to have a Fry Daddy deep fryer, and that's what I used to deep-fry my shrimp. But don't worry if you don't have one! Just fill a large pan with a few inches of vegetable oil. Ensure the oil gets to at least 350°F for that perfect cooking environment. You'll know your shrimp is ready when they sport a beautiful golden-brown hue.
The Quick and Spicy Rémoulade
For the rémoulade, I mixed together mayo, spicy mustard, horseradish sauce, and a sprinkle of Cajun spices. It's quick, simple, and packs a punch!
A Tip About the Rémoulade
While the shrimp are getting all crispy, that's the perfect time to whip up your rémoulade. It's your call whether to chill it, but I've found that letting it sit for a bit helps those flavors meld together even better.
Tips for a Perfect Shrimp Po'boy
Check Shrimp Size: The recipe calls for raw shrimp, but make sure they're all relatively the same size for even cooking.
Don't Overcrowd the Fryer: Fry the shrimp in batches to maintain the oil temperature and achieve that golden-brown perfection.
Testing Oil Temperature: If you don't have a thermometer, you can test the oil by dropping in a small piece of bread; if it sizzles immediately, it's ready.
Alternative to Deep Frying: If you're looking to cut calories, try air frying the shrimp. The texture won't be exactly the same, but it'll still be delicious.
Fresh vs. Dried Herbs in Rémoulade: Fresh herbs will give a brighter flavor, but dried herbs are more convenient and have a longer shelf life.
Prep Ahead: You can make the rémoulade sauce a day ahead to let the flavors meld together more.
Storing Leftovers: If you've got leftover fried shrimp, store them separately from the bread and fixings to avoid sogginess.
Reheating Tips: To bring back the crispiness of the fried shrimp, reheat them in an oven at 350°F for about 10 minutes.
Sauce Consistency: If your rémoulade seems too thick, you can thin it with a little lemon juice or water.
Adjusting Spice Levels: Feel free to dial down the Cajun spice or horseradish sauce if you're sensitive to heat, or crank it up if you like it fiery!
Bread Options: If you can't find a French baguette, a hoagie roll or ciabatta will also work well for this po'boy.
Assembly and Enjoy!
To bring it all home, stack those fried shrimp on some good old French bread, and layer on the pickles and lettuce. Slather on that rémoulade, and you've got yourself a Mardi Gras masterpiece!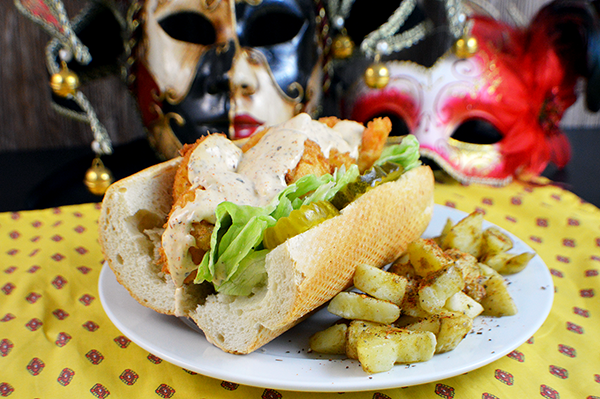 And that's the lowdown, Hungry People!
This shrimp po'boy is a straight-up flavor bomb, with each ingredient playing its part to make your Mardi Gras feast a hit. With crispy shrimp, spicy rémoulade, and all the fixings, it's a party for your taste buds. Trust me, this one's a keeper. Until next time, keep those fryers hot and your spirits high! Enjoy!
Mardi Gras Shrimp Po'Boy with Rémoulade Sauce
Dive into Mardi Gras with this easy-to-make shrimp po'boy featuring a spicy rémoulade sauce and all the classic fixings!
Instructions
Heat oil in a deep fryer or large pot until it reaches 350°F.

Peel and devein the shrimp. Roll the shrimp in the corn muffin mix, then dunk in the whisked eggs. Roll once more in the corn muffin mix, then dunk in the eggs again. Let the excess drip off, then roll the breaded shrimp in panko bread crumbs. Repeat with all the shrimp.

In batches of four to five, add the shrimp to the hot oil and deep-fry until golden brown, about 1-2 minutes.

Cut the French baguette into 4 servings and slice each serving in half lengthwise. In a small bowl, stir together the mayonnaise, minced garlic, horseradish sauce, sweet hot mustard, Cajun spice blend, and Louisiana hot sauce. Chill until ready to serve.

Arrange the shrimp on the sliced French baguette. Add shredded lettuce and dill pickle chips. Top with the rémoulade sauce, serve right away, and enjoy!