Sploosh Recipe: Diggin' Up the Magic of 'Holes' with Onions & Peaches
The Starving Chef is supported by Hungry People like you. When you make a purchase through an affiliate link on my site, I may earn a little bit of cash on the side (at no extra cost to you) to help keep my kitchen running. Read our disclosures here.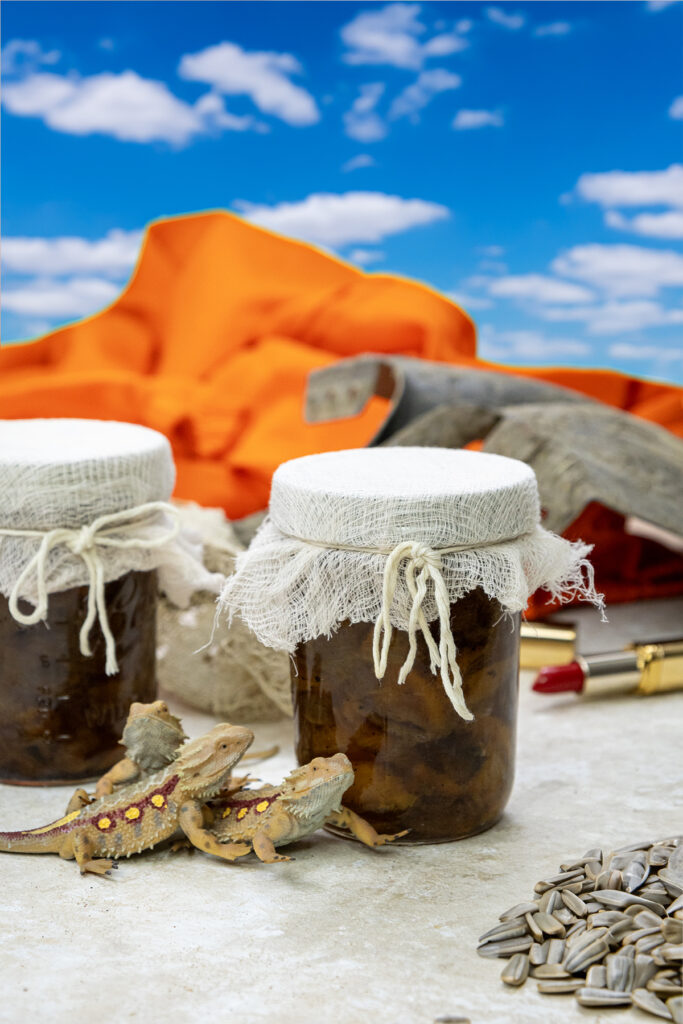 What's Up, Hungry People
Today we're recreating one of the most sought-after recipes featured in both a famous book AND movie: SPLOOSH.
Just a heads up – there will be spoilers for the 2003 movie Holes in this post.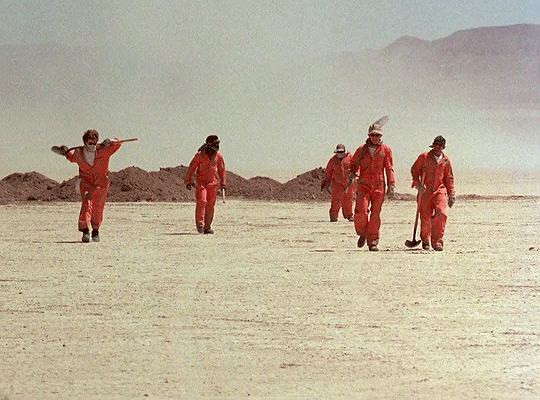 If you don't know what I'm talking about, you obviously were a budding teenager in the late nineties and early aughts. Louis Sachar's Holes was practically required reading for most middle schoolers – and when it was made into a movie in 2003, its popularity was secured as one of the best movies of my childhood.
In the story, Stanley Yelnats is sent to a camp for juvenile delinquents for allegedly stealing a pair of celebrity shoes from a homeless shelter. He didn't do it, of course, but he's still sent to Camp Green Lake nevertheless.
It's all because of that dang Yelnats family curse.
While at camp, Stanley is forced to dig holes for the warden who has been looking for something hidden in the desert since she was a child.
The story flashes back several times to hundred-year-old storylines that are important to the modern-day characters. One such set of characters is Kate Barlow and Sam – two lovers from the town of Green Lake who have the odds set against them. Charles "Trout" Walker (the granddaddy of Camp Green Lake's current warden, Louise Walker) only makes the situation worse by being jealous of their relationship, and he sets out to murder Sam – which unfortunately, he is successful in doing, letting Sam's boat sink with his fresh onions and canned peaches from Kate still on board.
Over one hundred years later, those same canned peaches would be found by Stanley and Zero as they sought out shelter from the sweltering heat after escaping from camp. Zero drinks the concoction and calls it "Sploosh."
The Secret is in the Peaches and Onions
It's heavily implied in the story that Kate's spiced peaches were perfect and better than anyone else's canned peaches.
"Every summer Miss Katherine would pick bushels of peaches and preserve them in jars with cinnamon, cloves, nutmeg, and other spices which she kept secret. The jarred peaches would last all winter. They probably would have lasted a lot longer than that, but they were always eaten by the end of winter."

Holes, Chapter 23; Louis Sachar, 1998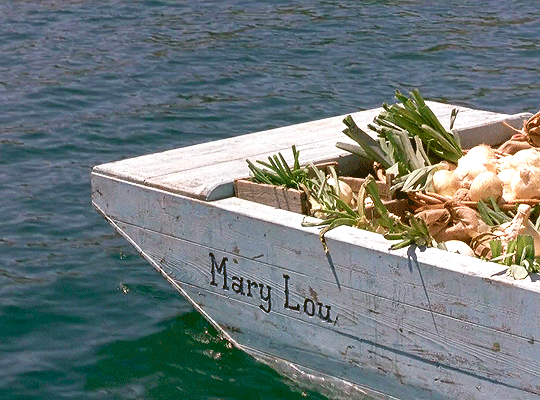 I'd like to think that Kate used Sam's fresh onions that he picked up in the mountains to sweeten and preserve her peaches – and that's what made them the best!
Here's What You Need
Peaches in heavy syrup: The star of the show, adding natural sweetness and luscious texture.
Sweet onion: Caramelized to perfection, lending deep, rich flavors to the dish.
Honey: Infuses a delicate, golden sweetness that balances the tanginess.
Brown sugar: Deepens sweetness and creates a delightful caramel undertone.
Cinnamon stick: Adds warm and aromatic notes to the Sploosh mixture.
Ground cloves, nutmeg, and allspice: A medley of spices for complexity and warmth.
Apple cider vinegar: Balances flavors and enhances the overall taste profile.
Salt and black pepper: Elevates and harmonizes the dish's flavors.
Olive oil: Sautes onions and contributes a light, fruity base to the sauce.
Let's Cook!
To make Kissin' Kate Barlow's spiced peaches, first we'll need to grab a few onions from Sam. Sam's sweet onions are surely the secret behind the peaches' incredible flavor.
Simply sauté the onions until they are golden brown and caramelized – this process will take about an hour to really bring out the sweetness of the onions and get them nice and browned. Once the onions are sweet and tender, peach syrup, brown sugar, and a sprinkling of aromatic spices are all you need to make the best peaches in Green Lake.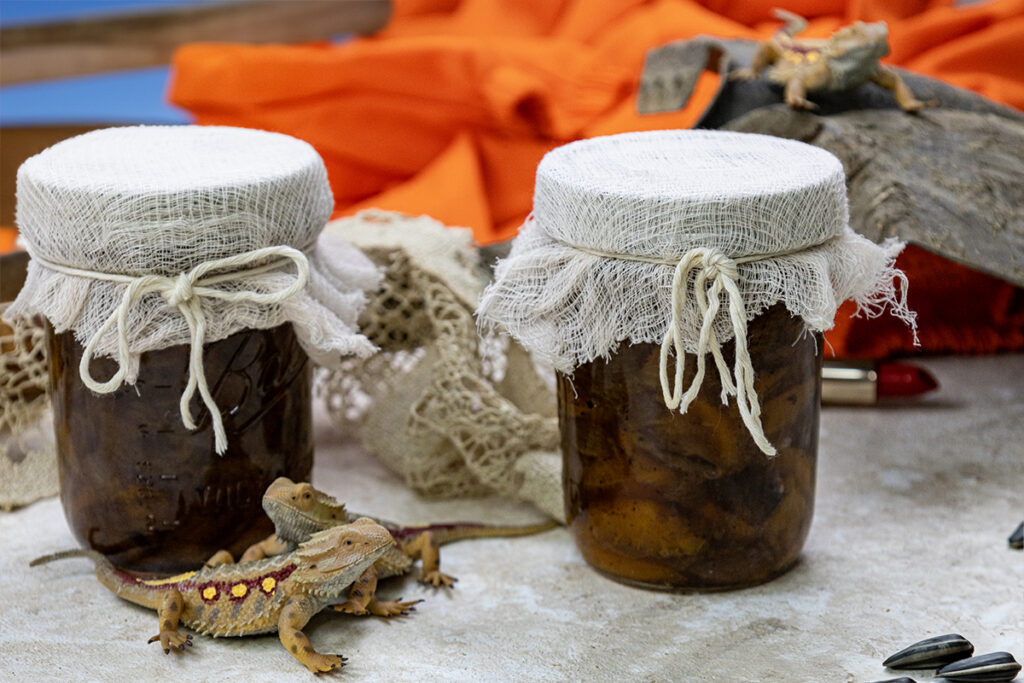 If you want to emulate the peaches being hidden away in cans stowed beneath the boat in the middle of a dried-up lake bed, you can pop the peaches with the sweet onion sauce into a pressure cooker and lightly pressure cook the peaches until they reach the perfect "aged" consistency.
Dig It Up, Dig It
Once the peaches and onions have been melded into one delicious spiced mixture, the peaches can be transferred to mason jars and stored in the fridge for up to a week – or canned under pressure and stored indefinitely at room temperature.
These peaches are absolutely delicious – and would be even better served as a marinade rather than a drink (or as a way to deodorize your sneakers!)
Just make sure, however you eat them, that you avoid the poisonous yellow-spotted lizards that may be lurking about.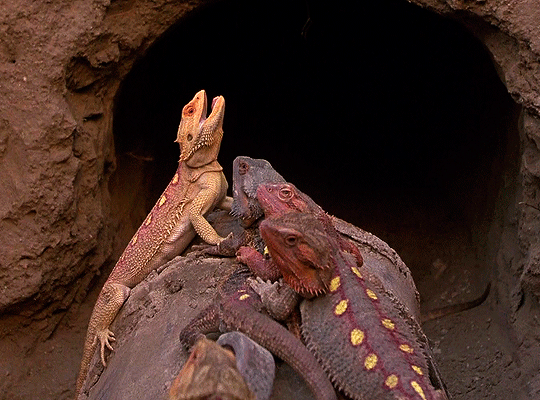 When it comes to fictional feasts, this one has long been on my list of recipes to recreate – and after dozens of requests to make sploosh over on TikTok, I knew it was something I absolutely had to do.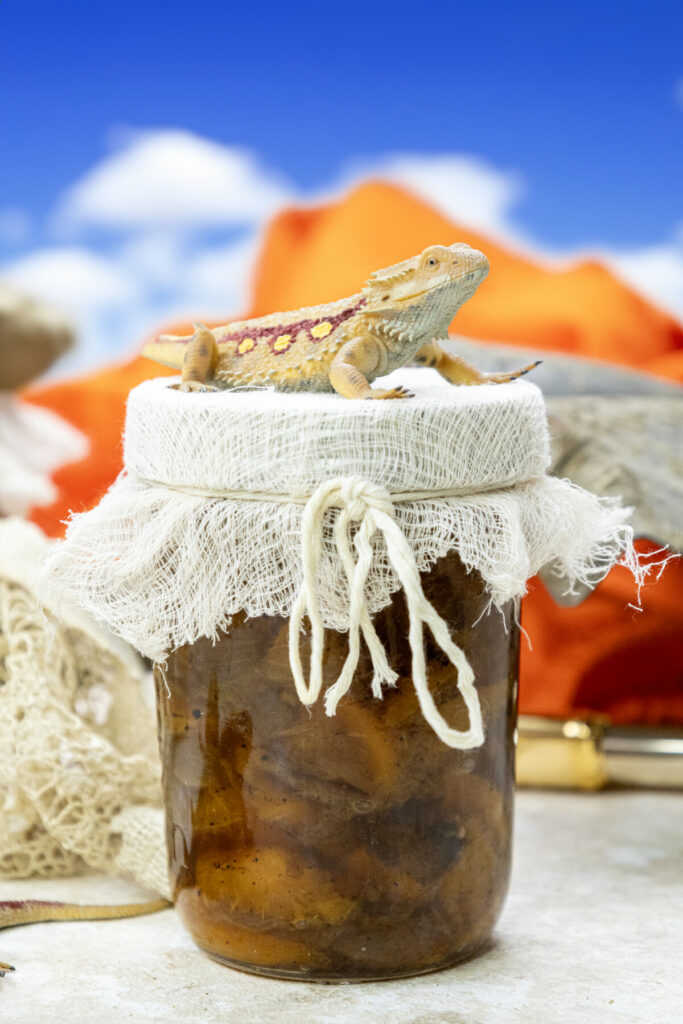 And that's a wrap, folks!
We've cooked up a taste of adventure straight outta "Holes" – where spiced peaches and sweet onions bring the movie magic to your plate.
Imagine digging those holes with Stanley and Zero while savoring every bite of our very own Sploosh creation… or maybe don't, since that would mean you have to go to Camp Green Lake and hang out with Mr. Sir.
What fictional feasts should I make next? Leave your requests below!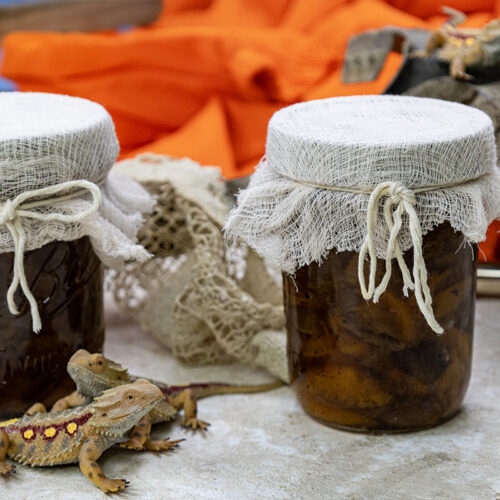 Kissin' Kate Barlow's Spiced Peaches (aka "Sploosh" from Holes)
Indulge in the nostalgia with a captivating Sploosh recipe, a blend of caramelized onions and spiced peaches inspired by the beloved story of Holes.
Instructions
Heat the olive oil over medium-high heat or until the pan reaches 320°F. Add the chopped onions and sauté until the onions are just starting to brown, about 15 minutes. Season with salt and pepper and continue sautéing, stirring occasionally, until the onions are deeply browned and sweetened – about one hour.

Once the onions have caramelized, add the peach syrup, brown sugar, honey, ground nutmeg, ground cloves, allspice, and the cinnamon stick to the pot. Stir well to combine.

Place the peaches into the pot of a pressure cooker and pour the onion sauce over the peaches so they are completely coated. Pressure cook the peach mixture for 10 minutes.

After pressure cooking, carefully transfer the peaches to glass mason jars and allow them to cool to room temperature.

Serve the Sploosh as a refreshing drink, pick out the peaches for a snack, or use it as a flavorful marinade for your favorite meats. Enjoy!