Vegetable Ribbon Pie
The Starving Chef is supported by Hungry People like you. When you make a purchase through an affiliate link on my site, I may earn a little bit of cash on the side (at no extra cost to you) to help keep my kitchen running. Read our disclosures here.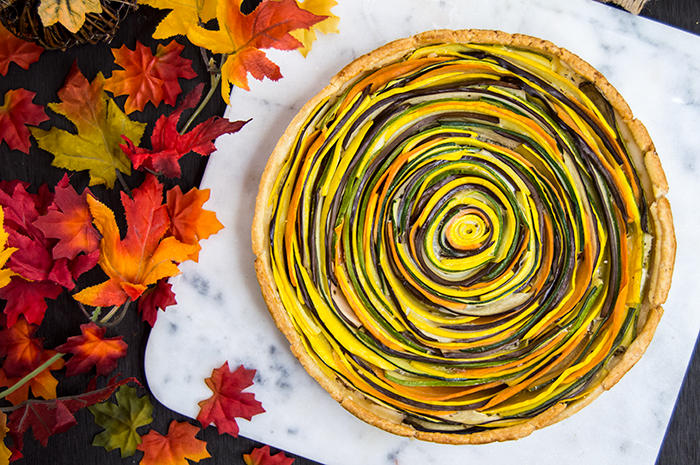 Fall is in full swing. My garden is on its last legs of the season but is still dutifully pumping out eggplants, zucchini and squash.
In order to use it all up before it goes rotten, I decided to make it into a beautiful ribbon veggie pie.
Inspired by a Tasty recipe, I decided to put my own twist on the pie by giving it a creamy hidden filling. To achieve perfectly thin slices, you can use a mandoline – or if you are extra patient, you can also use a vegetable peeler or even just a very sharp knife.
This pie is certainly a show stopper – and it only LOOKS difficult to do. With a little patience, you could be making the same pie on the Great British Bake Off next season. Just make sure you don't have a soggy bottom!
For the pie crust, you can make your favorite recipe from scratch or just do what I did and buy the premade variety. With a topping so perfect, no one will even notice you didn't make the crust from scratch.
Even the side shots are glorious. It's like a delicious redeux on ratatouille – in pie form!
Vegetable Ribbon Pie
This vegetable ribbon pie is certainly a show stopper – and it only LOOKS difficult to do.
Ingredients
1

Chinese eggplant

cut into thin slices

1

small zucchini

cut into thin slices

1

small yellow squash

cut into thin slices

1

sweet potato

peeled & cut into thin slices

½

cup

cream cheese

¼

cup

Parmesan cheese

1

tablespoon

fresh thyme

1

tablespoon

fresh oregano

1

pie crust

raw or homemade equivalent

3

tablespoons

olive oil

for drizzling

1

tablespoon

salt

for dehydrating veggies

1

tablespoon

water + 1 egg white

whisked

1

cup

creme fraiche

for topping
Instructions
Preheat the oven to 400 F. Using the mandoline slicer (or peeler; or knife) slice all of the vegetables to 1/16th inches thin. Arrange the slices in an even layer, season with salt and pat the veggies dry with a paper towel. Let air dry for another 15 minutes and blot again with paper towels.

While the veggies dry, in a small bowl, beat together the cream cheese, parmesan cheese and oregano and thyme. Press the pie crust into a pie tin or spring-form pan so that it has about a inch-high sides. Trim as needed.

Brush the pie crust with the eggwash mixture. Blind bake for about 5-8 minutes, until the pie crust no longer appears wet.

Spread the cream cheese and herb mixture onto the bottom of the pie crust in an even layer. Starting from the outside and working your way inwards, place the sliced veggies in an overlapping and alternating pattern until they have filled the entire pie crust. You may have extra pieces left over.

Cover the pie with foil and bake for 20 minutes then remove the foil and bake for another 10-15 minutes, until the pie crust is golden brown and the veggies are cooked through. Serve with creme fraiche and enjoy!