Slow Cooker French Dip Sandwich
January 18, 2016 | Roast Beef, Au jus
The Starving Chef is supported by Hungry People like you. When you make a purchase through an affiliate link on my site, I may earn a little bit of cash on the side (at no extra cost to you) to help keep my kitchen running. Read our disclosures here.
Super Hungry? Jump to the Recipe
I've been on a search to find a perfect french dip. Whenever I see it is an option on a menu at any restaurant, you can be sure that's what I'm getting. What's rare, however, is that sandwich meeting my standards to what I expect a french dip sandwich to be. For me, a french dip sandwich needs meat that won't make the bread soggy and therefore pointless to dip into the au jus. And what's even more important - the bread itself must be thick enough to absorb the au jus but still remain crunchy on top.
You wouldn't think that these standards would be hard to meet, but in my lifetime, I've perhaps had two french dips that left me wanting more; and for the life of me, I cannot remember where either of those experiences took place. So I took it upon myself to create the perfect french dip sandwich, with the least effort possible.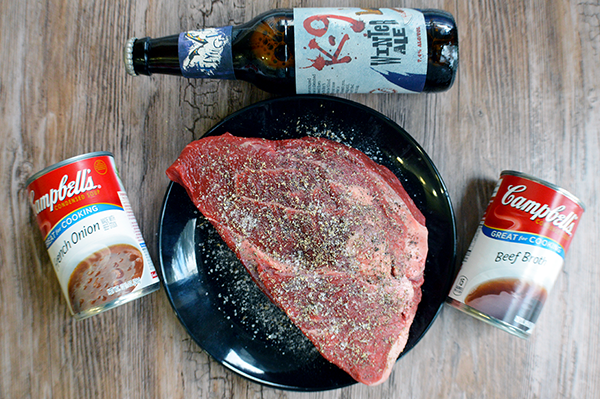 That's how I landed on slow cooking my roast rump. I decided to brine the rump in some beer then roast it in the cooker on low for a few hours in beef broth and french onion soup.
And really, that's all there is to this recipe! Just combine the beef with the broth and soup then cook to your liking.
I left mine in for five hours on low heat until the center of the roast reached a perfect 120 degrees.
Then I let the beef rest for about 15 minutes before cutting into it. While the general rule of thumb is to NOT let the beef dry out, in this instance, having a wet beef leads to a soggy sandwich.
When ready, slice the beef into thin strips if you prefer it chunky, or thick slices if you are into a slab of meat on your buns. I promise I'm not intentionally making this recipe sound dirty - it is French after all.
Serve the sliced roast on toasted ciabatta bread. Not traditional bread for french dips, you say? Well did you know that ciabatta bread was Italy's response to French bread we normally see? So really, ciabatta is inspired by the French, and that's all that matters to me to qualify calling this a french dip sandwich. Plus, ciabatta bread doesn't get nearly as soggy when dipped in au jus.
Shop this Post
Slow Cooker French Dip Sandwich
Prep Time: 15 minutes
Cook Time: 3 hours
Total Time: 3 hours 15 minutes
Ingredients
12 oz beer
10 oz canned French onion soup
10 oz beef broth
64 oz (4 lb) rump roast
ciabatta bread rolls, for serving
salt & pepper, to taste
Mouth Feel
Salty
Savory
Sour
Bitter
Sweet
Spicy
Instructions
Season the beef with a generous amount of salt and pepper. Place the rump into a slow cooker.
Pour in the beer and let the beef rest, with the cooker off, for about 10 minutes to brine in the beer. Then add the soup and broth until the beef is completely covered.
Cook on low for 4-6 hours OR on high for 2-3 hours. The internal temperature of the beef should be between 120-125 F.
Remove the roast from the broth and let rest and dry for about 10 minutes. Thinly slice the roast into strips.
Serve on ciabatta bread alongside a cup of the French onion and beef broth au jus. Enjoy!
Print