Jalapeno & Sweet Corn Tortellini Salad
November 1, 2017 | Tortellini, Jalapenos, Sweet Corn, Corn, Garlic Expressions
The Starving Chef is supported by Hungry People like you. When you make a purchase through an affiliate link on my site, I may earn a little bit of cash on the side (at no extra cost to you) to help keep my kitchen running. Read our disclosures here.
Super Hungry? Jump to the Recipe
It's tailgating season (...apparently, I don't sports) despite the fact that it's getting colder and colder. We may be officially out of the summer, but that doesn't mean we can't still pretend it's hot and sunny. If I have to watch sports, I prefer to be indoors anyways.
To reminiscence on warmer days, I made an easy jalapeno sweet corn tortellini salad. Something about a cold pasta salad always reminds me of summer.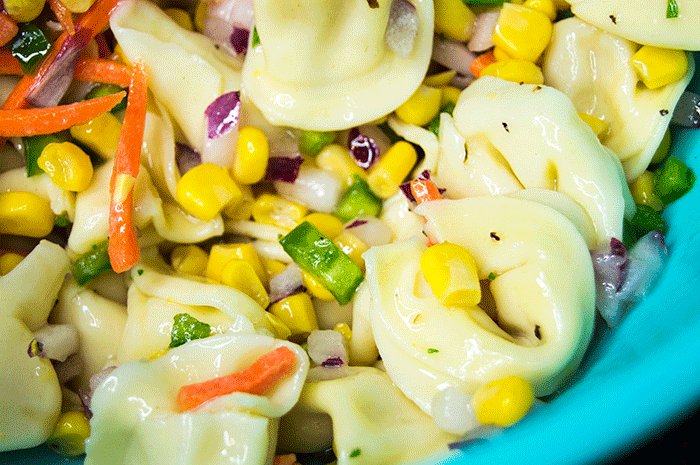 The sweetness of the corn alongside the heat of the jalapeno remind me of warm summer evenings in high school and tailgating in the parking lot before Friday night football games. I don't remember the food being half as good, or as "refined" as tortellini salad though.
We may just be on the threshold of a harsh winter, but I'm already dreaming of summer.
Shop this Post
Jalapeno & Sweet Corn Tortellini Salad
Number of Servings: 8
Prep Time: 15 minutes
Cook Time: 10 minutes
Total Time: 1 hour
Ingredients
1 package cheese tortellini
2 jalapeno, seeded & diced
1 small red onion, diced
1 cup sweet corn
½ cup carrot, shredded
1 cup Garlic Expressions dressing or your favorite garlic vinaigrette
Mouth Feel
Salty
Savory
Sour
Bitter
Sweet
Spicy
Instructions
Cook the tortellini according to the instructions on the package. Chop up the jalapeno and onion while the tortellini cooks. Drain the tortellini but do not rinse. Let rest in the strainer for a few minutes until a majority of the moisture is gone (make sure the water is out of the folds of the tortellini too!).
In a large bowl, combine the warm tortellini, jalapenos, red onion, carrots and sweet corn. Pour in half of the dressing. Stir everything together then chill for at least one hour or until ready to serve. Right before serving, add the remaining dressing - a lot will be absorbed into the tortellini. Add as much dressing as needed to suit your tastes. Enjoy!
Print