Alligator Sliders with Roasted Red Pepper Remoulade
The Starving Chef is supported by Hungry People like you. When you make a purchase through an affiliate link on my site, I may earn a little bit of cash on the side (at no extra cost to you) to help keep my kitchen running. Read our disclosures here.
It's time to meet the king of creole cooking: the alligator. A unusual meat in Ohio, sure, but a staple in many Southern states. And with Mardi Gras just around the corner, I'm in the mood for all things Southern.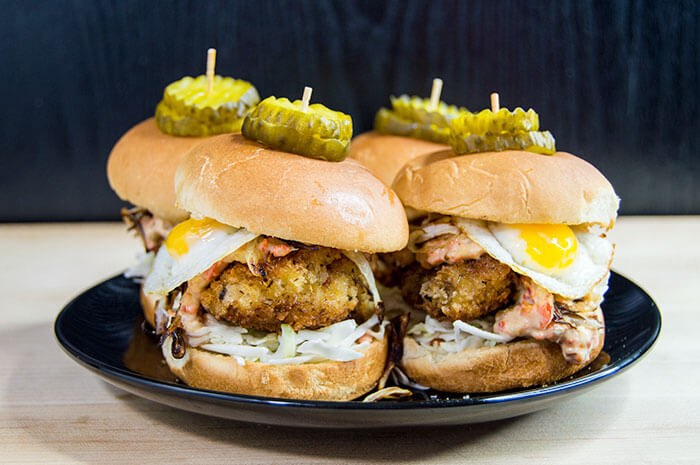 I managed to find some gator at Jungle Jim's and just absolutely had to try it. I'd compare it's taste to, what else, chicken – but with more of a steak-like consistency. I decided I wanted to make some easy gator sliders, complete with a tangy take on remoulade.
The remoulade itself is good on just about anything from gator to seafood, steak or chicken. I happened to have some leftover mini sweet peppers that had about two good days left in them. I popped them under the broiler until they were blackened and the outside skin peeled off easily.
I've made variations of remoulade sauce in the past, and it always turns out delicious. This time I blended the roasted red peppers along with mayonnaise, the base of remoulade, a touch of whole grain mustard, capers, celery, pickles and garlic. Pulse the remoulade until it's mostly smooth, but still has some nice chunks.
Meanwhile, if you're as into caramelized onions as I am, get those started now so they have plenty of time to get nice and browned.
For the alligator sirloin, I whisked together some panko with cajun seasoning. I wanted the filets to have nice, thick, crunchy crusts, so I dredged the gator first in flour, then in eggs, then into the panko and cajun blend. Let the sirloin rest in the panko crumbs while you preheat the oil – this way as the panko softens against the alligator meat and eggs, it's more likely to have other panko stick to it and therefore thicken the crust even more. I even flipped mine after letting it rest in the panko for about five minutes.
Alligator is similar to chicken where you definitely want to cook it through – there's no such thing as "medium rare alligator." Use a thermometer to make sure the internal temp reaches 160-165 F before removing the alligator from the skillet. Mine took about 8-10 minutes to cook through.
While I was at Jungle Jim's, I also picked up some quail eggs – something I had never tried or cooked with prior to making these! They were almost too cute to cook. If you can't get ahold of mini eggs for your mini burgers, no worries. You can fry up regular eggs too!
I assembled my sliders with some fresh shredded cabbage, remoulade, quail eggs, and some optional pickles to top them off. Use a toothpick to secure the sliders so they are extra portable at any Mardi Gras party! Let the good times roll!
Alligator Sliders with Roasted Red Pepper Remoulade
It's time to meet the king of creole cooking: the alligator.
Ingredients
16

oz

alligator sirloin

6

mini sweet red peppers

⅓

cup

mayonnaise

1

rib

celery

chopped

2

teaspoons

whole grain mustard

2

tablespoons

garlic

minced

1

tablespoon

capers

4

tablespoons

dill pickle slices

+ more for topping

1

cup

panko

3

tablespoons

Cajun spice blend

1

onion

chopped

4

quail eggs

3

eggs

1

cup

flour

¼

cup

vegetable oil

for frying

1

cup

shredded cabbage

slider buns

for serving

salt & pepper

to taste
Instructions
Arrange the red peppers on a foil lined baking sheet. Broil on high, flipping occasionally, until the peppers are blackened and puffy – about 5-10 minutes.

Remove the peppers from the oven and use tongs to remove the blackened skin. If cooked through, the skin should peel off easily. (If not, continue to broil.) Cut off the tops and squeeze out the seeds.

Place the peppers into a food processor with the mayonnaise, whole grain mustard, celery, capers, pickle slices, and minced garlic. Season with salt and pepper. Blend until mostly smooth, leaving chunks as desired. Chill until ready to serve.

Pour one tablespoon of oil in a hot skillet over medium heat. Add the chopped onions and cook until browned and caramelized, stirring occasionally for about fifteen minutes.

In a small bowl, whisk together three regular eggs. Have flour seasoned with salt and pepper in a separate bowl. In another bowl, stir together the panko and cajun seasonings. Pat the alligator sirloin dry, then dip into the flour until covered, then the eggs. Let the excess eggs drip off then place into the panko. Flip until completely covered. Let rest in the panko until ready to cook.

Preheat the oil over medium high heat in a large skillet. Place the breaded sirloins into the hot oil. Cook on each side until golden brown – about 4-5 minutes per side, until cooked to 160-165 F.

While the alligator cooks, toast the slider buns. Assemble the cooked alligator on the slider buns with shredded cabbage, remoulade, caramelized onions, and pickles, as desired. Use a toothpick to help keep it all together. Serve hot – enjoy!