Barbecued Rat Tails | Halloween Recipes
The Starving Chef is supported by Hungry People like you. When you make a purchase through an affiliate link on my site, I may earn a little bit of cash on the side (at no extra cost to you) to help keep my kitchen running. Read our disclosures here.
Spooky season is upon us, hungry reader. Which means I'm ready for my kitchen to be filled with all things haunted, creepy and downright disgusting.
BARBECUING RAT TAILS
My favorite kind of Halloween treat is one that looks gross but tastes delicious.
It shouldn't be so disgusting looking that you have to fight mind-over-matter to eat it, but it should definitely smell good enough that people won't question you when you tell them you are serving up rat tails for dinner.
Of course, you won't actually be treating your guests to the tails of rats but rather, something that looks pretty close to it. The "rat tails" in this recipe are actually strips of hot dog, sliced into the shape of mouse and/or rat tails, depending on the length. Then little ridges are sliced into the tops of each strip to complete the appearance of a ratty-looking rat tail.
Feeling ghoulish?
Served up as a spooky sandwich, these barbecued rat tails will satiate even the hungriest of souls.
hot dogs – fully cooked, ball-park length or longer will work
barbecue sauce – I used Montgomery Inn Barbecue sauce (affiliate link) because it's a hometown favorite!
whole grain mustard – add little bursts of mustardy-zing throughout
relish – sweet is best but you can swap in a spicy relish for fun too!
steak sauce – boost the savory flavor of the sauce
onion – when slow cooked, it takes on the appearance of 'mouse entrails' with the tails
Combined in a slow cooker, you can cook it on HIGH for four hours or on LOW for eight hours.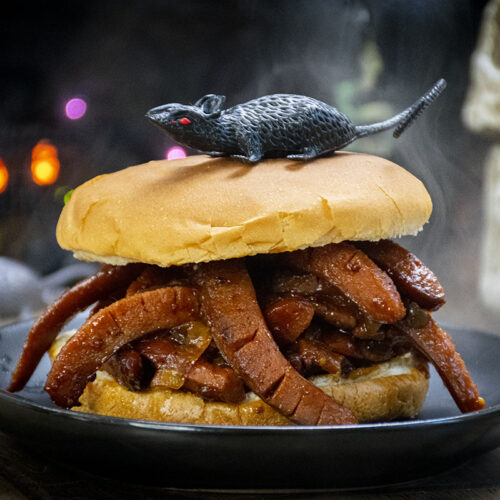 Barbecued Rat Tails
An easy sandwich perfect for Halloween – stuffed with barbecued RAT TAILS.
Ingredients
8

hot dogs

1

cup

sweet barbecue sauce

1

tablespoon

whole grain mustard

1

tablespoon

steak sauce

1

tablespoon

relish

½

onion

sliced
Instructions
Cut the hot dogs in half lengthwise, then slice into tapered strips in the shape of rat/mouse tails. Slice ridges along the strips to make them bendy and add "vertebrae."

Add the sliced dogs to a slow cooker along with the onion, whole grain mustard, steak sauce, relish and barbecue sauce. Stir gently with a spatula then cover.

Slow cook on HIGH for four hours; or on LOW for eight hours. Keep warm prior to serving.

Serve scoops of barbecued rat tails on your favorite style of hamburger buns and enjoy. Happy Halloween!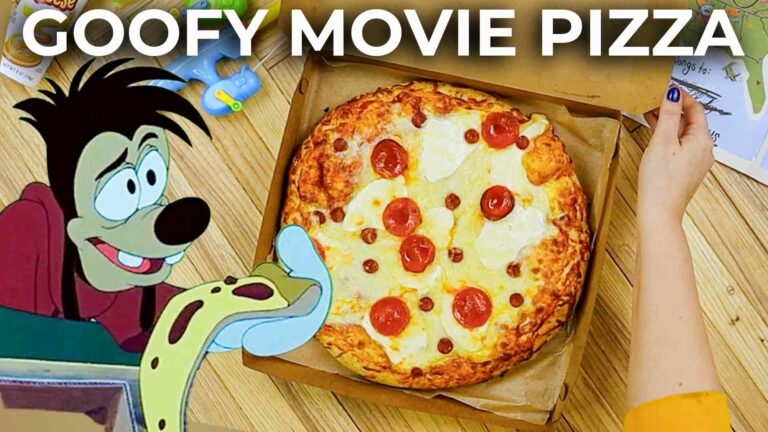 An ooey, gooey, extra cheesy pizza recipe inspired by the pizza delivered to the Neptune Inn in The Goofy Movie.