Brock's Lazy Boy No Chew Stew
The Starving Chef is supported by Hungry People like you. When you make a purchase through an affiliate link on my site, I may earn a little bit of cash on the side (at no extra cost to you) to help keep my kitchen running. Read our disclosures here.
Anime nerds and food lovers unite! Pokemon takes the cake (and eats it too) as one of the most mouth-watering shows out there.
Personally I've been all aboard the Pokemon train since the phenomenon first hit the United States at the pinnacle of my youth in 1999. I collected cards, ate at Burger King, watched the shows and even had a matching Pikachu pajamas set. I even had the Ancient Mew card, that was only handed out to a limited number of kids (so I was told) to prove that I was a true Pokemon fanatic.
For all intents and purposes, I was a POKEMON MASTER at the ripe age of 9.
In fact, I remember going to see Pokemon: The First Movie – Mewtwo Strikes Back in theaters with my cousins. Probably for my nineth birthday party as the movie came out just days before.
I distinctly remember we were completely blown away by the opening short of Pikachu's vacation – and even more blown away when the movie opened on a NEW Pokemon that was NOT included in the original 151!? Our young minds were absolutely unprepared for what we were about to experience during that roughly 90 minute run time. Oh, how I wish I could go back and bottle those emotions.
The opening sequence of the movie shows Ash Ketchum and his friends Brock and Misty getting ready to continue on their Pokemon journey. They've paused for a quick lunch and Brock is making one of his signature creations that are also featured throughout the TV series. He calls it his "lazy boy no chew stew."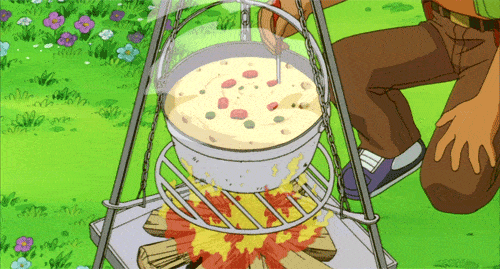 Gotta Catch'em All
Making Brock's lazy boy no chew stew in real life is actually quite simple. I'd like to think Brock's stew is actually a twist on a simple broccoli and cheese soup.
Ingredients like ham are commonly used in Japanese cooking when it comes to quick and conveinent meals – so it's likely Brock was stocked up for easy lunches like the one he's making in the movie. He calls it his "no chew stew" because when cooked correctly, there should be very little chewing (maybe more of a 'mash against the roof of your mouth') when it comes to the overall consistency.
The potatoes will be soft and tender, the broccoli florets will melt in your mouth and the rich and creamy soup base will help wash everything down in one big *SLUUUUURP!*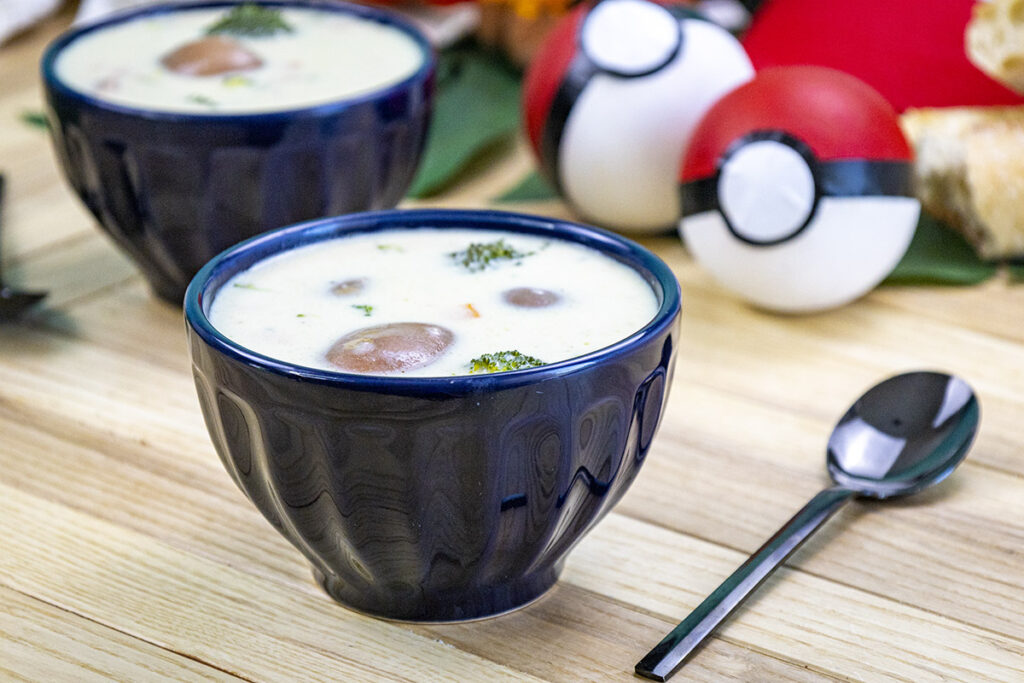 What's In Brock's No Chew Stew in the Pokemon: The First Movie?
While it's hard to see exactly what is swirling about in Brock's pot, here's my best guess for what's in his soup.
broccoli florets – because it's a soup made by BROCK (get it?)
red skin potatoes – skin on or off is up to you, I left mine skin on because I'm lazy!
onion & garlic – for fragrance and added savory flavors
peas & carrots – add pops of sweetness to the stew
ham – adds protein for growing Pokemon Masters
chicken broth – or sub in your favorite broth base
flour – to make a 'lazy man' roux
milk – adds richness and silky texture to the soup
cream cheese – helps thicken the soup as it cools
mozzarella – for added salt flavor and a burst of cheesiness
Making Brock's Cream Stew
This stew comes together in under 20 minutes – the secret ingredient is being LAZY.
Melt butter in a pot until frothy
Add potatoes and onion and sauté until they start to brown around the edges
Toss in ham and continue to cook until it starts to brown
Add garlic, peas, carrots, and broccoli to the pot
Season with salt and pepper
Sprinkle flour over everything in the pot to create a lazy man's roux
Pour in chicken broth and stir to combine
Add cream cheese and milk to the pot and stir until melted
When the soup reaches a light simmer, reduce the heat and add mozzarella cheese
Stir until the cheese is melted and the soup has thickened
If Brock can make this recipe on the road, you can make it on your stove!
Thanks to everyone over on TikTok who requested this recipe! I've been wanting to make Brock's No Chew Stew literally since I first saw it in 1999. Heck, I still play Pokemon GO – I'm definitely still training to be a Pokemon Master into my 30s.
What fictional feasts should I make next? Let me know in the comments!
Brock's Lazy Boy No Chew Stew
Looking to make a stew fit for a Pokemon Master? Look no further than Brock's No Chew Stew! Packed with red skin potatoes, cubed ham, and plenty of veggies, this hearty dish will have you feeling like you just won a Gym Battle.
Ingredients
2

tablespoons

butter

4-5

red skin potatoes

cut into halves/quarters

1

cup

sweet onion

chopped

1

tablespoon

garlic

minced

1

cup

peas & carrots

thawed, if frozen

1 ½

cup

cubed ham

2

cups

broccoli florets

½

tablespoon

sea salt

1

tablespoon

pepper

3

tablespoons

flour

4

cups

chicken broth

4

tablespoons

cream cheese

room temperature

1

cup

milk

1

cup

mozzarella cheese

shredded
Instructions
In a large soup pot over medium high heat, melt the butter until frothy then add the potatoes and onions. Saute until the potatoes are beginning to brown around the edges and the onions are just beginning to soften, about 5-8 minutes.

Stir in the minced garlic, peas and carrots, and cubed ham. Stir until well combined and the ham is just beginning to firm up and brown – another 2-3 minutes. Stir in the broccoli and salt and pepper. Sprinkle the flour over the contents of the pot and continue to lightly stir until everything is evenly coated in flour.

Pour in the chicken broth and bring to a simmer. Stir in the cream cheese and milk and return to a rolling simmer. When the cream cheese has completely melted into the soup, reduce the heat to low and stir in the mozzarella cheese. Stir until the mozzarella has melted.

Serve to hungry Pokemon Trainers along with a portion of crusty bread and possibly a large glass of milk. Enjoy!