Delicious Butter Crusted Beer Bread
The Starving Chef is supported by Hungry People like you. When you make a purchase through an affiliate link on my site, I may earn a little bit of cash on the side (at no extra cost to you) to help keep my kitchen running. Read our disclosures here.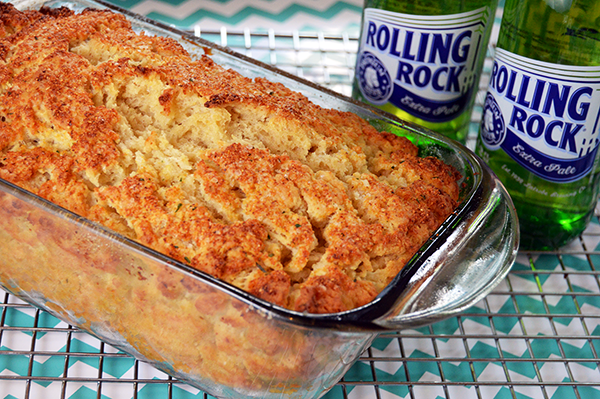 What's up, Hungry People!
Today, I'm sharing with you one of my all-time favorite recipes: Butter Crusted Beer Bread! This delightful creation has been a staple in my life ever since I was a little kid. I remember my mom buying beer bread mix from our neighbor, and from that moment on, I was absolutely hooked. As I grew older, ventured into the world of beer-drinking, and developed my culinary skills, beer bread became one of the very first recipes I taught myself.
Versatile and Crunchy!
Now, let me tell you why this recipe is truly fantastic – it's incredibly versatile! Not only does it make a fabulous standalone bread, but it also serves as a fantastic base for various other baked goods. I've used it to make delicious focaccia bread and even pizza dough!
However, my absolute favorite part about this bread is the heavenly butter crust that forms on top. It's thick, crunchy, and absolutely perfect for dipping into all sorts of delectable sauces, from pasta sauces to savory soups.
Here's What You'll Need
Beer or carbonated beverage of choice: Adds carbonation and flavor to the bread, can be substituted for beer.
Flour: Provides structure and bulk to the bread.
Sugar: Adds sweetness and aids in browning of the crust.
Baking soda: Acts as a leavening agent to help the bread rise.
Melted butter: Adds richness and contributes to the crust formation.
Onion powder (optional): Adds a savory onion flavor to the bread.
Garlic powder (optional): Enhances the overall savory taste of the bread.
Salt: Balances the flavors and enhances the taste of the bread.
Swap It Out!
One of the best things about this recipe is its adaptability. If you're not a fan of using beer, don't worry! You can substitute it with any carbonated drink of your choice. Yes, you read that right – anything from beer to Mountain Dew works! The essential ingredients include flour, sugar, butter, and a touch of creativity. Feel free to experiment with different flavors and add-ins. Personally, I enjoy incorporating garlic and onion powder, but the possibilities are endless when it comes to flavor combinations for this bread.
Let's Cook!
Now, let's get down to the nitty-gritty of making this delightful treat. Start by combining all of the ingredients, except for the melted butter, in a large bowl. Give it a good stir until the flour is completely incorporated, and you're well on your way to beer bread bliss!
Next, it's time to prepare your baking pan. Grease a glass bread pan (aluminum works just as well!) and pour the melted butter on top. I like to use the back of a spoon to smooth the surface of the loaf, but hey, that's totally up to you! Choose your level of perfectionism when it comes to your beer bread aesthetic!
Now, preheat your oven to 375°F (190°C) and pop the bread into the oven. Let it bake for a good 45-50 minutes, or until the top develops that gorgeous, crusty texture we all crave.
Once the baking time is up, resist the temptation to dive right into the bread (I know, it's tough!). Instead, let it cool for a few minutes outside the oven. This helps the center of the bread finish cooking, ensuring a perfectly baked loaf.
Afterward, gently tip the bread out onto a cooling rack to let it cool completely. But if you're like me and can't wait to sink your teeth into it, go ahead and cut a slice straight out of the pan. No judgment here!
Tips for Making Beer Bread at Home
that you enjoy. Light beers result in a milder taste, while darker beers add richness and depth.
Mix-ins and variations: Feel free to get creative with add-ins like shredded cheese, herbs, or even diced jalapenos to customize the bread's flavor. The possibilities are endless!
Adjusting sweetness: If you prefer a sweeter bread, you can increase the amount of sugar in the recipe. Conversely, for a less sweet bread, reduce the sugar slightly.
Crusty top perfection: To achieve an extra crispy crust, brush the melted butter on top generously before baking. You can even sprinkle some coarse salt or herbs on top for added flavor and texture.
Proper cooling and slicing: Although it's tempting to dive into the freshly baked bread, allowing it to cool for 20-30 minutes or until completely cooled will result in cleaner slices. Patience pays off!
Storing and reheating: Store the leftover bread in an airtight container or wrap it tightly in plastic wrap. To reheat, place slices in a toaster or oven to regain that wonderful crustiness.
Troubleshooting: Dough too sticky: If the dough is too sticky to handle, add a little more flour, a tablespoon at a time, until it becomes more manageable.
Troubleshooting: Bread not rising enough: Ensure your baking soda is fresh, as expired baking soda may not provide adequate leavening. Also, double-check the oven temperature for accuracy.
Troubleshooting: Over-browning: If the top of the bread is browning too quickly, you can tent it with aluminum foil halfway through baking to prevent excessive browning while allowing the bread to continue cooking.
So, Hungry People, get ready to savor every buttery, crusty bite of this amazing Butter Crusted Beer Bread. Whether you're enjoying it as a standalone treat or using it as a canvas for your culinary creativity, this recipe is sure to become a staple in your baking repertoire. Now, go forth and indulge in the deliciousness!
Butter Crusted Beer Bread
Learn how to make a versatile and delicious butter crusted beer bread with a thick, crunchy crust, using affordable ingredients and simple steps.
Instructions
Preheat the oven to 375°F (190°C). In a large bowl, combine all of the ingredients except for the melted butter. Stir until a thick, sticky dough forms.

Grease a bread pan and dump the dough into the pan. Then, pour the melted butter on top.

Bake for 45-55 minutes, or until the top is browned and a thick, crunchy crust has formed. To test if the bread is fully cooked, insert a toothpick into the center of the bread. It should come out clean.

Allow the bread to rest for a few minutes in the pan before flipping it out onto a cooling rack.

For best cutting results, let the bread cool for 20-30 minutes or until it has cooled completely. Serve the butter crusted beer bread with a saucy seafood dish or soup, and enjoy!