Garden Focaccia Art
The Starving Chef is supported by Hungry People like you. When you make a purchase through an affiliate link on my site, I may earn a little bit of cash on the side (at no extra cost to you) to help keep my kitchen running. Read our disclosures here.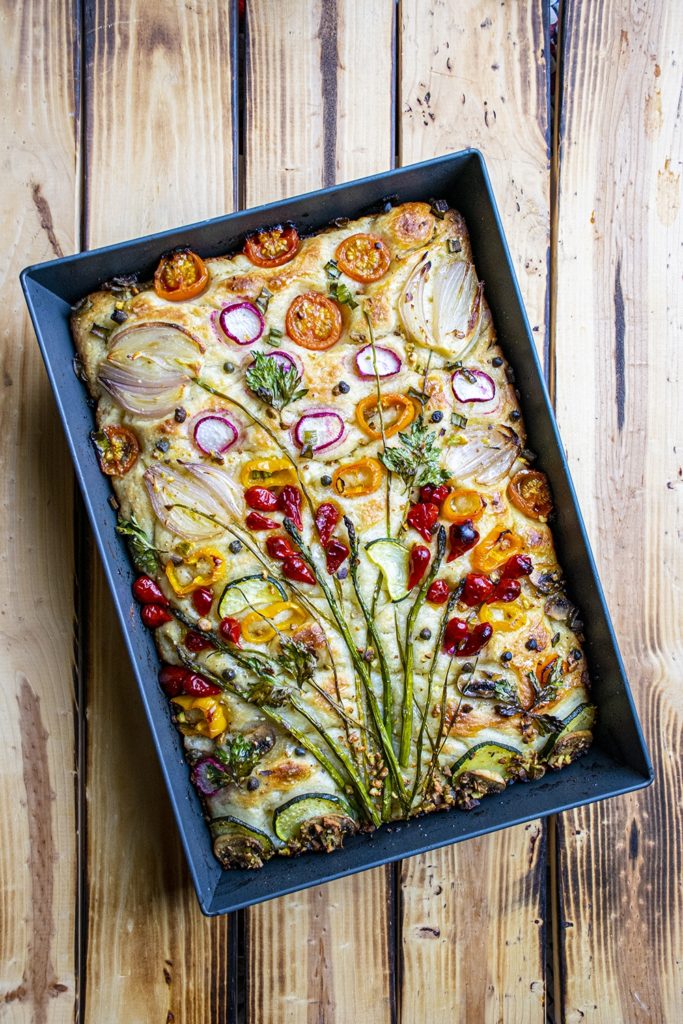 I have a catch phrase here in the Starving Chef's kitchen:
"Food is art and I intend to play with it."
And it's true. I've been playing with my food and making art with it since I started eating solid foods as an infant. One might say I was born to be a food blogger.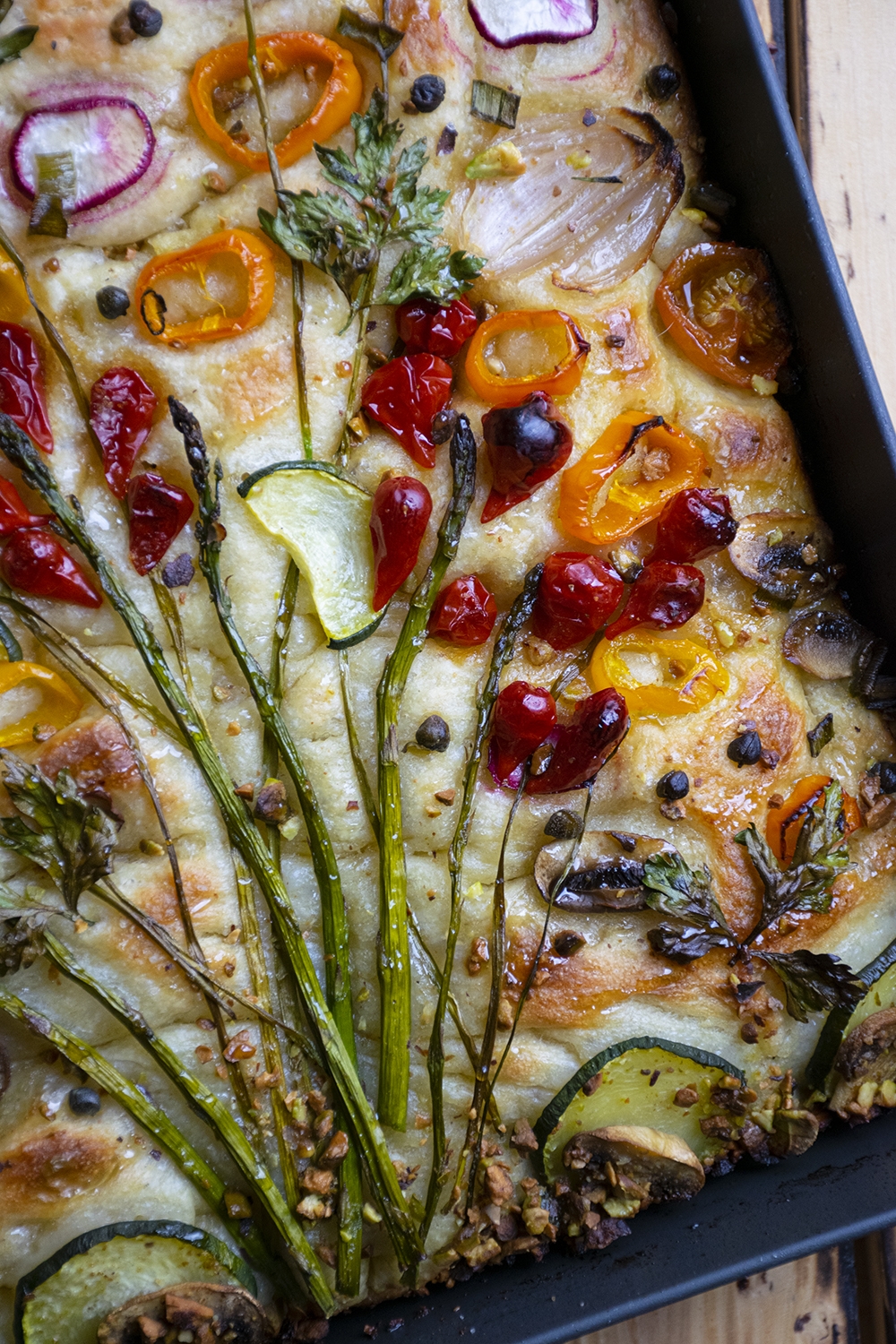 Enter: focaccia garden bread.
It's the epitome of food turned art – or art turned food?
With the peak harvest season right around the corner, this focaccia makes the best of the freshest foods summer has to offer. Plus I added in a few store bought items like pickled tear peppers to give it some extra zing!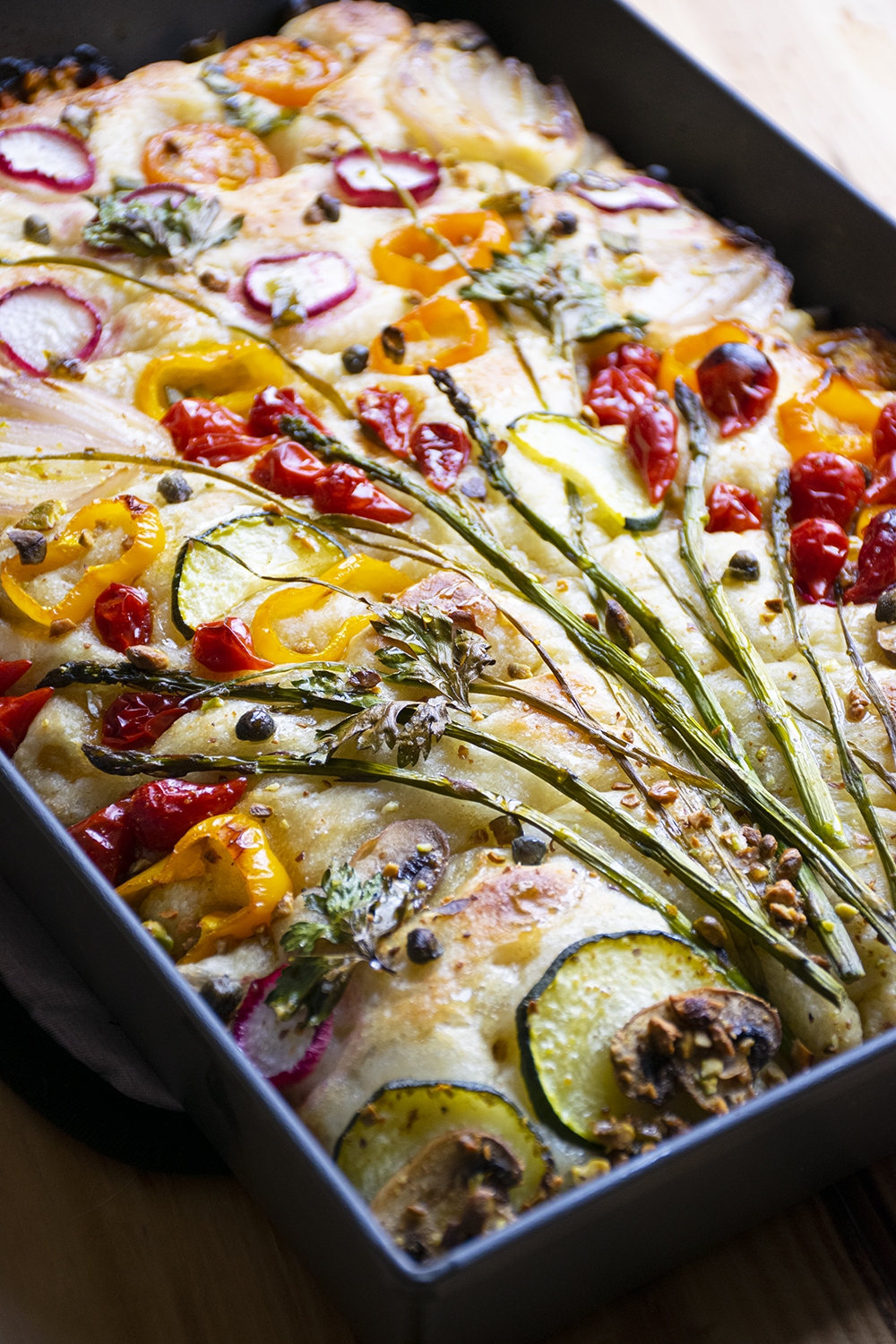 Turn the focaccia dough into your canvas! I made my focaccia from scratch and then used a square pan specially made for focaccia (affiliate link). The square corners make all the difference when it comes to getting the bread to hold its shape as it bubbles and rises.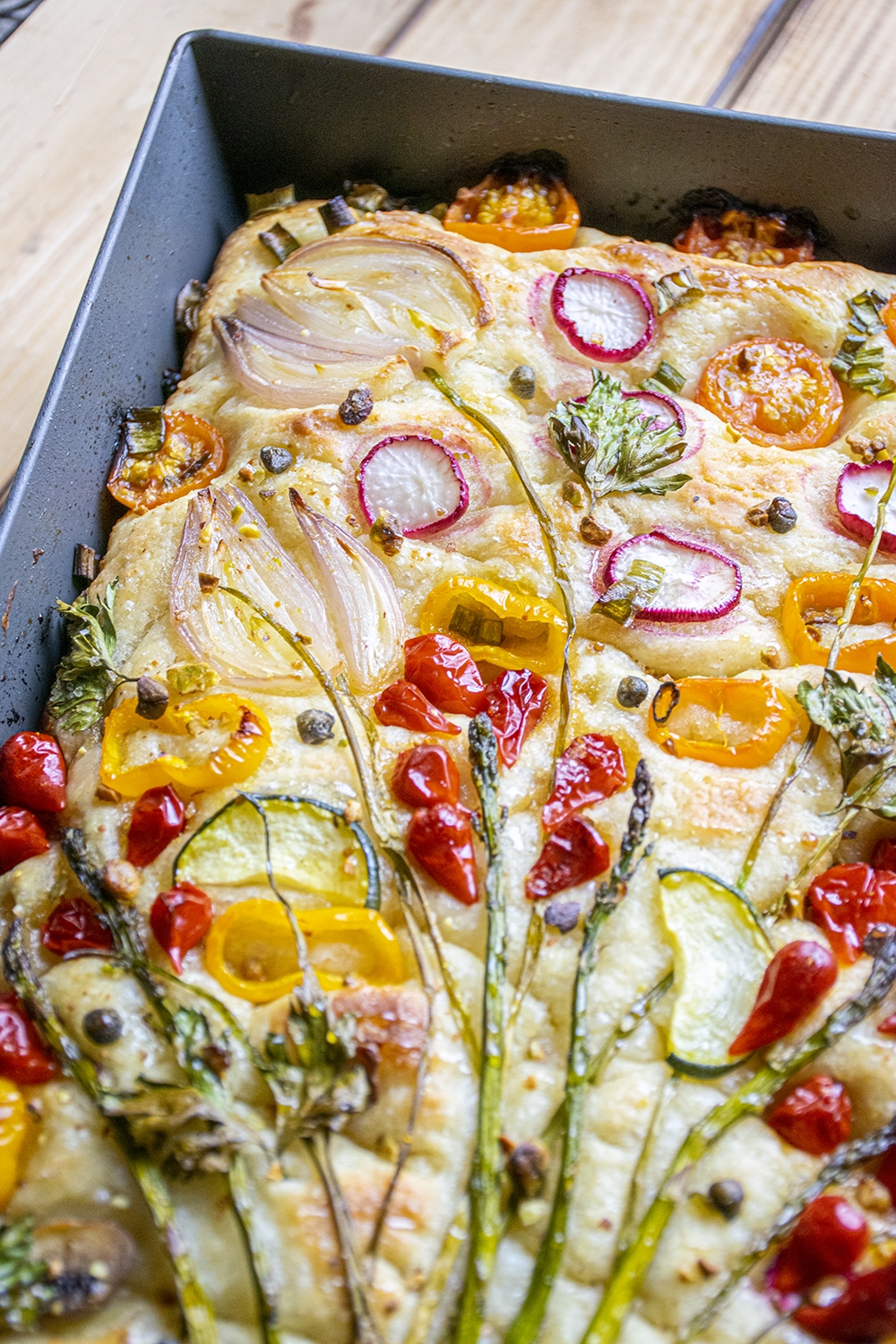 Garden Focaccia Inspiration
Make your focaccia your own! Arrange different vegetables to look like flowers, petals, grass and leaves. Here's a list of suggested vegetables – most of which I used in my very own artistic loaf.
chives – great for grass
asparagus – great for 'flower stems'
shallot – sliced in half looks like a flower
teardrop peppers – these are pickled but add tons of color and texture
green onion – great for stalks and branches
cherry tomatoes – can make flower tops or a pretty design
capers – sprinkled on can look like bees or bugs
Italian parsley – for leaves and petals
mini sweet bell peppers – sliced to look like butterflies or flowers
mushrooms – for the ground
zucchini slices – for the forest floor
radishes – for pops of bright pink color
crushed pistacchios – add pops of crunch and green color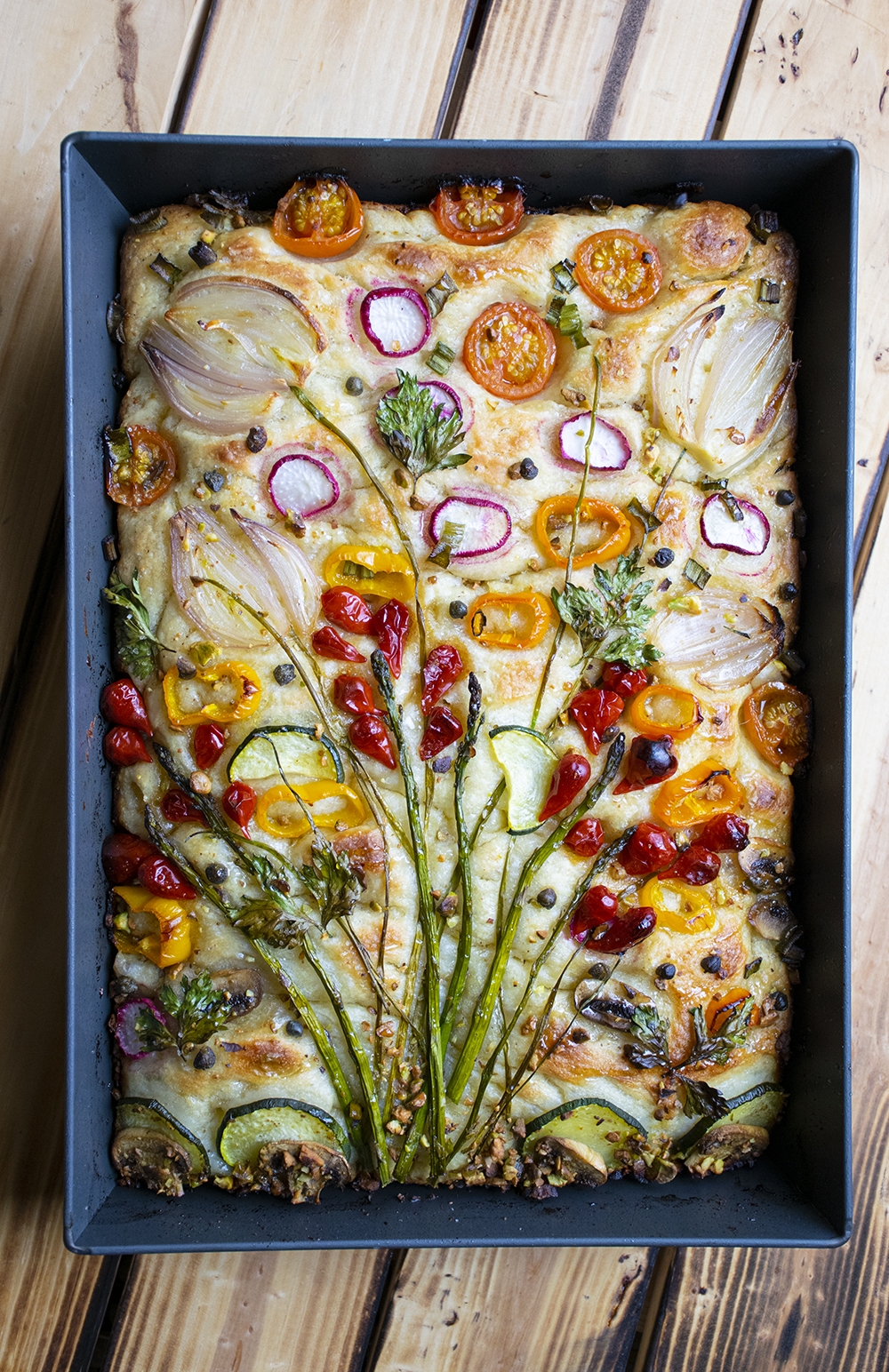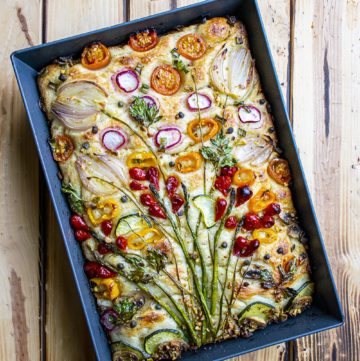 Garden Focaccia Art
A homemade focaccia bread topped with garden fresh ingredients in an flowery manner!
Ingredients
FOR TOPPINGS (CHOOSE YOUR INSPIRATION):
chives

asparagus

shallot

teardrop peppers

green onion

cherry tomatoes

capers

Italian parsley

mini sweet bell peppers

mushrooms

zucchini

radishes

pistacchios

balsamic reduction

for serving
Instructions
In a small bowl, whisk together the water, yeast and sugar. Let rise 10-15 minutes, until frothy.

In a large bowl, mix together the flour and salt. Slowly pour in the yeast water. Use your hands to combine and make a sticky dough.

Tip the sticky dough in a greased square pan. Lightly cover and rise in a warm spot (90°F) for 3-4 hours, until doubled in size.

After the dough has doubled in size, use your finger tips to press all the way down and through the dough to the bottom of the pan so that they leave divots all over the dough. Repeat from edge to edge then drizzle on the olive oil. Rise one more hour.

Preheat the oven to 450°F. Arrange vegetables on top of the dough, as desired, to create a garden effect on your dough. Lightly tent with foil.

Bake 20 minutes covered and then remove the foil and continue to bake for 10 more minutes, until the bread is puffed up and golden brown. The veggies on top should appear roasted and baked into the bread.

Drizzle with more olive oil and serve with a side of aged balsamic reduction. Sprinkle on sea salt as desired. Enjoy!