Campfire Cooking Recipe Ideas
The Starving Chef is supported by Hungry People like you. When you make a purchase through an affiliate link on my site, I may earn a little bit of cash on the side (at no extra cost to you) to help keep my kitchen running. Read our disclosures here.
It's summer, so that means cookouts and camping! Over the weekend I visited my parents in my hometown and made use of their backyard fire pit for some outdoorsmen cooking. I made a three course meal, including two different desserts, over the fire.
Garlic Butter Shrimp Packets
This shrimp was the appetizer – roasted in butter with whole cloves of garlic and a spritz of lemon juice. Read the recipe here.
Chicken & Veggies Foil Pouch
Each packet was filled with peppers, asparagus, garlic and shallots then cooked with a dab of butter. Read the recipe here.
Campfire Desserts: Sm'nanas & Pineapple Upsidedown Cakes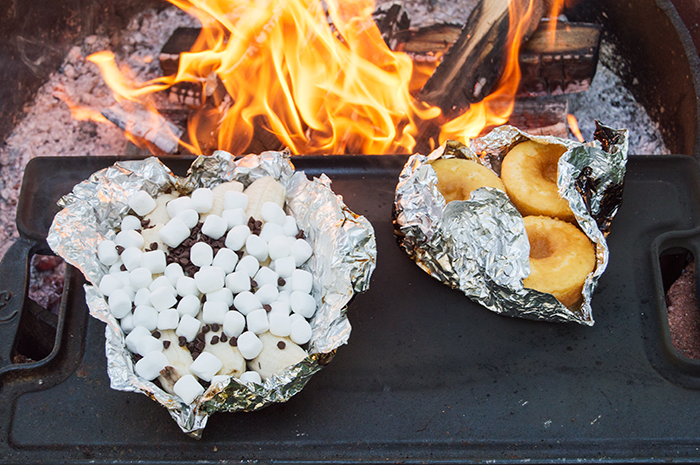 No meal is complete without desserts! Both desserts are made with four ingredients or less, and the foil packets make for quick clean up. Read the sm'nanas recipe here and the pineapple upsidedown cakes recipe here.
---
I'd never cooked over an open flame like this one, so it was a fun little experiment trying to figure out how exactly to cook everything at the same time, without burning or undercooking anything. I ended up using a cast iron pan to keep the chicken over a steady heat, but everything else essentially went directly in the coals. The most important thing about cooking in a fire pit is starting the fire early enough in the day to get the coals extremely hot.
Have you cooked over an open fire? Let me know how it went in the comments section below!