Three-Course Campfire Menu for the Perfect Summer Cookout
The Starving Chef is supported by Hungry People like you. When you make a purchase through an affiliate link on my site, I may earn a little bit of cash on the side (at no extra cost to you) to help keep my kitchen running. Read our disclosures here.
What's Up, Hungry People!
Summer's here, and you know what that means: it's time for cookouts and camping trips galore! This past weekend, I headed back to my hometown and made good use of my parents' backyard fire pit. Ah, the great outdoors! And what's a camping trip without some good old fire-cooked grub, right? I decided to whip up a three-course meal, and yep, I tossed in not one, but two different desserts. All of it cooked over the fire.
Garlic Butter Shrimp Packets
Our appetizer for the day was some zesty shrimp. Picture this: shrimp roasted to perfection in butter, bursting with whole cloves of garlic, and topped off with a spritz of lemon juice. Intrigued? Read the recipe here.
Chicken & Veggies Foil Pouch
Moving on to the main course, these foil packets were the real deal. Stuffed with peppers, asparagus, garlic, and shallots, each pouch was cooked to perfection with just a dab of butter to seal the deal. Yes, you read that right, a dab of butter is all it takes! Read the recipe here.
Campfire Desserts: Sm'nanas & Pineapple Upsidedown Cakes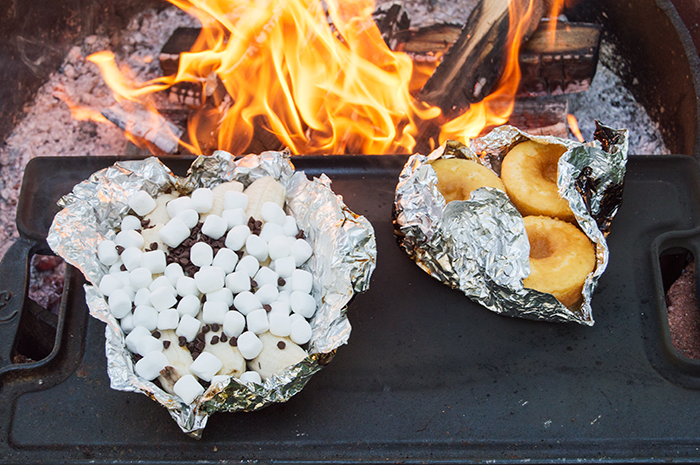 Here's what you need to end your meal on a high note! I went with two fuss-free desserts—Sm'nanas and Pineapple Upside-Down Cakes. The best part? Both these desserts are as easy as pie, requiring only four ingredients or fewer. Plus, cooking them in foil packets means clean-up's a breeze! Read the sm'nanas recipe here and the pineapple upsidedown cakes recipe here.
---
Campfire Cooking 101: Tips and Tricks
This was my first rodeo cooking over an open flame, and let me tell you, it was an interesting puzzle to solve. The challenge? Cooking everything at the same time without turning any of it into charcoal or serving it raw. My game changer was a trusty cast-iron pan for the chicken. This helped maintain a steady heat, keeping those bird pieces just right. For almost everything else, I placed it directly on the hot coals.
And speaking of coals, one pro tip for campfire cooking: start your fire early. You want those coals red-hot for the best cooking results.
So, have you ever cooked over an open fire? I'd love to hear about your experiences. Drop your stories in the comments section below.