Charcuterie Chalet (aka the Cheese Board House)
The Starving Chef is supported by Hungry People like you. When you make a purchase through an affiliate link on my site, I may earn a little bit of cash on the side (at no extra cost to you) to help keep my kitchen running. Read our disclosures here.
Have you ever had one of those moments where you see something and think:
"I MUST MAKE THIS."
Because that's how I felt the first time the charcuterie chalet graced my screen. I've never been big on gingerbread houses – but a cheese board house?? Now that's definitely more my style.
It's the Queso Condo;
the Fromage Cottage;
the MEAT MANSION.
It's by far the weirdest thing to arise from 2020 – and that's saying a lot considering it's still 2020 as I write this.
Made with all the usual fixings of a standard meat and cheese board, the assembly is what makes this cheddar cabin stand out from all the other run of the mill boards out there. The entire chalet is 100% edible (the wooden base and hot tub excluded – though I suppose anything is edible if you try hard enough).
How to Assemble the Charcuterie House:
First, I used matzo (affiliate link) to make the four walls, roof and gables of my house. These are held together with room temperature cream cheese.
The easiest way to make the gables of the house is to crack a matzo in half to have two triangle shapes, then use the cream cheese to 'glue' the gables to the inside of the house and place the roof on top.
Another important step to remember to is chill your chalet every 30 minutes or so while you work on it. I'm confident you can assemble the entire thing in under an house, but letting the house chill for a few minutes between assembly stages will help tremendously when it comes to the structural integrity of the house.
Every charcuterie board should have a variety of tastes and textures so that every bite can be a different flavor combination. A great way to add some sweet flavors to the board is to use jams or jellies – I used a variety of sampler jellies that came in mini jars and placed them around the back of the chalet to fill in the empty space along the back wall. I also included a tiny 'shovel' that can be used to scoop up and spread jelly on meats, crackers or cheese.
The sky is the only limit when it comes to the flavor combinations you can make with charcuterie!
The best part about this recipe is getting to decorate the house with whatever festive snacks you want. I used sliced cheese for the windows and doors, rosemary stuck in mushrooms for the trees and mozzarella pearls for my snowmen army!
For the Snowmen:
mozzarella pearls
whole cloves – for the eyes, these aren't edible!
pepperazzi peppers – for the hats!
block of cheese cut into rectangle slices for the bases
4-5 inch bamboo skewers
Simply skewer three mozzarella pearls and pop a pepper upside down on top. Use the pointy end of the skewer to stab into a foundation (like a thick cut cube of cheese or a petit toast).
I mean, just look at how cute these snowmen are!
What Else To Include:
You can put your favorite snack items and finger foods on the board to fill up extra space. For my board, I filled up the open areas with pepperonis, pinwheel bites and shredded mozzarella and cotija cheese as the "snow."
I also included little bites like stuffed olives, sweet pickles, crackers and corn nuts on my board. I used wasabi peas and cranberries as "lights" along the edges of the matzo crackers and used my extra cream cheese to create "icicles" that dangle from the roof.
My pine trees are simply sprigs of rosemary poked into the top of a stuffed mushroom. One easy way to get lots of variety on your board is to buy pre-assembled elements like a cheeseball, stuffed mushrooms or meat and cheese pinwheels. To fill in around the house, I used fresh broccoli as bushes and made a little "fence" from chopped up meat sticks.
The more the merrier when it comes to adding elements to your charcuterie chalet. Build your dream home from cheddar or create a havarti hovel. No matter how you build and design your cheese board house, it'll prove to be a fun way to flex your creativity in the kitchen.
Gingerbread houses are so two-thousand-and-late.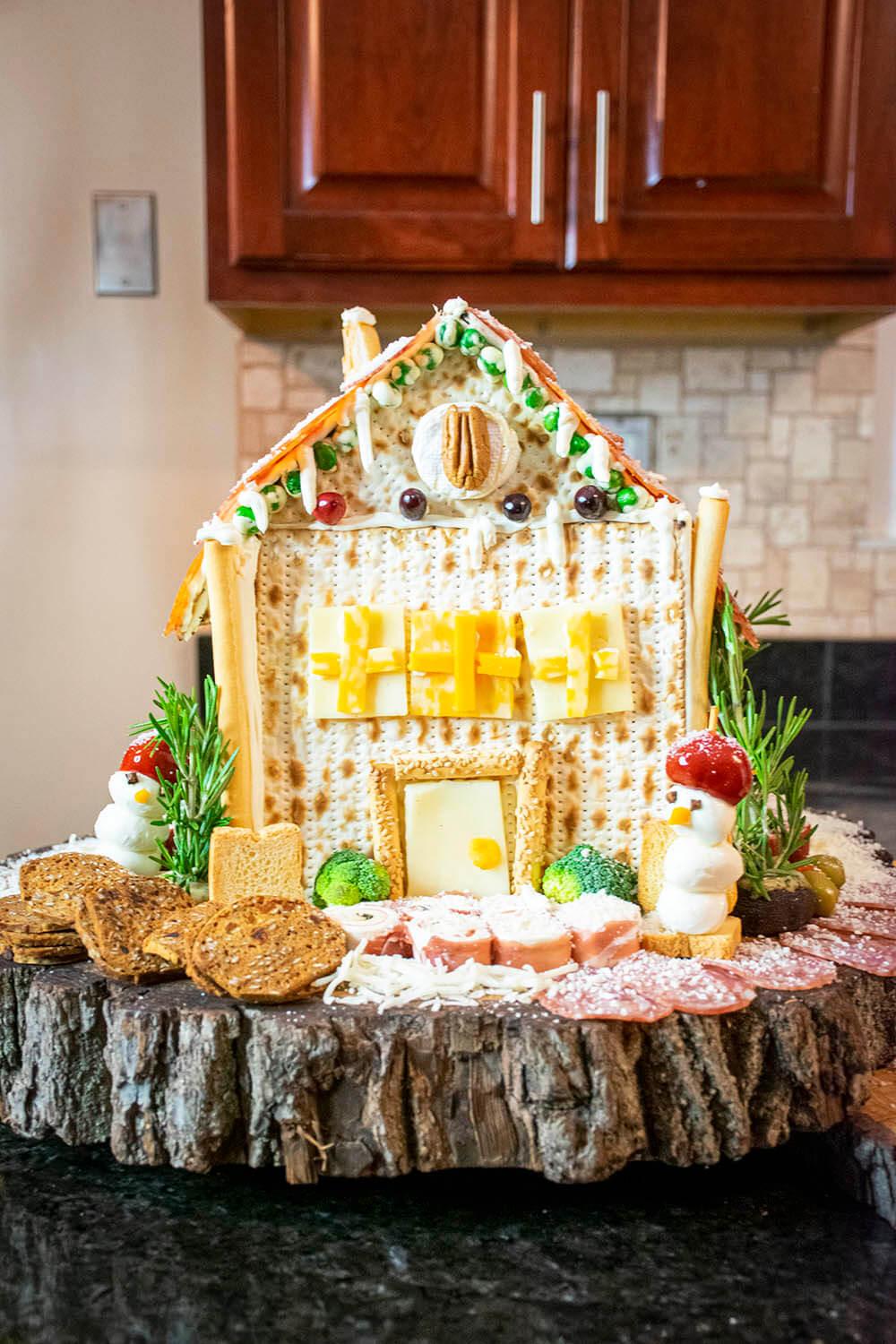 If you make your own charcuterie chalet, don't forget to give me a shout on all the socials! I want to see your cheese houses!
I definitely plan to make this again – perhaps, BIGGER?
Charcuterie Chalet (aka the Cheese Board House)
One of the weirdest food trends to arise from 2020 – the charcuterie chalet. It's like a gingerbread house, but made from crackers, meat and cheese.
Ingredients
FOR THE HOUSE:
6

matzo crackers

for the walls, roof & gables

8

oz

cream cheese

room temperature, for 'glue'

16

oz

mini salami (sopressata) or pepperonis

for shingles

16

oz

block cheeses (mozzarella, pepperjack, cheddar, etc)

for doors, windows

thin bread sticks

for framing

1

sfogliatine (glazed puff pastry sticks)

for chimney
FOR SNOWMEN:
21

mini mozzarella pearls

for snowmen bodies

8

pepperazzi peppers

for hats

1

tablespoon

whole cloves

for eyes

4

oz

block cheese

cut for bases
FOR DECORATIONS:
wasabi peas

mini / snack brie wheels

whole pecans

rosemary sprigs

stuffed mushrooms

cheese ball

corn nuts

fondue cheese

variety of crackers

for serving

variety of jams & jellies

for serving

shredded mozzarella

cotija cheese

for 'snow'

stuffed olives

sweet pickles

your favorite snack items
Instructions
Bring the cream cheese to room temperature and transfer to a baggie or piping bag with the tip snipped off. Use the cream cheese like glue to make a box from four matzos. Use the matzos for the gables and roof. Run the cream cheese along all of the edges to make the house sturdy. Trim thin bread sticks to the height of the matzos and use cream cheeese to press them onto the corners for more stability. Chill for 15 minutes to set the cream cheese.

Working in 30 minute intervals, dab tiny bits of cream cheese onto the mini salamis to make singles. Lightly press cheese cut into the shapes of windows and doors onto your desired postions on the house. Arrange filler around the sides of the house like broccoli bushes, jerky fences or jelly 'crocks' on the backside of the house. Use the brie and pecans for additional decorations on the house. The wasabi peas and cranberries can be pressed onto the edges of the house to look like Christmas lights. Every 30 minutes, chill for at least 10 minutes to make sure the cream cheese firms up and holds everything in place.

Fill in the empty space around the house by making mozzarella snowmen. Skewer three mozzarella pearls and place a red pepperazzi pepper on top to act as a hat. Press two cloves into the top mozzarella pearl to look like eyes and use a tiny bit of cheddar cheese as the nose.

Further fill in the empty spaces with your crackers, a bowl for the fondue, mini toasts and other snack pieces. Other foods that aren't part of the house can be placed around to fill space, like sweet pickles, olives or corn nuts.

Use your creativity when it comes to making your charcuterie chalet! This recipe is for your inspiration. Enjoy!
Video