Easy Pavlova Recipe from Bluey
The Starving Chef is supported by Hungry People like you. When you make a purchase through an affiliate link on my site, I may earn a little bit of cash on the side (at no extra cost to you) to help keep my kitchen running. Read our disclosures here.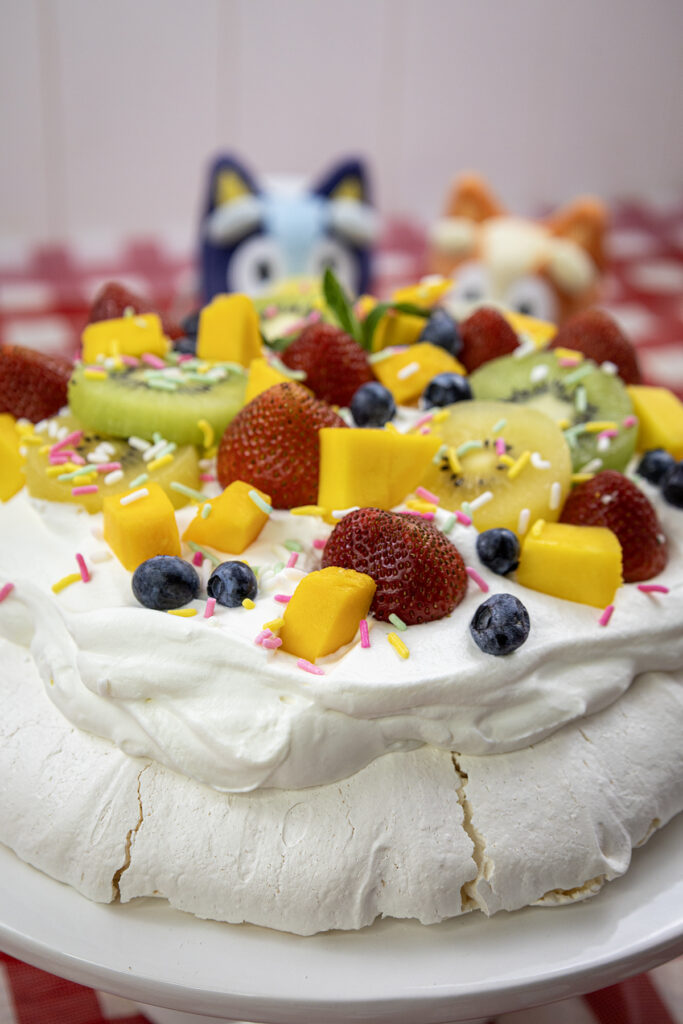 What's Up Hungry People
The Australian kid's show Bluey has taken the world by storm – the colorful show was designed for pre-schoolers but quickly caught on with parents (and child-free adults like myself) because of it's universal themes, quick episodes and geniune humor.
Not only has the show Bluey caused many children to start speaking with Australian accents, but it has also introduced a whole new world of cuisine to young and old viewers alike by showing classic Australian foods like fairy bread, sausage rolls and pavlova.
One whole episode of Bluey is centered around the Austalian dessert pavlova. Many viewers outside of Australia may have never heard of such a thing – it is a rareity in the United States at least. So when my seven-year-old nephew asked me to make a pavlova, I was both surprised and intrigued by where he had learned about the dessert. We went on to watch the episode together, and I knew I had to make the dessert just for him.
When your seven-year-old nephew asks for a pavlova from Bluey, you make the pavlova from Bluey.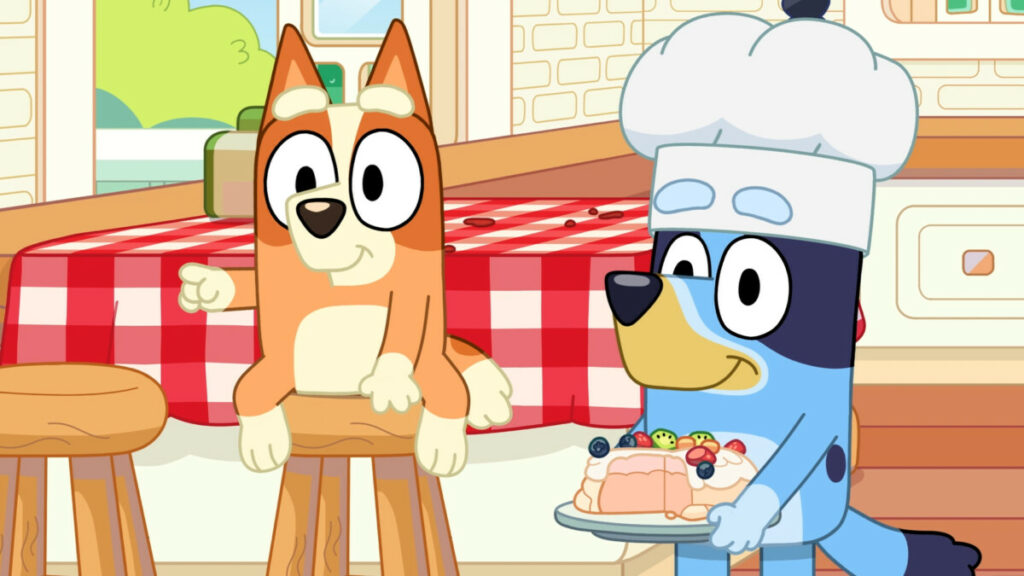 BONJOUR DISCOTECA
The Pavlova episode of Bluey follows Bingo and Bluey as they "play café." Bingo really wants to eat some pavlova, but of course she's steered towards the healthier option of edamame beans as an alternative. Bluey "employs" Bandit (their dad) to be the chef and serve them pavlova. But instead, he serves up… edamame beans.
Bluey is frustrated with his "chef" and tells him he's no good – so in response, Bandit pretends to set up a competing café where he only sells edamame beans.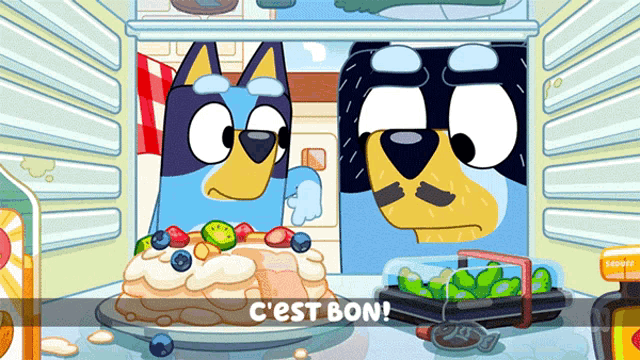 The episode concludes with Bandit serving up the pavlova – with ketchup. And then as a crumb. Finally, Bingo is given her choice of what to eat; and perhaps unsurprisingly, she picks the pavlova.
Making Australian Pavlova
If you've never tried your hand at pavlova, you might be a bit intimidated. Don't be! While it does require specific ingredients and a good dose of patience, the process is straightforward.
Pro Tips:
Ensure both the bowl and the whisk are spotless.
Use egg whites that are free of yolk and at room temperature.
The less humid the weather, the better your pavlova will turn out.
Meringue Issues
Making pavlova can be a delicate process, and there are several common issues that bakers may encounter. Here's a troubleshooting guide to help you address some of them:
Meringue Won't Stiffen
Possible Causes: Old eggs, grease in the bowl, or humid conditions.
Solutions: Use fresh eggs, ensure the bowl and beaters are completely clean and grease-free, and try to bake on a dry day if possible.
Weeping Meringue
Possible Causes: Overbeaten egg whites or too much sugar.
Solutions: Stop beating as soon as the egg whites form stiff peaks. Make sure to add sugar gradually and not all at once.
Beading on the Surface
Possible Causes: Overcooking or high humidity.
Solutions: Follow the recommended cooking time and try to bake in a less humid environment.
Cracked Meringue
Possible Causes: Rapid temperature changes or overcooking.
Solutions: Let the pavlova cool in the oven with the door slightly ajar to avoid quick temperature changes. Also, ensure it's cooked for the correct amount of time.
Other Issues
Pavlova Sticking to the Parchment
Possible Causes: Undercooking or inadequate preparation of the baking surface.
Solutions: Make sure the pavlova is cooked through. Use good quality parchment paper for easier release.
Uneven Coloring
Possible Causes: Oven temperature too high or uneven oven temperature.
Solutions: Use an oven thermometer to ensure accurate temperature and consider turning the pavlova halfway through cooking if your oven has hot spots.
Flat Pavlova
Possible Causes: Overbeating the egg whites, stale eggs, or incorrect folding technique.
Solutions: Only beat until stiff peaks form, use fresh eggs, and fold in vinegar and cornflour gently without deflating the egg whites.
Gritty Texture
Possible Causes: Sugar not fully dissolved in the egg whites.
Solutions: Add sugar gradually while beating the egg whites and ensure it's fully dissolved by rubbing a little of the mixture between your fingers. It should feel smooth, not gritty.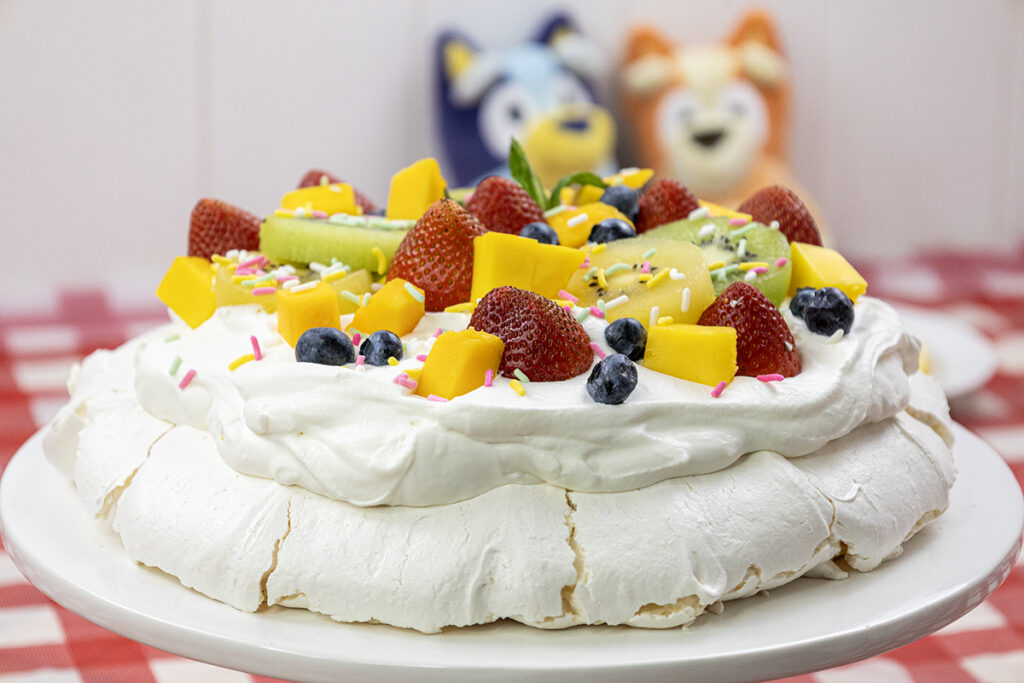 Here's What You Need:
Egg Whites: Provide the structure and volume for the meringue. Must be whipped to stiff peaks for stability.
Super Fine Sugar: Sweetens the meringue and helps in stabilizing the whipped egg whites, giving them a glossy finish.
Cornstarch: Helps stabilize the egg whites and creates a marshmallow-like interior for the pavlova.
Cream of Tartar: Acts as an acid that stabilizes the egg whites, making it easier to whip them into peaks.
Salt: Enhances the flavors of the other ingredients and helps to stabilize the egg whites.
Heavy Whipping Cream: Whipped to create a thick, creamy topping that complements the crispness of the meringue.
Vanilla Extract: Adds aroma and flavor to the whipped cream, enriching the overall taste of the dessert.
Powdered Sugar: Sweetens and stabilizes the whipped cream, making it easier to hold its shape.
Fresh Fruits: Add color, texture, and natural sweetness, making the pavlova visually appealing and tastier.
Mint Leaf (Optional): Adds a pop of color and a refreshing flavor as a garnish.
Sprinkles (Optional): Add color and a little crunch, mainly for aesthetic appeal.
Let's Cook!
Begin with the Egg Whites: Start by whipping room-temperature egg whites in a clean, dry bowl until they become foamy.
Incorporate Sugar: Slowly add in the super fine sugar, ensuring that each new addition melts into the egg whites before adding more. This is crucial for a smooth, glossy finish.
Add Stabilizers: When about half of the sugar has been integrated, add the cornstarch, cream of tartar, and a pinch of salt to stabilize the egg whites.
Final Touches: Now slowly incorporate the remaining sugar and continue whipping until the egg whites are smooth, glossy, and form stiff peaks.
Shaping and Baking
Prepare the Base: Transfer the meringue onto a parchment-lined baking sheet. Use a spatula to shape the pavlova, pulling the sides upwards and inwards to reinforce its structure. Adding a swirl in the middle helps to ensure even baking.
Baking Time: Transfer the pavlova to an oven preheated to 250°F and bake for approximately 1.5 hours or until it's dry on the outside.
Assembling Your Masterpiece
The Final Layer: Once the pavlova has completely cooled, pile the whipped cream into its center.
Fruit Decor: Adorn your pavlova with fresh fruits like kiwi, strawberries, blueberries, and mango.
Garnish: For that extra touch, add a sprig of mint leaf and some sprinkles for color.
And voilà – or should I say, bonjour – you've made a pavlova!
Whether you're aiming to impress your kid or just treating yourself, pavlovas are as delightful to look at as they are to eat. Making this Aussie dessert was incredibly fun, especially with episodes of Bluey serving as my background soundtrack.
As for my nephew? Let's just say I've securely cemented my status as the cool aunt, at least until the next dessert challenge comes along!
What fictional feasts should I make next? Head on over to TikTok to leave your suggestion!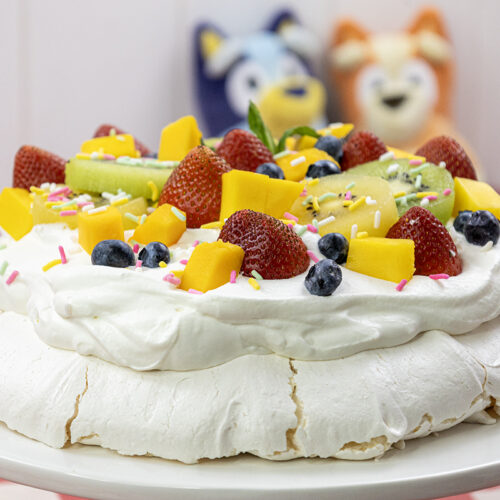 Easy Pavlova Recipe from Bluey
Whip up a pavlova as delightful as a game of "Keepy Uppy" with Bluey and Bingo! This Aussie classic brings together a crispy meringue, Bandit-approved whipped cream, and a fruit topping as colorful as the Heeler family's adventures.
Ingredients
FOR TOPPING
2

cups

heavy whipping cream

¼

cup

powdered sugar

1

teaspoon

vanilla

2

kiwi

sliced

8-10

strawberry

sliced

½

cup

blueberries

½

cup

mango

diced

1

sprig

mint leaves

optional, for topping

3-4

tablespoons

sprinkles

optional, for topping
Instructions
In the bowl of a stand mixer with a whisk attachment, add the egg whites and whisk on medium-low speed until frothy.

Slowly add the sugar, one tablespoon at a time, allowing each addition to melt into the egg whites before adding more.

About halfway through adding the sugar, add the cornstarch, cream of tartar, salt, and vanilla. Mix well to combine, then continue to slowly add in the remaining sugar.

Slowly increase the speed of the stand mixer to medium-high. Whisk the egg whites until they are thick and glossy smooth, about 5-10 minutes.

Use a lid or plate and a marker to create a circle in the center of the underside of a sheet of parchment paper.

Meanwhile, preheat the oven to 300°F. Line a baking sheet with the parchment paper, circle side up. Dab a tiny bit of the egg white mixture onto each corner of the underside of the parchment, then use the mixture to secure the parchment to the baking sheet.

Scoop all the meringue onto the parchment-lined baking sheet, forming a single pile. Use a spatula to shape the meringue to fit into the circle on the parchment paper. The meringue should be about 2-4 inches tall and hold its shape. Use the spatula to pull the sides of the pavlova up and inwards, then swirl the center to create a divot for even baking.

Place the pavlova into the preheated oven and immediately reduce the temperature to 250°F. After about an hour, reduce the temperature to 220°F for another 30 minutes. Finally, reduce the temperature to 100°F for an additional hour before turning off the oven. Do NOT open the oven door. Let the pavlova cool in the oven for at least 3 hours or overnight. Some cracks on the sides and top are normal.

When the pavlova is cooled, make the topping by whipping the heavy cream with the powdered sugar and vanilla until thickened into whipped cream. Prepare the fruit toppings at this time as well.

Just prior to serving, spoon the whipped topping into the center of the pavlova. Add your favorite fruits, a sprig of mint leaves and sprinkles as desired. Serve right away. Save leftovers in the fridge for up to 48 hours. Pavlova is best enjoyed right away. Bonjour! Enjoy!