The "Home Cooked" Meal from Mrs. Doubtfire
The Starving Chef is supported by Hungry People like you. When you make a purchase through an affiliate link on my site, I may earn a little bit of cash on the side (at no extra cost to you) to help keep my kitchen running. Read our disclosures here.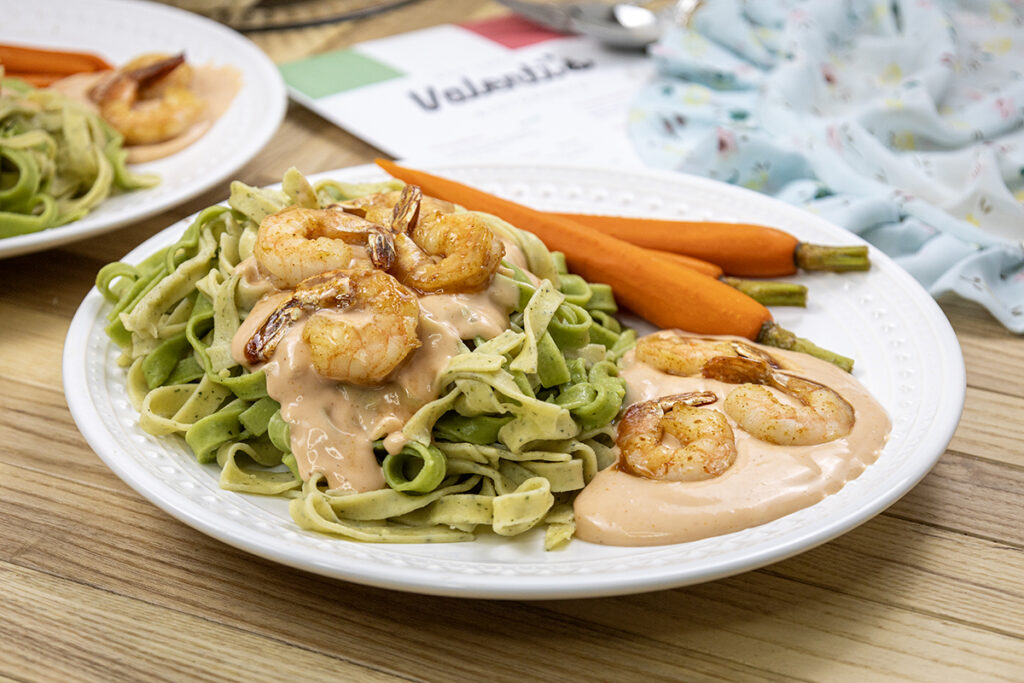 What's Up, Hungry People
There has been one meal on my mind lately and it's the fancy "homemade" meal from Mrs. Doubtfire. The epitome off fancy meals, I legit DREAMED about coming home from school to have my own Mrs. Doubtfire making this incredible meal.
Naturally, after several requests to make this 90s inspired dinner over on TikTok I decided it was high time to tackle the meal that has intrigued me since 1993.
Mrs. Doubtfire: The Man, The Myth, The Legend
Mrs. Doubtfire is easily one of the most memorable movies from the early '90s—and for good reason. The premise is simple yet utterly compelling: Daniel Hillard, a well-meaning but somewhat disorganized dad, faces separation from his kids due to a divorce with his no-nonsense wife, Miranda.
As kids, we all kinda wished for a dad like Daniel—endless fun, wacky impersonations, and games galore.
I mean, Robin Williams as a dad? Who wouldn't want that!
But revisiting the film as an adult, my perspective shifted. Suddenly, I found myself empathizing more with Miranda (played brilliantly by Sally Field) and even her new boyfriend, Stu Dunmeyer (hello, Pierce Brosnan).
Daniel, desperate to spend more time with his kids, dons a rather impressive disguise as a British nanny. He sneaks into his former home to, let's just say, work on mending some fences, albeit in the guise of a matronly old woman.
Remember that scene where Mrs. Doubtfire tries to impress with a homemade meal but winds up setting his, uh, bosom aflame? The alternative becomes a quick call to Valenti's for some takeaway.
Dinner from Valenti's: Unveiling the Mystery
Now, I'm not the only one who has been wondering for the last few decades what exactly was plated up.
After a deep dive on Reddit, I came across a thread I found a thread where some astute film-and-food aficionados had pieced it together. In the thread, commenters speculate that the sauce on the plate was actually a real life version of "Marie Rose Sauce" – which is typically served as a side for seafood.
And given the shrimp and unique green and white noodles that also graced the plate, this sauce theory holds water—literally and figuratively.
Here's What You Need
Carrots: Provides a sweet and earthy component; simmered and glazed with honey for added flavor and a tender texture.
Water: Used to simmer the carrots until they're fork-tender; also helps in dissolving the honey for glazing.
Salt: Enhances the natural flavors of the carrots and serves as seasoning for the water.
Honey: Adds a natural sweetness to the carrots, creating a light glaze that enhances their flavor.
Shrimp: The protein star of the dish; cooked in a seasoned pan for a spicy and succulent taste.
Cayenne Pepper: Adds a kick of spice to the shrimp, complementing the sweetness of the other components.
Lemon Juice: Brightens up the flavors; used both for deglazing the pan for the shrimp and in the Marie Rose sauce.
Spinach Noodles: Adds a verdant color and subtle spinach flavor; serves as one of the two bases for the dish.
Garlic Basil Noodles: Imparts herbaceous notes and garlic flavor; serves as the second base for the dish.
Mayonnaise: Creamy base for the Marie Rose sauce, contributing to its rich texture.
Ketchup: Adds sweetness and tanginess to the Marie Rose sauce, balancing out the creaminess of the mayonnaise.
Worcestershire: Imparts a complex, umami flavor to the Marie Rose sauce, enhancing its overall taste.
Tabasco Sauce: Provides a spicy kick to the Marie Rose sauce, elevating its flavor profile.
Lemon Juice (in Marie Rose Sauce): Adds a tangy note to the Marie Rose sauce, complementing its richness and spiciness.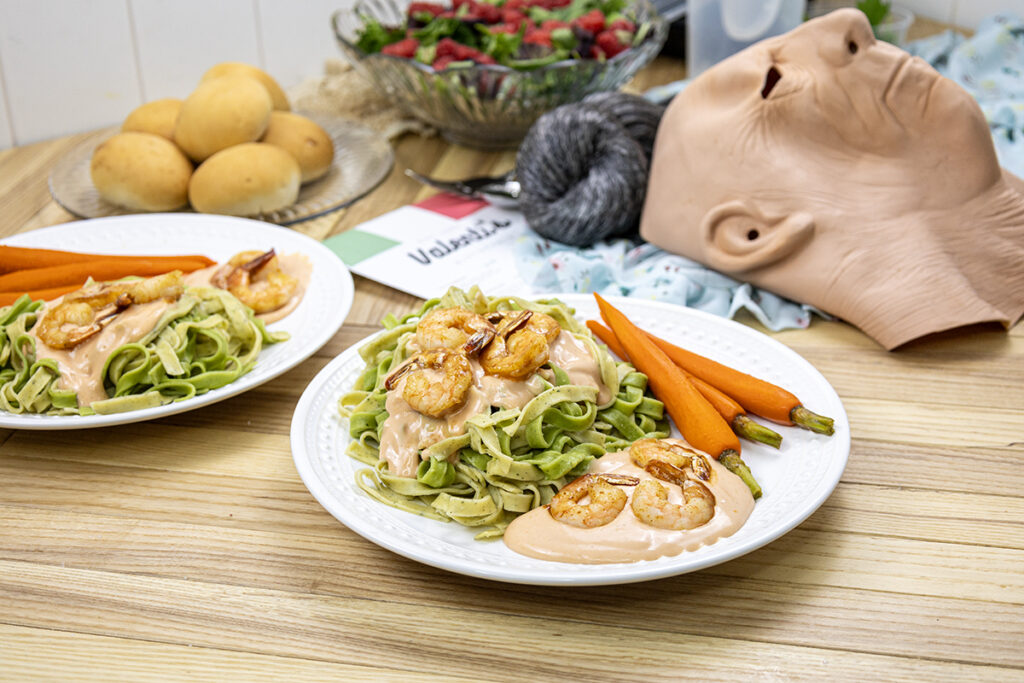 Let's Cook!
Begin by simmering peeled whole carrots in about half an inch of water. A touch of salt is essential at this stage; it helps to enhance the carrots' natural sweetness and flavors the water. Rotate the carrots occasionally to ensure even cooking. Midway through, drizzle warm honey over them to create a delicate glaze. Continue simmering until most of the water has evaporated.
Next, toss some shrimp into the sweetened water left from simmering the carrots. Here's where you can get adventurous with the seasoning. Cayenne pepper is my go-to for this step. Don't be shy; add enough to send a message to the guy on a date with your ex-wife.
The pièce de résistance is the sauce. It's surprisingly straightforward to make—simply mix mayonnaise, ketchup, Tabasco sauce, Worcestershire sauce, and lemon juice. For me, the taste is reminiscent of Thousand Island dressing.
As for the base, I've used cooked spinach and garlic basil noodles. I opted for fresh fettuccine as it was the closest thing to the green noodles seen in the film. Ladle the Marie Rose sauce over your base, place some shrimp on top, and add your honey-glazed carrots to the plate. Feel free to drizzle a bit more sauce for that extra fancy '90s dinner appeal.
Tips & Tricks for making Prawn Marie Rose
Switch Up the Protein: If shrimp isn't your jam, try substituting chicken or tofu. The Marie Rose sauce is versatile and pairs well with various proteins.
Honey Substitute: If you're out of honey, you can use maple syrup or agave nectar to glaze the carrots. Just keep in mind that these substitutes may alter the flavor a bit.
Sauce Consistency: If you find your Marie Rose sauce is too thick, add a teaspoon of water or extra lemon juice to thin it out.
Don't Overcook the Shrimp: Shrimp cook quickly and can turn rubbery if left in the pan too long. Keep an eye on them and remove as soon as they turn pink and opaque.
Spice Level: The cayenne pepper gives the shrimp a spicy kick. If you're not a fan of heat, reduce the amount or omit it altogether.
Noodle Choices: If you can't find spinach or garlic basil noodles, regular fettuccine works just fine. You can also add some parsley or basil for added flavor and color.
Storing Leftover Sauce: Marie Rose sauce stores well in an airtight container in the fridge for up to a week. It's great on sandwiches or as a dipping sauce for veggies.
Reviving Leftover Noodles: If you've got leftover noodles that have clumped together, revive them by tossing in a pan with a little olive oil or butter over low heat.
Avoid Soggy Carrots: If you find your carrots are too soggy after simmering, drain them and toss them in a pan over medium-high heat for a couple of minutes to remove excess moisture.
Taste as You Go: Always remember to taste as you go along, especially when seasoning the water for the carrots and the shrimp. It's easier to add more salt or spice than to correct an overly salty dish.
90s Luxury Dining = Achieved
So was Mrs. Doubtfire's choice of ordering Valentis' takeout justified? Well, making this dish from scratch could have saved $135 and avoided rush delivery fees.
Most importantly, this meal was the height of luxury to me as a four-year-old when I first saw the movie. As an adult, it's not just a delicious dinner but a delightful journey back to a simpler time.
And there it is, Hungry People—a '90s dinner classic, reborn and ready for your table. Whether you're cooking to impress or just journeying back to your childhood, this Mrs. Doubtfire-inspired meal is a win-win. It's easier on your wallet than takeout and loaded with flavors that even Daniel Hillard would approve of. Don't just dream about the meals from your favorite movies—bring them to life in your own kitchen. Enjoy!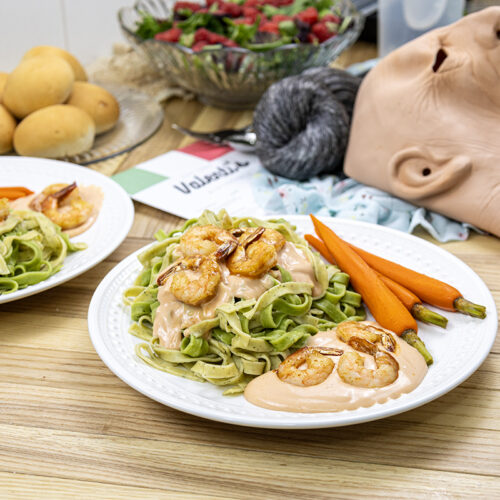 The "Home Cooked" Meal from Mrs. Doubtfire
Relive the '90s with this Mrs. Doubtfire-inspired dinner! Enjoy honey-glazed carrots, spicy shrimp, and Marie Rose sauce—all in just 30 minutes.
Equipment
vegetable peeler

cutting boards

skillet
Ingredients
6

whole carrots

greens removed, carrots trimmed & peeled

4-6

cups

water

enough to halfway cover carrots

1

teaspoon

salt

¼

cup

honey

1

lb

large shrimp

½

tablespoon

cayenne pepper

(adjust to taste)

1

tablespoon

lemon juice

4

bundlles

fresh spinach noodles

cooked according to package

4

bundles

fresh garlic basil noodles

cooked according to package
Instructions
Boil the pasta according to the instructions on the packaging.

Meanwhile bring a second, shallow pan filled halfway with water to a rolling simmer. Season the water with salt.

Add the trimmed and peeled carrots to the water. The water should be deep enough to cover the carrots halfway.

Pour the honey over the carrots and lightly stir until it is dissolved into the water. Continue to simmer the carrots until they are fork tender, about 15 minutes. When most of the water has been cooked off, remove the carrots from the skillet and set aside.

Without cleaning the skillet, add the shrimp to the pan. Season with cayenne pepper to taste. Deglaze the pan with lemon juice. Continue to stir until the shrimp are cooked through – about 5-8 minutes.

While the shrimp are cooking, combine the mayonnaise, ketchup, Worcestershire, hot sauce and lemon juice to a small bowl and whisk together. Set aside until ready to serve.

Plate the noodles along with the shrimp on top. Add the carrots to the side and a generous swirl of the Marie Rose sauce. Serve right away and enjoy!