Fondue Bourguignonne
The Starving Chef is supported by Hungry People like you. When you make a purchase through an affiliate link on my site, I may earn a little bit of cash on the side (at no extra cost to you) to help keep my kitchen running. Read our disclosures here.

Tonight if you are looking for something that looks and sounds super fancy, just throw together some beef bourguignonne fondue. It's just hard enough to pronounce that none of your guests will question it and will likely think you spent hours preparing for this very simple meal. In case you are hurting your tongue over the pronunciation it's "boor-geen-yawn."
The hardest part about fondue is selecting the meats and vegetables you want to cook. Of course, traditional bourguingnonne is made with beef cubes, though the addition of meats such as chicken and shrimp are totally accepted.
To really push the fanciness of this meal home, try making some very simple curry pork meatballs with some ground pork, panko, green onions, and curry powder. I made mine about one inch in diameter to ensure quick and through cooking.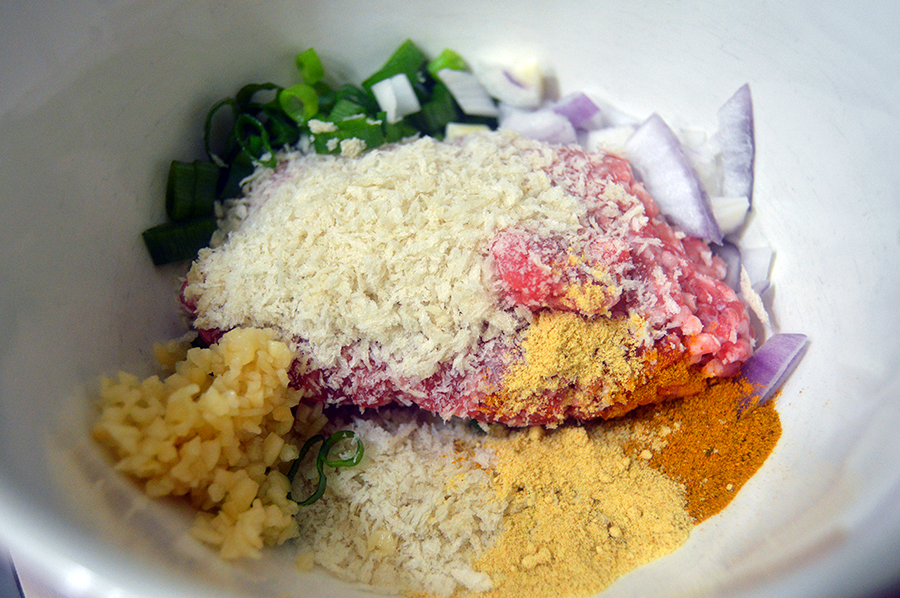 Next, make sure you have the proper fondue equipment to contain the oil. The pot needs to be stainless steal, not ceramic, to contain the oil. The use of a chaffer and gel oil is also highly recommended to keep your oil at a steady cooking temperature. The flame alone will not be enough to heat the oil to 350°F, so heat the oil in a pan on the stove and use a thermometer to remove the oil when it hits 400°F.
Transfer the hot oil into the prepared fondue station – whatever metal fixture you might be using to hold the pot with the oil and leave enough room for a chafer beneath. It's super important the oil only fills about half of the fondue pot so it doesn't overflow and pop all over the place when people dunk their goodies into the frying hot oil. Light the gel fuel and let the oil 'cool' for a few moments before encouraging your guests to skewer their meats and vegetables for DIY cooking.
I also recommend not shoving everything into the fryer at once or else you'll risk lowering the temperature of the oil and therefore might not have enough heat to cook everything through or the cooking times will be significantly extended. My boyfriend and I started with a few quick pieces, such as the shrimp, while we cooked some steak, chicken, and potatoes. At one time, we might have 3-4 skewered items cooking at once.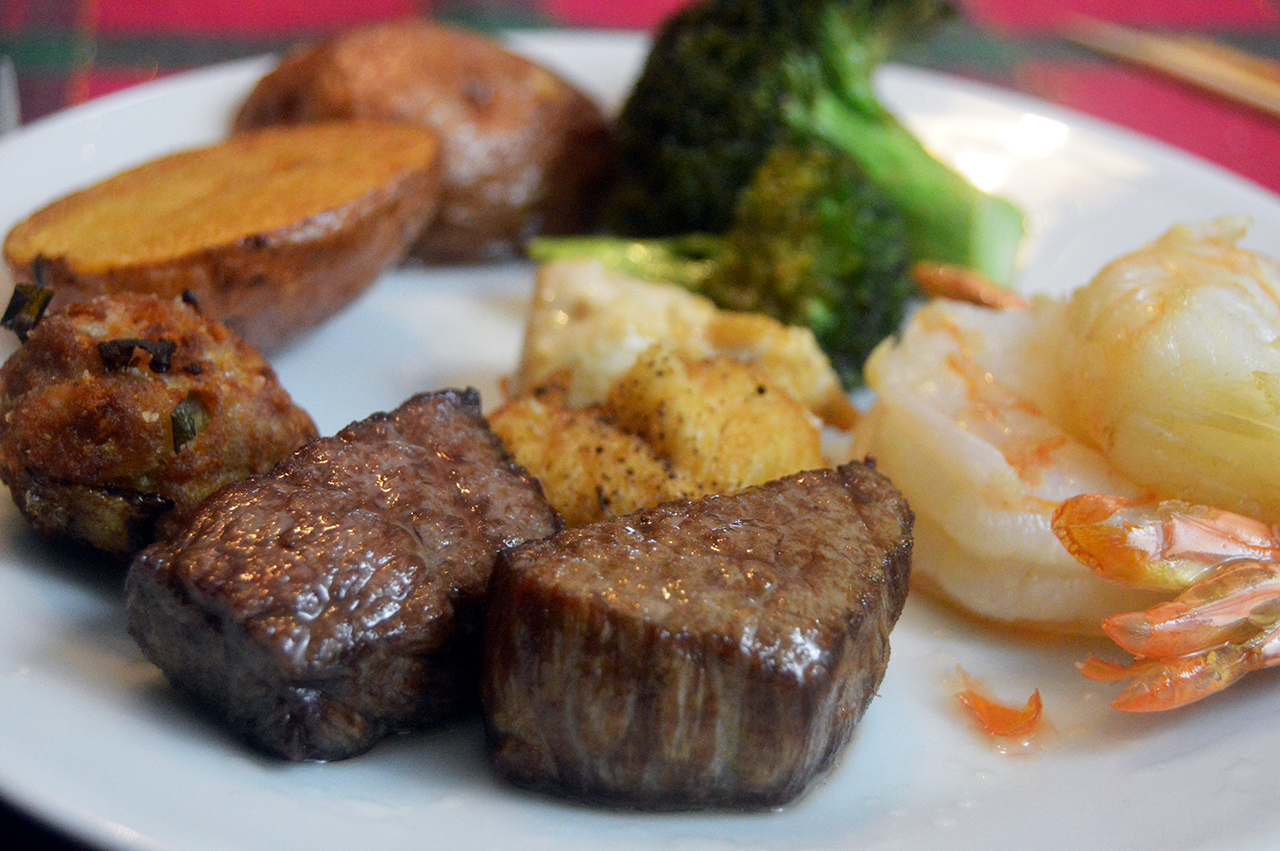 Cooking times vary per item:
Potatoes ~ 3-5 minutes
Chicken ~ 2-3 minutes
Broccoli ~ 1-2 minutes
Steak ~ 1-2 minutes
Shrimp ~ 30 seconds – 1 minute
Fondue Bourguignonne
Traditional bourguingnonne is made with beef cubes, though the addition of meats such as chicken and shrimp are totally accepted.
Equipment
fondue skewers/forks

raw food plate

DO NOT CROSS CONTAMINATE RAW & COOKED FOODS

vegetable plate

cooked food plate/serving plates
Ingredients
FOR FRYING:
4

cups

vegetable oil

3

chicken breast tenders

cut into bite size pieces

2

filet mignon or comparable quality steak

cut into bite size pieces

10

tiger shrimp

peeled & tail intact

2

cups

broccoli florets

6

roasting potatoes

cut into halves
CURRY PORK MEATBALLS
4

oz

ground pork

2

tablespoons

green onion

chopped

2

tablespoons

red onion

finely chopped

2

tablespoons

yellow curry powder

2

teaspoons

ginger powder

1

teaspoon

mustard powder

1

teaspoon

garlic

minced

¼

cup

panko
salt & pepper

to taste
Instructions
Prepare the pork meatballs by combining all of the ingredients into small balls about one inch round in size.

Arrange the steak, chicken, shrimp, and meatballs on a single raw meat tray. Decoratively arrange the potatoes and broccoli on a separate plate.

Heat the vegetable oil to 400°F in a pan on the stove. Use a thermometer to confirm the heat temperature, then transfer the hot oil carefully from the stove to the fondue pot. Let the temperature reduce to 350°F and maintain the temperature with a lit chafer.

Use the skewers to cook the meats according to the guide in the post above. Remember: "Consuming raw or undercooked meats, poultry, seafood, shellfish, or eggs may increase your risk of foodborne illness." Don't cross contaminate your raw and cooked foods!

Serve alongside your choice of sauces and enjoy!