Grilled Cheese Charcuterie
The Starving Chef is supported by Hungry People like you. When you make a purchase through an affiliate link on my site, I may earn a little bit of cash on the side (at no extra cost to you) to help keep my kitchen running. Read our disclosures here.
love me a good charcuterie spread – even if the word "charcuterie" is used loosely at best when it comes to describing what is being served.
Traditionally charcuterie is a spread of meat, pâtés, jerkies and a variety of cheeses served with jellies, dips, breads, fresh fruit, veggies and more. Knowing how to make a good charcuterie spread should be in any wannabe chef's repertoire.
Once you've mastered the basic spread, you can move on to "charcuterizing" anything. In this case, my husband requested grilled cheese and tomato soup for dinner last week – and of course, who would I be if I didn't go all in on making him something he definitely didn't ask for.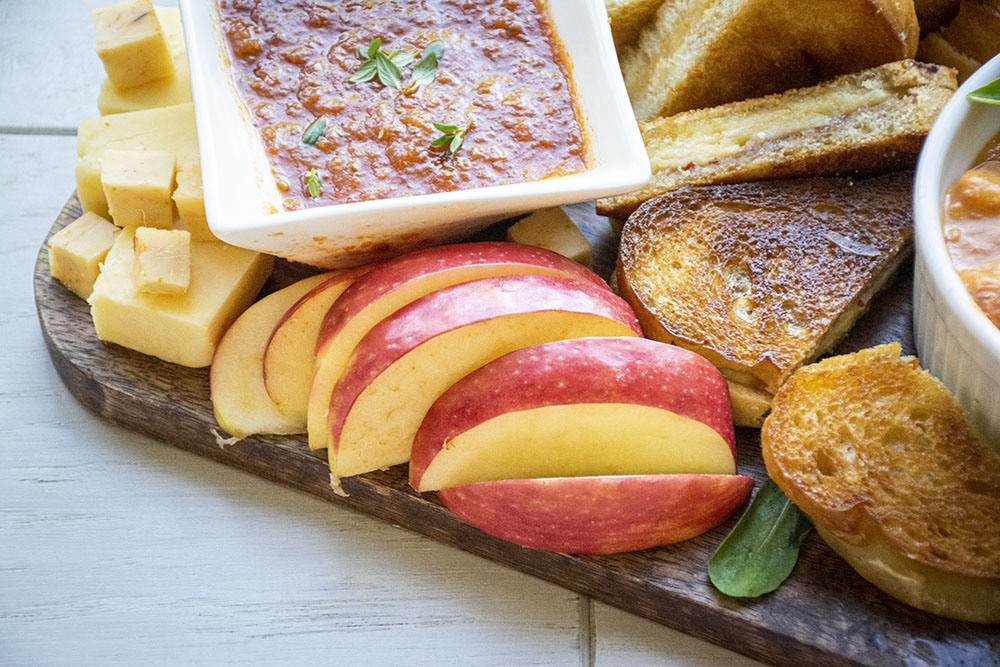 To make it count as a charcuterie board, you have to have some fresh fruit, so I included apples for tax (plus apples go like, really well with an assortment of cheeses).
The best part about making a charcuterie spread of grilled cheeses is getting to mix and match any grilled cheese combinations your little heart can dream of – simple or complex.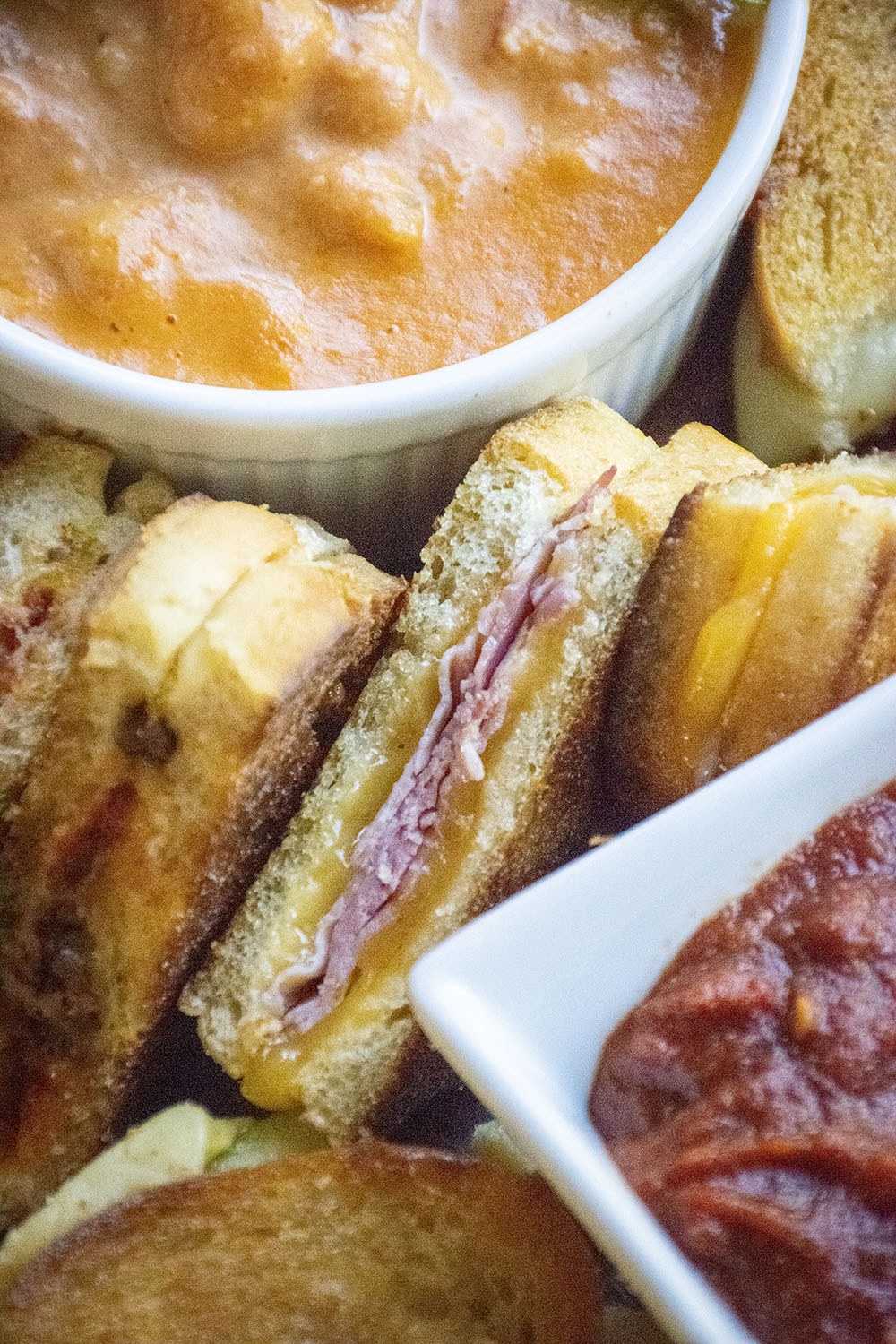 I used this charcuterie board to clean out my fridge – I made use of leftover cheeses from my last spread as well as cleaned out some leftover ham and swiss I had from when I made Cubanos.
From standard ham and cheddar to Swiss and raspberry pepper jelly, there are no limits on what flavor combinations you can try. The trick to getting as many different grilled cheeses as possible is to buy a whole unsliced loaf of ciabatta or similar long, soft crusted breads (like country French loaf). I sliced my bread about a half inch thick – which is generally thinner than you'll find in already sliced bread.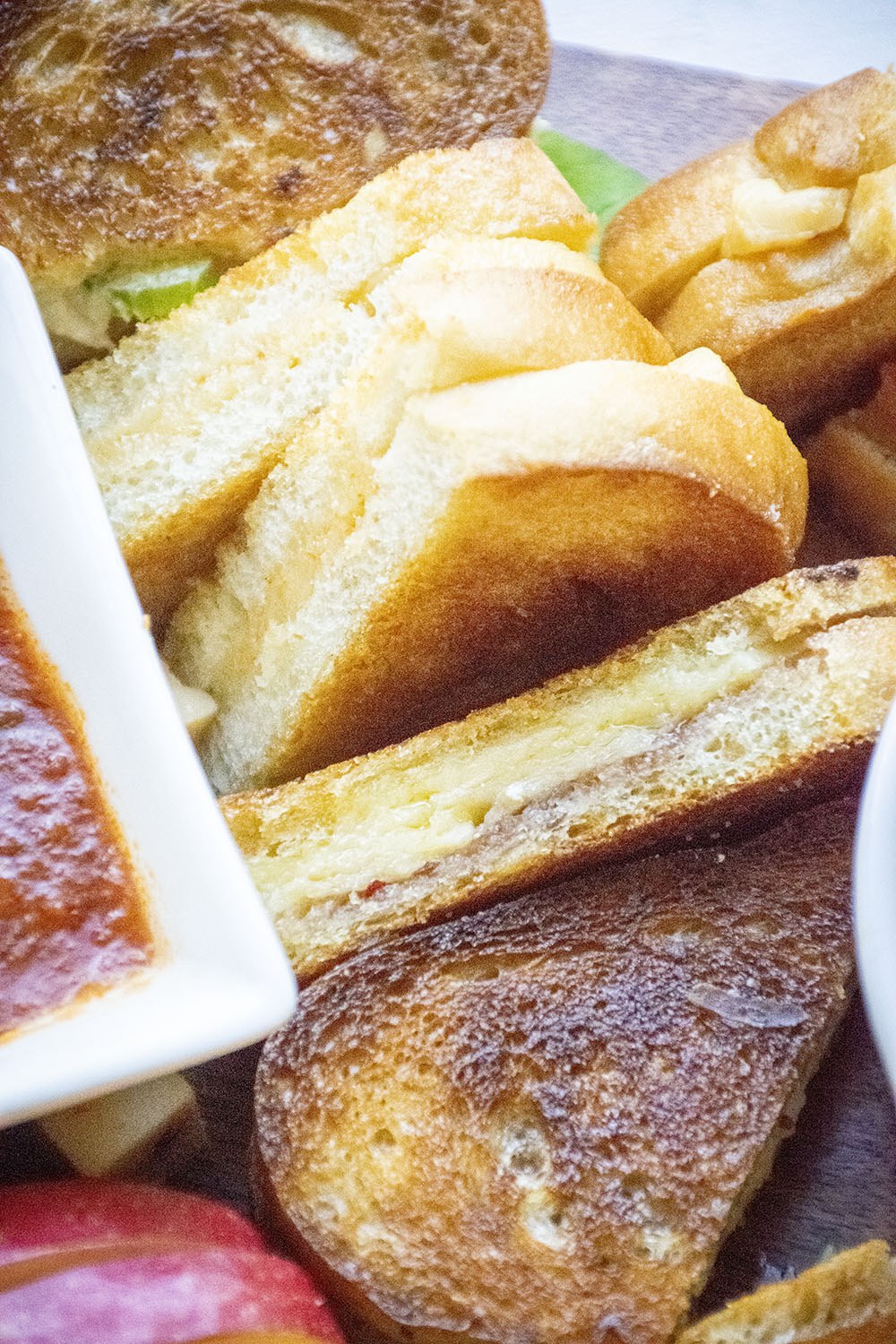 Leftovers from taco night also made an appearance – and these grilled cheeses deserve their own post. Seriously. They were so good, I wish I had made more than one.
I used shredded Mexican cheese, a small tablespoon of salsa plus some taco meat and grilled it up. One of the best combinations for sure!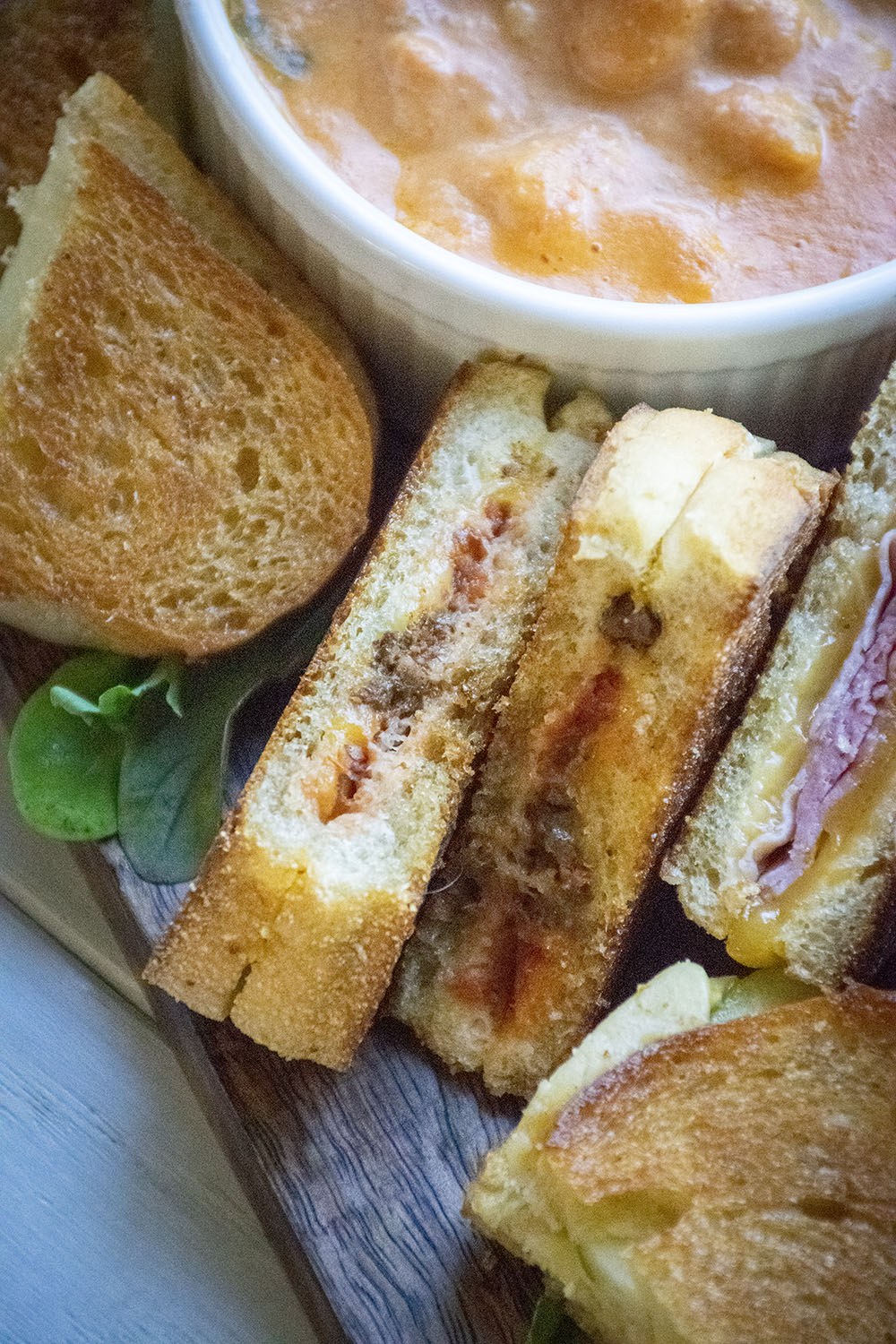 Make one version of each grilled cheese and then cut it in half in order to share (I guess, if you have to) so that way you can try each different flavor mix up.
Offering an array of dipping sauces is another key to the perfect spread.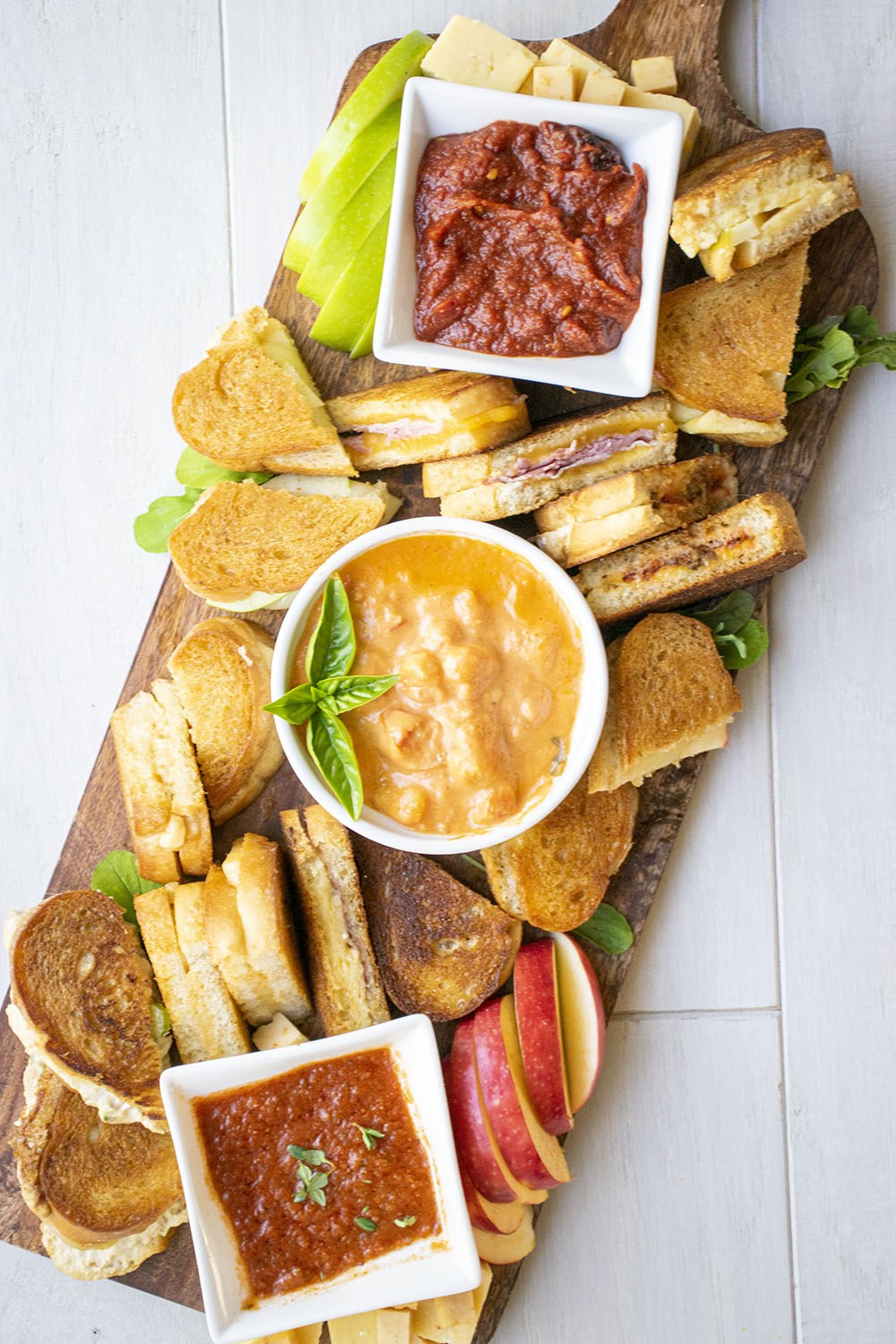 My first dipping sauce: tomato gnocchi soup. Made from ingredients fresh out of my own garden, this creamy soup made for a great dip for some of the grilled cheeses made with spicy habanero cheese.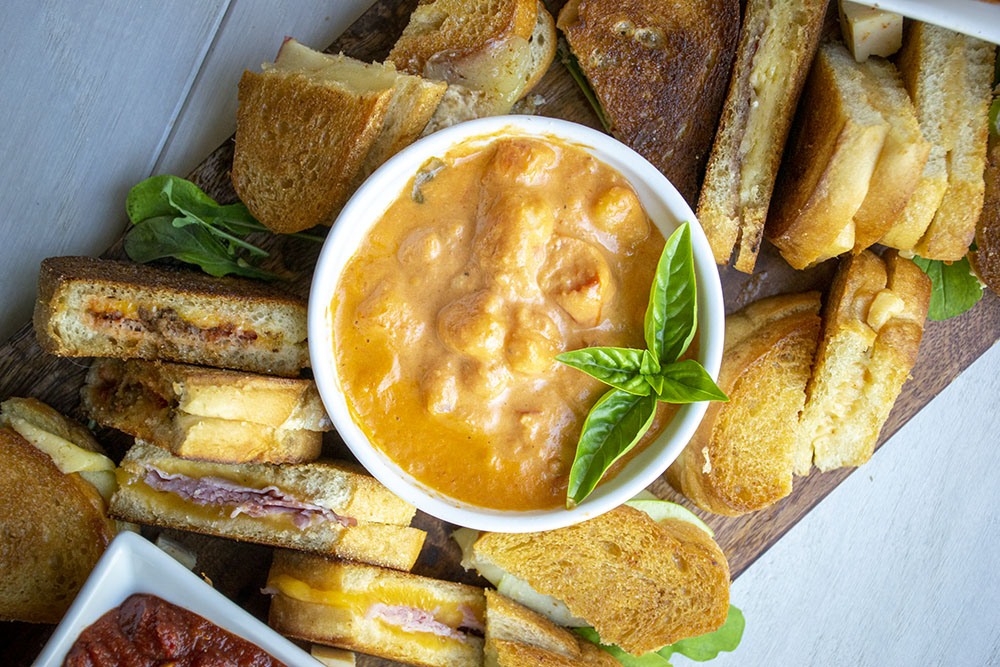 My second dip I whipped up on the spot just to see what it would taste like: spicy Thai garlic tomato dip! Made from canned tomato sauce and a generous dollop of Thai garlic chile paste, it has a nice hint of heat, which is perfect for the sandwiches packed with soft cheeses and jellies for a play on sweet and spicy.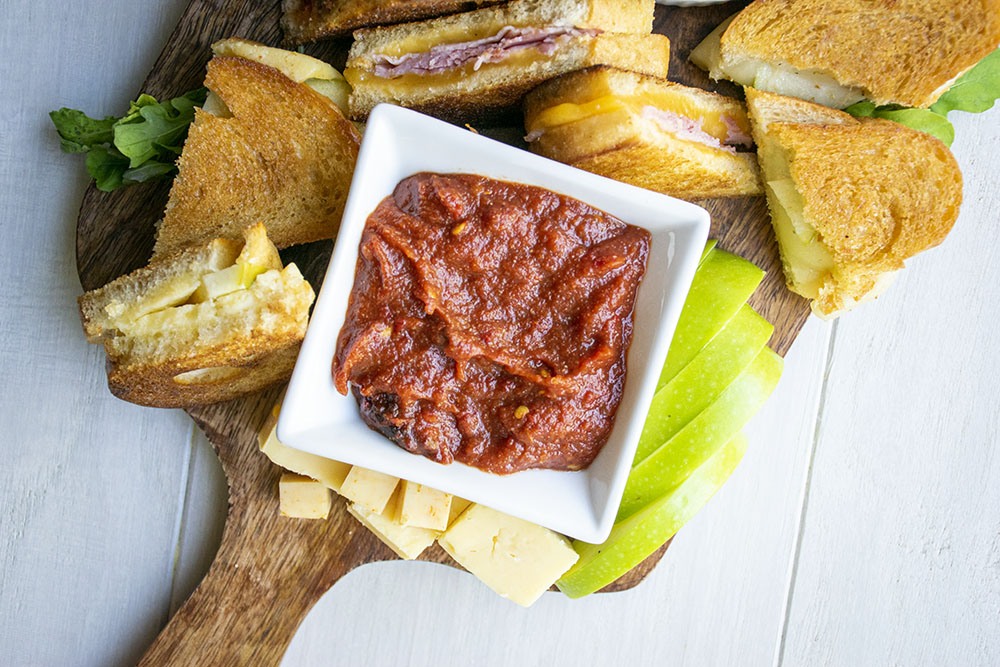 For the last dip, I'll admit I got a little lazy. I dug out a jar of half used pasta sauce from the fridge door that would have otherwise been pitched in a few days anyways. To use up any wasted sauce, I decided it would be the perfect middle-type sauce – sweet and savory.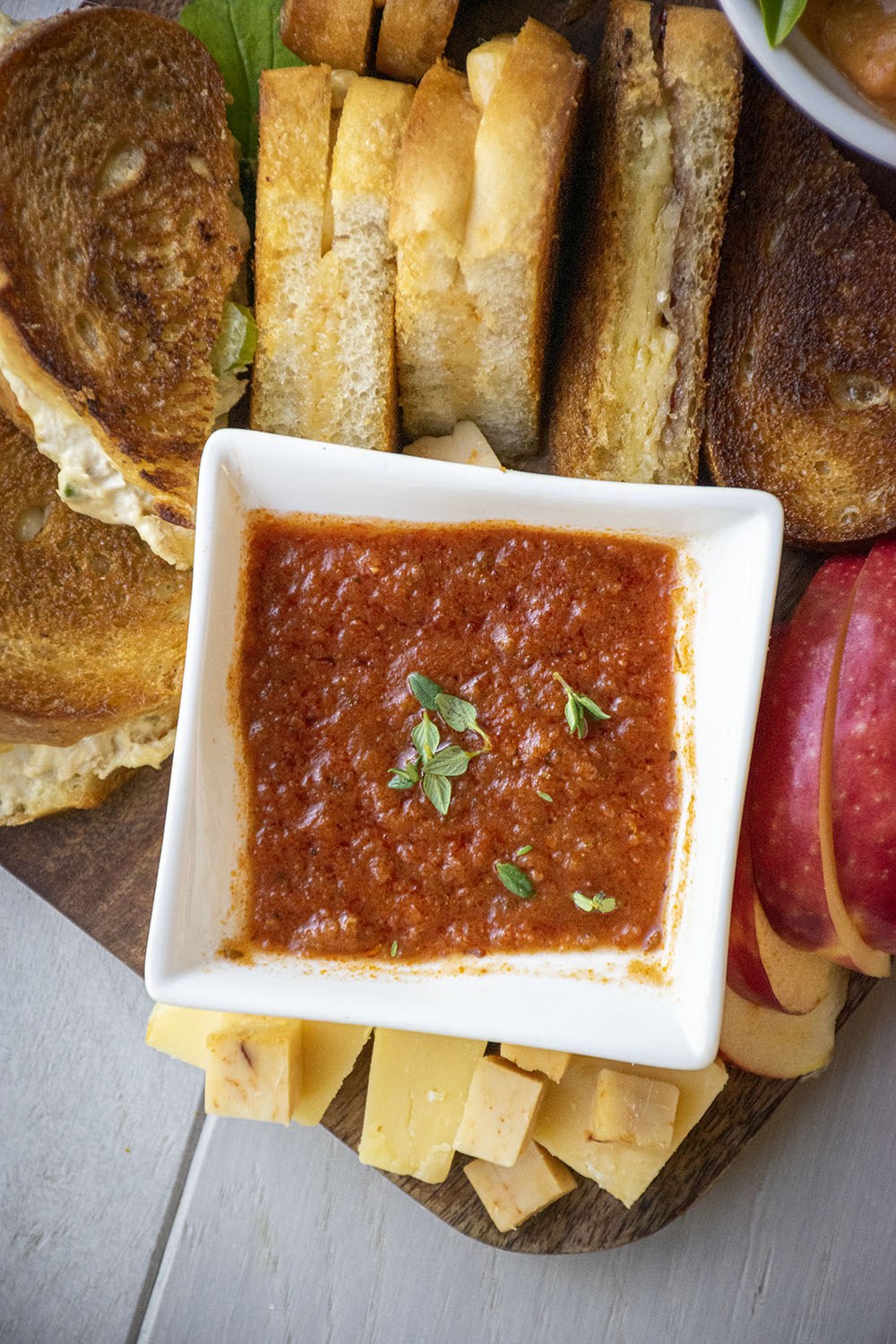 Overall, our favorite was definitely the creamy tomato soup. The gnocchi added a little bit of chunky texture to the sandwiches – and it also went well with every grilled cheese combination!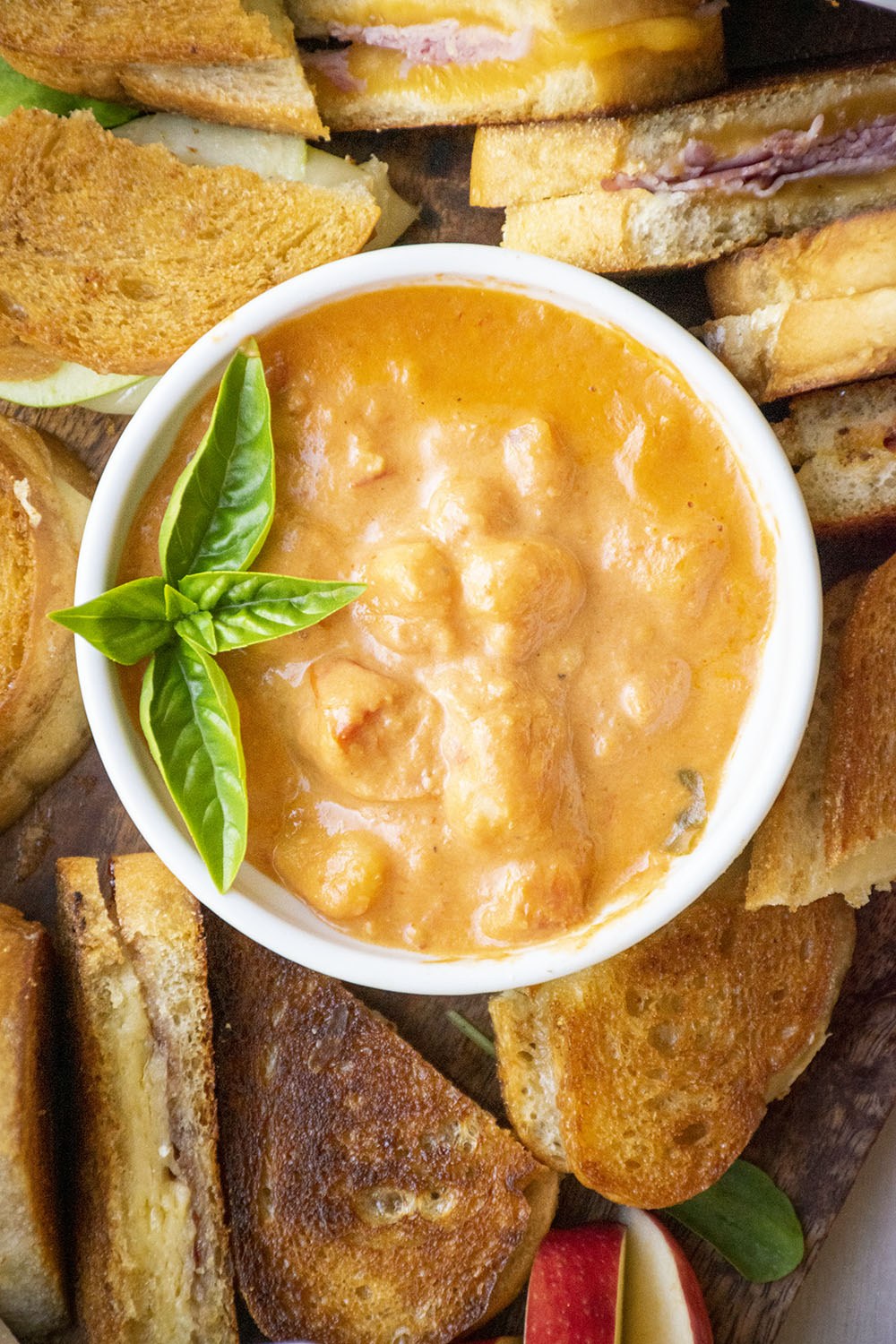 Here are some flavor combinations that we tried that we think you'll love:
Ham & cheddar
Tequila limon cheddar & Pink Lady apple slices
Habanero cheddar cheese (and that's it, it's so spicy!)
Dill garlic cheese curds & green apple
Green apple & Swiss cheese
Mexican shredded cheese, taco meat & salsa
Raspberry pepper jelly & white cheddar
I served the leftover cheese cubed up on the side along with the remaining apple slices to fill in the empty spots.
I used what I had on hand to make my grilled cheeses. But you can use a variety of cheeses from fancy cheddar to bagged and shredded. It doesn't matter! Have some fun testing different flavor combinations.
As I always say, there are no flavors you don't like, just tastes you haven't aquired yet – so be adventurous in both your taste testing and cheese selections too!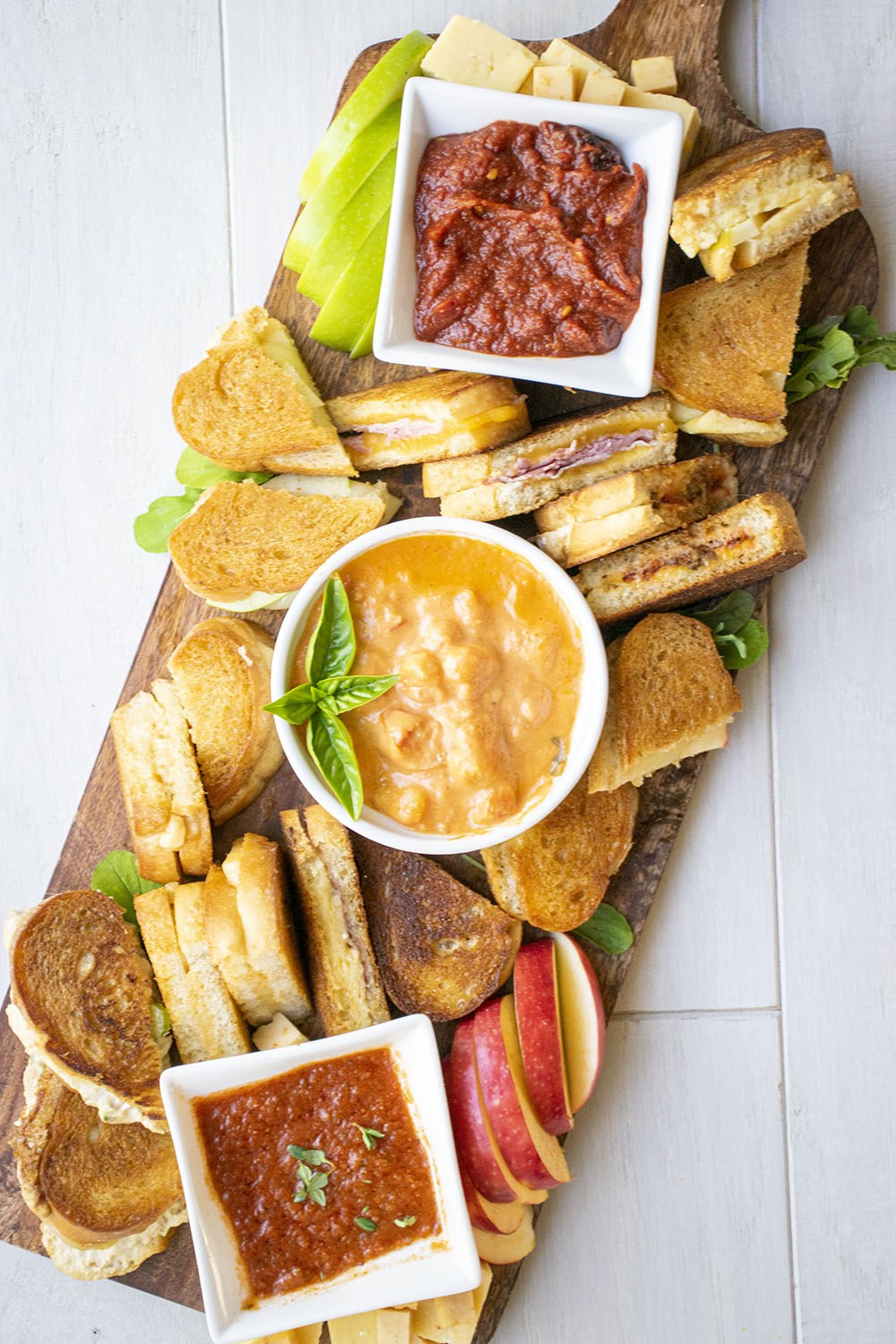 Grilled Cheese Charcuterie
From standard ham and cheddar to Swiss and raspberry pepper jelly, there are no limits on what flavor combinations you can try.
Ingredients
1

loaf

country French bread

or ciabatta, unsliced or thick sliced

8

tablespoons

butter

for grilling
FOR CHEESE IDEAS:
cheddar

habanero cheddar

dill garlic cheese curds

white cheddar

Mexican shredded cheese

tequila limon cheddar
FOR SANDWICH ADDITIONS:
apple slices

ham

sliced thin

raspberry pepper jelly

taco meat

bacon
FOR THAI TOMATO DIPPING SAUCE:
FOR DIPPING SAUCES:
tomato gnocchi soup

pasta / marinara sauce
Instructions
Cut the bread into thin half inch thick slices. Combine your favorite cheeses with fruits, jams and more to create mini sandwiches. Melt the butter in a skillet over medium heat, about 2 tablespoons per sandwich.

Grill the sandwiches on each side until golden, about 2-4 minutes per side. Rest the sandwiches for 2-3 minutes prior to cutting for best results.

Arrange the sliced sandwiches on a cheese board with warmed dipping sauces, leftover apple slices and cheese cubes. Serve right away. Enjoy!