Homemade Turkey Bone Broth
The Starving Chef is supported by Hungry People like you. When you make a purchase through an affiliate link on my site, I may earn a little bit of cash on the side (at no extra cost to you) to help keep my kitchen running. Read our disclosures here.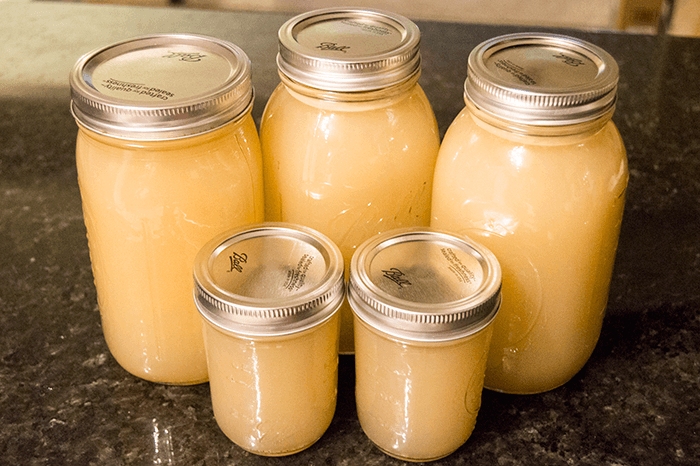 I'm finally catching up on all the food that I made over Thanksgiving. It's hard to blog and cook for a crowd simultaneously! Fortunately for me (and for you), my family decided to celebrate Thanksgiving on Friday afternoon this year, so I had the opportunity to make most of my big Thanksgiving dinner the night before and just reheated it when it was time to serve. It worked out perfectly.
Once Thanksgiving was all said and done, I decided I would try to utilize the leftovers throughout the week – which meant I even kept the remains of the turkey carcass to make into bone broth the next day.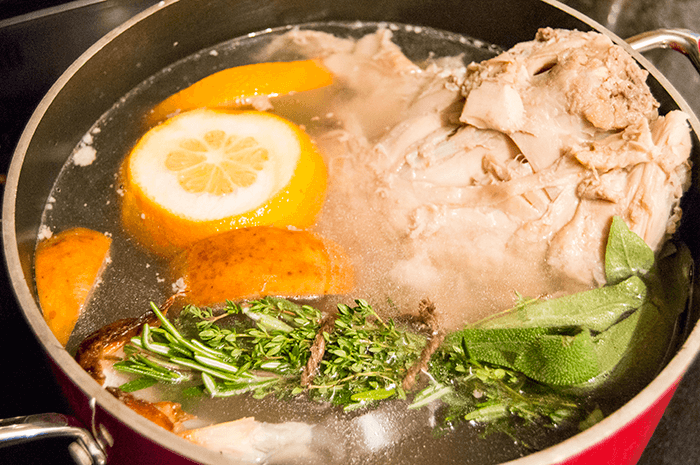 I brined my turkey and stuffed it with apples and oranges, which is why you see them in my pot along with the boney remains of a thirteen pound turkey. Those ingredients aren't required, though if your turkey was stuffed with similar traditional vegetables (or hearty fruit in my case), the extra ingredients will certainly add a whole new level of savory deliciousness. I also tossed in a bundle of unused fresh herbs for good measure and a burst of flavor.
Bone broth is better the longer it stews. I brought mine to a rolling bubble before covering it with a lid and reducing the temperature to a good simmer. I then just let it go for the most part, only poking it occasionally to keep the turkey bones submerged in the broth.
After about two hours, the broth should be a nice, cloudy golden color. You can let it go even longer than that – I was making this at 9 pm on a Monday and really just wanted to go to bed, so I only let mine cook for about two and a half hours total. When you are ready to harvest your broth, use tongs to remove all the big pieces of leftover turkey bones or skin as well as all the herbs.
When it reaches this point, it's good to eat as a soup, but I really wanted a nice golden broth to use in other recipes (as well as eat on its own) so I strained my broth into large mason jars to use another day – I already have some ideas brewing, like turkey noodle soup (recipe coming soon!).
If you can your broth properly, it can be stored in your fridge for a whole year or in your freezer for much longer!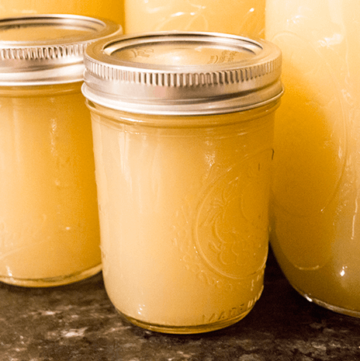 Homemade Turkey Bone Broth
Utilize your leftover Thanksgiving turkey bones to make delicious, golden turkey bone broth soup.
Ingredients
5-8

lbs

cooked full turkey or chicken carcass, strips of meat, bones, etc

10

cups

water

enough to cover the bones completely

3

springs

thyme

bundled

3

sprigs

rosemary

bundled

3

sage leaves

bundled

1

cup

sea salt
Instructions
Place the turkey carcass in a pot large enough to be completely covered with water. Pour in the water and add the bundle of herbs.

Bring the water to a rolling boil then cover and reduce the heat to a medium high simmer. Let the bone broth simmer for 2-4 hours, or until the broth reaches a cloudy golden color. Taste the soup then add the salt, use more or less as desired. Stir until the salt has dissolved.

Use large tongs to remove and discard the turkey bones and excess meat and herbs. Serve as is OR use a strainer to remove any remaining herbs or meat for a super fine broth.

Bone broth can be eaten as a soup or used as stock in other recipes. Can any remaining broth and store in the fridge or freezer; or use the broth within one week.