Petit Croque Monsieur
The Starving Chef is supported by Hungry People like you. When you make a purchase through an affiliate link on my site, I may earn a little bit of cash on the side (at no extra cost to you) to help keep my kitchen running. Read our disclosures here.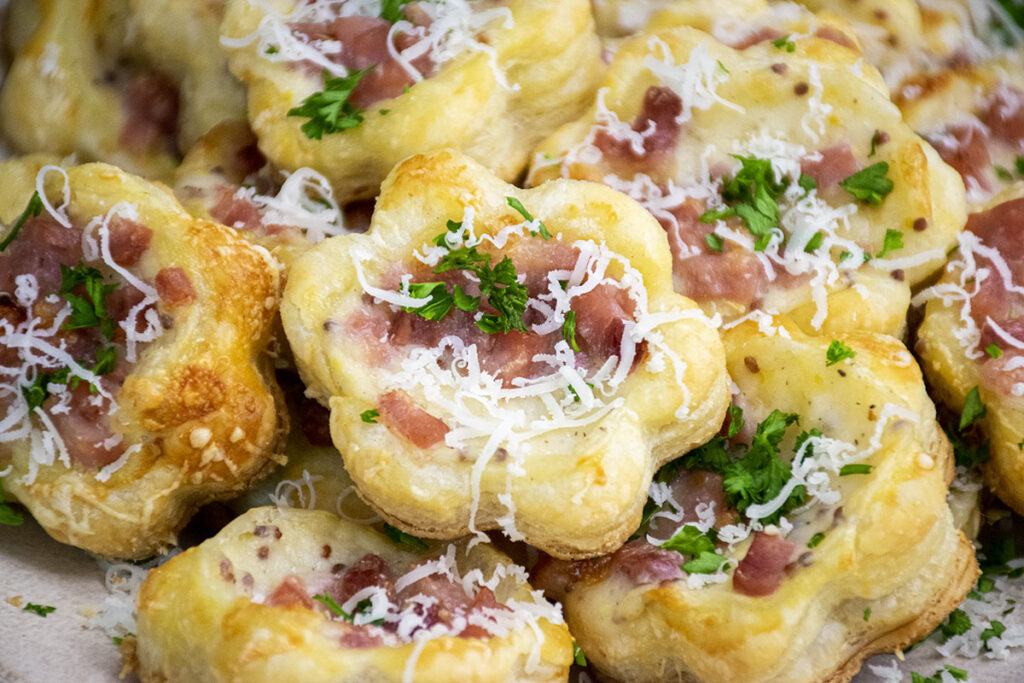 Finger food season is upon us. Whether you are heading to a tailgate, cookout or holiday party – you need a go-to app that you can throw together and bring with you to a variety of events.
That's where these petit croque monsieur come in.
What is a PETIT croque monsieur?
To put it simply, it's the smaller version of a BIG croque monsieur!
Thank you for coming to my TED Talk.
In all seriousness, petit croque monsieur are mostly related to Monte Cristo – because croque monsieur in its sandwich form contains similar ingredients but a different assembly and cooking style.
A petit croque monsieur takes all of the best parts of the sandwich and makes it bite sized. The French version literally will cut up a croque monsieur into little bite sizes pieces and call it "petit!"
Monsieur vs Madame?
Yes, there is a missus to this mister! The difference is simple – a croque madame is topped with a poached or sunny side up egg and served for breakfast.
The monsieur version of this sandwich is better served for lunch or dinner – or bite sized as a petit croque. The perfect ham and cheese combo in a single bite!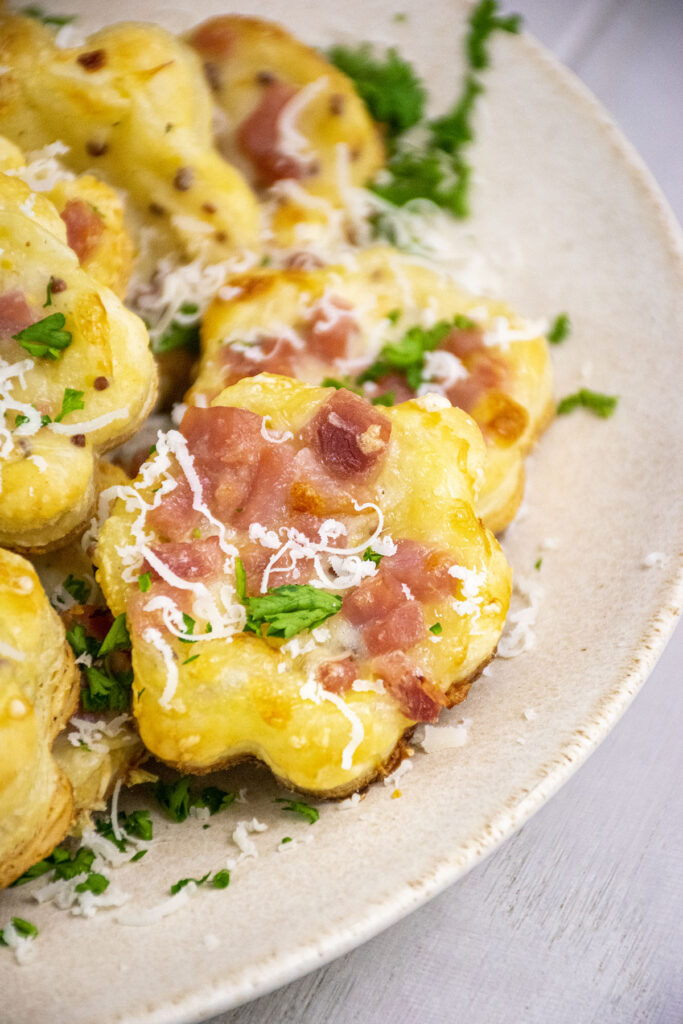 Here's What You Need
Making these petit croque monsieur is as easy as cutting, assembling, baking and serving!
puff pastry – used as the base for the croques
bechamel – a creamy, homemade cheese sauce
gruyere – the perfect melty cheese
diced ham – small mince is best!
whole grain mustard – adds a pop of flavor in every bite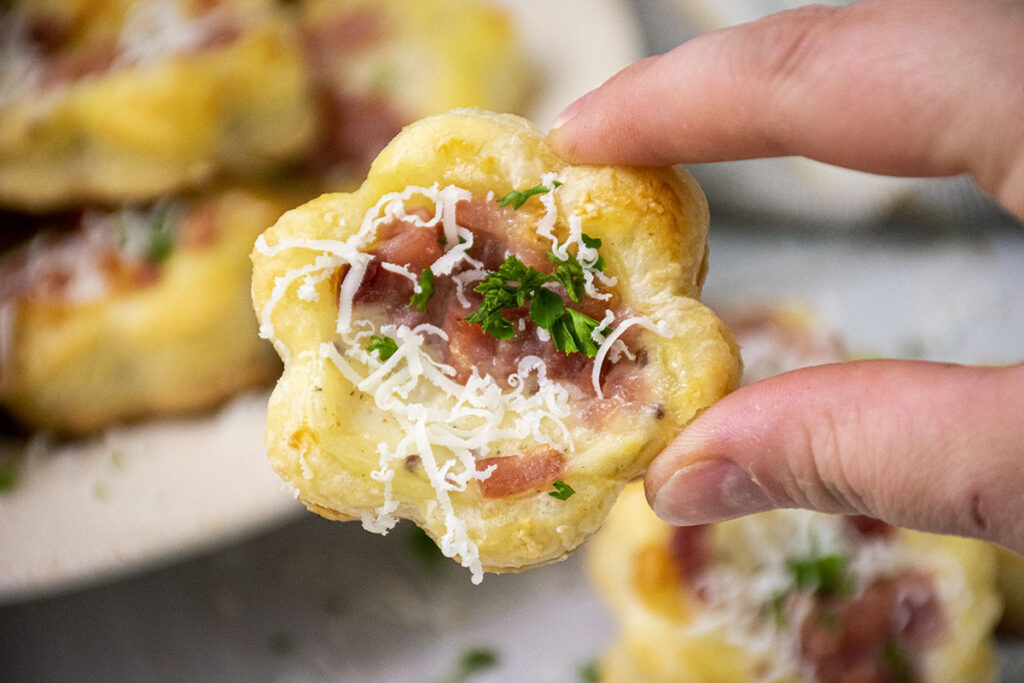 Making Bechamel
Bechamel is a variation of white sauce – and one of the mother sauces in cooking. It is made from a roux and milk and then white cheese, such as gruyere, is melted into a saucy consistency.
Learning how to make mother sauces like bechamel is essential to any home chef's journey to becoming a better cook. Mother sauces are the base for most sauces, especially those found in French cuisine.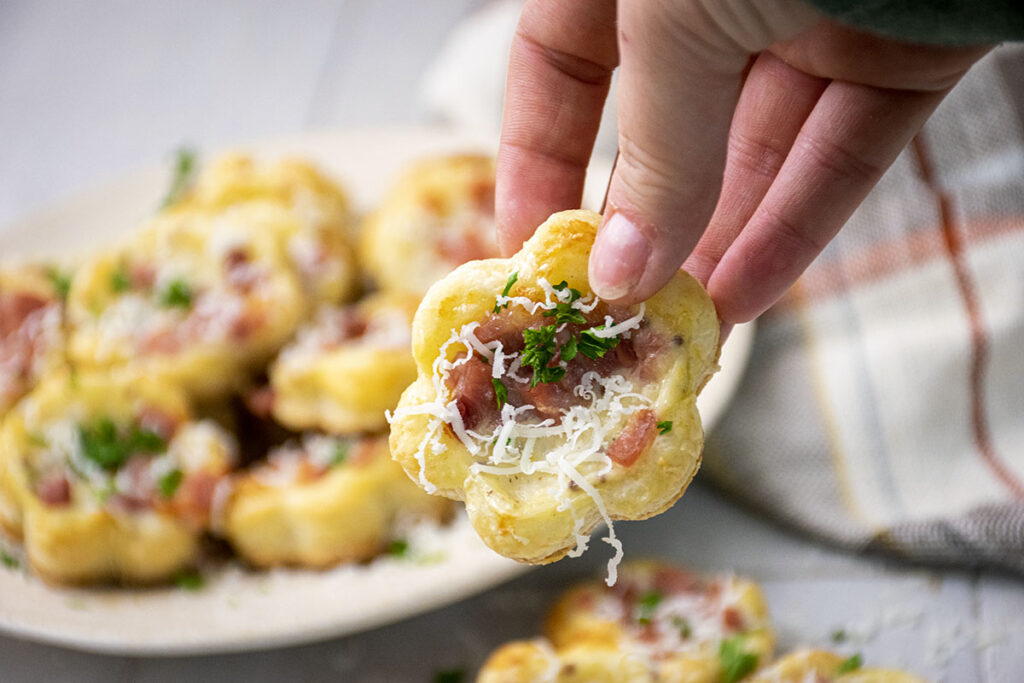 First to make bechamel, you will need to make a roux. A roux is made from flour and melted butter and then stirred together with warm milk to create a saucy consistency.
This bechamel sauce uses pops of whole grain mustard and gruyere cheese to create it's savory notes.
For the CROQUES
In this recipe, the bready base for our ham and cheese sauce is puff pastry. I used a cookie cutter to create simple flower shapes in the puff pastry. A second, smaller cookie cutter is then lightly pressed in the middle to create a small divot where the pastry won't rise.
The center of the croque is where the sauce, ham and additional cheese will go.
When baked, the puff pastry should rise up around the sauce and ham in the center and create the apperance of the pastries being stuffed rather than topped.
I sprinkled on freshly grated gruyere and finely chopped parsley to add a pop of color prior to serving!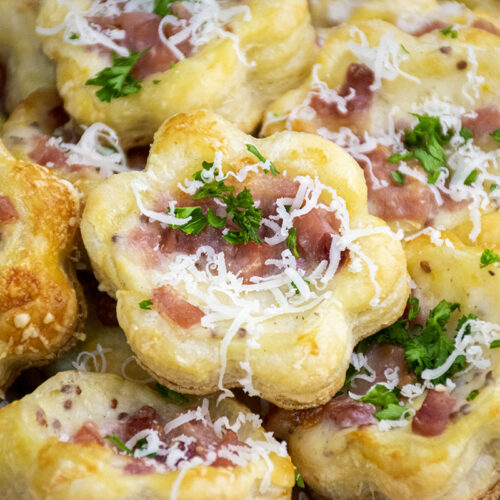 Petit Croque Monsieur
Bite sized croque monsieur – topped with creamy bechamel and cripsy diced ham.
Ingredients
FOR BECHAMEL:
FOR CROQUE:
2

sheets

puff pastry

1

egg + 1 tablespoon water

whisked for eggwash

8

oz

diced ham

small dice

fresh parsley

for topping, optional
Instructions
In a sauce pot over medium high heat, melt the butter until frothy then whisk in the flour. Whisk to combine, 3-4 minutes, then slowly stir in the warm milk and mustard. Bring to a rolling simmer and whisk constantly for another 3-4 minutes. Sprinkle in half the shredded gruyere and reduce the heat to low. Season with salt and pepper to taste. Continue to whisk until smooth. Keep warm and covered, stir occasionally.

Unroll the thawed puff pastry sheets. Use the larger of the cookie cutters to cut out 10-15 pieces of puff pastry. Arrange the cut-outs on a greased or lined baking sheet. Use the smaller cutter to press about half way through each cut out and then use a fork to prick the center of each. Lightly brush the cut outs with eggwash.

Preheat the oven to 425°F. In a small skillet over high heat, add the diced ham and sear until heated through and just starting to brown, about 3-5 minutes. Transfer the diced ham to a bowl then stir in the remaining shredded gruyere.

Measure a quarter to half a teaspoon of sauce per cut out (the sauce should not expand too far outside of the center impression, you may have leftover sauce). Then place about a half teaspoon of the ham and cheese mixture on top.

Bake for 10-15 minutes, until the pastries are puffed up and golden and the cheese has melted. Sprinkle on fresh parsley to finish off the petit croque monsieurs. Serve warm or room temperature. Enjoy!