Sweet and Tangy Strawberry Lemonade Cupcakes
The Starving Chef is supported by Hungry People like you. When you make a purchase through an affiliate link on my site, I may earn a little bit of cash on the side (at no extra cost to you) to help keep my kitchen running. Read our disclosures here.
What's Up, Hungry People!
While some states are drowning in snow, we're here in Ohio savoring a mild winter. Believe it or not, the mercury climbed up to nearly 70°F in my neck of the woods just last week! The unseasonably warm weather has teased me into thinking that the joys of spring (and a blissful summer) are almost at our doorstep.
So, how did I celebrate? I whipped up some strawberry lemonade cupcakes, of course!
The Taste of Summer in a Cupcake
Made with a zesty lemon and tangy sour cream base, then topped with a luscious strawberry buttercream frosting, these cupcakes capture the essence of summer. Imagine the classic flavors of strawberry lemonade, but in a bite-sized dessert!
Here's What You Need
Strawberry Buttercream:
Strawberries: Adds natural fruit flavor and color to the buttercream.
Powdered Sugar: Provides sweetness and structure to the frosting.
Lemon Juice: Adds tanginess, balancing the sweetness of the sugar.
Butter: Gives creaminess and richness to the frosting.
Heavy Cream: Used for thinning the icing, if needed, and adding a luxurious texture.
Lemon Cupcakes:
Flour: The base for the structure of the cupcakes.
Sugar: Sweetens the cupcakes and helps them brown.
Butter: Adds moisture and flavor; aids in leavening.
Sour Cream: Provides moisture and tanginess, contributing to the crumb texture.
Vegetable Oil: Adds moisture for a softer crumb.
Egg: Acts as a binding agent and provides structure.
Baking Soda: Acts as a leavening agent, helping the cupcakes rise.
Lemon Juice: Adds tanginess and flavor; reacts with baking soda.
Vanilla: Adds a warm, aromatic undertone to the cupcakes.
Salt: Enhances the flavors and balances sweetness.
Let's Cook!
Begin with a trusty stand mixer to blend together sugar, butter, sour cream, vegetable oil, and an egg until you have a silky-smooth batter. Trust me, the stand mixer helps to eliminate those pesky clumps. But hey, if you're a stirring wizard, feel free to skip the mixer.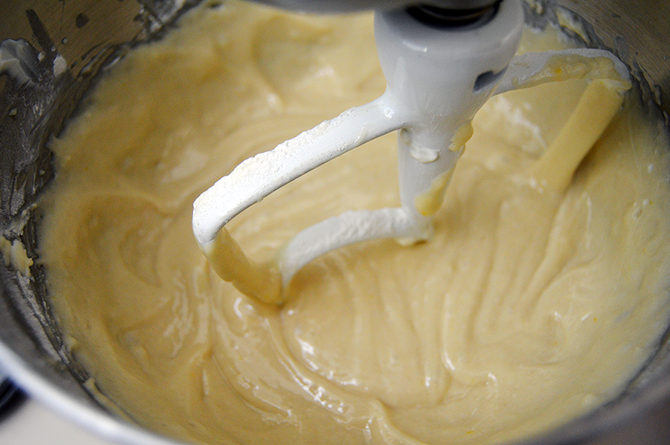 Mixing It Up: Combining the Dry Ingredients
Slowly sift in the flour, baking soda, and salt. Stir until you've got a batter that's thick yet still has a bit of flow to it. You know you're on the right track when the batter takes on that creamy consistency.
Filling the Tins: Portioning the Batter
Grab a measuring cup and fill a muffin tin lined with cupcake papers. Aim to fill each cup about two-thirds of the way. Be cautious here, overfilling could lead to your cupcakes spilling out and burning. Nobody wants that!
Into the Oven: Baking Time!
Pop those beauties into your preheated oven. Bake until the tops begin to show a golden hue and develop tiny cracks. This is the sign they're ready for the next step.
Cooling Down: Prepping for Frosting
Allow your cupcakes to cool completely. Patience is key here! Once they're cool, it's time to unleash the power of your food processor. Blend up those ripe strawberries like there's no tomorrow.
To Seed or Not to Seed: Your Call!
If the seeds in strawberries irk you, go ahead and strain them through a fine mesh strainer or cheesecloth. But if you're like me and enjoy a bit of texture in your frosting, feel free to skip this step. It's all about what you prefer.
Frosting Time: The Grand Finale
Use a piping bag—or a plastic bag with the corner snipped off—to frost each cupcake. Then go ahead, let your creativity shine!
Top some cupcakes with fresh strawberries and adorn others with cute, clipped straws to make them look like mini cups of refreshing lemonade.
Tips for Lemondae Cupcakes
Test for Doneness: Use a toothpick to test if the cupcakes are done. It should come out clean or with just a few crumbs.
Avoid Overmixing: Overmixing can make the cupcakes tough. Mix just until the flour is incorporated.
Room Temperature Ingredients: For more consistent results, make sure all your ingredients like butter, eggs, and sour cream are at room temperature.
Frosting Consistency: If your frosting is too thick, add a bit more heavy cream. If it's too thin, add more powdered sugar.
Seed Preferences: If you're not a fan of strawberry seeds in your frosting, don't skip the step of straining the strawberries.
Baking Soda Freshness: Ensure your baking soda is fresh for optimal rising. If it fizzes when a teaspoon is added to a cup of vinegar, it's good to go.
Cupcake Liners: Opt for good-quality cupcake liners to prevent sticking.
Cool Completely: Make sure the cupcakes are completely cool before you frost them; otherwise, the frosting will melt.
Storage: Store any leftover frosting in an airtight container in the fridge for up to a week. Just give it a good stir before using it again.
Alternative Decor: If you run out of mini straws, lemon zest or lemon slices also make good decorations for these cupcakes.
That's the scoop on whipping up these strawberry lemonade cupcakes! Whether it's the middle of summer or you're just craving a burst of sunshine, these cupcakes have got your back. From the zesty lemon to the sweet strawberry frosting, every bite is like a mini vacation for your taste buds. Keep calm, and dream of spring!
Enjoy, Hungry People!
Strawberry Lemonade Cupcakes
Indulge in the flavors of summer any time of year with these strawberry lemonade cupcakes featuring a lemon-sour cream base and strawberry buttercream.
Ingredients
FOR STRAWBERRY BUTTERCREAM:
10

strawberries

3

cups

powdered sugar

+ more as needed

3

tablespoons

lemon juice

½

cup

butter

room temperature

1

tablespoon

heavy cream

as needed to thin icing
Instructions
Preheat the oven to 350°F. Using a stand mixer with a paddle attachment, cream together the sugar, sour cream, vegetable oil, butter, lemon juice, vanilla, and egg.

In a separate bowl, whisk together the flour, baking soda, and salt. Slowly sift the flour mixture into the creamed mixture. The batter should be thick but still runny.

Fill muffin tins lined with papers about 2/3 of the way full. Bake in the oven for 25-30 minutes or until the tops are golden brown and just beginning to crack. A toothpick inserted in the center should come out clean.

Cool the cupcakes completely.

Use a food processor to blend the strawberries. Optional step: strain the strawberries through a cheesecloth to remove seeds.

Stir the strawberry puree into the powdered sugar along with the butter and lemon juice until a thick frosting forms. The frosting should stand on its own when a spoon is inserted into the frosting and then removed.

Use a piping bag or spoon to cover the tops of each cupcake with frosting. If using a piping bag, start in the center of the cupcake, then swirl out and overlap upwards.

Serve cupcakes with mini straws and a tall glass of ice-cold pink lemonade. Enjoy!