Strawberry Lemonade Cupcakes
The Starving Chef is supported by Hungry People like you. When you make a purchase through an affiliate link on my site, I may earn a little bit of cash on the side (at no extra cost to you) to help keep my kitchen running. Read our disclosures here.
While some states are being buried in snow, here in Ohio, we've been enjoying a very mild winter. In fact, it was nearly 70°F in my neck of the woods just this past week! The warmer weather has tricked me into thinking warm spring (and a sultry summer) are just mere days away.
To get in the mood, I made some strawberry lemonade cupcakes!
Made with a lemon and sour cream cupcake and strawberry buttercream frosting, these cupcakes truly taste like summer.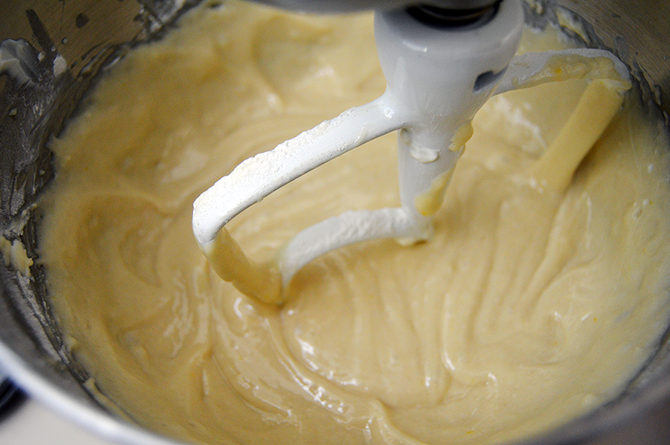 Begin by using a stand mixer to combine the sugar, butter, sour cream, vegetable oil, and egg until a smooth batter forms. It's best to use a stand mixer to get rid of any clumps, but if you are confident in your stirring skills, a mixer might not be necessary.
Slowly sift in the flour, baking soda, and salt until a thick, but still somewhat runny, cupcake batter takes form.
Use a measuring cup to fill a muffin tin lined with cupcake papers. Fill each tin about two thirds of the way full. Take care not to overfill, or else the cupcakes will expand out of their tins and start burning!
Pop the cupcakes into the preheated oven and bake until the tops are beginning to brown and crack.
Let the cupcakes cool completely. When they are cool, use a food processor to blend up the strawberries.
If you'd like, strain the strawberries through a fine mesh strainer or cheese cloth to remove any seeds.
Personally, I don't mind strawberry seeds and thought they added a nice texture to the frosting, so I skipped this step.
It all comes down to your personal preference.
Use a piping bag (or plastic baggie with the corner cut off) to pipe the frosting on top of the cooled cupcakes.
Top some with fresh strawberries and serve some with clipped straws to decorate the cupcakes to look like mini cups of fresh lemonade.
Keep calm and dream of spring!
Strawberry Lemonade Cupcakes
Spring-time inspired strawberry lemonade cupcakes with a tangy strawberry buttercream icing.
Ingredients
FOR STRAWBERRY BUTTERCREAM:
10

strawberries

3

cups

powdered sugar

+ more as needed

3

tablespoons

lemon juice

½

cup

butter

room temperature

1

tablespoon

heavy cream

as needed to thin icing
Instructions
Preheat the oven to 350°F. Using a stand mixer with a paddle attachment, cream together the sugar, sour cream, vegetable oil, butter, lemon juice, vanilla and egg.

In a separate bowl, whisk together the flour, baking soda and salt. Slowly sift the flour mix into the creamed mixture. The batter should be thick but still runny.

Fill muffin tins lined with papers about 2/3 of the way full. Bake in the oven for 25-30 minutes or until the tops are golden brown and just beginning to crack. A toothpick inserted in the center should come out clean.

Cool the cupcakes completely.

Use a food processor to blend the strawberries. Optional step: strain the strawberries through cheese cloth to remove seeds.

Stir the strawberry puree into the confectioner's sugar along with the butter and lemon juice until a thick frosting forms. The frosting should stand on it's own when a spoon is inserted into the frosting then removed.

Use a piping bag or spoon to cover the tops of each cupcake with frosting. if using a piping bag, start in the center of the cupcake then swirl out and overlap upwards.

Serve cupcakes with mini straws and a tall glass of ice cold pink lemonade. Enjoy!