Sweet and Sour Orange Chicken Stir Fry
The Starving Chef is supported by Hungry People like you. When you make a purchase through an affiliate link on my site, I may earn a little bit of cash on the side (at no extra cost to you) to help keep my kitchen running. Read our disclosures here.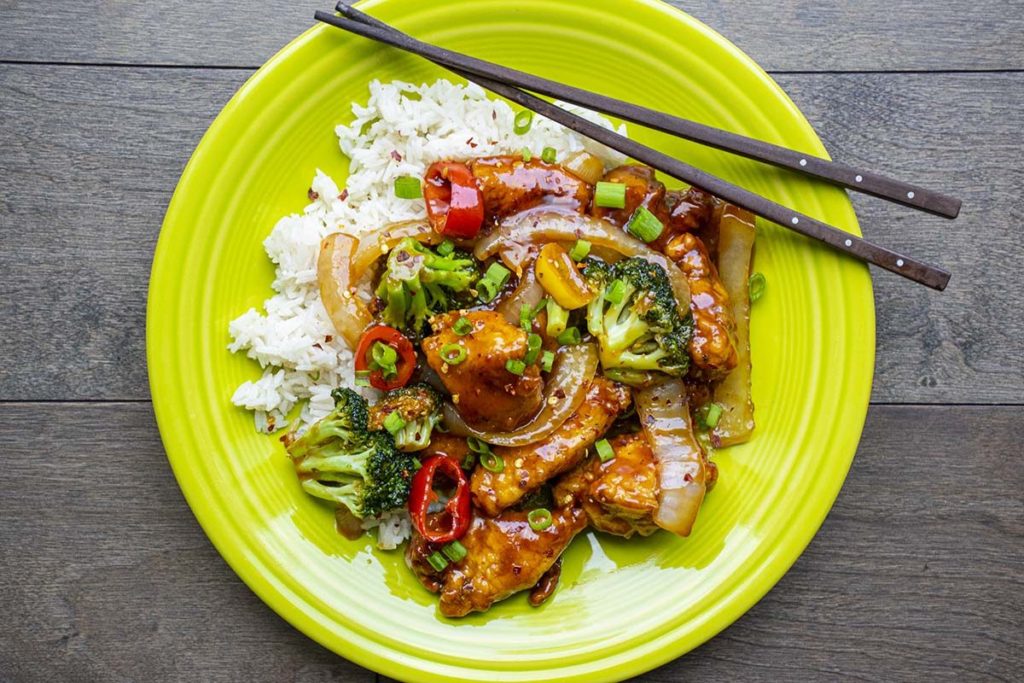 It's STIR FRY-DAY ya'll! Sure it might be a Monday but any day can be a STIR FRY-DAY if you try hard enough.
This mouthwatering recipe for sweet and sour chicken has a tangy twist: fresh orange zest is whisked in to the sauce to make a citrusy dish that's perfect for any weeknight meal.
What's in a sweet & sour stir fry?
Pick your favorite ingredients to fry up in your wok! The sky is the limit when it comes to a tasty stir fry. This recipe focuses on adding sweet and sour notes together to make the perfect orange sauce to smother the crispy fried chicken in.
For the SAUCE:
corn starch + water – make a slurry to help thicken the sauce
orange zest – adds both tangy citrus flavor and notes of bitter rind
rice vinegar – helps to smooth the sauce and adds some twangy notes
soy sauce – for umamo flavor and saltiness
lemon – enhances the tangy citrus flavors and adds a hint of sourness in the "sour" part of the recipe
ginger – adds flavor and aroma
ketchup – helps build the sauce base with loads of umami flavor
garlic chili paste – gives a hint of heat
brown sugar – boosts the overall sweetness in the "sweet" and sour part of the recipe
orange juice – to thin and flavor the sauce (some pulp is perfect!)
For the CHICKEN:
chicken breasts – dark meat is ideal for stir fry but regular chicken breasts can be used too!
flour + eggs – for dredging the breasts
corn starch – helps to give a crispy crust
vegetable oil – for frying until golden brown
For the VEGGIES & STUFF:
broccoli florets – come out perfectly crispy in the stem and saucy on top when sauted in a wok
sweet bell pepper – add sweetness and texture to the dish
onion – for a little savory and sweet flavor
white rice – for seving up on the side
Make ANY day a STIR FRY-DAY!
Stir fry-day or Stir Fry-YAY? This sweet and sour orange chicken recipe is a delicious and flavorful dish that is perfect for an easy weeknight meal.
With its crispy fried chicken, tender vegetables, and tangy sauce, it's sure to be a crowd-pleaser and reheats well for leftovers too. I served mine over a bed of fluffy white rice to pull it all together.
Sweet and Sour Orange Chicken Stir Fry
Orange chicken stir fry: tender chicken, crisp veggies, and a tangy orange sauce come together in this easy and flavorful dish.
Ingredients
FOR CHICKEN:
4

chicken breasts

cut into bite-sized pieces

½

cup

flour

½

cup

corn starch

2

eggs

whisked

1

cup

vegetable oil

for frying
Instructions
Heat a wok or large skillet over high heat. Add 1 tablespoon of vegetable oil and the vegetables. Stir-fry until the broccoli has brightened in color and the onions are just beginning to soften. Remove the vegetables from the wok and set them aside; it's okay if the vegetables are slightly undercooked. Wipe the wok clean.

In a small bowl, whisk together 1/4 cup of water and 1/4 cup of corn starch until the corn starch is dissolved. In a separate bowl, whisk together the remaining sauce ingredients, then whisk in the corn starch slurry.

Pour the sauce into the wok and bring it to a rolling simmer over medium-high heat, then reduce the heat to medium-low. Continue to simmer for 20-30 minutes, stirring occasionally, until the sauce has thickened and reduced to about half its original volume.

Meanwhile, prepare three dredging bowls: one with all-purpose flour, one with corn starch, and one with whisked eggs. Heat 1 cup of vegetable oil in a shallow pan over medium-high heat until it reaches 350°F.

Dredge the chicken breast pieces first in corn starch, then in whisked egg (letting the excess drip off), then into the all-purpose flour.

Fry the dredged chicken pieces in batches for 3-4 minutes per batch until the chicken is cooked through and golden brown. Set aside on a plate lined with a paper towel.

Turn up the heat on the wok to medium-high. Return the vegetables to the wok. Add the fried chicken and stir lightly to coat everything evenly in the sauce. Cook until the vegetables and chicken are heated through. Serve hot over cooked white rice and enjoy!