Churro Bites with Strawberry Sauce
December 18, 2016 | Churros, Cinnamon, Spanish Tapas, Dessert, Dip
Super Hungry? Jump to the Recipe
I'm always looking for fun new tapas to try out. This week's challenge is Spanish tapas - inspired by Spanish cuisine, tapas are any variety of appetizers or snacks ranging from savory to sweet. I decided to take a walk on the sweet side with these amazingly simple churro bites.
Most churros are piped though a pastry bag with a star tip into hot oil - but of course my own star tip took a fun ride through the garbage disposal last week and came out a gnarled piece of metal, so I had to improvise.
I love to collect fun dishes and baking devices - this old fashioned tin cookie press originally belonged to my grandmother. It was the only item in my whole kitchen that I could find with a large enough star 'tip' to help shape my bite sized churros. A pastry bag is definitely the ideal way to get perfectly shaped churros, but this will do for now.
To start the churros, make a simple syrup with water and sugar. Bring the syrup to a simmer to dissolve the sugar completely.
Pour the hot simple syrup slowly into a bowl with the flour along with the vegetable and stir until a sticky ball forms. The dough will be very thick and sticky.
Transfer the warm dough into a pastry bag with a star tip (or in my case, a cookie press). I used scissors to snip the churro dough into bite size pieces as I pressed the dough though the star tip.
Fry the dough in hot oil for a few minutes or until they've reached a nice, golden brown color. Use a slotted spoon to transfer the churro bites to a paper towel to help remove some of the excess oil.
While the churros are still hot, roll them in a mix of cinnamon and sugar until they are completely coated in the stuff.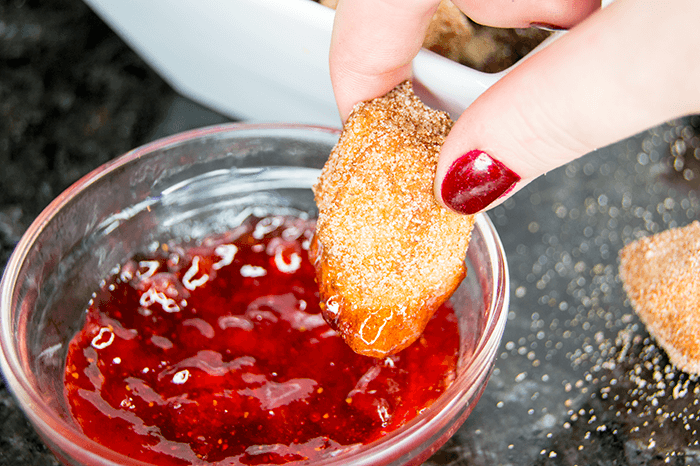 I served my churro bites with some homemade strawberry jelly that I thinned out with a touch of water to be perfect for dipping warm churros into. You can also serve your churro bites with sides of caramel, chocolate, or marshmallow cream!
Shop this Post
Churro Bites with Strawberry Sauce
Prep Time: 15 minutes
Cook Time: 5 minutes
Total Time: 1 hour
Ingredients
1 cup flour
1 cup water
2 tbsps sugar
2 tbsps vegetable oil
pinch salt
2 tbsps cinnamon
½ cup sugar
5 cups vegetable oil, for frying
Mouth Feel
Salty
Savory
Sour
Bitter
Sweet
Spicy
Instructions
In a small skillet of high heat, combine the water and sugar to make a simple syrup. Bring the water to a boil to dissolve the sugar completely. Remove from the heat and cool slightly.
Bring a pot of vegetable oil to 350 F.
In a separate bowl, whisk together the flour and vegetable oil until crumbly. Pour in the simple syrup and stir until a sticky ball forms. Transfer the dough to a pastry bag with a star tip.
Pipe 1-2 inch long sections of dough into the hot oil. Use scissors to snip the dough. Let the dough cook for 2-5 minutes or until the dough is golden. Remove from the oil with a slotted spoon and place on a plate lined with paper towels.
Whisk together the cinnamon and sugar in a small bowl then roll the still warm churro bites in the sugar until completely covered.
OPTIONAL: If using, stir 1 tablespoon of water into strawberry jam or jelly to make a simple strawberry dipping sauce.
Serve the churros while still warm, and enjoy with strawberry, chocolate, caramel, and marshmallow dipping sauces. Enjoy!
Print