Aladdin's Stolen Bread Recipe
The Starving Chef is supported by Hungry People like you. When you make a purchase through an affiliate link on my site, I may earn a little bit of cash on the side (at no extra cost to you) to help keep my kitchen running. Read our disclosures here.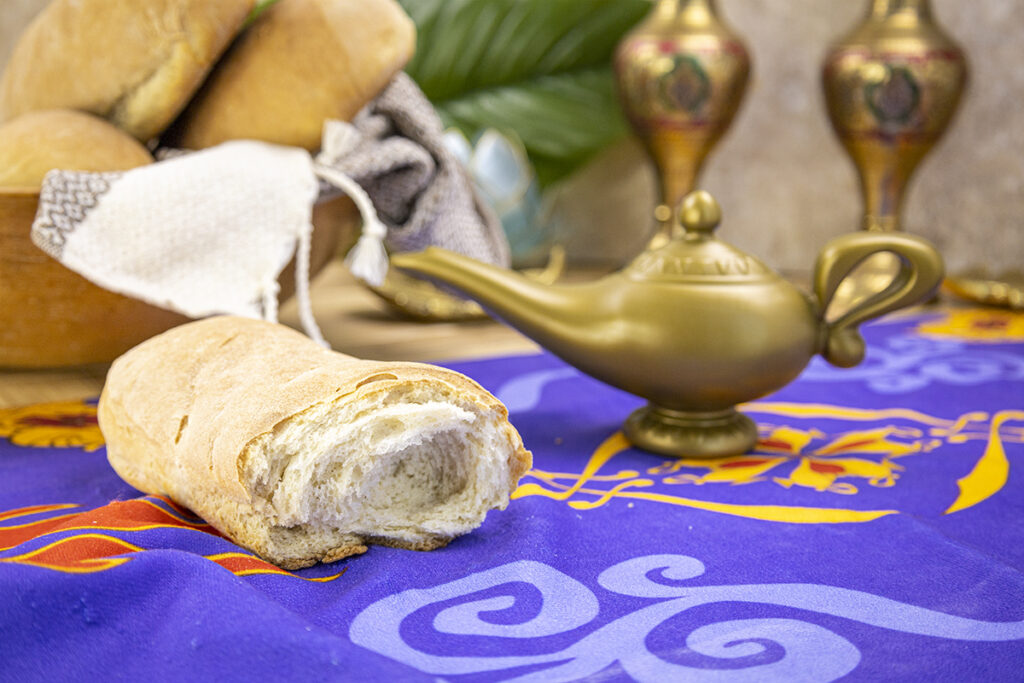 I can actually remember the first time I saw something on the television screen and desperately wanted to eat it. That delectable scene just so happened to be the one where Aladdin steals some bread and is chased through the streets of Agrabah. I recall asking my parents for a loaf of bread – only to be disappointed that it tasted like regular white bread and not the crusty yet tender deliciousness I had seen on the screen.
And thus began my love for making the foods I saw in movies – way back in 1992.
After receiving dozens of requests on TikTok to make this bread recipe, I decided it was high time to bring my childhood dreams to life in the form of the bread that Aladdin steals in the opening scenes of his very own movie.
While it may seem odd that Aladdin is stealing a loaf of what appears to be French bread, we all know that Disney wasn't particularly known for its historical accuracy back in the early days. Accuracy aside, that bread was seared into my developing brain as something I just knew I had to recreate for myself.
From Street Rat to the Sultan's Table: A Recipe for the Bread Aladdin Stole
The only way this recipe would be easier is if you wished the Genie to conjure up a loaf of bread instead of making it yourself (way to waste your wish).
flour – all-purpose or bread flour can be used in this recipe
yeast – to give the dough rise
warm water – to bring the yeast to life and add moisture to the dough
sugar – for the yeast to eat, plus added a hint of sweetness
Himalayan salt – a coarse salt that adds excellent flavor
olive oil – helps the dough retain it's moisture as it cooks
ice cubes – to help increase the humidity as the bread bakes
Tips for the PERFECT Loaf
If you find that your loaf is lacking in delicious luster, try some of these magical hacks to get the perfect bread every time:
Use high-quality ingredients: Use bread flour if you have some available, which has a higher protein content than all-purpose flour, as well fresh yeast for the best rise.
Knead the dough well: Knead the dough until it is smooth and elastic – a stand mixer with a dough hook attachment will make this process incredibly easy.
Let the dough rise twice: French bread requires two rises, which helps develop the flavor and texture. After the first rise, shape the dough into a log, roll it up with the ends tucked under, and let it rise again until it is visibly larger than when you started.
Score the bread before baking: Use a sharp blade (like a bread lame or ceramic knife) to score the top of the bread just prior to baking. This allows the bread to expand up and out during baking.
Create steam in the oven: French bread needs a moist environment in the oven to develop a crisp crust. In this recipe, I use ice cubes in a metal bowl placed directly on the baking sheet. Others use a pan filled with water on the rack below or lightly brushing the bread with water before baking.
Let the bread cool before slicing: It's tempting to slice warm bread, but it's important to let the bread cool completely. This allows the interior to finish cooking and the crumb to set, resulting in a better texture. When ready to slice, the bread should be cool to the touch and sound hollow when you knock on it with your knuckles.
My inner child can rest easy now knowing that I can make the magical bread from Aladdin.
What fictional feasts should I make next? Let me know in the comments below – or head on over to TikTok to leave a suggestion!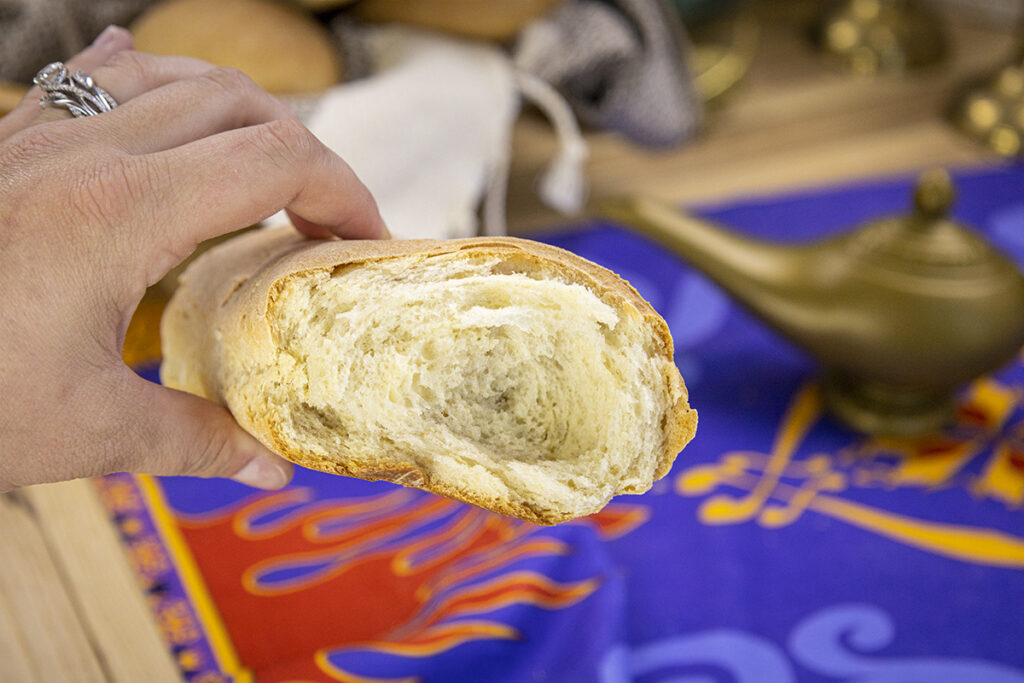 Discover a whole new world of flavor with this magical French bread recipe inspired by Aladdin. With a crisp crust and soft, pillowy interior, this bread will transport you straight to the bustling streets of Agrabah.
Bake up a batch and feel like a Street-Rat-turned-Prince as you savor each delicious slice. Just be sure to keep an eye on your bread – you never know when a certain mischievous monkey might try to steal a bite!
Aladdin's Stolen Bread Recipe
Don't settle for just three wishes – make this Aladdin-inspired bread recipe and your taste buds will be granted infinite deliciousness.
Equipment
bread lame

or very sharp knife
Ingredients
Instructions
In the bowl of a stand mixer with the dough hook attachment, add the warm water, sugar and yeast. Stir to combine then let the yeast activate until foamy – about 5-10 minutes.

Add the oil and salt to the bowl along with about half of the flour. Turn the mixer on a low speed and begin to stir, adding about 1/4 cup of flour every few minutes until a thick but smooth dough comes together. If the dough is too wet, add a tablespoon of flour at a time until it no longer sticks to the sides of the bowl. If it's too dry, add a teaspoon of oil to help bring it all together.

Use the dough hook attachment on a low setting to knead the dough until smooth, about 10 minutes.

Cover the bowl with plastic wrap or a damp towel then leave in a warm spot until the dough has doubled in size.

Once the dough has doubled in size, punch it down and place it on a floured surface. Cut the dough in half using a blunt knife. Take one half of the dough and knead it lightly for 3-5 minutes. Use a rolling pin to roll it out into a rectangle that is about 9×13 inches in size.

Transfer the rolled-out dough to a baking sheet lined with parchment paper. Starting with the long side, roll the dough into a cylinder, then pinch, tuck, and fold the ends under. Use a sharp knife or bread lame to make three diagonal slashes on the top of the loaf. Repeat this step with the second ball of dough on a separate baking sheet.

Cover the loaves lightly with plastic wrap or a damp towel then allow to rise again until just about doubled in size.

Preheat the oven to 375°F. Place a metal bowl or oven safe dish onto the baking sheet with the bread (far enough away the bread won't touch it as it bakes and rises). Add 3-5 ice cubes to the dish and then place the baking sheet into the oven.

Bake for 25-30 minutes, until the loaf is golden brown and puffed up. Transfer the warm bread to a cooling rack to cool completely.

Once cooled completely, slice and serve with fresh butter – or sell it on the streets of Agrabah (at your own risk of it being stolen by a street rat!)