Arepas con Queso from Encanto
The Starving Chef is supported by Hungry People like you. When you make a purchase through an affiliate link on my site, I may earn a little bit of cash on the side (at no extra cost to you) to help keep my kitchen running. Read our disclosures here.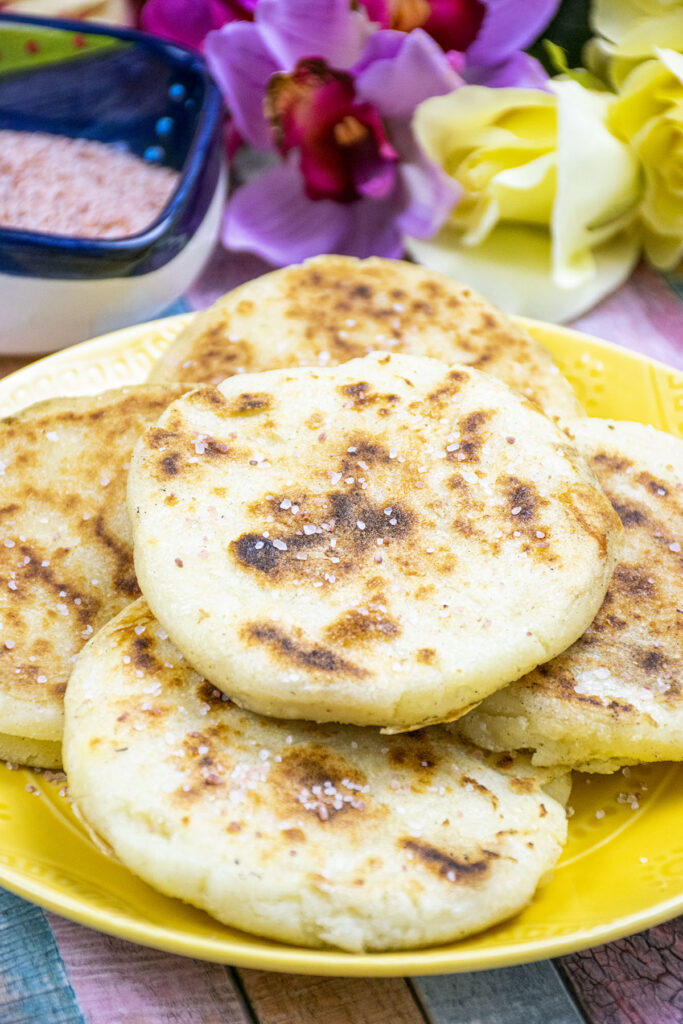 If you're anything like me, your brain has been playing the songs from Encanto on repeat. Even my local radio station is playing "We Don't Talk About Bruno" nearly a year later.
If you haven't treated yourself to this delightful movie about the family Madrigal, then maybe you're… Bruno?
The movie follows the story of Mirabel who is born into a family with special powers – that is, everyone except for her.
It's a delightful, colorful and downright catchy movie that will make you want to cuddle up with your own madre and snack on some delicious Colombian inspired cuisine.
Mirabel's mother, Julieta, has special powers of her own. Her food has healing powers – quite literally.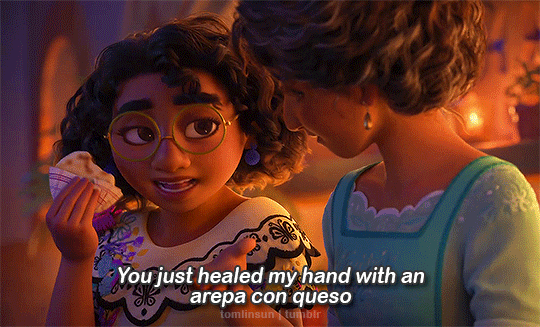 And if you've ever felt "healed" (in mind, body or soul) after a delicious meal, you too know the good feeling that comes with delicious comfort food.
Arepas con queso are cheesy corn cakes that originate in the country of Colombia, where Encanto is set. They are traditionally made with masarepa, also known as arepa flour.
They are often served as comfort food – simple staples made at home or sold as street food for snacking on the go.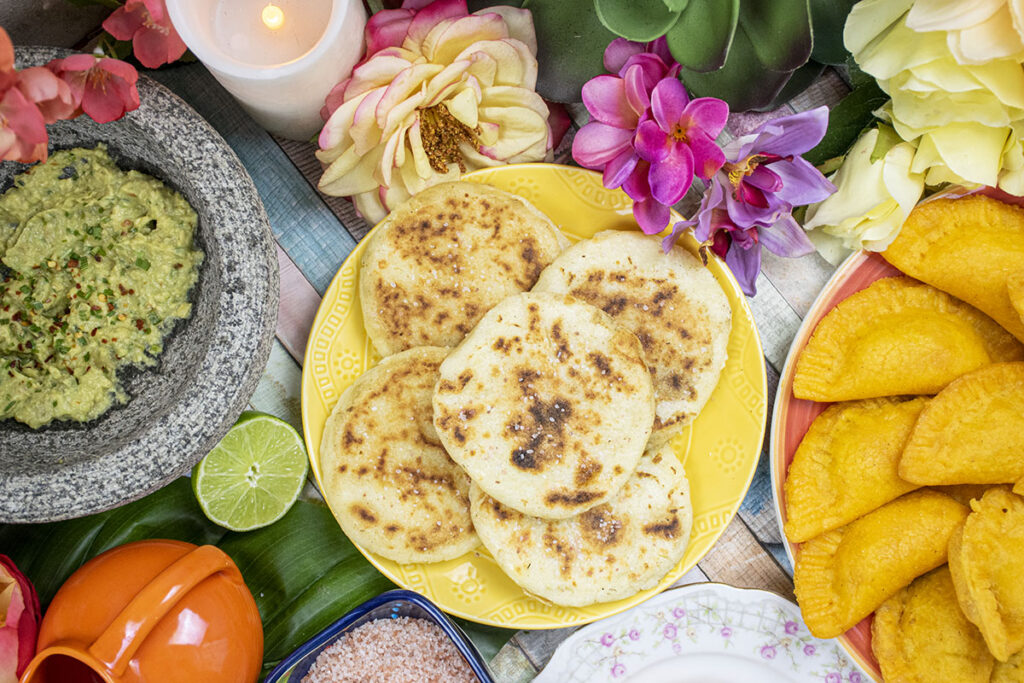 Picking the FLOUR for Arepas
Yes, the flour you use in your arepas matters. Corn meal is NOT the same as masarepa. Sure, they are made from the same stuff, but the main difference is that masarepa is precooked before it gets to the milling process, meaning it can aborb liquids and ultimately takes on a different texture when formed into a dough that can be shaped.
For this recipe, I found P.A.N. yellow corn meal (affiliate link) – I had to special order it because at the time, all of my local grocery stores were out. Fortnuately, P.A.N. can usually be found with the international or Spanish/Mexican foods in a generic store; or at a specialty Latino grocer if you are lucky enough to have one in your area!
You cannot sub corn meal or masa harina (the Mexican verison of cornmeal) – you will NOT get the same results.
Forming Your Arepas
Arepas are thick cornmeal patties that are pan fried to perfection. To make the patties, the cornmeal must be almost a putty-like consistency. It will be a bit more firm than a regular dough but it should still take on shape – sort of like a corn-based clay.
To fill the arepas, first grab a few tablespoons of dough and roll it into a ball between your palms. Then use your palms to flatten the dough to be about a quarter inch thick. If the dough is sticking to your hands, wet your hands with water to keep it from sticking. (If it's super sticky, you may need to add more P.A.N. to thicken it up a bit more). The patty dough should be about 2 inches round and a quater inch thick.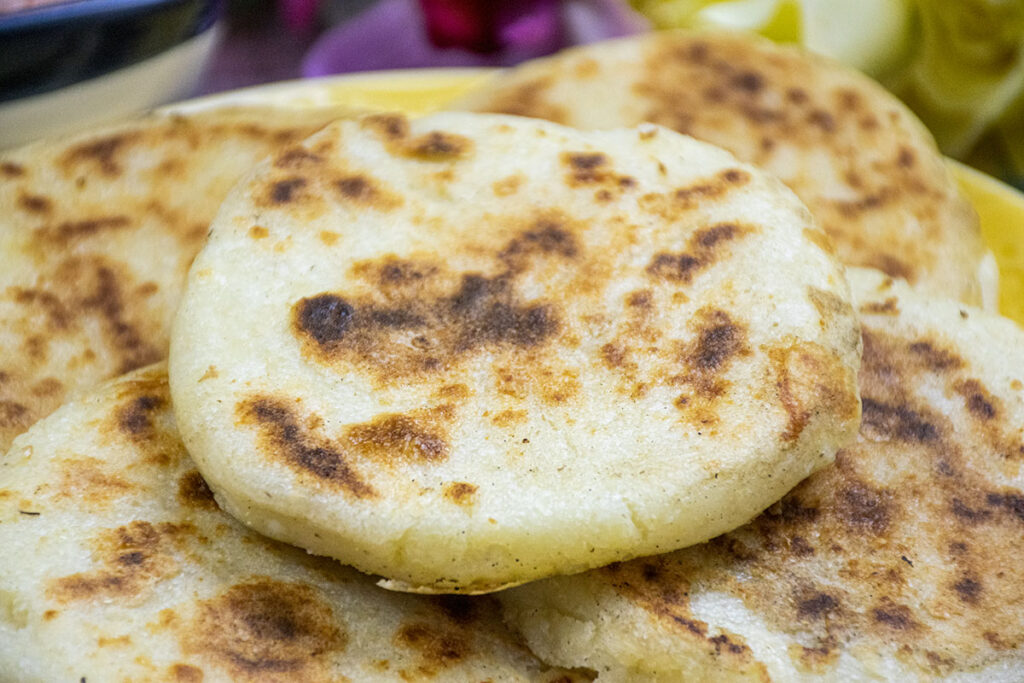 For stuffed arepas, take two of the quarter inch thick patties and sprinkle a tablespoon of mozzarella on one half before pinching together the two halves. Mozzarella is the cheese that is traditionally used but you can totally swap out the cheese for a Monterey or spicy cheese instead. It should be a mild cheese that melts quickly and gives you a nice cheese-pull when you rip it in half.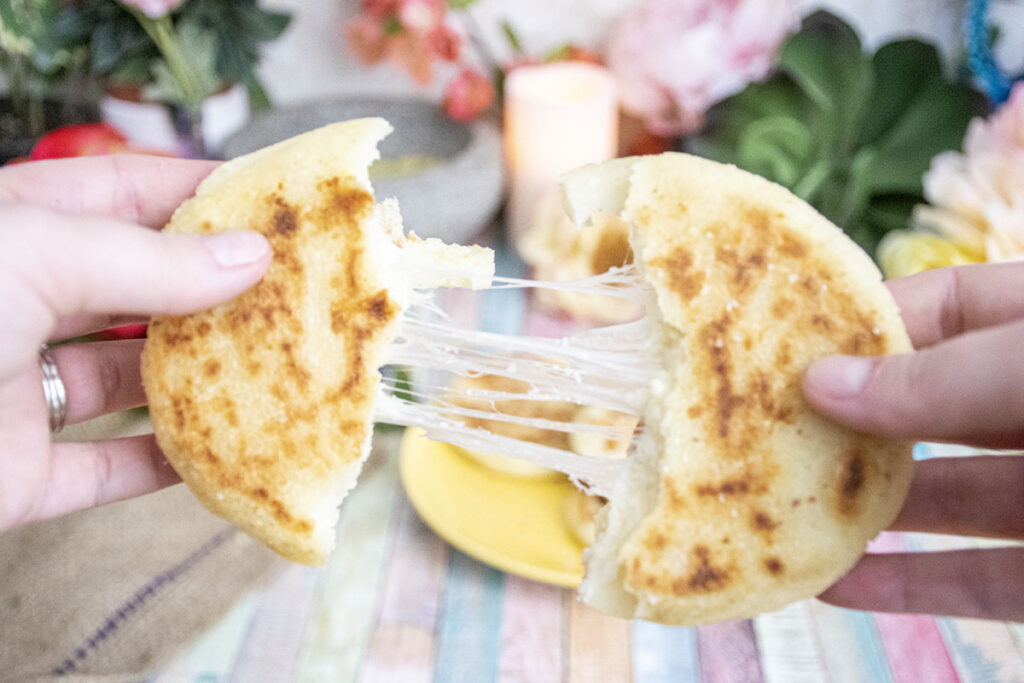 Let's Talk About BRUNOOOOOO
And when I say Bruno, I mean "let's talk about the other ingredients needed to make a perfect arepa inspired by Encanto."
P.A.N. or masarepa – Colombian pre-cooked corn flour is absolutely essential and swaps cannot be made
warm water – the temp helps to soften the flour and make dough
soft cheese – mozzarella or even fresco can be used to stuff the arepas
sea salt or butter – for sprinkling on top prior to serving
How to "Fry" Arepas
Arepas are traditionally pan fried to golden perfection. In the movie, Mirabel's mom uses a flat top to cook the arpeas on both sides.
For recipe recipe, I recommend using a cast iron pan for the best results. Lightly greased or non-stick works to give that beautiful golden brown color. The arepas should be speckled brown and smell absolutely delicious.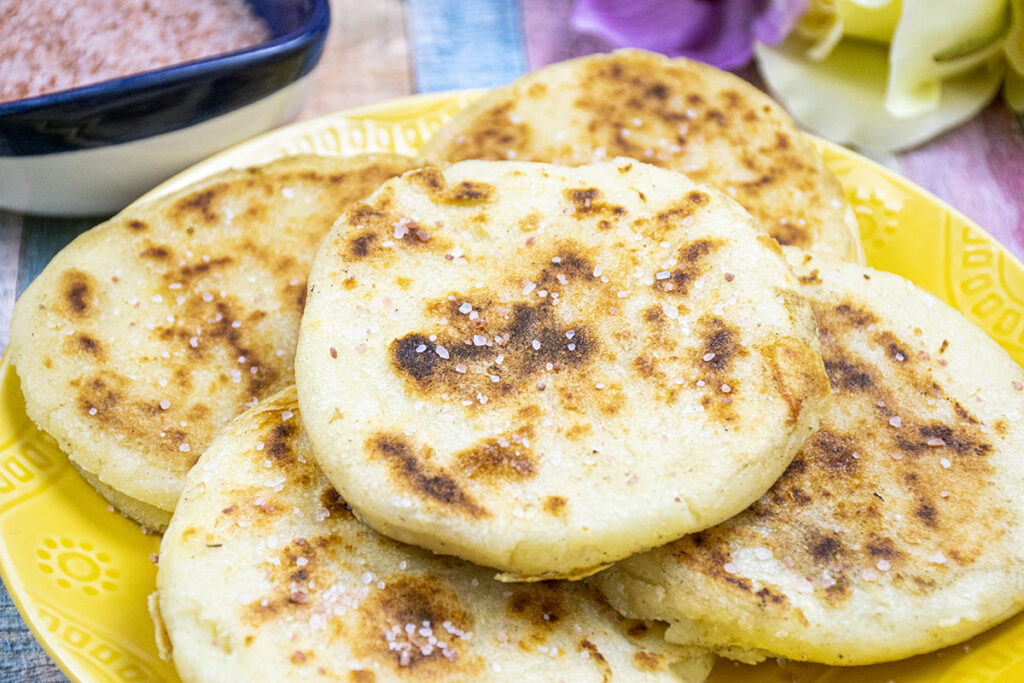 I sprinkled a bit of sea salt on top of my arepas but in Colombia, when sold as a street food, they are usually slathered with butter or a sweetened condensed milk cream sauce.
No matter which way you serve it, you will certainly be singing and your soul will be healed after eating these arepas.
Arepas con Queso from Encanto
Copycat arepas con queso inspired by the movie Encanto!
Ingredients
Instructions
In a large bowl, very slowly stir together the P.A.N. and warm water. Slowly pour the water in a stream while mixing with your hands. The dough will come together as your mix to form a thick, putty-like dough. It should be soft but hold it's shape. If the dough is too sticky, add P.A.N. in one tablespoon increments until it reaches the desired consistency. Let the dough rest for 15 minutes in a warm spot.

Use your hands to measure out about 2-3 tablespoons of dough. Roll the dough between your palms then flatten to be about a quarter inch thick. Repeat with a second piece of dough.

Sprinkle mozzarella in the center of one piece of dough and place the second piece of dough on top. Pinch together the edges and use your palms to press the arepa together. The dough should be about a half inch thick.

Repeat steps two and three with the rest of the dough. Place the formed patties on a plate or baking sheet in a single layer to prep for cooking.

Meanwhile, preheat a cast iron skillet or nonstick fry top to medium to medium-high heat. The pan should not be so hot that it is smoking or it will burn the arepas.

Pan fry the arepas for 2-3 minutes per side, or until each side is golden brown and cooked through. The cheese should be melted in the center.

Serve warm with a side of sour cream or spread salted butter on top. Sprinkle with sea salt and enjoy!