Apple Cinnamon CRUNCH French Toast Casserole
The Starving Chef is supported by Hungry People like you. When you make a purchase through an affiliate link on my site, I may earn a little bit of cash on the side (at no extra cost to you) to help keep my kitchen running. Read our disclosures here.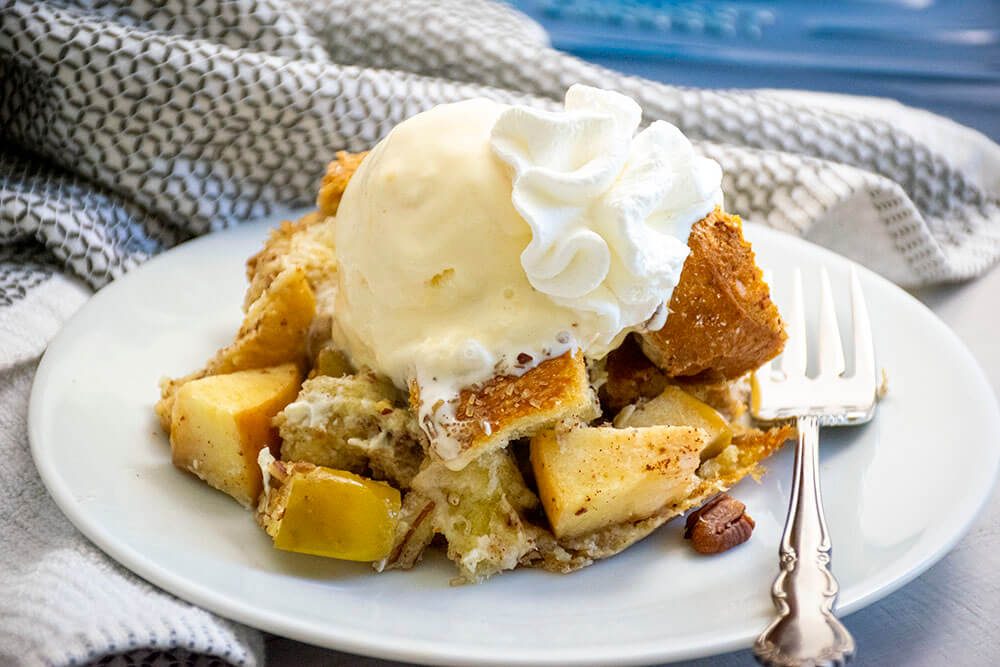 I have to admit, I've spontaneously purchased more than one loaf of French bread and let it get stale on the counter. I'm always over ambitious about the recipes I'll make for a week and usually remembering the bread goes by the wayside.
Fortunately, I have this great recipe for French toast… I'd be lying if I said I didn't purposefully let a few loaves go stale on purpose just so I could make this recipe.
One of my favorite fall recipes, this French toast is packed with apples, cinnamon, pecans and a crispy crunching sugar topping. Serve it with ice cream for breakfast or dessert.
The secret to a crunchy topping is in the demerara sugar. An underrated ingredient, in my opinion, demerara is essential to getting the perfect CRUNCH.

If you can't find demerara sugar, you can also use turbanado sugar in a pinch. Basically any large crystal sugar will do the trick. I've found demerara in most general grocery stores in my area. If you can't find either – buy it online here (affiliate link)! If you're really desperate, brown sugar crumbles or even plain white sugar will add some sweetness but will fall short of that iconic crunch that this French toast deserves.
I mean just LOOK at those delicious sugar crystals on top.
I love making casseroles for breakfast, especially ones that can be set up the night before and cooked the next day. That's why this French toast casserole is the best breakfast you can make on a lazy autumn Sunday morning.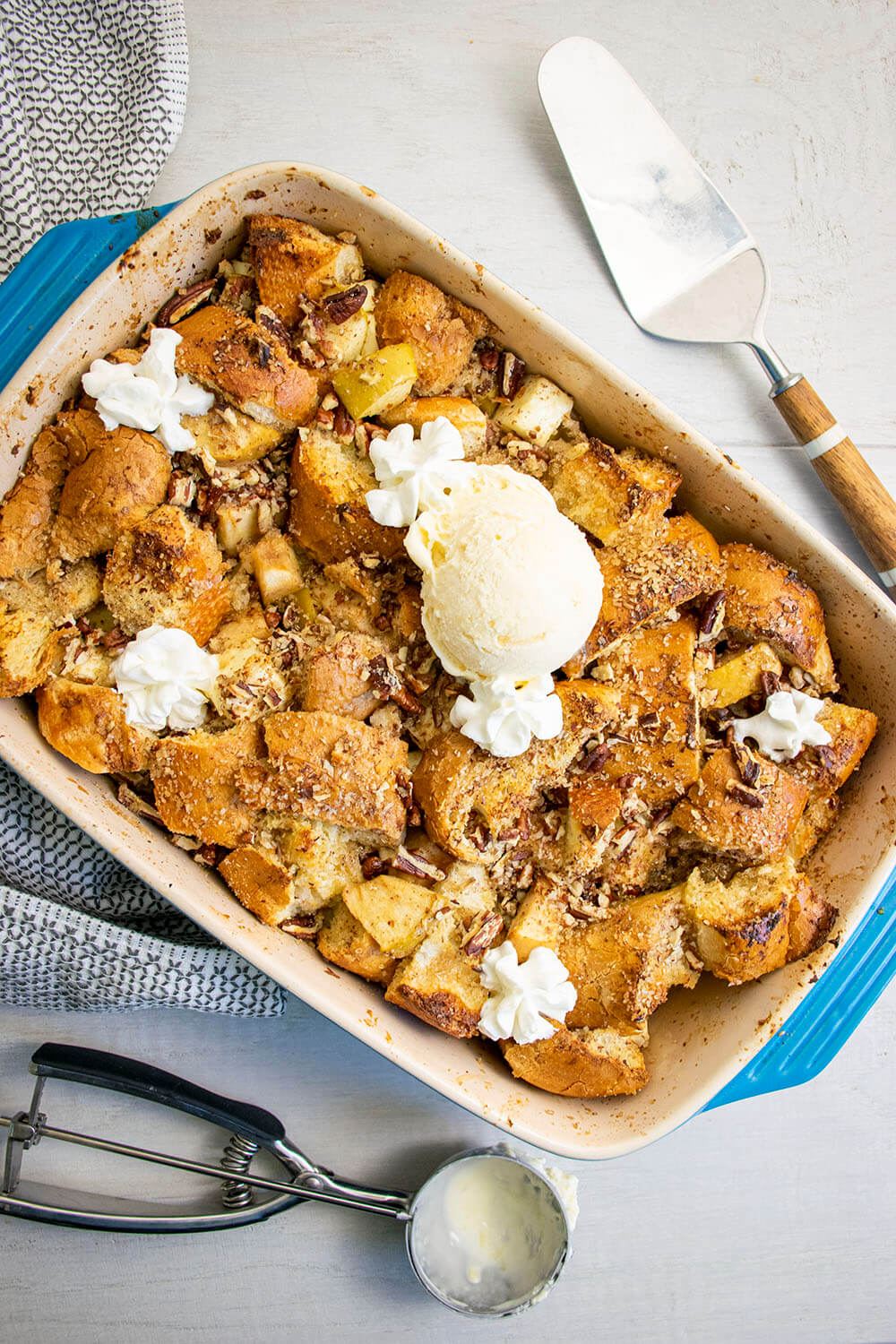 Chopped apples bake into the bread directly, releasing moisture as they cook and sweeten everything they touch. While the pecans add texture throughout, cinnamon brings out the savory flavors by adding just a tiny bit of sweetened heat.
The textures of this French toast casserole range from crunchy to creamy. When soaked correctly, there should be an even distribution of sweet and soaked bread to crispy, unsoaked ends. Don't cover up the bread completely with the egg and milk mixture.
I love it when French toast crosses over into creamy-custardy territory. It's like making dessert for breakfast.
Just add a scoop of vanilla ice cream and it might as well be!
Apple Cinnamon CRUNCH French Toast Casserole
One of my favorite fall recipes, this French toast is packed with apples, cinnamon, pecans and a crispy crunching sugar topping. Serve it with ice cream for breakfast or dessert.
Ingredients
1

very stale French baguette

roughly chopped into 1×1 pieces

3

eggs

2

cups

whole milk

½

cup

heavy cream

¼

cup

sugar

2

tablespoons

brown sugar

1

teaspoon

cinnamon

⅛

teaspoon

cloves

⅛

teaspoon

nutmeg

1

teaspoon

salt

1

Green Smith apple

chopped

1

pink lady apple

chopped

8

oz

cream cheese

chopped into cubes

½

cup

pecans

roughly crushed

½

cup

demerara sugar

for topping
Instructions
Roughly chop the French bread into cubes. Chop the apples and cube up the cream cheese. In a large bowl, whisk together the eggs, milk, sugar, brown sugar, cinnamon, cloves and nutmeg. Arrange the bread, apples, crushed pecans and cream cheese in a casserole dish. Pour the milk mixture over the top of the bread, leaving some edges of the bread exposed. IMPORTANT: Bread must soak for at least 8-10 hours or longer (up to 48 hours) for best results.

Preheat the oven to 400°F. Sprinkle on the demerara sugar from edge to edge. While the oven preheats, leave out the casserole dish to come to room temperature.

Bake covered for 20 minutes then uncover and cook for an additional 20-30 minutes, until the casserole is cooked through and beginning to brown on top. Let rest for 10 minutes prior to cutting.

Serve with a scoop of ice cream and whipped cream. Top with maple syrup and melted butter as desired. Enjoy!