Aristocat's Crème de la Crème a la Edgar
The Starving Chef is supported by Hungry People like you. When you make a purchase through an affiliate link on my site, I may earn a little bit of cash on the side (at no extra cost to you) to help keep my kitchen running. Read our disclosures here.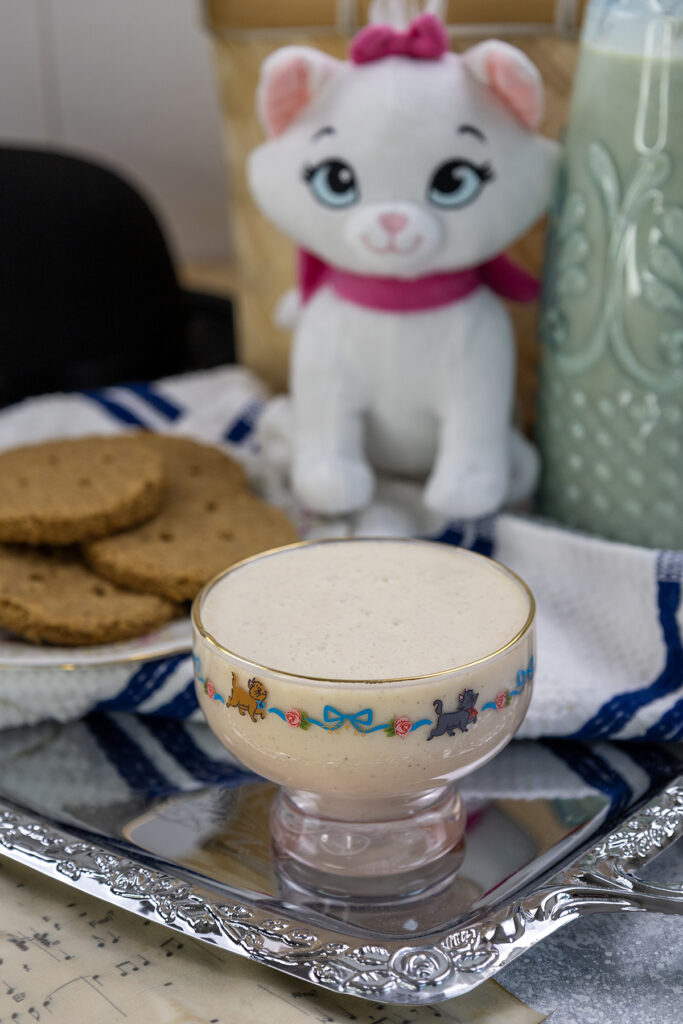 What's Up, Hungry People!
Everybody wants to be a cat, right? And if you've watched the movie Aristocats, you know that a tasty cookie and a creamy drink are all you need to feel like Parisian royalty. Today, we're diving into the world of Disney's Aristocats to create Roquefort's Cookie and Crème de la Crème à la Edgar. Trust me, you don't need to be a pedigreed feline to enjoy this.
The "The Aristocats" is a classic Disney film from 1970. This animated flick follows Duchess and her three kittens as they navigate the streets of Paris. There are a lot of memorable moments, but the one that sticks is Roquefort the mouse and his quick snack-making skills. Today, we're taking inspiration from him and crafting our own version of Roquefort's Cookie and Crème de la Crème à la Edgar. No cat-napping pills included, promise!
For Roquefort's Cookies
Whole wheat flour: Provides structure and texture to the cookies.
Baking soda: Acts as a leavening agent, making the cookies rise and become fluffy.
Sea salt: Enhances the flavor of the other ingredients.
Vanilla: Adds a classic, aromatic sweetness to the cookies.
Egg: Binds the ingredients together and adds moisture.
Whole milk: Adds creaminess and moisture to the dough.
Brown sugar: Gives the cookies sweetness and a chewy texture.
Honey: Sweetens and also helps in browning the cookies.
French/European style butter: Adds richness and flavor, contributing to the cookie's texture.
For Crème de la Crème à la Edgar
Evaporated milk: The base of the crème, thick and rich for a full-bodied texture.
Heavy cream: Adds a luxurious, velvety mouthfeel to the crème.
Sugar: Sweetens the crème without overwhelming its other flavors.
Vanilla: Infuses the crème with a light, aromatic sweetness.
Cinnamon: Adds a warm, spicy note to the crème.
Nutmeg: Complements the cinnamon and adds depth of flavor.
Sweet rice flour: Helps thicken the crème to a custard-like consistency.
Whole milk: Lightens the crème, making it drinkable and smooth.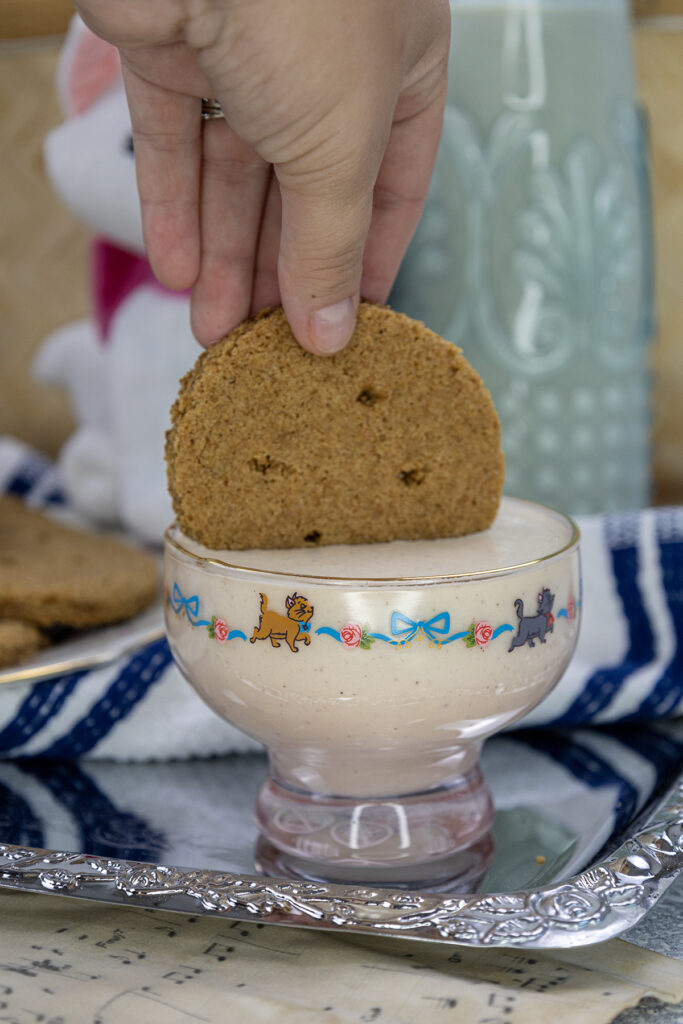 Let's Cook!
First off, let's get Roquefort's Cookies out of the way. In a mixing bowl, combine brown sugar, French butter, honey, and milk. Use a hand mixer or your good ol' whisk to beat it until creamy. Now, toss in the first bit of whole wheat flour, along with baking soda and sea salt. After that's mixed in well, go ahead and add an egg and the remaining whole wheat flour. When your sticky dough comes together, give it a time-out in the fridge for about 30 minutes.
While your dough is chilling, roll up your sleeves for Crème de la Crème à la Edgar. Combine evaporated milk, heavy cream, and a spoonful of sugar in a saucepan. Add a dash of vanilla, nutmeg, and cinnamon. And for that authentic Aristocats touch, a little Dr. Rest Well's sleeping powder—or sweet rice flour, if that's what you've got. Whisk this milky concoction until it's just beginning to thicken. Finally, turn off the heat and whisk in whole milk to get a smooth, drinkable consistency.
Tips For Roquefort's Cookies
Substitute Butter: If you're out of French/European butter, unsalted American butter works too, but it may result in a slightly different texture.
Chill the Dough: Make sure to not skip the chilling steps, as it helps the cookies maintain their shape and enhances flavor.
Cookie Cutter Alternatives: If you don't have a round cookie cutter, the rim of a small glass or jar will do the trick.
Monitor Baking Time: Ovens can vary, so keep an eye out during the last minutes of baking to avoid over-browning.
Troubleshooting For Crème de la Crème à la Edgar
Sweet Rice Flour Substitute: If you can't find sweet rice flour, cornstarch can be used as a thickening agent, but it may alter the texture slightly.
Whole Milk Alternative: For a dairy-free version, oat milk or almond milk could work, although it will result in a different flavor profile.
Spice to Taste: Feel free to adjust cinnamon and nutmeg amounts to better suit your personal preference.
Serving Temperature: Whether you like it hot or cold, remember that the flavors meld better after the crème has had some time to sit.
Consistency Check: If your crème turns out too thick, add more whole milk to achieve your desired consistency.
And just like that, Hungry People, you're ready to dive into a little piece of animated history with Roquefort's Cookies and Crème de la Crème à la Edgar! With these tips, tricks, and ingredient deep-dives, you're set to put your own spin on these classic Aristocats treats.
Whether you're serving it up for a movie night or just feeling a little fancy, you can't go wrong with this dynamic duo. Enjoy!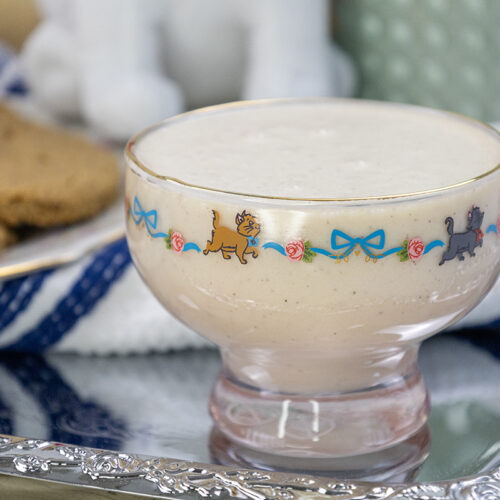 Aristocat's Crème de la Crème a la Edgar
This creme de la creme is the creme de la creme of horchata recipes – no sleeping powder required.
Ingredients
For Roquefort's Cookies
3

cups

whole wheat flour

1

teaspoon

baking soda

1

teaspoon

sea salt

1

teaspoon

vanilla

1

egg

2

tablespoons

whole milk

1

cup

brown sugar

packed

⅓

cup

honey

warmed

8

tablespoons

French / European style butter

or can sub standard American butter, room temperature
For Creme de la Creme a la Edgar
Instructions
For Roquefort's Cookie
In the bowl of a stand mixer, cream together the brown sugar, honey, vanilla, butter, and egg until the mixture becomes pale. Slowly add in the flour, baking soda, and salt. Make sure to scrape the sides of the bowl periodically to ensure even mixing.

Stir until a thick, sticky dough forms. Scrape down the sides of the bowl and transfer the dough to the fridge to chill for at least 30 minutes, or until firm.

Place the dough between two pieces of parchment paper or two silicone mats. Use a rolling pin to flatten the dough to about 1/8-inch thickness. Chill again for another 30 minutes.

Preheat the oven to 350°F. Use a circular cookie cutter to cut out cookies from the chilled dough. Remove the excess dough and transfer the cookies to a baking sheet lined with parchment paper or a silicone mat.

Bake the cookies for 10-12 minutes or until they puff up and the bottoms are golden and crispy. Allow the cookies to cool to room temperature.
For Creme de la Creme a La Edgar
In a large, heavy-bottomed pot over medium heat, combine the evaporated milk, heavy cream, sugar, and vanilla. Whisk until the sugar dissolves.

Stir in the nutmeg, cinnamon, and sweet rice flour. Whisk constantly until the mixture begins to thicken and reduces by about half—it should reach the consistency of custard. Immediately turn off the heat and stir in the whole milk. Keep stirring until a smooth, drinkable consistency forms.

Allow the crème de la crème to cool until it's just warm, or chill it to enjoy later. To reheat, use the microwave for 30 seconds or warm it on the stove until just steaming. Serve with one of Roquefort's cookies. Enjoy!