The Scooby-Doo Special: Pierre's Poor Boy Sandwich Recipe
The Starving Chef is supported by Hungry People like you. When you make a purchase through an affiliate link on my site, I may earn a little bit of cash on the side (at no extra cost to you) to help keep my kitchen running. Read our disclosures here.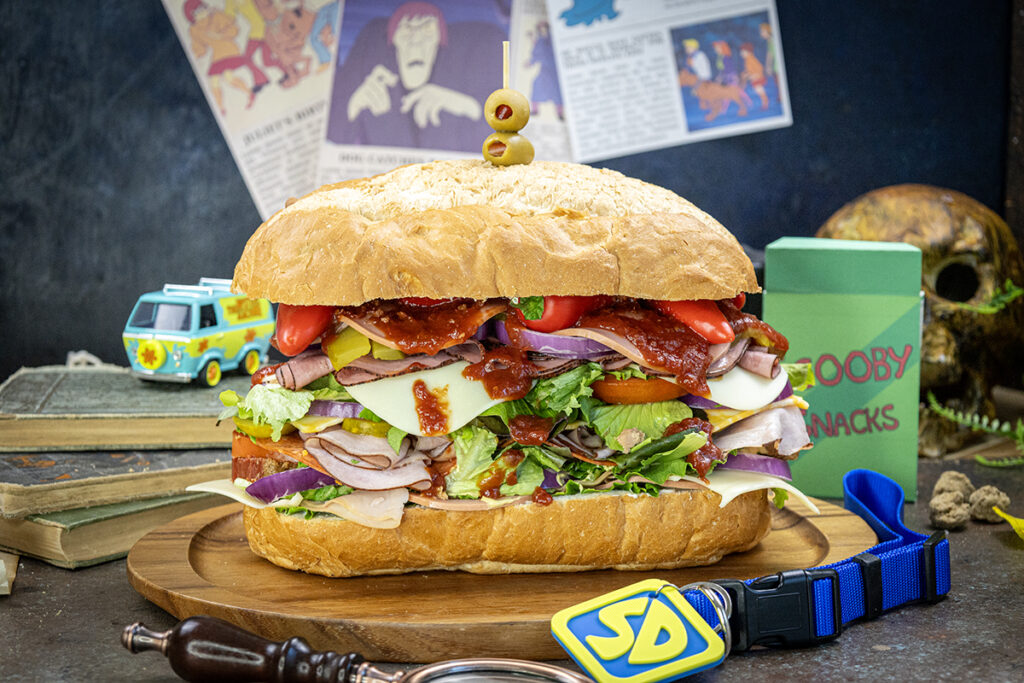 What's Up, Hungry People
Spooky season has descended upon us, and where better to draw inspiration than the iconic world of Scooby-Doo? Growing up, Scooby-Doo wasn't just a cartoon; it was a way of life. Between the thrilling chases, unmasking villains, and catchy catchphrases, this show was the backbone of many childhood memories. And who can forget the reboots, like What's New Scooby-Doo or the chilling adventures in Scooby-Doo on Zombie Island? Ah, nostalgia!
While Fred led the team, Daphne set the fashion standards, Velma deciphered the clues, and our beloved duo, Shaggy and Scooby, had a singular mission: food! Their love for food is unparalleled. Honestly, weren't we all just waiting for that moment in each episode when Shaggy and Scooby would sneak off to find something to eat?
One of the unsolved mysteries that's been on my mind is: who's keeping those haunted mansions filled with snacks for our ever-hungry duo? Perhaps that's a mystery even Mystery Inc. hasn't cracked yet.
Among the many delicacies they devoured, a certain sandwich stands out. During their spine-tingling adventure in Scooby-Doo on Zombie Island, our heroes indulge in one of their most epic sandwiches: Pierre's Poor Boy Sandwich.
Remember when Shaggy said, "Like, it's just a light lunch…"? Yeah, he was referring to an "Unviguple decker (21 layer) red hot Po Boy sandwich." That sandwich wasn't just big, it was monumental!
Nothing like a light lunch… a Unviguple decker (21 layer) red hot Po Boy sandwich
This sandwich in particular has stuck with me for nearly two decades – and now, like the zombies in the movie, it was time to bring it to life with a bit of foodie voodoo.
Here's What You Need
Italian bread: Provides the base and structure for the sandwich.
Mayonnaise: Adds creaminess and helps bind the sandwich fillings together.
Lettuce: Introduces a fresh and crunchy texture.
Bologna: A classic deli meat that gives a savory touch.
Swiss cheese: Melty and mild, contributes a creamy texture.
Turkey: Another deli favorite, it's lean and flavorful.
Red onion: Offers a sharp, tangy contrast.
Meatloaf: Adds a hearty, homestyle flavor to the mix.
Tomato: Brings juiciness and a fresh element.
Spicy brown mustard: Gives the sandwich a tangy kick.
Tuna salad: Creamy and rich, it adds depth and a seafood twist.
Lunch meat pepperoni: Introduces a spicy and salty element.
Colby jack cheese: Melty and slightly tangy, it adds depth.
Provolone: Another creamy cheese, it's mild and melty.
Ham: Salty and savory, it complements other meats.
Bread and butter pickles: Sweet and tangy, they provide a palate cleanser.
Roast beef: Savory and lean, it's a classic sandwich choice.
Chili peppers: For those who like a spicy kick (optional).
Hot sauce: Adds heat and zestiness, can be adjusted to taste.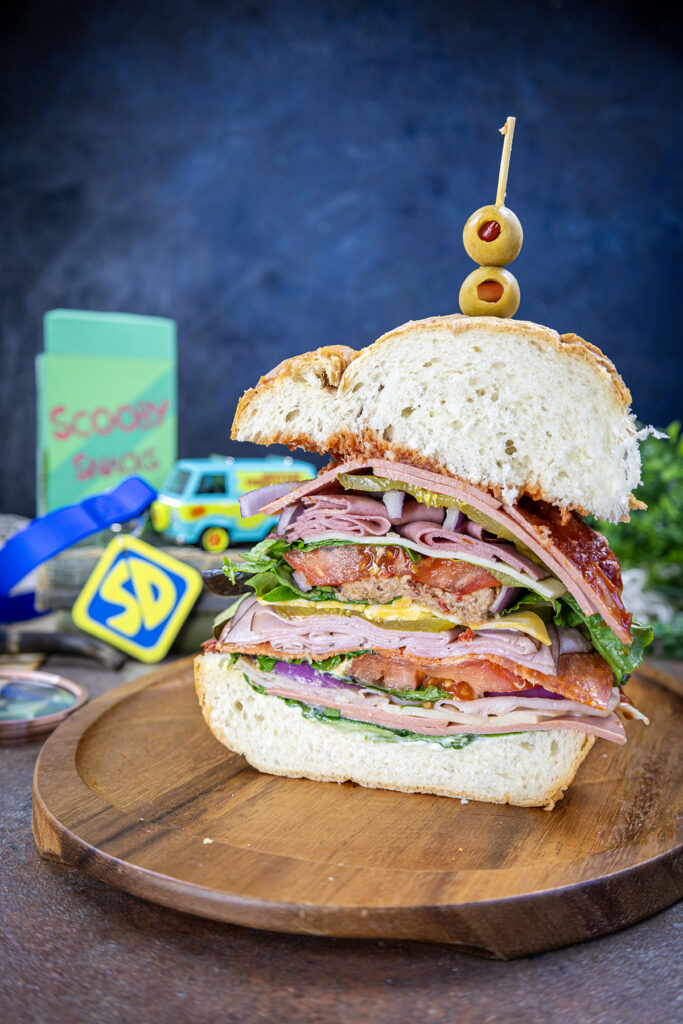 Let's Cook
Now, channel your inner Shaggy, and imagine you've just discovered a clue. The clue?
A massive sandwich!
Let's assemble this iconic dish.
The Foundation: Grab your loaf of Italian bread and slice it down the middle lengthwise, ensuring you have an even top and bottom half.
Creamy Beginning: Spread a generous layer of mayonnaise on each half. This will act as our moisture barrier and flavor enhancer.
Lettuce, Please: Layer on a bed of lettuce. Think of it as the grassy ground on which our mystery unfolds.
Meaty Mystery: Now comes the fun part. Start stacking those meaty layers. Begin with bologna, followed by turkey, the tantalizing precooked meatloaf, pepperoni, ham, and last but not least, roast beef. Imagine each meat slice as a chapter in a Scooby-Doo episode, each with its own twist.
Cheesy Interlude: Intersperse the meat layers with slices of Swiss cheese, Colby jack cheese, and provolone. These melty treasures are like the unexpected plot twists in our Scooby tales.
Fresh Clues: Layer in those freshly sliced tomatoes and red onions. These fresh elements will provide the juicy crunch, akin to finding a new clue!
Zesty Turns: Drizzle on the spicy brown mustard and hot sauce (if you're daring). This is like the unexpected turn in a mystery where everything changes.
Pickle Pause: Slide in those bread and butter pickles. Sweet and tangy, they're the refreshing pauses in our story, providing a balance to the savory.
Seafood Surprise: Remember the tuna salad? Scoop it right in the middle. It's our plot twist, the surprise element that no one saw coming!
Heat Wave: For those who love a fiery kick, layer in those chili peppers. It's like that sudden chase scene that gets your heart racing.
The Closure: Finally, crown your sandwich with the top half of the bread. Press down slightly to ensure all layers meld together.
Final Touch: Insert a bamboo skewer, preferably adorned with olives, through the middle of the sandwich. This ensures our sandwich-story stays intact, from the first bite to the last.
Mastering Your Shaggy Special:
Layering technique: Start with moist ingredients like mayonnaise, followed by lettuce (to prevent bread from getting soggy), meats, cheeses, and then the rest. This ensures a balanced bite every time.
Choosing bread: A sturdy loaf is key. If Italian isn't available, try ciabatta or sourdough.
Customization: Feel free to swap out or add in your favorite ingredients. This recipe is versatile.
Skewering: Ensure the skewer penetrates all layers to keep the sandwich intact. If olives aren't your thing, try a cherry tomato or a pickle.
Cutting your sandwich: A serrated knife works best. Cut in a sawing motion to keep layers intact.
Storage: If making ahead, wrap tightly in plastic wrap and refrigerate. Add any sauces or juicy elements just before serving.
Ready to dive into a slice of childhood nostalgia? With the spookiness of the season upon us, there's no better time to channel our inner Shaggy and Scooby and whip up a sandwich that's been a mystery in our hearts.
While we can't join the gang on their many thrilling adventures, we can certainly recreate a taste from one of their iconic moments. So, gear up, Hungry People, and let's solve the food mystery that's been lurking in our memories. After all, every sandwich tells a story, and this one has "Scooby-Doo" written all over it.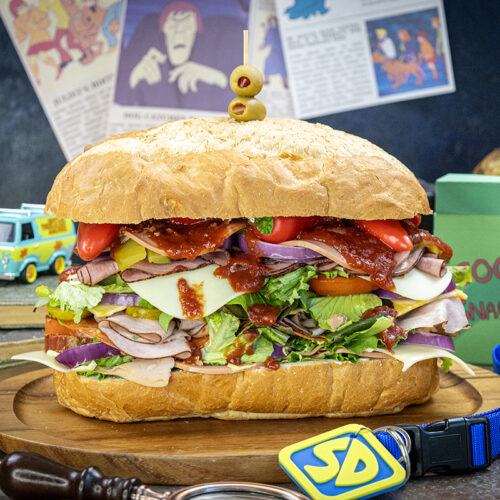 Scooby-Doo Sandwich
Recreate the iconic "Pierre's Poor Boy Sandwich" from Scooby-Doo and dive into a mountain of flavors!
Equipment
cutting boards

bamboo skewer
Ingredients
1

loaf

Italian bread

slice in half lengthwise

¼

cup

mayonnaise

2

cups

lettuce

10

slices

bologna

4

slices

swiss cheese

10

slices

turkey

1

red onion

sliced

1

precooked meatloaf

sliced

1

tomato

sliced

¼

cup

spicy brown mustard

½

cup

tuna salad

10

slices

lunch meat pepperoni

4

slices

colby jack cheddar

4

slices

provolone

10

slices

ham

10

slices

bread and butter pickles

10

slices

roast beef

10

chili peppers

optional

¾

cup

hot sauce of choice

optional or to taste
Instructions
Slice the Italian loaf down the middle lengthwise to have a top half and a bottom half. Spread mayonnaise on each half.

Layer on the fillings as desired: Start with lettuce, followed by the meats, cheeses, tomato and onion slices, spicy brown mustard, more lettuce, peppers, and hot sauce. Arrange the meats as desired between the two pieces of bread.

Press a bamboo skewer with olives on top through the middle of the sandwich to help hold it together. Serve immediately. Enjoy!