The SHREK Cheese Board aka "Shrekuterie"
The Starving Chef is supported by Hungry People like you. When you make a purchase through an affiliate link on my site, I may earn a little bit of cash on the side (at no extra cost to you) to help keep my kitchen running. Read our disclosures here.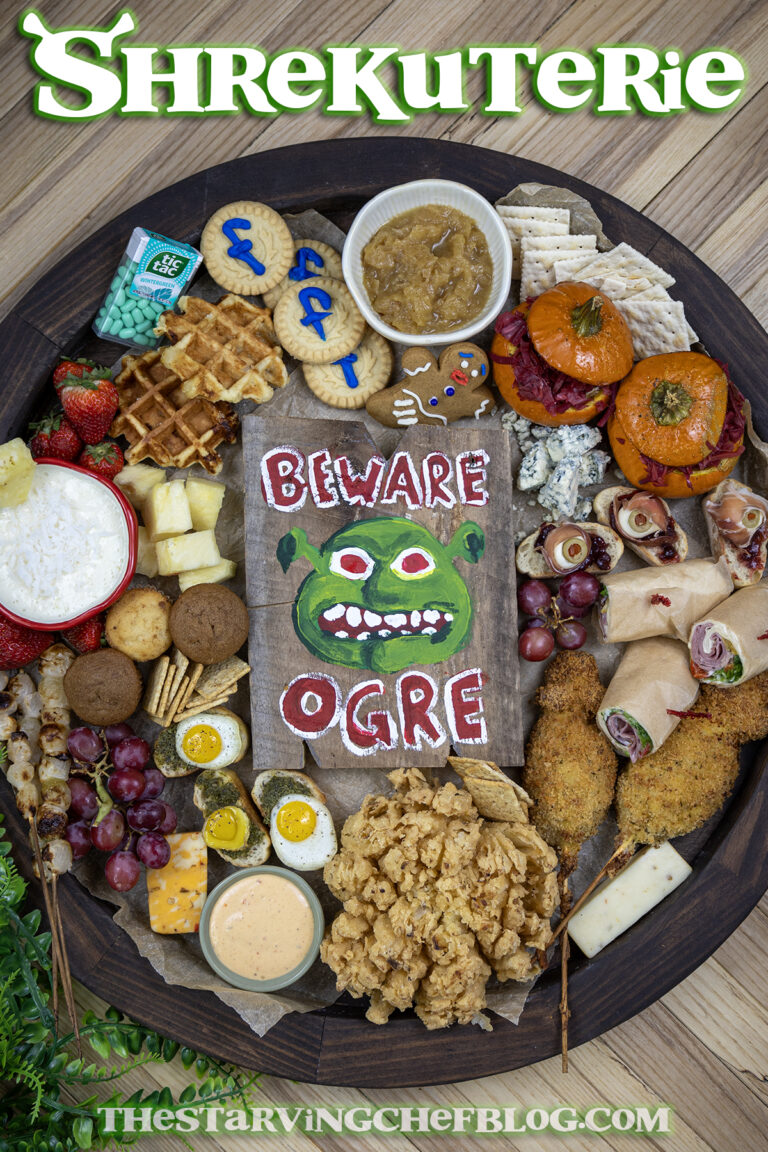 What's Up, Hungry People
There are few movies that have been more influential in my life than the 2001 cinematic masterpiece, Shrek. As a kid at the ripe age of 10 when the movie first hit theaters, this movie was EVERYTHING to me and my fellow middle school peers. From the humor to the music— even over twenty years later, Shrek is probably still one of my favorite movies.
Last summer I took a quick foray into fictional charcuterie spreads and made a Lord of the Rings inspired board. But one comment on the Shirecuterie TikTok video stuck with me for months on end – someone commented they misread the title to say "SHREKuterie" – and I could NOT get that out of my head.
With Shrek's stuffed pumpkins, Donkey's waffles, and Fiona's fried eggs—plus pina colada dip, muffins from the Muffin Man, and Tic Tacs ('cause your breath STINKS!)—and plenty of oniony options, this Shrekuterie spread is perfect for any fun-loving ogres.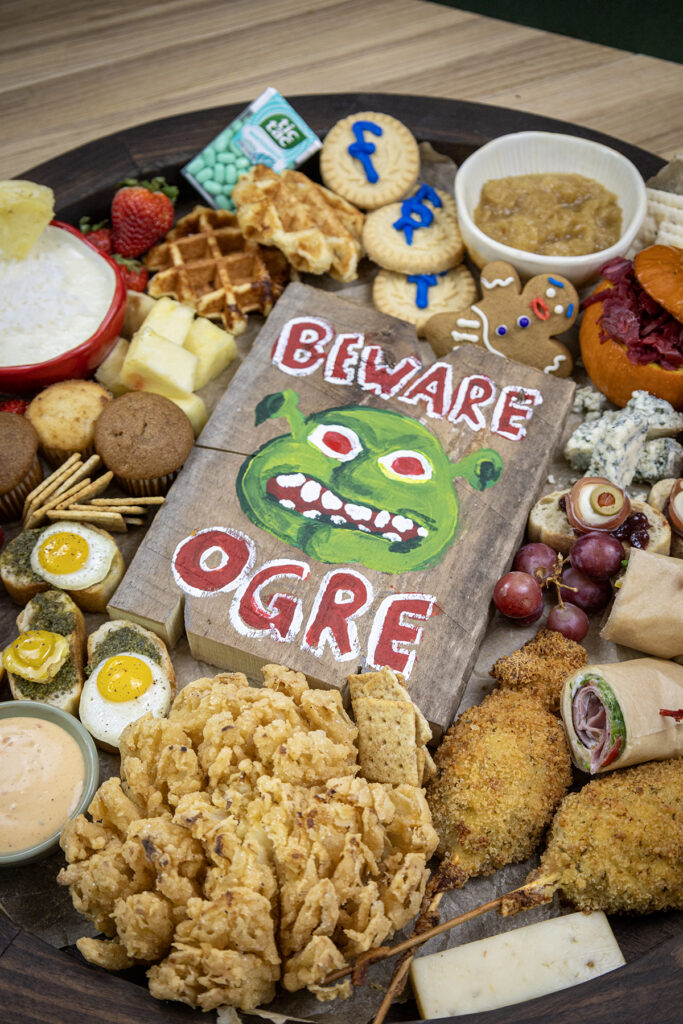 What Are You Doin' In MY Swamp?
Often, charcuterie is seen as a fancy affair, but if you're an ogre, it certainly doesn't have to be. This charcuterie spread uses easy ingredients that come together to make a board worthy of Shrek's swamp (that means it'll be beautiful!).
They can be complex or simple, expensive or budget-friendly. And much like ogres, there's certainly more to any charcuterie board than first meets the eye.
"And in the morning – I'm making WAFFLES"
Shrek definitely has some of the most quotable lines of all time. One of the most iconic lines is delivered by Donkey after he stakes his claim in Shrek's home, much to Shrek's chagrin.
Donkey's waffles definitely earned a spot on this board. Whether you make them from scratch or buy them frozen (I happened to use some frozen, liege-style waffles), waffles are a MUST for any Shrekuterie board.
By Night One Way, By Day Another
Another iconic scene from Shrek involves Princess Fiona. In a scene reminiscent of Snow White singing to the woodland creatures, Fiona starts a duet with a songbird— but it doesn't quite have the same fairy-tale ending for the bird.
Fiona fries up the songbird's tiny eggs for Shrek and Donkey for breakfast. As a kid, I actually remember asking my dad to make me tiny eggs just like the ones I had seen in the movie. Unfortunately, quail eggs weren't as widely available back then, so I had to wait nearly twenty years to make them for myself.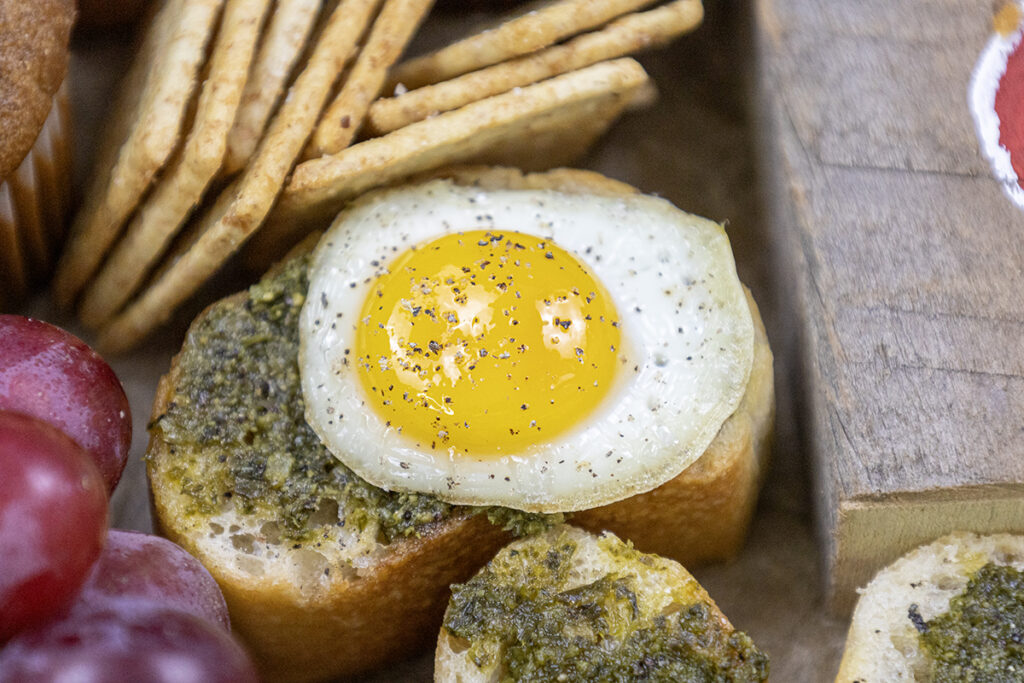 These "songbird eggs" are fried sunny-side-up and served on crispy crostini with a bit of pesto to secure them in place.
"Not the gumdrop buttons!"
Yet another iconic treat from the Shrek universe is… one of the characters. Yes, I am referring to the Gingerbread Man.
But can you blame me? He does look delicious.
I made a very simple gingerbread cookie recipe, cut out gingerbread men, and decorated a few to look like the Gingerbread Man himself.
I also used boxed shortbread cookies and added an "F" on them in blue icing to symbolize the banners that flew over Duloc while Farquaad was in charge.
If it looks like the Facebook logo to you, then good!
Weed Rat – Rotisserie Style
In yet another famous scene from Shrek (and let's be honest, just about every scene is iconic), Shrek roasts two field rats on a spit over a fire while they make camp for the night.
I have never wanted to eat a rat so badly!
While my skewered rodents aren't technically rotisserie, they are still distinctly rat-shaped. With tails made of bacon, their bodies are formed from ground chicken, and then they are breaded and baked or fried until golden.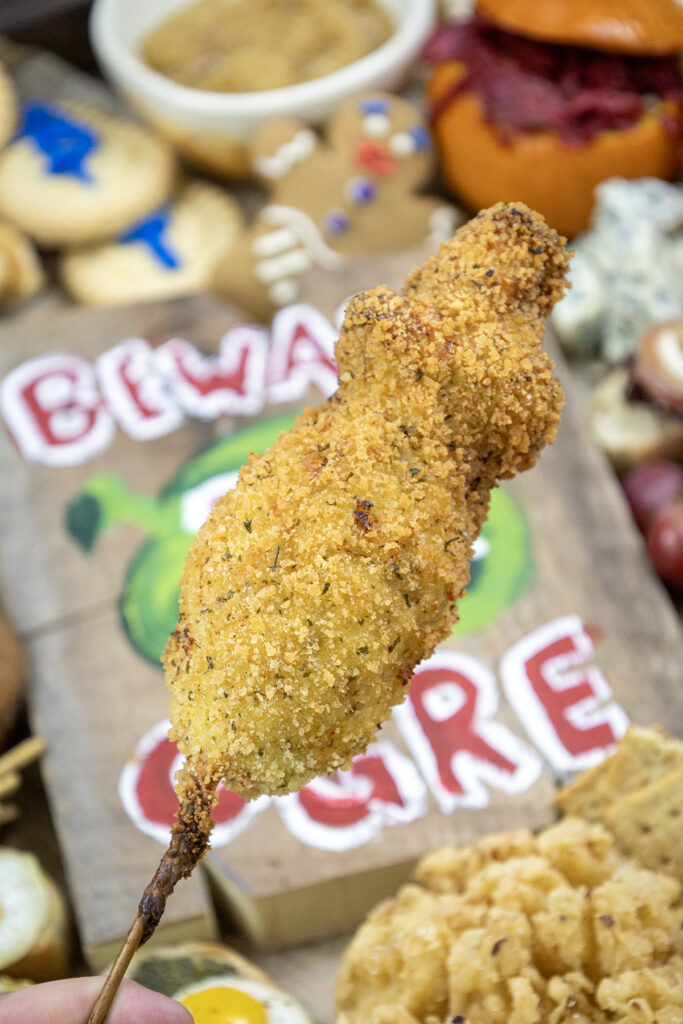 Making Shrek's Dinner
At the beginning of the first Shrek movie, Shrek sits down to dine on a feast that appears to have slugs and stuffed pumpkins as the main course. My stuffed pumpkins are filled with sausage and orzo, then topped with beet-infused sauerkraut.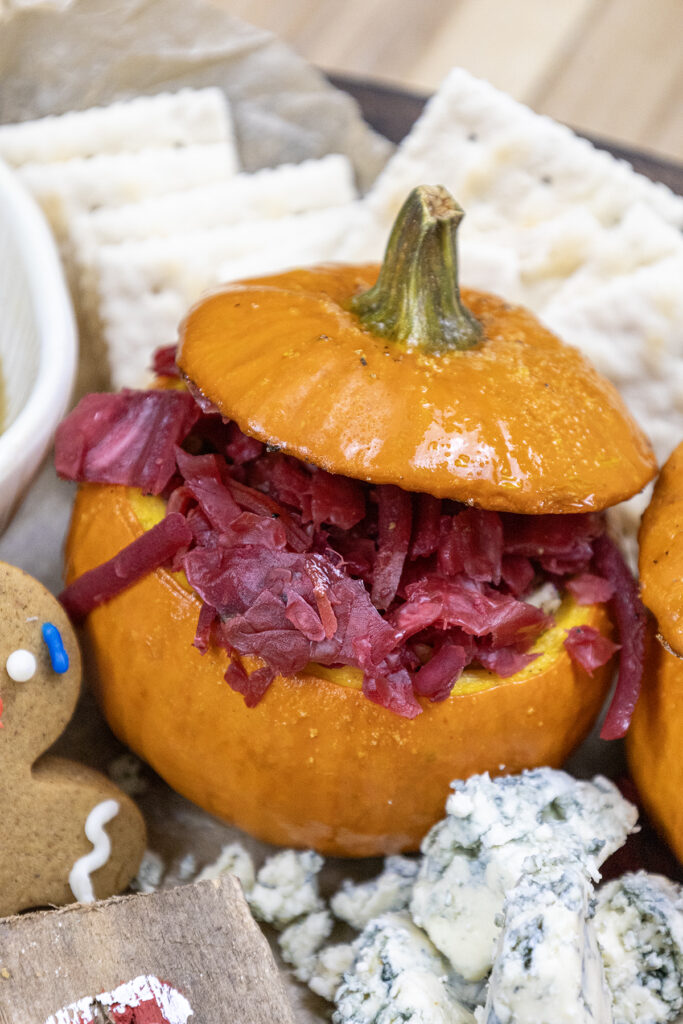 The only thing missing is the earwax candle.
"Squeeze the jelly from your eyes… actually it's quite good on toast"
When I was a kid, one of the lines that always stood out to me was when Shrek threatens the townsfolk, who are toting pitchforks and torches, with the various forms of torture he would use on them to scare them off.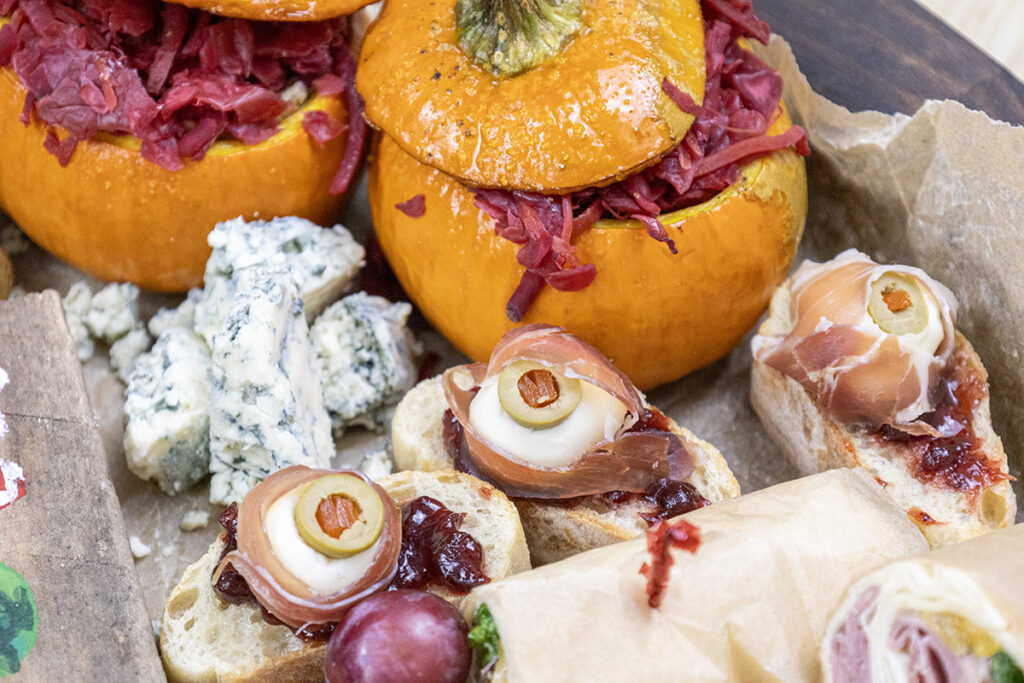 He mentions squeezing the jelly from their eyes and serving it up on toast— and that visual has stuck with me ever since! These eyes are made by wrapping prosciutto around mini mozzarella balls, with olives for the pupils.
A Bonus Snack from Shrek 2
In Shrek 2, we meet Fiona's fairy godmother and her son, Prince Charming. She is ill-intentioned, of course, and plans to trick Fiona into marrying Charming.
In the movie, Fairy Godmother and Prince Charming order Renaissance wraps to go from a fantasy fast-food restaurant. While the majority of the board features snacks from the first movie, I couldn't resist sneaking in one more Shrek-inspired snack.
Other items on the board include:
blooming onion with sauce from the land of Far Far Away – the layers of an onion pulled apart into a floor with some spicy ranch dressing
onion jam – a spreadable version of French-onion soup
onion skewers – pearl onions roasted in the airfryer until tender
Farquaad's shortbread cookies – boxed shortbread cookies with the Farquaad "F"
muffins from the Muffin Man – boxed (or homemade!) banana bread and cinnamon crunch muffins
gourmet stinky cheeses from the bargain basket – don't forget to grab the grossest, stinkiest cheeses you can find!
saltines & wheat crackers – for dipping and snacking
purple grapes – the same color as Dragon!
Renaissance wraps – as a preview for the next movie in the Shrek Universe where they meet Fairy Godmother (and she eats one of these wraps)
Tictacs – for one of the most iconic lines in cinema!
So there you have it, folks: a charcuterie spread fit for an ogre, a talking donkey, and even a slightly ill-tempered princess. Crafting this Shrekuterie board has been a fairy-tale adventure of its own, almost as thrilling as rescuing a princess from a dragon-guarded tower or embarking on a quest to save your swamp. And let's be honest, Shrek taught us that it's what's on the inside that counts—just like with this board. It may not be traditionally "classy," but it's loaded with heart, character, and of course, layers. After all, we all know ogres—and charcuterie boards—have layers.
Whether you're enjoying this during a Shrek movie marathon or serving it at a theme party, this spread is sure to bring smiles to the faces of ogres and humans alike. So gather your knights, errant or otherwise, and prepare to dive into a culinary world as diverse and colorful as the residents of Duloc—just don't forget to make room for the "I'm making waffles" waffles and Tic Tacs for afterward, 'cause you wouldn't want to be a "stinky" guest!
And remember, life is full of freaky surprises, much like this board. So go ahead, live a little, and enjoy your happily ever after, one bite at a time. After all, in the wise words of our beloved ogre: "Better out than in, I always say."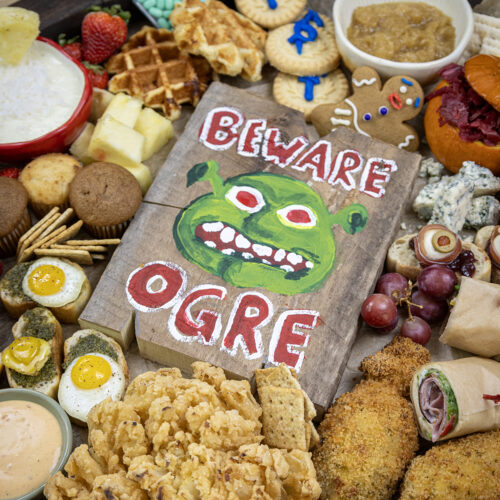 The SHREK Cheese Board aka "Shrekuterie"
Unleash your inner ogre with this Shrek-inspired charcuterie board, featuring everything from Donkey's waffles and Fiona's fried "songbird" eggs to layers of oniony delights and iconic treats like muffins from the Muffin Man and Tic Tacs—perfect for any fun-loving gathering!
Equipment
charcuterie board

bowls for serving dips

forks / spoons / utensils
Ingredients
Shrek's Stuffed Pumpkins
Fiona's Fried Eggs
5-10

quail eggs

5-10

croustini

4-5

tablespoons

pesto

about 1 teaspoon per croustini

½

teaspoon

black pepper
Eyeball Jelly on Toast
5-10

mozzarella pearls

small-medium size

2-3

pimento olives

sliced for pupils

2-3

pieces

prosciutto

5-10

croustini

4-5

tablespoons

lingonberries

about 1 teaspoon per croustini
Rotisserie Weed Rat
1

lb

ground chicken

4-5

eggs

1

cup

flour

1

cup

panko

1

teaspoon

Italian seasoning

4-5

cups

canola oil

for frying

2-3

strips

bacon

cut into "tails"
Pina Colada Dip
8

oz

cream cheese

8

oz

marshmallow creme

8

oz

crushed pineapple in syrup

2

tablespoons

shredded coconut

strawberries & pineapples

chopped for serving
Renaissance Wraps
2-3

tortilla wraps

2-3

teaspoons

horseradish sauce

about 1 teaspoon per wrap

2-3

tablespoons

mayonnaise

about 1 tablespoon per wrap

8-10

slices

roast beef

4-5 slices per wrap

2-3

tablespoons

roasted red peppers

about 1 tablespoon per wrap

1

cups

lettuce
Ogre Blooming Onion
1

box

blooming onion mix

1

onion

3-4

tablespoons

Southwest sauce

or spicy ranch
Farquaad's Shortbread Cookies
5-10

boxed shortbread cookies

blue writing icing
Extras
liege waffles

French onion jam

red grapes

saltines

wheat crackers

cinnamon crunch mini muffins

banana bread mini muffins

blue cheese

spicy cheese

sharp cheddar

Tictacs
Instructions
Shrek's Stuffed Pumpkins
Preheat the oven to 400°F. Prep the pumpkins by slicing off the top inch of each pumpkin and using a spoon to scoop out the insides. Scrape sides clean. Drizzle the insides and tops with oil and set aside.

Boil the orzo according to the instructions on the box and drain. In a large bowl, mix the cooked orzo with the sausage, feta, and parsley. Spoon the filling into each pumpkin all the way to the top. Set the pumpkin lids next to the pumpkins and bake until tender, about 25 minutes. Cool prior to serving.
Fiona's Fried Eggs on Toast
Heat a skillet over medium-low heat. Add the quail eggs and fry sunny-side up—about 2-3 minutes per egg. Remove from skillet and set aside. Spread pesto onto each crostini and place a single fried egg on top. Season with fresh cracked black pepper.
Eyeball Jelly on Toast
Slice the olives into rings for the pupils. Use a small knife to cut a circle at a 45-degree angle into each mozzarella ball and remove about 1/4 inch of mozzarella from the center. Place a slice of olive into the divot. Wrap with a small piece of prosciutto for upper and lower eyelids. Spread the lingonberry jam onto crostini. Place a single eyeball onto each crostini.
Rotisserie Weed Rat
Slice the bacon into strips that resemble rat tails. The bacon should be about twice as wide as the intended size because the bacon will shrink as it cooks. Wrap the strips around a skewer, starting about halfway down.

Form the ground chicken into a rat body shape around the bacon on the skewers—leave the rest of the 'tail' exposed. Freeze overnight.

Once frozen, prep three bowls for dredging—one with flour; one with whisked eggs; and one with panko. Dredge each rat in flour, then eggs, and then panko. Let the chicken thaw after being breaded for about an hour.

Bake at 400°F for 25-30 minutes or until golden brown. Alternatively, deep fry the skewered rats in a deep fryer at 400°F for 8-10 minutes. Cool prior to serving.
Pina Colada Dip
Use a hand mixer to blend together the room temperature cream cheese, marshmallow creme, and crushed pineapple. Mix until completely combined. Pour into a serving dish and top with shredded coconut.
Renaissance Wraps
Spread a teaspoon of horseradish and a tablespoon of mayonnaise onto each wrap. Top with roasted red peppers, roast beef, and lettuce. Wrap tightly in parchment paper. Secure with toothpicks. Chill until ready to serve, then use a sharp knife to cut the wraps into individual portions.
Blooming Ogre Onion
Prep and fry the onion according to the instructions on the packaging. Serve with Southwest sauce.
Farquaad's Shortbread Cookies
Use blue writing icing to make a lowercase "f" on each cookie. Chill to set the icing.
Pearl Onion Skewers
Thaw the pearl onions and drain. Add 8-10 onions onto each skewer. Drizzle with olive oil. Roast for 15-20 minutes at 400°F or air fry for 8-10 minutes at 425°F.
Assembly
Assemble the Shrekuterie with a "BEWARE OF OGRE" sign in the center of the spread. Provide small plates, toothpicks, serving spoons, forks, and knives to complete the spread. STAY OUTTA MY SWAMP!