Captain Silver's Bonzabeast Stew Inspired by Treasure Planet
The Starving Chef is supported by Hungry People like you. When you make a purchase through an affiliate link on my site, I may earn a little bit of cash on the side (at no extra cost to you) to help keep my kitchen running. Read our disclosures here.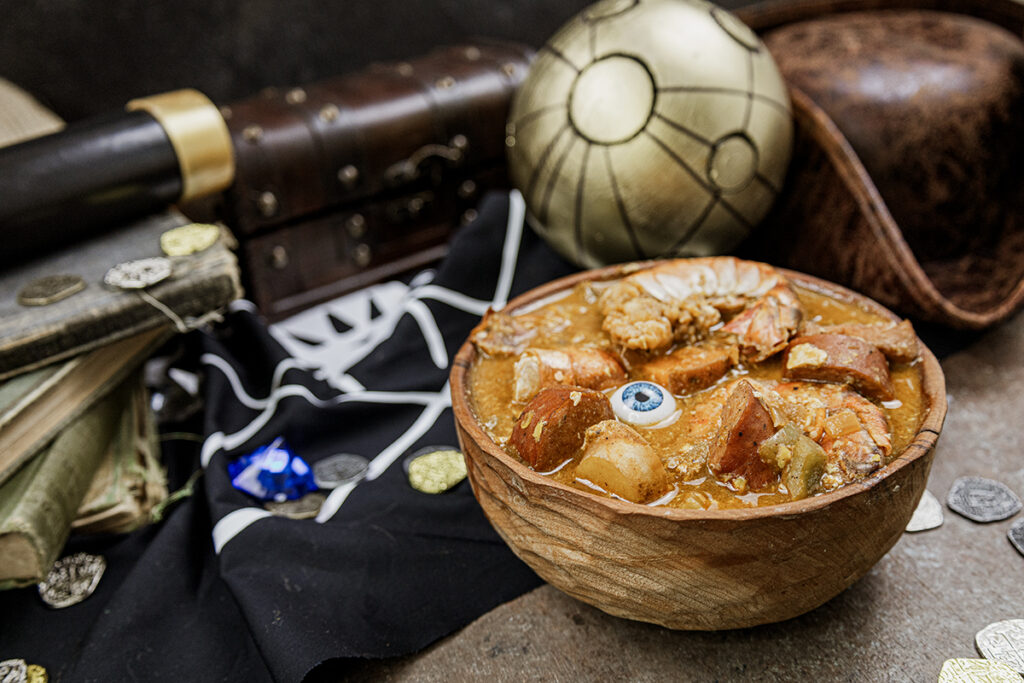 What's Up, Hungry People!
Ready to buckle up for a cosmic culinary adventure? Today, we're diving into a dish that's literally out of this world – Bonzabeast stew from Treasure Planet. It's not every day we get to travel across the galaxy on the hunt for a good recipe, but today, we're in for a treat.
Treasure Planet is a Theatrical Gem
Treasure Planet is a futuristic adaptation of Robert Louis Stevenson's classic novel "Treasure Island." This 2002 animated Disney film reimagines the story in a unique space setting, blending traditional 18th-century pirate imagery with sci-fi elements.
The film follows the adventures of Jim Hawkins, a rebellious teenager who stumbles upon a map to the legendary Treasure Planet, a distant world rumored to hold vast riches. Dreaming of a better life, Jim embarks on an interstellar voyage aboard a space galleon. The eclectic crew includes the cyborg cook John Silver, who becomes a father figure to Jim, but whose true intentions are mysterious.
As they navigate black holes, supernovas, and space storms, Jim learns about courage, friendship, and the true meaning of treasure. The movie is known for its stunning animation, blending traditional 2D characters with 3D computer-generated environments, and its themes of adventure, self-discovery, and the bond between Jim and Silver.
While for whatever reasons, Treasure Planet was a box office flop – forgotten, perhaps, by the media – but not by its cult following that has grown throughout the years.
So after dozens of requests to make Captain Silver's famous bonzabeast stew over on Tiktok, I knew it was high time to bring back this treasure of a tale and recreate the recipe on our own planet.
Here's What You Need
Butter: Adds richness and a base for sautéing vegetables.
Onions: Provide a foundational aromatic flavor to the stew.
Green Pepper: Adds a fresh, slightly sweet flavor and texture.
Celery: Contributes a mild, slightly peppery flavor and crunch.
Garlic: Infuses the dish with a strong, aromatic essence.
Tomato Paste: Offers a concentrated tomato flavor and thickens the stew.
Sweet Potato: Brings sweetness and a hearty texture.
Yam: Adds a creamy texture and natural sweetness.
Andouille Sausage: Imparts a smoky, spicy flavor to the stew.
Colossal Prawns: Provide a juicy, seafood flavor and enrich the broth.
Celery Salt: Enhances overall flavor with a blend of saltiness and celery notes.
Cajun Spice Blend: Adds a spicy, Southern kick to the dish.
Flour: Thickens the stew and creates a smooth texture.
Vegetable Broth: Forms the base of the stew, adding depth and moisture.
Eggs: Enrich the broth, adding creaminess and a unique texture.
Let's Cook!
We start this galactic journey by melting butter until it's frothy – think of it as our culinary spaceship taking off. Next up, we sauté a trinity of onions, green peppers, and celery. This trio is like our trusty crew, each adding their unique flavor to the mix. When the onions begin to soften, it's time to add minced garlic and tomato paste. This step is crucial – it's like building the base of our spaceship, giving our stew its rich, deep flavor.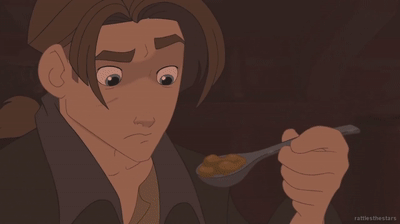 Navigating the Flavor Nebula: Adding Spices and Space Potatoes
Now, it's time to grab a couple of space potatoes and sausage from the southern quadrant of our pantry galaxy. Stirring these into the pot is like navigating through asteroid fields – it takes a bit of skill, but the result is worth it. The potatoes start softening, mingling with the rest of our ingredients like a well-orchestrated space ballet.
Next, we season our cosmic concoction with powdered celery and a blend of Alponian spices with extra Solaris seed. This is where the magic happens – each spice adding a layer of complexity to our stew, like stars adding sparkle to the night sky. A good stir ensures these flavors are evenly distributed throughout the galaxy… I mean, stew.
Here's a twist – we sprinkle flour over everything in the pot, ensuring each ingredient is generously coated. This step is like adding a shield to our spaceship, thickening the stew and preparing it for its next phase. Pour in the broth, and bring it all to a rolling simmer. Watching the stew bubble is like looking at a nebula forming – mesmerizing and full of potential.
Now for the stars of our dish – huge galaxy prawns, snipped down the middle. Pressing them into the stew, they begin cooking through, adding a luxurious, otherworldly flavor. It's like discovering a new planet in our culinary galaxy.
Finally, in a twist as unexpected as a plot in "Treasure Planet," we add a couple of raw eggs, transforming our stew into a space shakshuka. Pop the lid onto the pot and let it simmer. This step is like waiting for a supernova – anticipation building as the egg whites cook and the yolks begin to set. Stirring the eggs into the stew gives the broth an extra creamy base, pulling it all together in a cosmic dance of flavors.
Tips for Cooking Bonzabeast Stew
Balancing Spices in Cajun Cooking: Cajun cuisine is known for its bold flavors. When adding the Cajun spice blend, start with a smaller amount and taste as you go. Too much can overpower the other flavors, especially in dishes with delicate ingredients like prawns.
Achieving the Perfect Egg Texture: The eggs in this recipe should be cooked until the whites are opaque, and the yolks just begin to set. If you prefer a firmer yolk, leave the eggs to cook a little longer. It's important to monitor the eggs closely to achieve the desired consistency.
Selecting and Preparing Prawns: If colossal prawns are not available, jumbo tiger prawns or regular shrimp can be substituted. Ensure that they are properly cleaned and deveined. The cooking time may need to be adjusted based on the size of the prawns or shrimp used.
Sauteing Vegetables for Maximum Flavor: The process of sautéing onions, celery, and green peppers is crucial. They should be cooked until just tender but not browned, as this can alter the intended flavor profile of the stew.
Thickening the Stew with Flour: When adding flour, ensure it's evenly distributed and coats the ingredients before adding liquid. This prevents lumps and helps achieve a smooth, thick consistency for the stew.
Managing the Heat: Maintain a consistent simmer when cooking the stew. Too high heat can cause the bottom to burn, while too low heat might not cook the ingredients thoroughly or bring out their flavors effectively.
Remember, this isn't just any stew – it's Captain Silver's Bonzabeast Stew. Delightfully tangy yet robust, it's a complex and hearty blend of savory and spicy flavors, with just a hint of cannon smoke – a reminder of our spacefaring adventures.
So, Hungry People, what did you think of our interstellar culinary journey? What fictional feasts should I make next? Drop your thoughts in the comments below. And don't forget, Enjoy this galactic delight – it's an old family recipe (complete with parts of the old family), after all.
Until next time, keep your taste buds ready for adventure!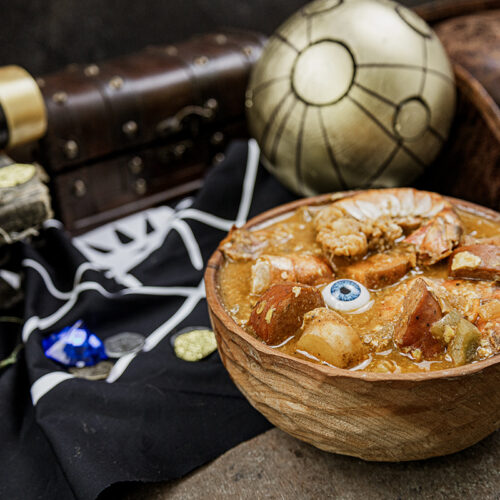 Bonzabeast Stew from Treasure Planet
Embark on a culinary adventure with this 'Treasure Planet'-inspired stew, featuring colossal prawns, Andouille sausage, and a blend of earthy spices.
Ingredients
2

tablespoons

butter

½

cup

onions

chopped

½

cup

green pepper

chopped

½

cup

celery

chopped

1

tablespoon

garlic

minced

1

tablespoon

tomato paste

1

sweet potato

chopped

1

yam

chopped

½

link

Andouille sausage

1

lb

colossal prawns, shell-on

can sub jumbo tiger prawns or regular shrimp

1

tablespoon

celery salt

2

tablespoons

Cajun spice blend

3

tablespoons

flour

3

cups

vegetable broth

3

eggs
Instructions
In a heavy bottom pot, heat the butter until melted. Then add in the onions, green pepper, and celery. Sauté until the onions are just starting to get tender and the celery has brightened, about 3-5 minutes.

Stir in the garlic and tomato paste. When the garlic is fragrant, add the yam, sweet potato, and Andouille sausage to the pot. Stir well to combine. Season with celery salt and the Cajun spice blend.

Sprinkle flour over the contents of the pot and mix until the flour is absorbed and coating everything. Then pour in the broth and stir. Bring to a rolling simmer.

Simmer the stew until the potatoes are tender around the edges, about 8-10 minutes. Then add the colossal prawns to the pot, pressing them into the broth so they are completely covered.

Create small divots on the surface and add in the eggs. Cover the pot and let the eggs cook until the whites are opaque and the yolks are just starting to set, about 5-8 minutes. Then stir the eggs into the stew to create a creamy broth.

Let the eggs finish cooking for about 3-5 more minutes. Stir well, then serve hot and enjoy!
Notes
If using smaller shrimp, reduce the cook time after they have been added so they do not overcook. True Colossal prawns will take about 10-15 minutes to cook all the way through. "Standard" sized shrimp will take about 3-5 minutes.