Cauldron Cake from the Wizarding World of Harry Potter
The Starving Chef is supported by Hungry People like you. When you make a purchase through an affiliate link on my site, I may earn a little bit of cash on the side (at no extra cost to you) to help keep my kitchen running. Read our disclosures here.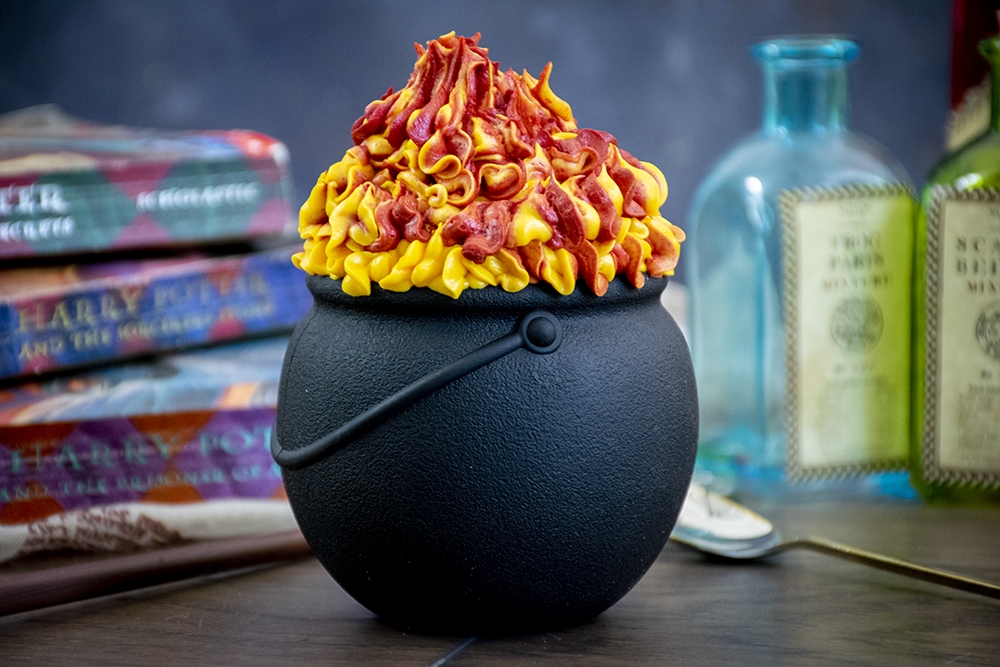 Whats up, hungry people. This week we've been exploring the magical flavors of Hogwarts by concocting potions based off our favorite moments, characters and magical creatures. But today, I decided I wanted to recreate a bit of Hogwarts that you can find in the Muggle world at the wonderful Wizarding World of Harry Potter: cauldron cakes!
These cakes can be found at Honeydukes in Hogsmeade and consist of a chilled chocolate cake topped with frosting flames.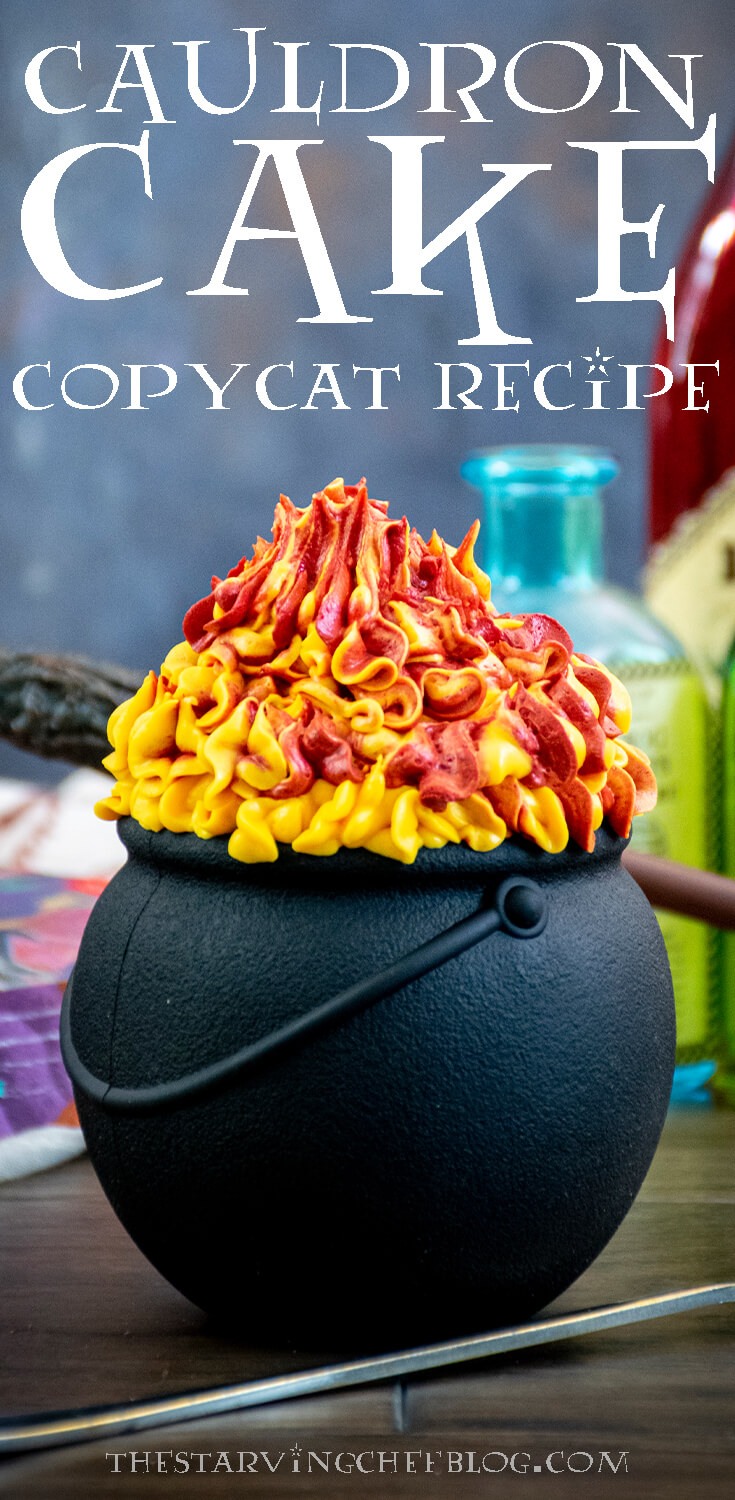 When you get a cauldron cake, it comes served in a reusable silicone cauldron and the box has instructions on how to reuse the cauldron to make your own cake at home – however, the instructions are vague on how to recreate the cake itself beyond "pour in your favorite cake mix."
So I've taken it upon myself to make us a copycat, single serving cauldron cake!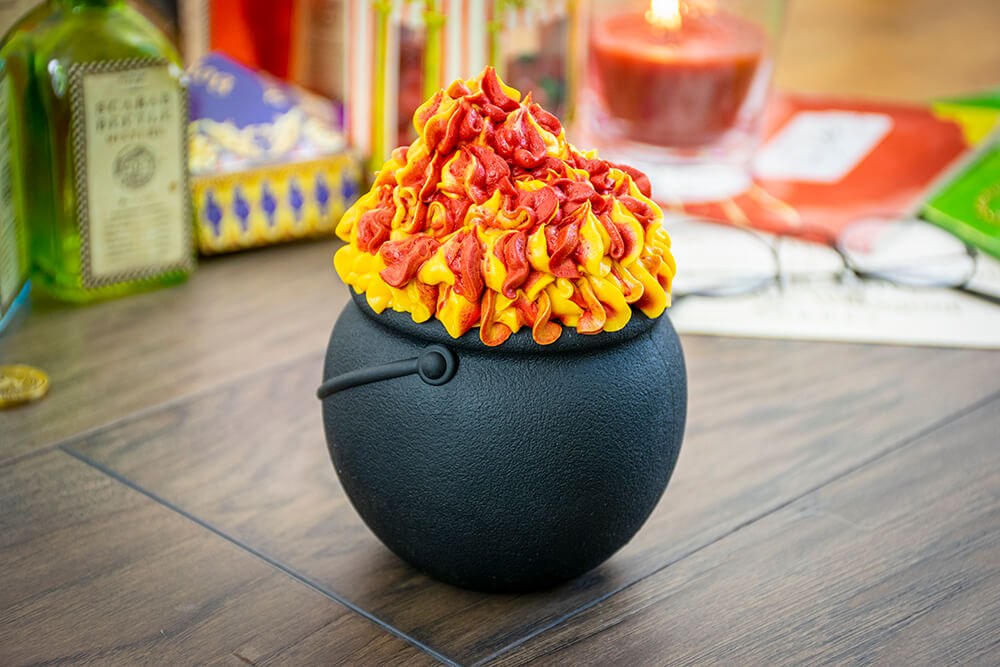 I've seen more and more Muggle groceries selling their leftover cake icing in their bakery – and if you can't find it prepackaged, you can always go to the counter and ask if they will sell you some. I'm not great at making cake icing, especially buttercream, so this is a foolproof way to get perfect, vibrantly colored frosting. But definitely feel free to make your own from scratch if you're a Hermione in the kitchen.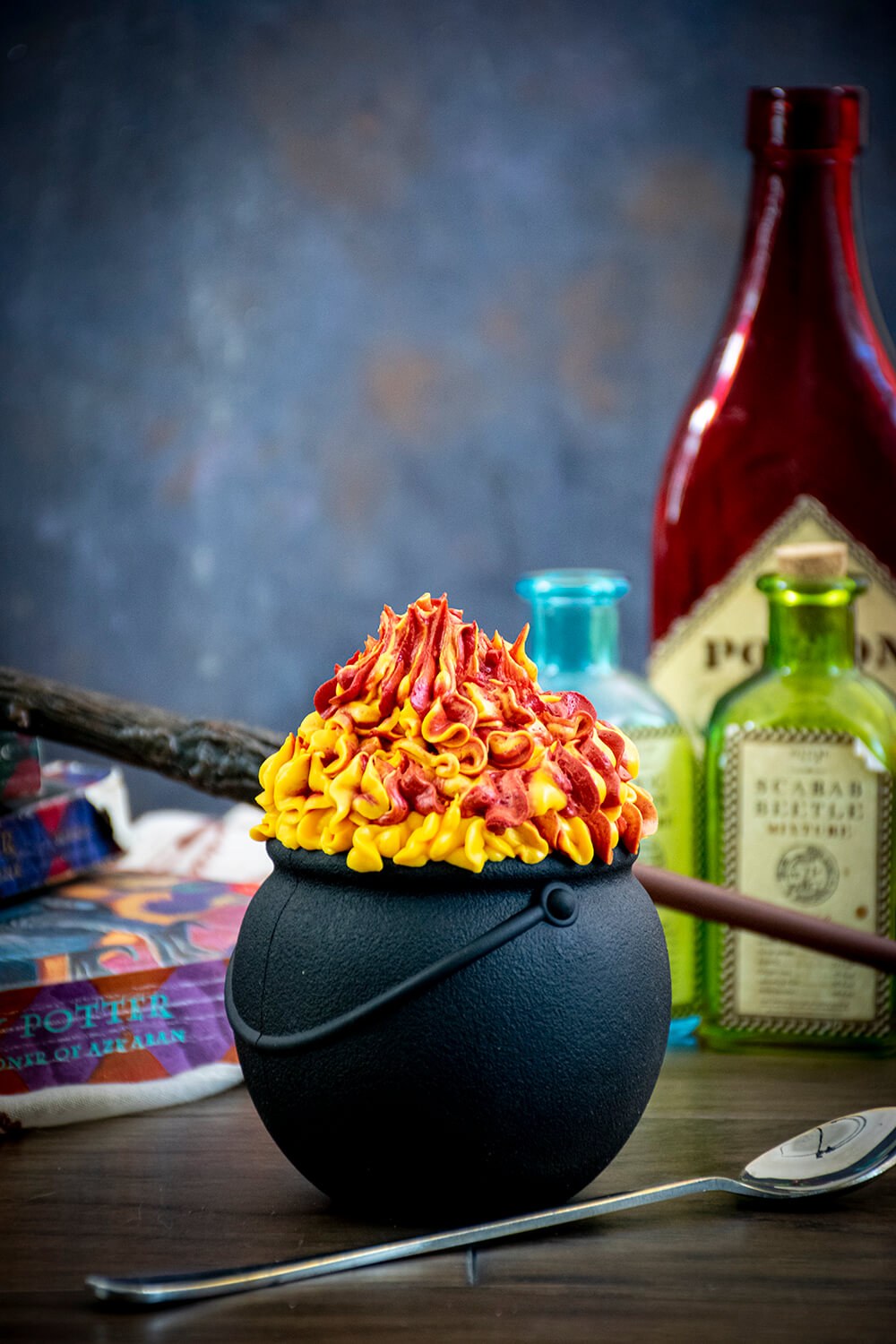 To get it as close to the original as possible, chill the cauldron cakes overnight so that they are cold all they way through – when I tucked in to my first cauldron cake, it was almost as cold as ice cream – which was absolutely perfect on a hot and humid day in Florida.
This is as close as I'll be getting to going to the wizarding world for awhile – but being able to recreate a Hogsmeade favorite, really makes me feel like I'm back at Hogwarts.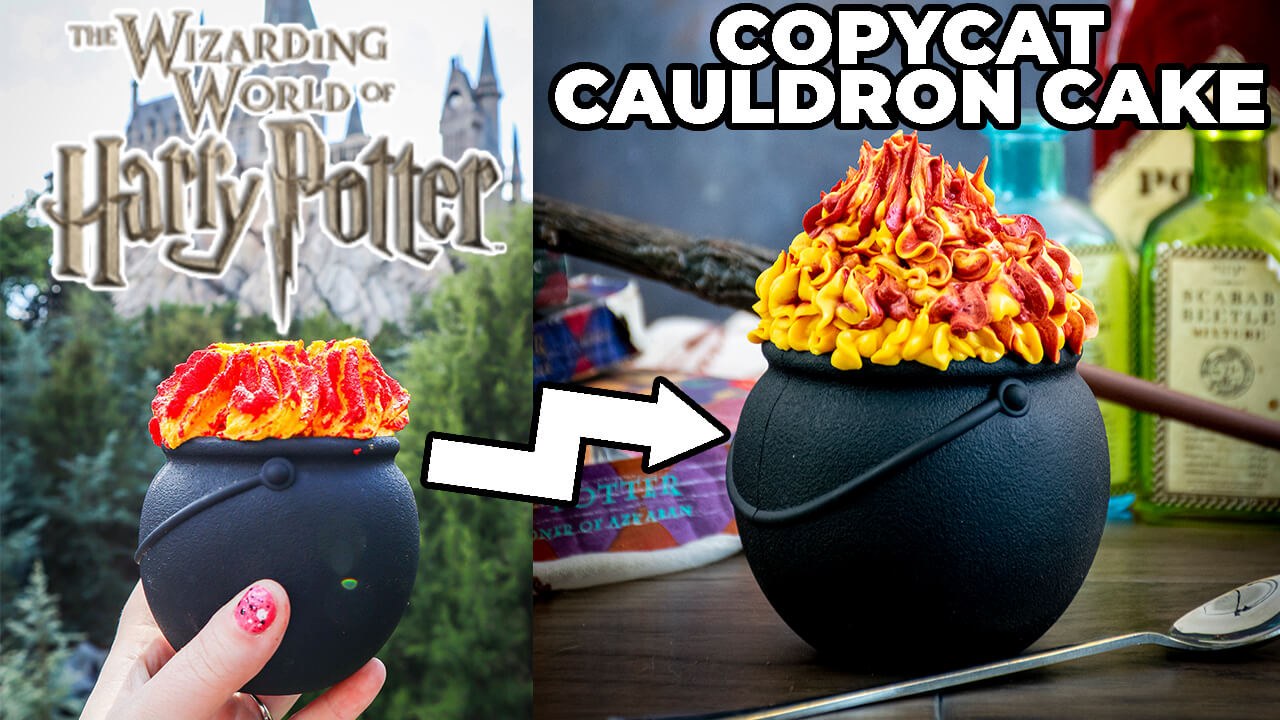 Cauldron Cake from the Wizarding World of Harry Potter
An easy single serving copycat recipe for the reusable cauldron you can find at the Wizarding World of Harry Potter!
Equipment
cauldron cake mould

Harry Booker spatulas
Ingredients
¼

cup

flour

¼

teaspoon

salt

¼

teaspoon

baking powder

¼

teaspoon

baking soda

3

tablespoons

unsweetened cocoa powder

¼

cup

sugar

2

tablespoons

vegetable oil

2

tablespoons

buttermilk

1

egg

¼

teaspoon

vanilla

2

cups

French buttercream

store bought or homemade

¼

teaspoon

red gel food coloring

+ more as needed for desired color

¼

teaspoon

yellow gel food coloring

+ more as needed for desired color
Instructions
Preheat the oven to 375 F. In a small bowl, whisk together the dry ingredients then add the wet ingredients (except frostings and gels) and stir until smooth. Make sure to beat out all the chunks until you get a smooth but thick batter.

Pour the batter into the cauldron until 2/3rds full. DO NOT OVERFILL. You may have 2-3 tablespoons of leftover batter.

Place on a baking sheet to catch any spills that may happen. Bake for 28-30 minutes, until a toothpick inserted in the center comes out clean. Let cake cool to room temperature then chill while preparing the buttercream.

If you bought or made plain white buttercream frosting, use the food gels to color the frosting. Place the frosting in the center of a 15×15 square of plastic wrap and roll into a tube. Place both wrapped frostings into a piping bag with a star or drop tip.

Pipe the frosting in multiple layers to recreate the flames on top of the cauldron cake.

OPTIONAL: For best results, chill for 8-10 hours to fully set the frosting. Enjoy, Muggles!
Video