Chicken Waffle Slider Skewers
The Starving Chef is supported by Hungry People like you. When you make a purchase through an affiliate link on my site, I may earn a little bit of cash on the side (at no extra cost to you) to help keep my kitchen running. Read our disclosures here.
I am straight up obsessed with chicken waffles. No matter how they are served. I love chicken and waffles so much that I skewered it and served it up at a block party last summer.
And I've been dreaming about it ever since.
When it comes to chicken and waffles, most people are taken aback at the suggestion as most American sees waffles as a breakfast item. Well I am here to tell you we have been doing it WRONG for years. Waffles can absolutely be served for dinner AND topped with a spicy fried chicken to boot.
Okay, so WHERE did chicken and waffles come from?
Surprisingly, chicken and waffles has a very mixed origin story. The dish was possibly first combined by Pennsylvania Dutch sometime in the 1600s – but was usually as a pulled chicken topped with gravy (which to be honest, sounds equally delicious). This dish continued on to be a breakfast dish in the 1800s, where it was also known as a "Virginia Breakfast." The recipe is documented but it was very likely the dish was around much earlier.
Prior to that, fried chicken and pancakes were more common with Southern African Americans (which again, that still sounds pretty dang good to me). But chicken and waffles supposedly came to fame in 1930s Harlem, where it was served in jazz restaurants and quickly became a staple menu item in the Black community and beyond.
Keepin' It Simple
This recipe is meant to come together quickly and be served a la carte as an appetizer or snack at a tailgate or cookout.
popcorn chicken – precooked frozen popcorn chicken already comes in the perfect bite size pieces!
American waffles – I made the waffles from scratch (check out the ingredients below)
sweet maple sriracha sauce – toss the chicken in this DIY sticky sweet sauce
Concerning WAFFLES
Did you know that not all waffle makers are created equal? This recipe calls for AMERICAN waffles so if you have a BELGIAN waffle maker, you probably won't have as much success. However, Belgian waffles can certainly be used in a pinch – the flavor and texture from the American waffles suits the skewered version of this dish much better, in my opinion.
The major difference between American and Belgian waffle makers is the number of 'holes' on each appliance. Typically, Belgian waffles have larger and fewer holes, the waffles are a bit thicker and usually even a bit crispy.
American waffle irons on the other hand have smaller holes and are thinner and fluffier. If you've ever been to a Waffle House, those are American waffles. And that is the consistency of waffle we are looking for when it comes to skewering our waffles!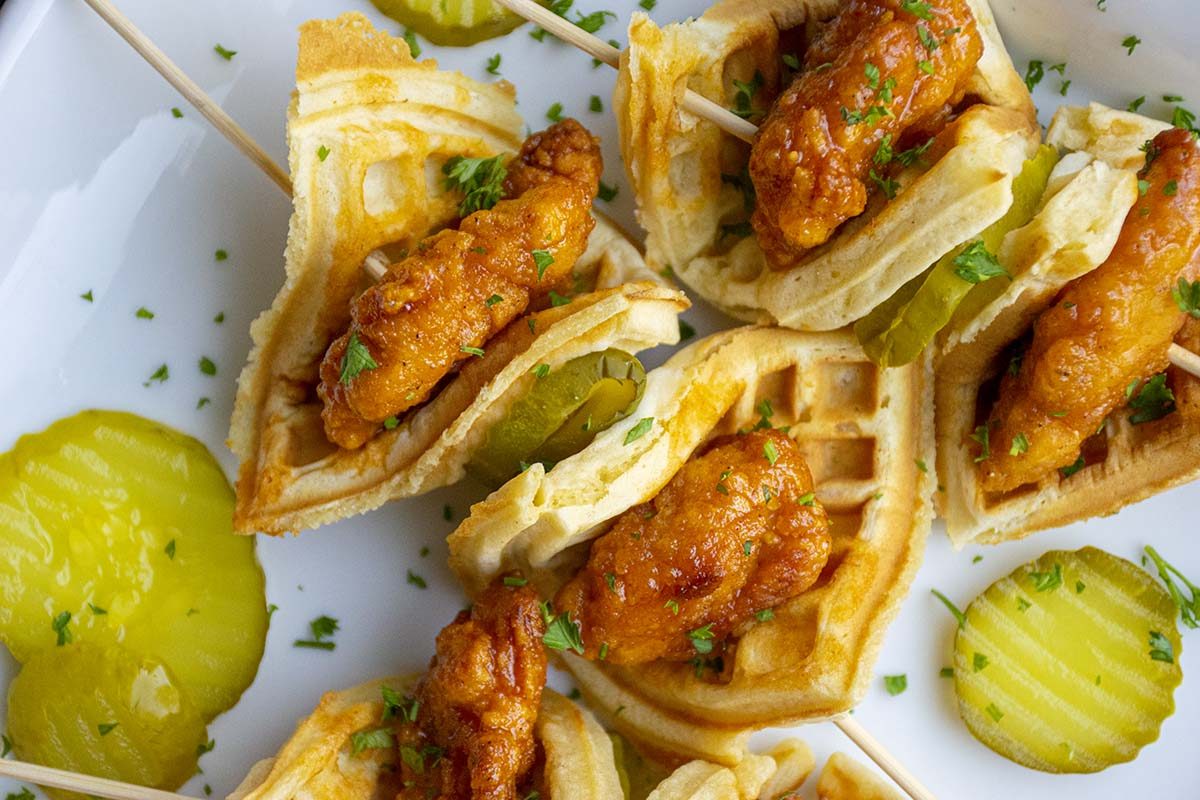 Chicken Waffle Slider Skewers
Sweet and spicy chicken waffles – on sticks!
Ingredients
1

bag

popcorn chicken

cooked

1

cup

dill pickle slices

for serving
FOR WAFFLES:
2

cups

flour

½

cup

butter

melted

1

tablespoon

baking powder

2

tablespoons

demerara sugar

2

eggs

3

tablespoons

honey

2

cups

milk

or buttermilk

1

teaspoon

vanilla
FOR MAPLE SRIRACHA SAUCE:
Instructions
Cook the popcorn chicken according to the instructions on the packaging.

In a small bowl, melt the butter and whisk together the ingredients for the sauce.

Toss the chicken in the sauce until completely coated.

Preheat the oven to 160°F. Place a baking sheet inside to keep the chicken and waffles warm while preparing the waffles.

Meanwhile, in a large bowl whisk together all of the ingredients for the waffles until a lumpy batter has formed. All of the dry ingredients should be mixed in – take care not to over mix.

Pour the waffle batter into the waffle iron and bake for 5-8 minutes on the medium setting, until the waffles are golden brown and cooked through. Move cooked waffles to the baking sheet in the oven to keep warm.

Assemble the skewers by slicing the waffles into four pieces (along the lines). Wrap each quarter of waffle around a piece of chicken and pickle. Skewer 2-3 waffles per skewer.

Return the skewers to the oven to keep warm while preparing the rest of the skewers. Heat the skewers in the oven for 10 minutes prior to serving. Serve warm and enjoy!