Copycat "Who Hash" from The Grinch
The Starving Chef is supported by Hungry People like you. When you make a purchase through an affiliate link on my site, I may earn a little bit of cash on the side (at no extra cost to you) to help keep my kitchen running. Read our disclosures here.
Then he slunk to the icebox.
He eyed the Whos' feast.
He took the Who-Pudding.
He took… the Roast Beast.
He cleaned out that icebox as quick as a flash.
Why, that Grinch, he even took their last can of Who-Hash.

How the Grinch Stole Christmas (2000)
Jim Carey's classic "How the Grinch Stole Christmas" has become a required movie to watch to officially kick-off the holidays in our household. I've been watching it for over 20 years now – in fact, at 10 years old, this movie was one of the last, if not THE VERY LAST, movie that my family bought on VHS tape. I'll let you extrapolate my age from there.
Everyone wants the iconic Who Beast to be recreated from the movie – but what about the dish you can actually find in real life at Seuss Landing at Universal Studios Orlando?
You can find "Who Hash" at the Green Eggs & Ham Cafe – where it is served in a souvenir can with a Who Hash label. Naturally, I kept the can my lunch came in for the last few years with the intention of recreating the dish for you Hungry People.
I figured the perfect time to recreate it was for Christmas – it is the yummiest dish to serve for breakfast after being robbed by the Grinch!
Plus, TikTok has been requesting a lot of fictional feasts lately, so I figured now was even more perfect.
A Seuss-Style Recipe
We'll start with brined brisket
and of course salt and pepper
Plus pickling spices;
and beef broth for good measure
We'll toss in some cinnamon
And star anise too
Then we'll give it a stir
before making a roux
The base of our sauce could not be better
With the addition of whole mustard
cayenne,
and mountain aged cheddar
Then give it a whisk before moving ahead
to make tater tots,
that will keep our Whos fed
We'll bake the tots until they are crispy
Meanwhile,
we can chop up our baked briskey
Then its time, to combine ingredients together
Before baking it once more to complete our endeavor
We'll top our Who hash with green onions and cheddar
Then serve to the Grinch and he'll think we're clever
If this Christmas your heart is too small
This dish will bring cheer to one and to all
And don't forget, if you are still here
To follow the Starving Chef for more recipes, my dear
Ingredients for Who Hash
Based off the recipe that you can get at the Green Eggs & Ham Cafe, this is my take on their "Who Hash" but with added flavors for a Christmas-y twist!
brined brisket – buy a flat cut, pre-brined brisket OR brine your own
roasted beef broth – for braising the brisket, I recommend using a bouillon based broth for best flavor
cinnamon sticks – whole cinnamon sticks provide the perfect amount of aromatics and give great undertones of flavor
star anise pods – additional Christmas-y infused flavor
pickling spices – blend together bay leaves, cardamom pods, coriander, cloves, ginger, mustard seeds & peppercorns
butter, flour & milk – for the roux based cheese sauce
aged mountain cheddar – funky cheddar from Mount Crumpet is best
whole grain mustard – to enhance the cheddar flavor
hash browns – crispy, golden hash browns for the base of our casserole (prior to serving it in a can)
green onions – for chopping, topping and tangy flavor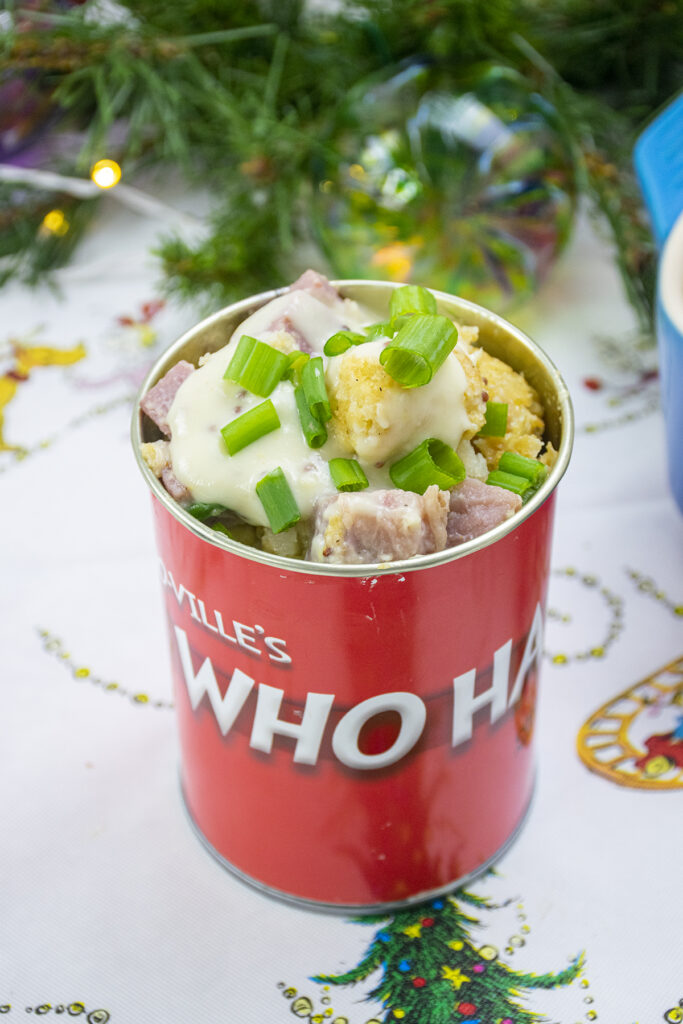 Brisket Tips
I recommend buying a flat-cut, 1-3 lb brisket that has been pre-brined. Many of my local grocery stores here in Ohio carry a raw corned beef brisket that has been brined in a 35% solution and has a pack of pickling spices provided in the package (try saying that five times fast…).
You can absolutely brine your own brisket to make corned beef from scratch, but keep in mind this process can take up to 10 days for the perfect corned beef brisket. I am not going to cover brining the brisket in my recipe specifically, but you can find all you need to know about brining your own corned beef on Sweet and Savory Meals.
Every home chef should have a reliable meat thermometer to ensure their meats are perfectly cooked. Corned beef is best cooked to 150°F where it is still pink throughout and perfectly tender. Let the brisket rest so it holds on to as much of the juices as possible before you chop it up into bite size pieces.
Don't want to use corned beef? I'm generally not a big corned beef eater myself – though this recipe definitely converted me. But if you don't want to risk it for the brisket, chopped prosciutto can be swapped in for similar flavor.
HAPPY HOLIDAYS!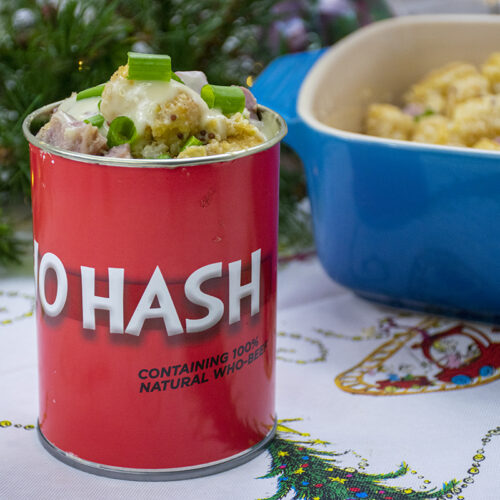 Copycat "Who Hash" from The Grinch
Making Who Hash inspired by How the Grinch Stole Christmas – and a copycat of the "Who Hash" you can find at Universal Studios!
Ingredients
FOR CORNED BEEF
2-3

lb

corned beef flat cut brisket

pre-brined & rinsed, room temperature

1

tablespoon

pickling spices

recipe follows (you will have leftover spices)

1

cinnamon stick

or can sub 1/4 teaspoon ground cinnamon

2

star anise pods

or can sub 1/4 teaspoon ground star anise

1

teaspoon

salt

1

teaspoon

pepper

4-6

cups

beef broth

or enough to cover the brisket completely
FOR PICKLING SPICE BLEND
1

tablespoon

peppercorns

1

tablespoon

mustard seeds

2

bay leaves

roughly crushed

1

teaspoon

cloves

1

teaspoon

ground ginger

1

teaspoon

coriander

1

teaspoon

cardamom
FOR WHITE CHEDDAR CHEESE SAUCE
3

tablespoons

butter

3

tablespoons

flour

2

cups

milk

8

oz

aged mountain cheddar cheese

chopped

1

tablespoon

whole grain mustard

1

teaspoon

cayenne pepper
FOR TOTS
½ – 1

bag

tater tots

or enough to fill bottom of casserole dish in an even layer

2-3

green onions

for topping
Instructions
Rinse the flat cut corned beef brisket and remove any excess fat from the top. There should be a "fat cap" on the bottom. Bring the brisket slab to room temperature.

Preheat the oven to 350°F. Place the corned beef flat cut brisket into a heavy bottom pot or Dutch oven over medium high heat. Season with salt and pepper and add in the pickling spices.

Pour the broth over the brisket so that it is completely covered. Bring to a rolling bubble then cover and transfer to the preheated oven. Cook until the internal temperature of the corned beef reaches at least 145°F to 150°F* – or about 45-60 minutes.

While the corned beef is cooking, make the roux base for the cheese sauce by melting butter over medium heat. Whisk in the flour then slowly pour in the milk while whisking constantly. The roux should thicken as it cooks and more milk is added.

Add the cheese, whole grain mustard and cayenne pepper to the sauce. Stir until the cheese has melted completely and the sauce has thickened, about 15-20 minutes. Reduce the temp to low and keep warm while preparing the rest of the ingredients. Stir occasionally.

When the corned beef has finished cooking, remove it from the oven. Remove the beef from the broth and discard the remaining broth. Rest the corned beef for at least 25 minutes.

Change the oven temp to the recommended cooking temperature on the hash brown package (usually 425°F or 450°F). Grease a casserole dish with cooking spray then arrange the hash browns in an even layer. Bake the hash browns according to the instructions on the packaging, but cook for about 5 minutes less than recommended.

While the tots are cooking, slice the corned beef into bite sized pieces.

About five minutes before the recommended cooking time is up, remove the tater tots from the oven. Spread the corned beef brisket on top as desired. Drizzle on about half of the cheese sauce. Return to the oven and finish cooking until the tots are crispy – about 5-10 more minutes.

Drizzle the rest of the cheese sauce on top of the cooked Who Hash after it has finished baking. Sprinkle on green onion from edge to edge. Serve right away from the casserole dish or spoon into cleaned cans for a Grinch-style dining experience. Add more green onions as topping as desired. Enjoy! Oh Merry Merry!
Notes
*For a more well-done corned beef, cook to 165°F (it will no longer be pink at this stage).