Fair Style Corn Dogs
The Starving Chef is supported by Hungry People like you. When you make a purchase through an affiliate link on my site, I may earn a little bit of cash on the side (at no extra cost to you) to help keep my kitchen running. Read our disclosures here.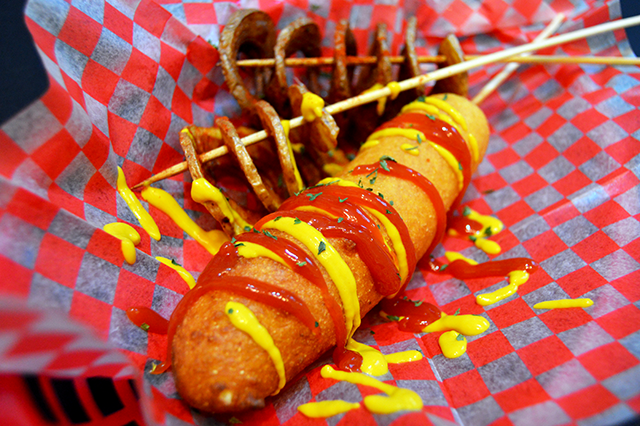 It's a good thing I didn't know how easy corn dogs are to make during my college years or else they would have made up probably 90% of my diet. Not that I'll have much more restraint as an 'adult' but at least now I'm not as drunk as often.
This deep-fried deliciousness hits the spot alongside a nice bottle of beer though, I'll have to admit that.
You only need a few things for this recipe, and most of them I already had stashed away in my kitchen. Be sure to get some nice skewers for your dogs too, since that can make a difference between a limp wiener and a sturdy one.
Pat the dogs dry and set aside as you prepare the batter. Mix together all of the dry ingredients, then add in the eggs and milk.
Once combined, the batter should be just a bit thicker than pancake batter. Dip in the hot dogs one at a time, and let any excess drip off (or don't, for a super thick breading!).
You don't necessarily need a deep fryer for this recipe. A few inches of oil in a large pan will do, provided you rotate the dogs every few seconds to ensure even browning. I, however, do have a deep fryer, and it will now have a permanent place on my counter top as I stock pile hot dogs for future batches.
Let the corn dogs cool for a few minutes, as they will be piping hot!
I served mine along some super easy tornado potatoes.
Now just garnish with your favorite hot dog toppings!
Fair Style Corn Dogs
Bring the county fair to your home with these easy concession stand inspired corn dogs.
Instructions
Skewer each hot dog lengthwise and pat dry with a paper towel. This will help the batter stick to the dogs. Preheat the deep fryer or pot of oil one inch deep to 350*F.

In a medium sized bowl, mix together the dry ingredients, then add in each egg, and slowly stir in the milk. Batter should be just thicker than pancake batter.

Dip each skewered hot dog into the batter and let any excess drip off. Transfer immediately in batches of 2 to the deep fryer, letting the skewers set on the edge of the fryer. Rotate occasionally to ensure even browning. Cook for 3-5 minutes, or until evenly cooked. Remove to plate lined with a paper towel to cool. Serve and enjoy!