Easy Homemade Marshmallows
The Starving Chef is supported by Hungry People like you. When you make a purchase through an affiliate link on my site, I may earn a little bit of cash on the side (at no extra cost to you) to help keep my kitchen running. Read our disclosures here.
Lets talk about marshmallows. Somehow, I have been misled to believe that making homemade marshmallows was difficult – boy was I wrong! The hardest part about this recipe was not eating all the marshmallow fluff before it was fully set!
There are two important things to remember while making marshmallows: first, let the gelatin soften prior to using it; and second, be sure to get the simple syrup to the right temperature. If the syrup is too cold or too hot, it will result in strangely textured marshmallows – so have a thermometer (and some patience) handy.
Let the gelatin soften for about twenty minutes. I had never used gelatin before (I made the marshmallows as a part of my 52 weeks of cooking challenge) so I wasn't really sure what to expect when I dumped the first packet into the water. Within seconds it had started to expand. Are you supposed to stir gelatin into water? It didn't effect the texture of my marshmallows, but if someone could clear that up for me, that'd be great.
While the gelatin softens, combine the sugar and water in a pan over the highest heat. This is where the thermometer comes in handy: the sugar water needs to reach 240°F exactly before being removed from the heat. Any cooler and your marshmallows won't set correctly; any hotter, and they'll turn into rocks.
With my handy old school candy thermometer, you can see the ideal temp is "soft ball." Slooooowly pour the hot sugar water into a stand mixer going at a medium-high speed.
Keep whipping the sugar water and gelatin until it starts to turn creamy and white- about five to ten minutes of whipping. It will start forming peaks after about fifteen minutes. Keep whipping!!
The sugar water and gelatin mix will start to double in size, and this is where it starts to get…bigger. At this point, you'll have a marshmallow fluff! Keep whipping a little while longer.
After about twenty minutes of whipping, you'll have a super fluffy, super delicious marshmallow cream. Feel free to eat it right from the bowl! But try to save some for the actual marshmallows…
Dust powdered sugar onto a baking sheet lined with parchment paper, then slowly pour the marshmallow fluff onto the sheet in a consistently thick layer. You can also use mini cupcake tins or a small cake pan – but be sure to properly line whatever pan you use because the marshmallows start getting super sticky. Dust the top of the marshmallows with more powdered sugar.
Let the marshmallows set for about four hours. At this point, they'll keep their shape when cut into squares, but will still be nice and fluffy on the inside.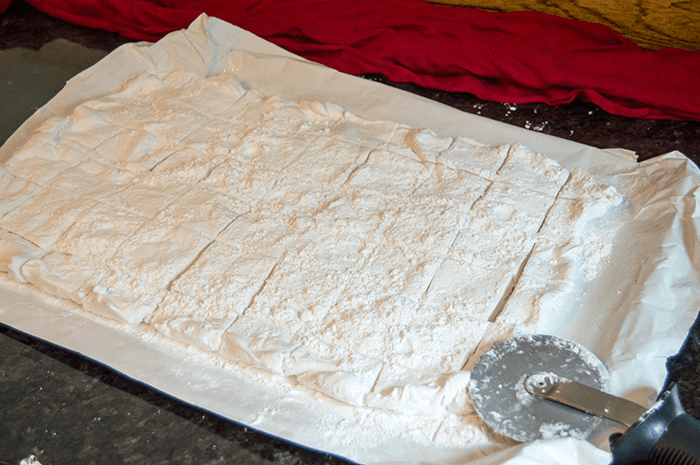 These 'mallows are perfect for any campfire but cook twice as fast as their store bought counterparts – so if you are planning on making s'mores, keep an extra close eye on these homemade marshmallows.
Easy Homemade Marshmallows
The hardest part about this recipe was not eating all the marshmallow fluff before it was fully set!
Instructions
Pour the gelatin packets into the cold water in a bowl mounted to a stand mixer. Let gelatin soften and expand for about twenty minutes. Add optional vanilla flavoring.

While the gelatin softens, in a pan over highest heat, combine the water and corn syrup. Stir to dissolve, then bring the temperature up to 240°F.

Turn the mixer on and slowly pour the hot liquid into the softened gelatin. Once all the liquid has been added, turn the mixer up to a medium high speed. Season with salt.

After about five minutes, the gelatin and sugar liquid will have turned white. Continue to whip. At about ten minutes, the mix will start forming peaks and begin to increase in volume. Whip for another ten minutes, or until the mix is light, sticky, and super fluffy.

Line a pan or baking sheet with parchment paper (or use cooking spray). Whisk together the powdered sugar and corn starch and dust the lined pan.

Pour the marshmallow fluff onto the sheet in an even layer. Dust the top with the remaining powdered sugar mix.

Let the marshmallows set for about four to five hours. Cut into the desired shape and size and serve alongside chocolate squares and graham crackers for DIY s'mores! Enjoy!