Felix Felicis | Harry Potter Inspired Recipes
The Starving Chef is supported by Hungry People like you. When you make a purchase through an affiliate link on my site, I may earn a little bit of cash on the side (at no extra cost to you) to help keep my kitchen running. Read our disclosures here.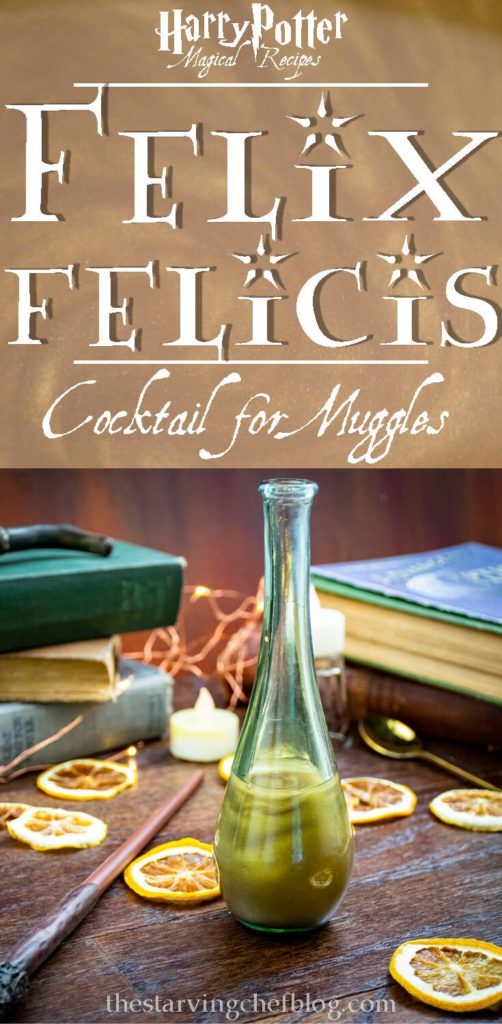 Harry Potter week continues here in the Starving Chef's kitchen. Today we are descending into the dungeons to join Professor Slughorn in the brewing of a fresh draught of Felix Felicis.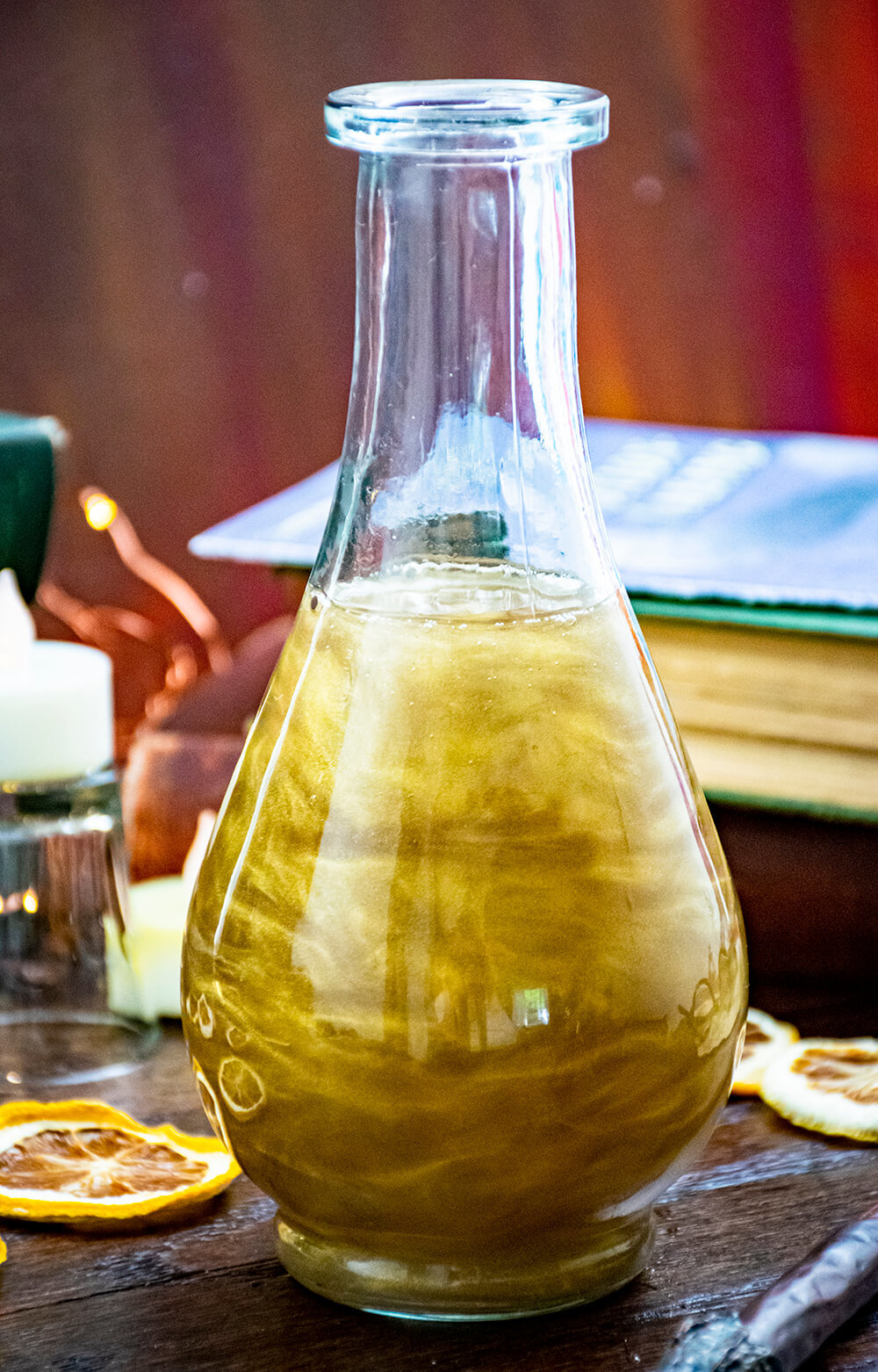 In the Half-Blood Prince, Harry's potions teacher Professor Slughorn bestows upon him a small vile of liquid luck. At first, Harry tricks Ron into thinking that he gave him the Felix Felicis just prior to their biggest Quidditch match of the year – leading the Gryffindor team to victory. But little did Ron know at the time that Harry had really only given him a placebo.
They won the match regardless, but Harry was able to keep the liquid luck for himself to extract some juicy secrets from Slughorn himself…after giving Aragog a proper funeral that is.
The Muggle-friendly version is much less potent – and contains the Muggle version of magic: alcohol.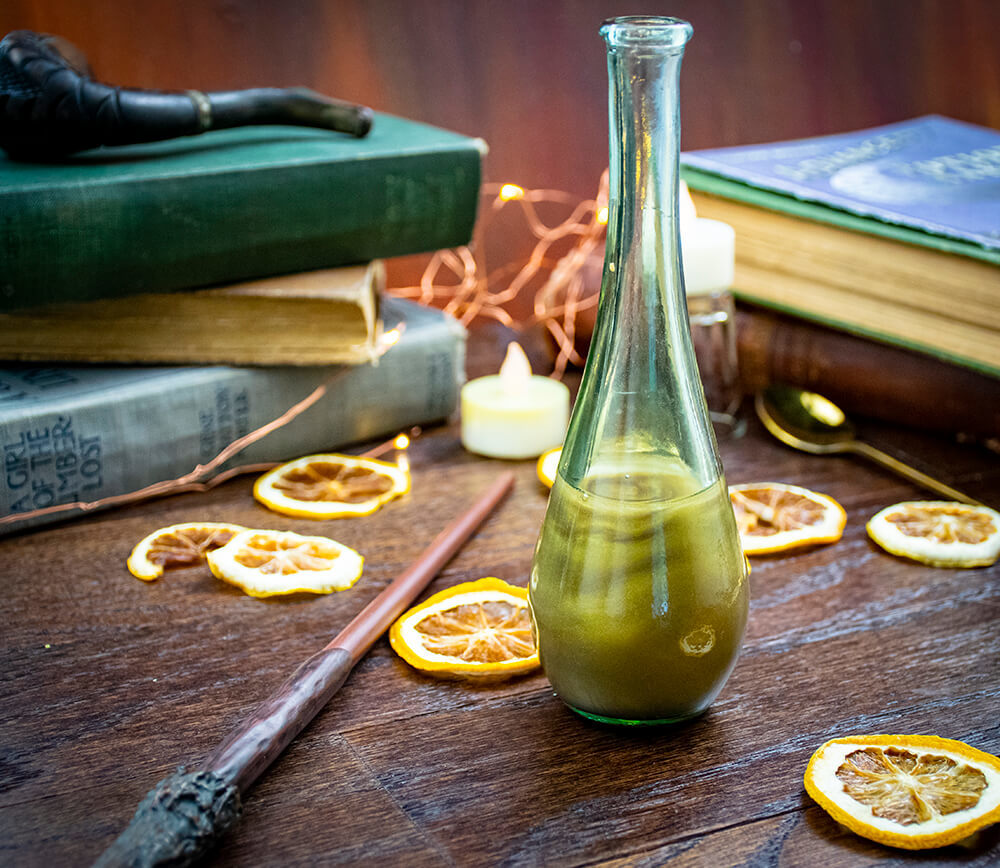 Of course, if you want to keep the liquid luck kid friendly, just don't add any alcohol.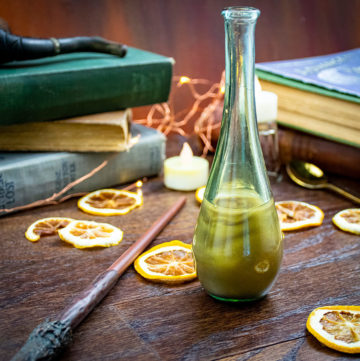 Felix Felicis | Harry Potter Inspired Recipes
Felix Felicis is known as liquid luck – but what happens when a Muggle drinks it?
Equipment
Harry Potter spatula

Harry Potter Unofficial Cookbook

mixing bowl
Ingredients
40

oz

lemon lime soda

16

oz

lemonade

8

oz

apple juice

¼

teaspoon

gold luster dust

10

oz

vodka

optional

½

cup

simple syrup

optional, recipe follows
Instructions
In a large bowl or cauldron combine the lemon lime soda, lemonade, apple juice and luster dust. If using, stir in the vodka and simple syrup. Chill for one hour prior to serving for best results. Enjoy your liquid luck!
SIMPLE SYRUP:
Combine both ingredients in a sauce pan over high heat. Simmer until thickened, about 30 minutes. Chill and cool completely.
Video