Garlic Shrimp Curry
The Starving Chef is supported by Hungry People like you. When you make a purchase through an affiliate link on my site, I may earn a little bit of cash on the side (at no extra cost to you) to help keep my kitchen running. Read our disclosures here.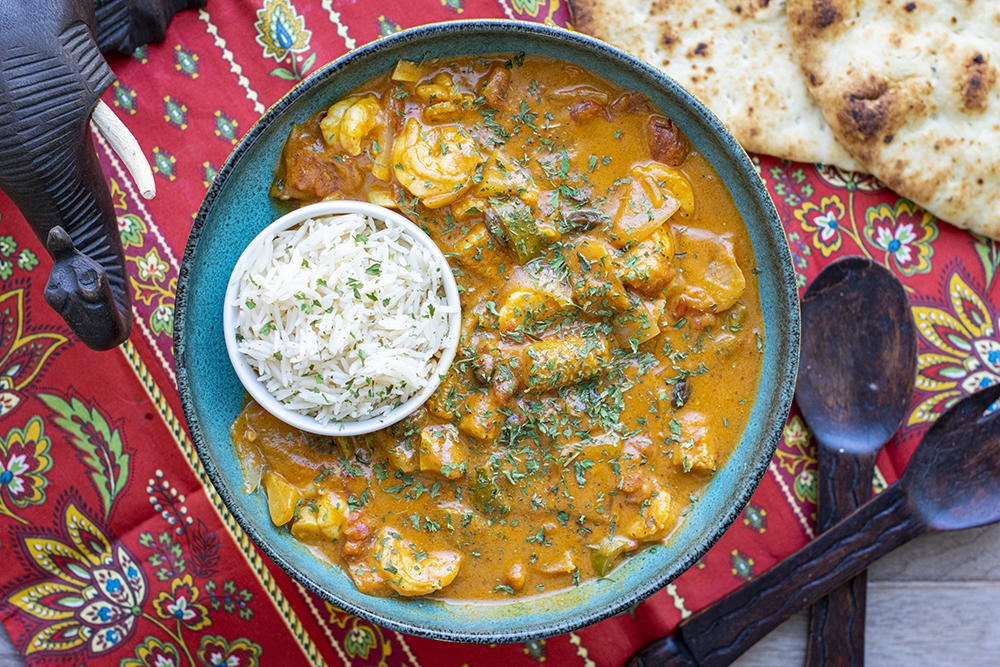 Nothing quite beats away the winter blues like a spicy bowl of curry. This creamy, garlicky curry is packed with authentic flavor and will certainly warm you from the inside out.
Curry is amazingly easy to make from scratch and customize to your personal preferences. Really like some heat? Add extra hot curry powder and red pepper flakes! Prefer a creamy curry? Use a blender to make it extra smooth.
Slowly simmered to perfection, this curry is a great way to spend an afternoon – and then eat the fruits (er…curry?) of your labor.
Not that curry is a particularly complex dish to make by any means. In fact because there's really no wrong way to make a curry, it's one of the easiest dishes to make.
This particular curry is inspired by Thai curries. My husband and I got married in the middle of the pandemic, but had been planning a trip to Thailand for our honeymoon. That hasn't panned out (yet) but until then, this dish will have to tide me over.
What is the Difference Between Thai and Indian Curry?
One thing is for sure: all curries are a saucy – sometimes spicy – blend of cream, veggies and/or meat served with rice or noodles.
Thai curries focus heavily on the use of coconut milk and fresh ingredients; whereas, Indian curries use more dried spices and focus on heat. There is usually no dairy in Thai curry – the cream is all from the coconut milk. The main difference being the use of 'wet' and 'dry' ingredients. In Thai cuisine, you'll find a heavier use of curry paste over powder for example.
However, most dry yellow curry powder that you can conventionally find in the United States is a dried mix of Thai curry spices. So either can be used and still be considered curry – which is why the term 'curry' in general is more of a blanket term to cover a wide range of Asian cuisines that fall into this 'saucy blend of cream and stuff' category.
Here's What You'll Need For Garlic Shrimp Curry:
For this curry, we are going to be focusing heavily on ingredients that can be found in Thai cuisine – but due to the fact that I live in Ohio, authentic ingredients can be hard to come by. So we'll supplement where we can to get as close to the 'real deal' as possible when it comes to a Thai curry.
The IMPORTANT Stuff:
shrimp – peel and pinch off the tails of the shrimp for easy dining
garlic – and I mean A LOT of garlic
baby corn – you can find this in whole or chopped varieties in the canned food aisle or along the "international" cuisines in your grocery
golden raisins – add a little pop of sweetness, though these are more traditionally used in Indian cuisines (trust me on this one, raisins are my favorite SECRET CURRY INGREDIENT)
coconut milk – necessary for authentic Thai cooking!
red curry paste – again, the whole 'wet' vs 'dry' curry thing
hot curry powder – this is usually a dried version of Thai yellow curry and adds TONS of delicious curry flavor
ghee OR butter – ghee is more traditionally used in Indian cuisine but it helps Thai curries feel less 'oily'
fish sauce – this is an essential ingredient adds a blast of umami to many Thai dishes
red pepper flakes – add more for extra heat!
rice – for serving!
The GARLIC is what really shines through in this dish – enhanced by sweet and spicy flavors, it makes for a deliciously savory dish. So don't skimp on the garlic! I straight up used like 8-10 cloves in my own recipe.
Need a FISH SAUCE alternative?
While fish sauce is listed as an essential ingredient above, in the recipe below you'll see I've listed it as optional! If you can't find fish sauce (or just don't want to use it for whatever reason), here are some alternatives you can use to still get a blast of umami flavor:
soy sauce or tamari
oyster sauce – sometimes easier to find than fish sauce
worcestershire – has a distinct umami flavor and saltiness similar to fish sauce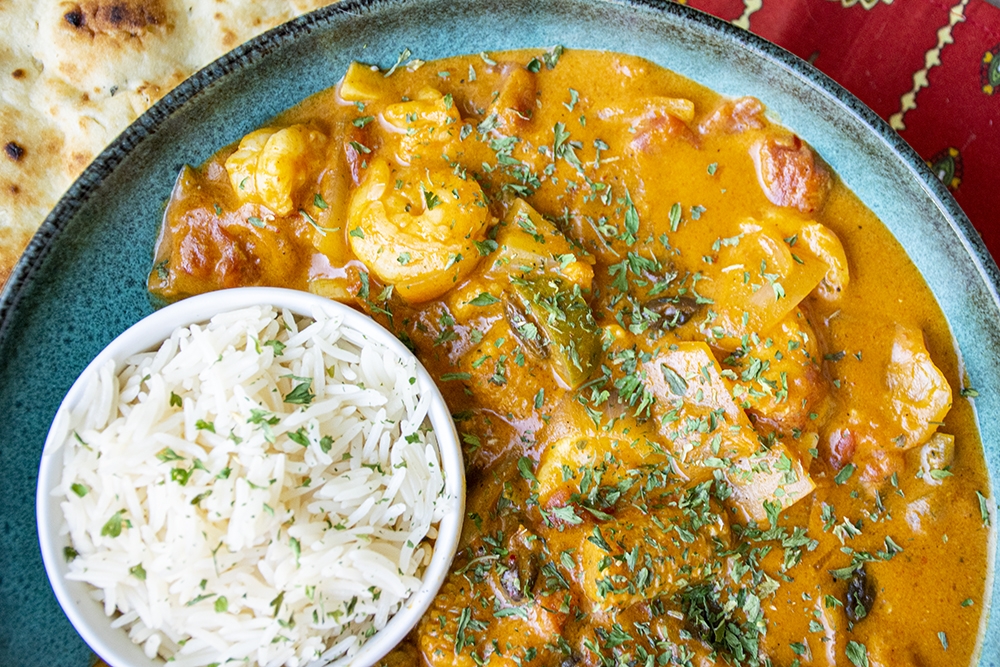 In a hurry and super hungry?
Aren't we all. Toss all of the ingredients minus the shrimp into an Instant Pot instead! I've made many different kinds of curry in the past and the Instant Pot is especially useful for making a quick and delicious curry in a pinch. Just set the Instant Pot to pressure cook for 10 minutes on high, then put the IP on saute mode and toss in the shrimp. The shrimp will cook as the curry thickens!
But you can also take it slow…
An alternative cooking method you can toss the curry ingredients into a slow cooker and let the curry take all day. Toss in the shrimp about 5-10 minutes prior to serving for perfeclty plump and juicy shrimp. This is one of my favorite ways to make curry because it makes the whole house smell absolutely incredible.
Garlic Shrimp Curry
Nothing quite beats away the winter blues like a spicy bowl of curry. This creamy, garlicky curry is packed with authentic flavor and will certainly warm you from the inside out.
Instructions
In a skillet over medium high heat, melt the ghee then add the onions, baby corn, peppers and curry paste. Saute until the curry paste is fragrant and the onions and peppers are beginning to soften – about 8-10 minutes.

Stir in the curry powder, brown sugar, golden raisins, ginger and garlic. If the pan is too dry, add 1-2 more tablespoons of ghee or butter. Continue to saute for another 3-5 minutes, until the garlic is tender.

Add the diced tomatoes and stir. Cook down for 5-10 more minutes, stirring occasionally. Whisk in the coconut milk and fish sauce. Cover and simmer for 30 minutes over medium heat.

When the curry has thickened up, add the shrimp and lime juice to the pot. Stir gently for 4-5 minutes until the shrimp is pink and cooked through. Season with red pepper flakes as desired and top with parsley for a pop of color. Serve with basmanti rice on the side. Enjoy!