Ice Cream Cookie Sandwiches
The Starving Chef is supported by Hungry People like you. When you make a purchase through an affiliate link on my site, I may earn a little bit of cash on the side (at no extra cost to you) to help keep my kitchen running. Read our disclosures here.
According to my TimeHop, two years ago today I posted my first ever recipe for my famous chocolate chip cookies. With the challenge this week being "your signature dish," I've been struggling internally on what my food signature would actually be, since I've never thought of any foods as my 'signature' by any means.
I decided that since chocolate chip cookies have long held a place in my life as one of my earliest memories of cooking with my mother, and was the first recipe that my family repeatedly requested of me once I learned how to read recipes and my parents trusted me to bake things (for them) by myself. Recently, I also discovered the newest dessert to rise to the top of my all-time favorite recipes: two-ingredient ice cream. I finally knew what I wanted to do; chocolate chip cookie ice cream sandwiches.
It's important to use Crisco in this recipe to ensure you have a nice soft cookie, even after it has been frozen. The Crisco will help keep the cookie from freezing solid and making it difficult to bite through.
I also vamped up my two-ingredient ice cream to include 4 tablespoons of sugar, 2 tablespoons of vanilla, and some extra chocolate chips, for rolling around the edges of the cookies.
Start by creaming together the Crisco, butter, and white and brown sugars. Add the in the egg and beat until the clumps of Crisco are completely broken down, or about 5 minutes.
Next add in the flour slowly to form a nice soft cookie dough, followed by the chocolate chips.
I arranged mine on a silicon baking mat, which I absolutely love. If you don't have a baking mat, use some parchment to line a baking sheet and roll the dough into 1 inch sized balls.
I like to spread mine pretty far apart, just to make sure none of the cookies bake together on the edges, giving you an almost perfectly round cookie.
I let the cookies cool for a few moments on the baking sheet and then transferred them to a cooling rack to cool completely.
While the cookies were cooling, I whipped together the heavy cream, sugar, and vanilla until a nice fluffy whipped cream formed.
Then just add in the sweetened condensed milk and whip until it is blended in entirely. The ice cream base should be thick and fluffy.
I then decided that I wanted to have more than just one flavor of ice cream between my cookies. I went with a s'more flavored ice cream base that used marshmallow fluff, Hershey's chocolate, and crushed graham crackers. The other I mashed in a banana and some melted peanut butter. I left the last one just plain vanilla, since it's a classic ice cream sandwich combo.
When the ice cream bases were mixed, I spooned the filling into large icing piping bags. Using the piping bags are key to getting the ice cream on the cookie before you freeze it!
If you don't have any special icing bags, use a large plastic baggie to mix your ice cream base, then cut off one corner to make a makeshift piping bag.
Leave a little edge around each of the upside down cookies, so when you put on the top of the sandwich, the ice cream filling will push out to the edge.
Freeze the sandwiches in a cake tin or other edged container so the cookies can stay flat and won't move while freezing – otherwise the tops of the cookies might slide off before they are set. I rolled the edges of my ice cream sandwiches in mini chocolate chips for the vanilla sandwich and graham cracker crumbs for the s'more sandwich, for a decorative touch. They came out a million times better than expected, I hope this is my new most requested recipe (because I'm about to be making them all-the-time).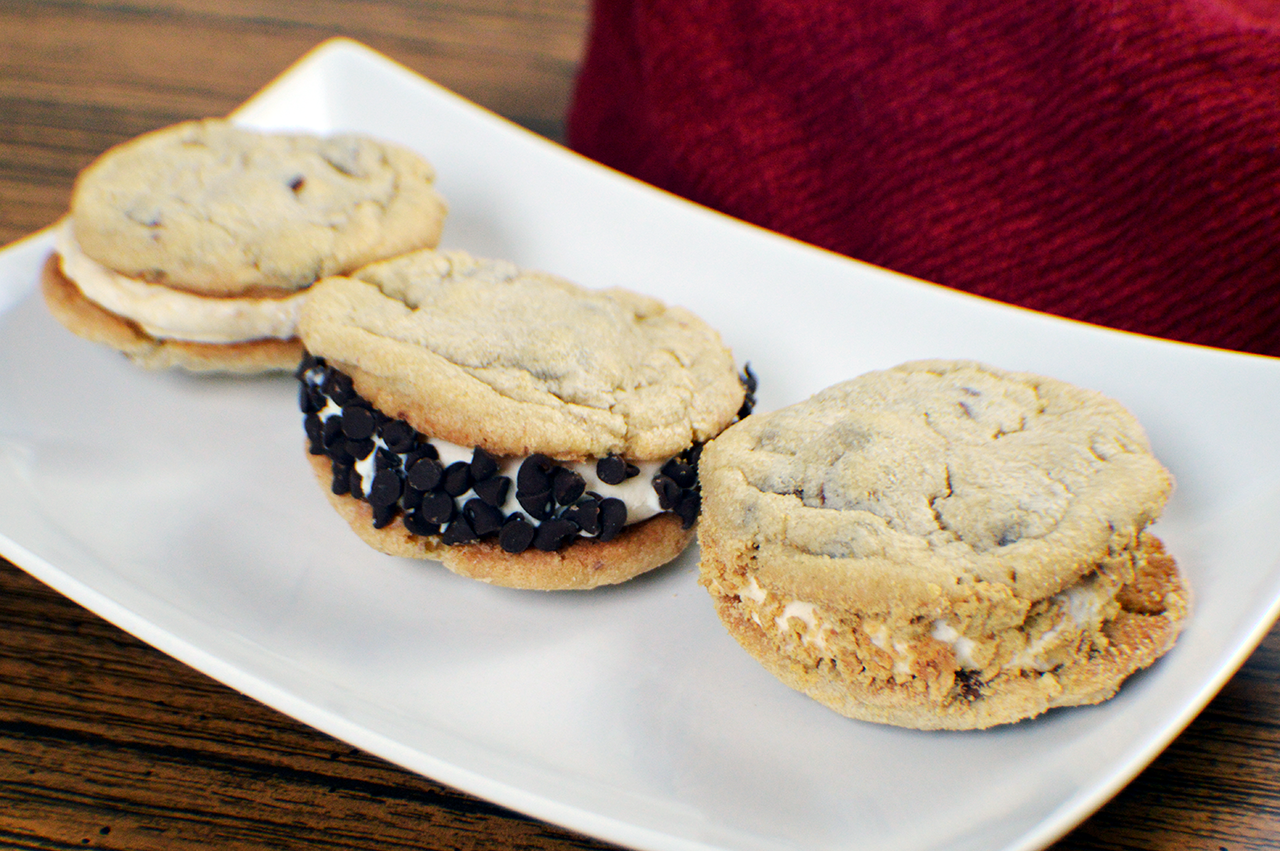 Ice Cream Cookie Sandwiches
Classic chocolate chip cookie ice cream sandwiches with a simple, homemade vanilla ice cream in the middle.
Ingredients
OPTIONAL ADD INS:
banana & peanut butter

marshmallow fluff & graham crackers
Instructions
Preheat the oven to 375°F. Use a stand mixer with the paddle attachment to cream together the brown sugar, white sugar, shortening, and room temperature butter. Add in the egg and beat well while pouring in the vanilla extract.

Add in the flour slowly, along with the baking soda, and salt. As soon as the flour has been added, mix in the chocolate chips.

Line a baking sheet with parchment paper or silicon baking mat. Roll the cookie dough into 1 inch balls and arrange on the baking sheet leaving about 2 inches between each cookie.

Bake for 10 minutes or until the tops are just beginning to crack. Let cool on the baking sheet for 5 minutes before transferring to a wire cooling rack to cool completely.

While the cookies are cooling, use the stand mixer with a clean bowl and whisk attachment and whip the cream until stiff peaks form. Add in the sugar and vanilla extract. Pour in the sweetened condensed milk and whisk on high until completely incorporated.

[Optional Step]: Mix the flavors into your ice cream bases.

Spoon the whipped ice cream base into large piping bags (or baggies with the corners cut off). Arrange half of the cookies upside down in an edged container or cake pan. Cut of the corner of the bag and squeeze a little of the ice cream base onto each cookie, leaving about a quarter inch rim of each cookie exposed. Place another cookie gently on top of each cookie until the ice cream base is at the edges.

Freeze 8-10 hours or over night for best results. Roll the edges of the cookies in mini chocolate chips (or graham crackers), serve right away on a hot day. Enjoy!