Ice Cube "Cake" (For Dogs!)
The Starving Chef is supported by Hungry People like you. When you make a purchase through an affiliate link on my site, I may earn a little bit of cash on the side (at no extra cost to you) to help keep my kitchen running. Read our disclosures here.
It's summer time, which means my doggos are spending lots of extra time outdoors. Not that they haven't been tramping in mud all winter and spring anyways, but at least most of the mud is staying outside now. In order to keep my fur babies cool AND hydrated, I made them a very special "cake" just for dogs – made from their favorite toys and treats.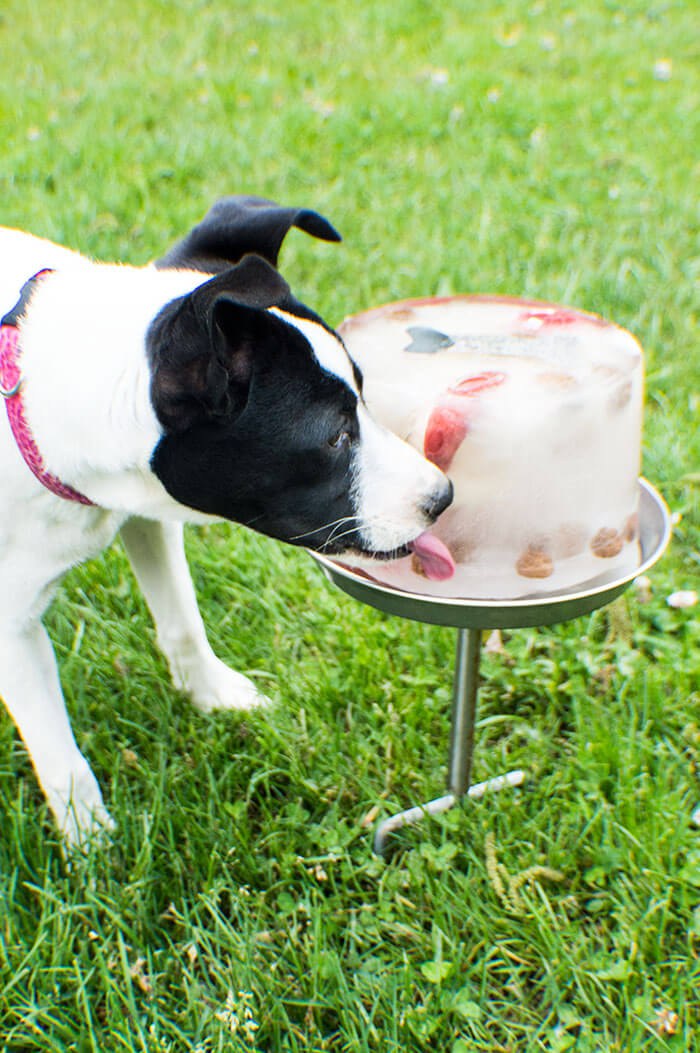 Meet Luna, the latest addition to our family. Surprisingly, I don't think I've officially declared Luna as one of my hairy sous chefs as I did with Theo Burrito when he starred in his very own dog treat recipe video. Luna joined our pack on Christmas…and well, we call her "Looney Luna" for a reason. Nevertheless, she's brought lots of love and laughter to our tiny family these last few months.
Both dogs were raised with ice cubes as "treats" – especially while they were teething. My dogs don't run to the kitchen when the hear the refrigerator door open because they are hoping for food. They just really want ice cubes!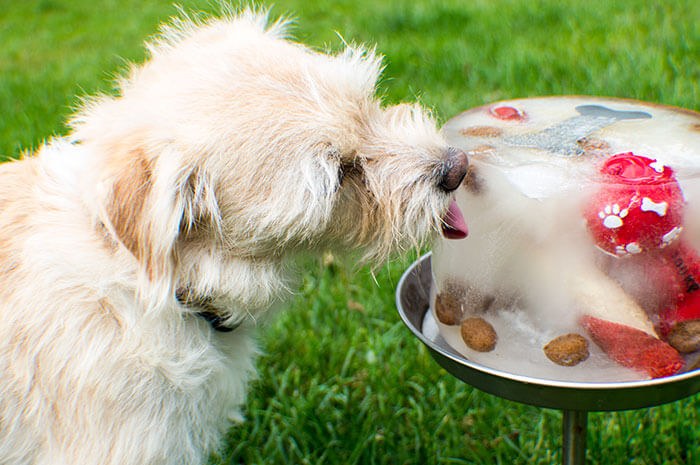 To make an "ice cube cake" all you'll need is a large round tupperware or bucket and a pie pan or similarly shaped container that can hold the ice as it melts. It can be any size or shape, depending on your dog's preferences. I was actually able to use a cool kit I got from a coworker a few years back – but the kit is totally not required to make it. The only benefit to the kit is the ability to stake the stand into the ground, but I don't think my dogs would have cared either way.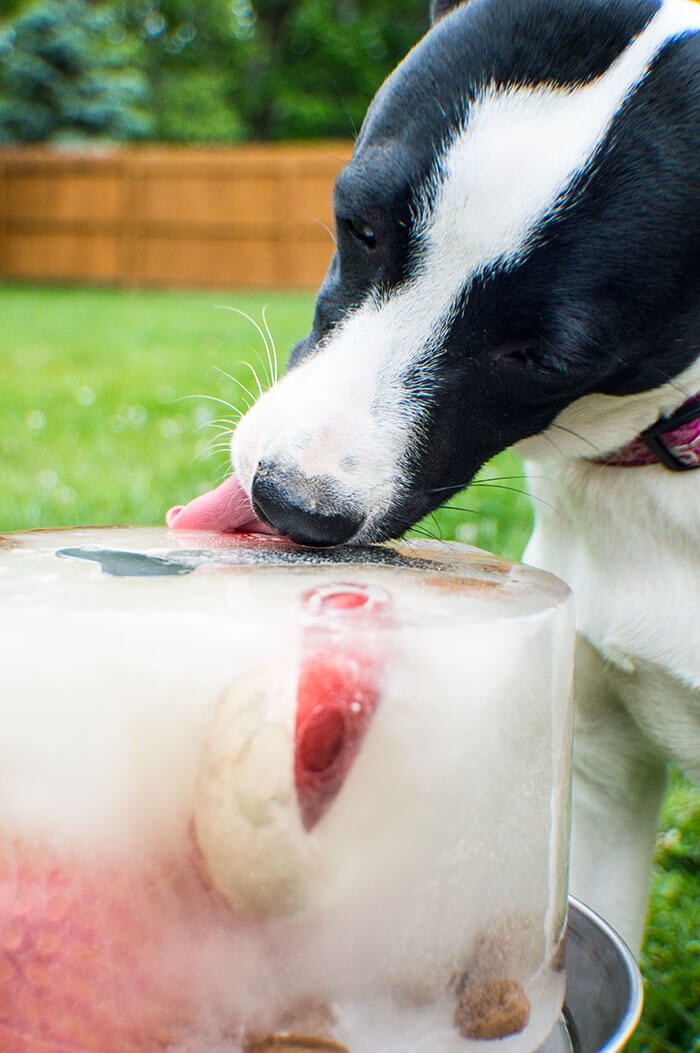 I loaded my "ice cube cake" with their favorite treats and a couple toys I knew they'd be impatient to get out. And sure enough, as soon as I put the ice outside, they took turns licking it, then chasing squirrels out of the yard, for the rest of the afternoon.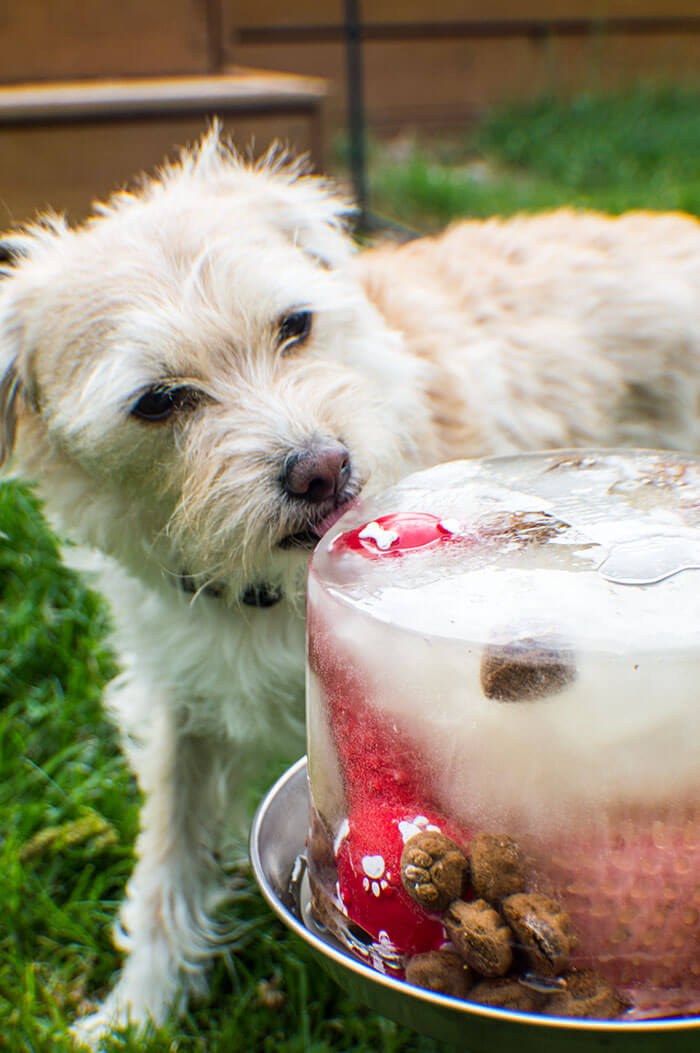 Looney Luna says, "PUPPY APPROVED!"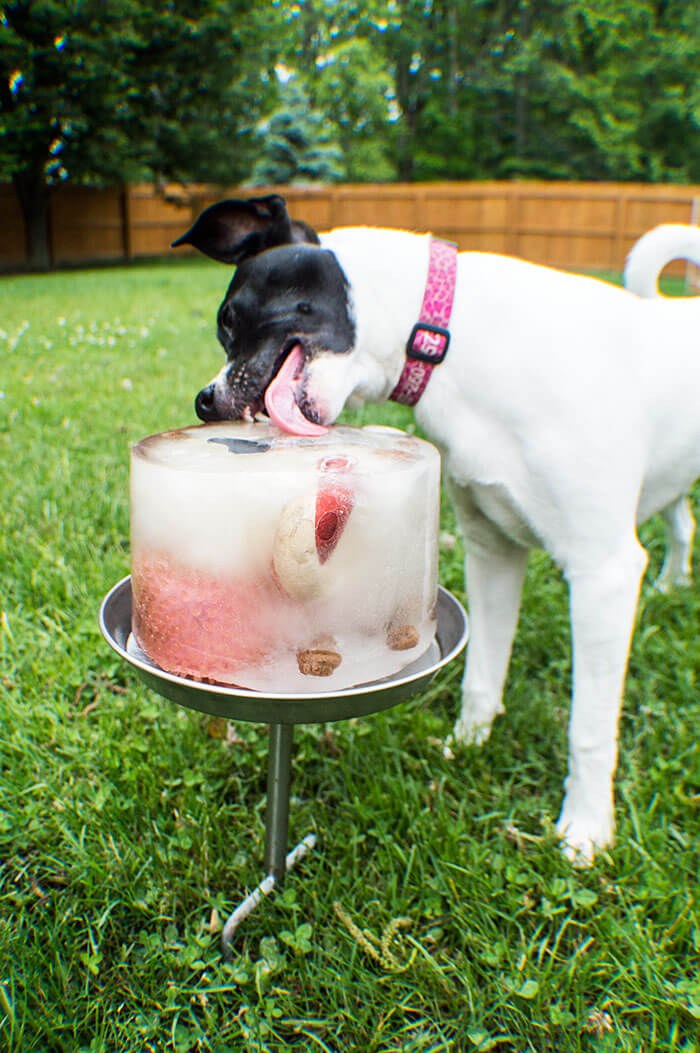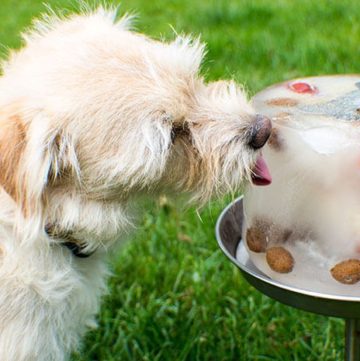 Ice Cube "Cake" (For Dogs!)
In order to keep my fur babies cool AND hydrated, I made them a very special "cake" just for dogs – made from their favorite toys and treats.
Ingredients
1

gal

fresh water

or however much is needed to fill the container of your choice

1

cup

your dog's favorite bite sized treats

4

hard plastic or solid rubber dog toys

that can fit in container

round bucket or plastic container

pie pan or short sided container that can hold melting ice

should be larger than container holding ice
Instructions
Arrange the treats and toys in the bucket or tupperware. Try to pick treats and toys that will sink and some that will float for a range of items to find throughout the ice. Fill the container with water so that the toys and treats are covered in water. Use the lid to keep anything that floats pressed down into the water. Freeze until solid, about 6+ hours.

When ready to serve, let the container thaw for about five minutes to help loosen the ice from the sides. Remove the lid. Place the pie pan or similar container (with short enough sides that your dog can comfortably lick the ice as it melts) on top of the ice. Flip the bucket over so that the "ice cake" fits in the pie pan. Place outside in a shaded area and be sure to show your pup where the treats are poking through so they know what to do! Happy Summer!