Lord of the Rings Inspired "Shirecuterie" Board
The Starving Chef is supported by Hungry People like you. When you make a purchase through an affiliate link on my site, I may earn a little bit of cash on the side (at no extra cost to you) to help keep my kitchen running. Read our disclosures here.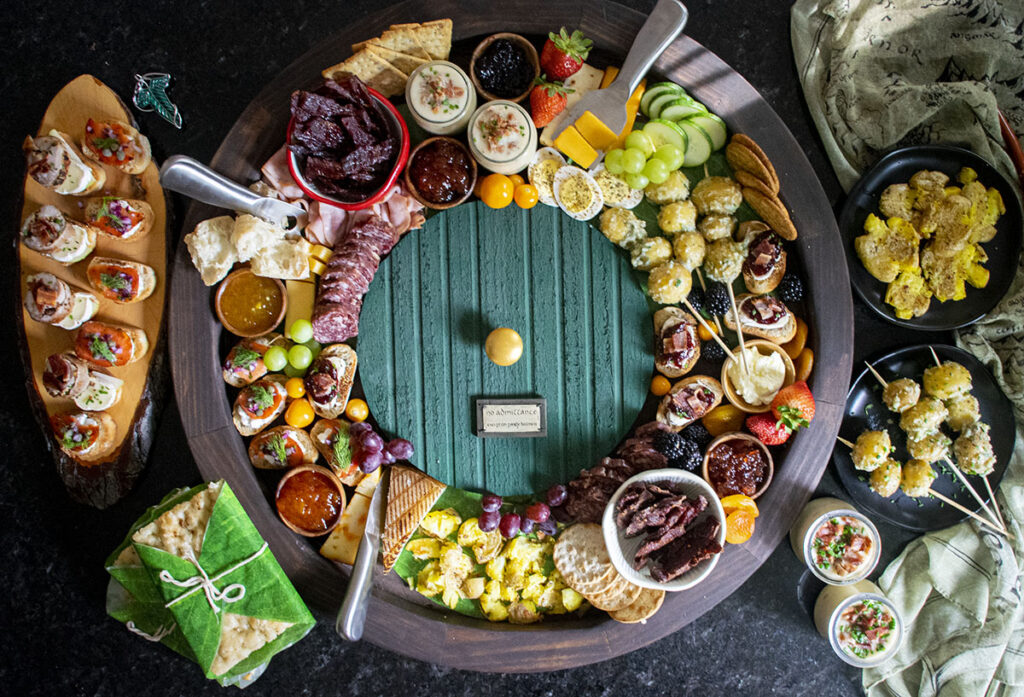 "It's no bad thing to celebrate a simple life." – J.R.R. Tolkien
It's time for another foray into Middle Earth to seek out the best recipes found throughout the realms. I have loved the Lord of the Rings series since I was about ten; primed by the release of The Fellowship of the Ring in 2001, I even went as far as to read all of the books in the triology – plus The Hobbit and pieces of The Silmarillion – before I was even in junior high.
So to say that I love Lord of the Rings almost as much as I love Harry Potter is no understatement. I spent a majority of my childhood blending the two worlds in my own fantastical backyard – often pretending to be an arrow-toting, potions making, Hobbit-esque flower child that I pretty much grew up to embody as an adult (minus the arrows).
I actually can't believe it has taken me so long to take a dive into the fictional feasts of Middle Earth – food and LOTR go hand-and-hand. Tolkien loved describing his worlds, and especially used depictions of food to fill-in the scene and create lively atmosphere in his stories.
"I am in fact a Hobbit in all but size. I like gardens, trees, and unmechanised farmlands. I smoke a pipe, and I like good, plain food- unrefrigerated. I detest French cooking."

J.R.R. Tolkien
We have that in common, Mr. Tolkien.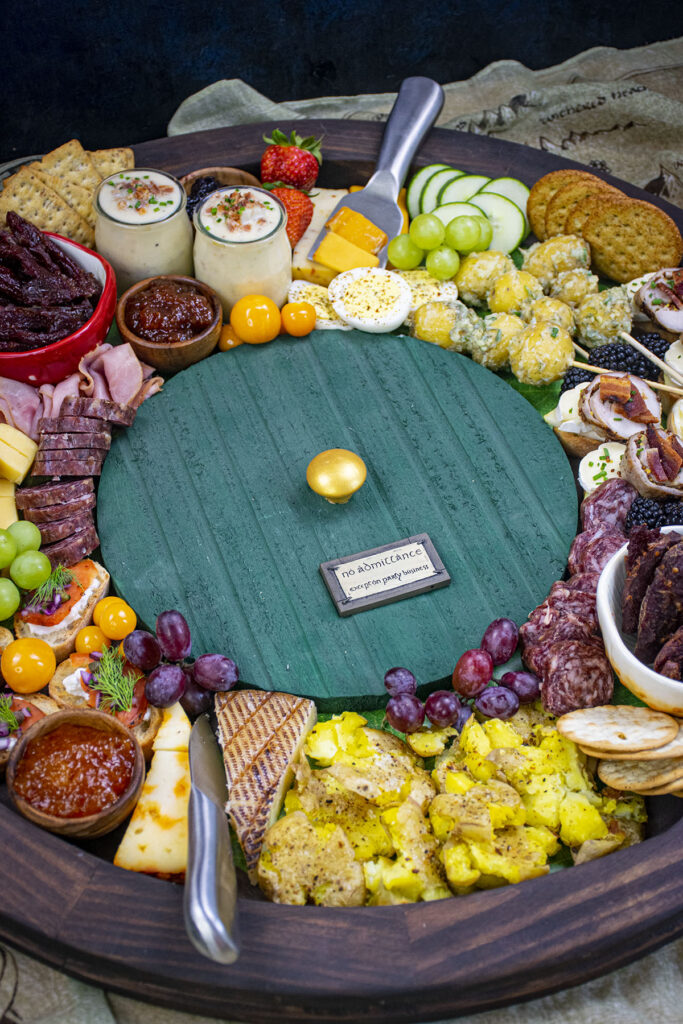 Concerning Hobbits
Hobbits especially had an appreciation for food – and also for partying. Often keeping a stash of goodies tucked away for second breakfast, midnight snack or unexpected company…
This cheese board is based on all things Hobbits would enjoy: crusty bread, homemade butters, sweet jams, cheeses, fresh fruits and more.
Plus there's a few exotic bits and bobs that would have been gathered on various adventures.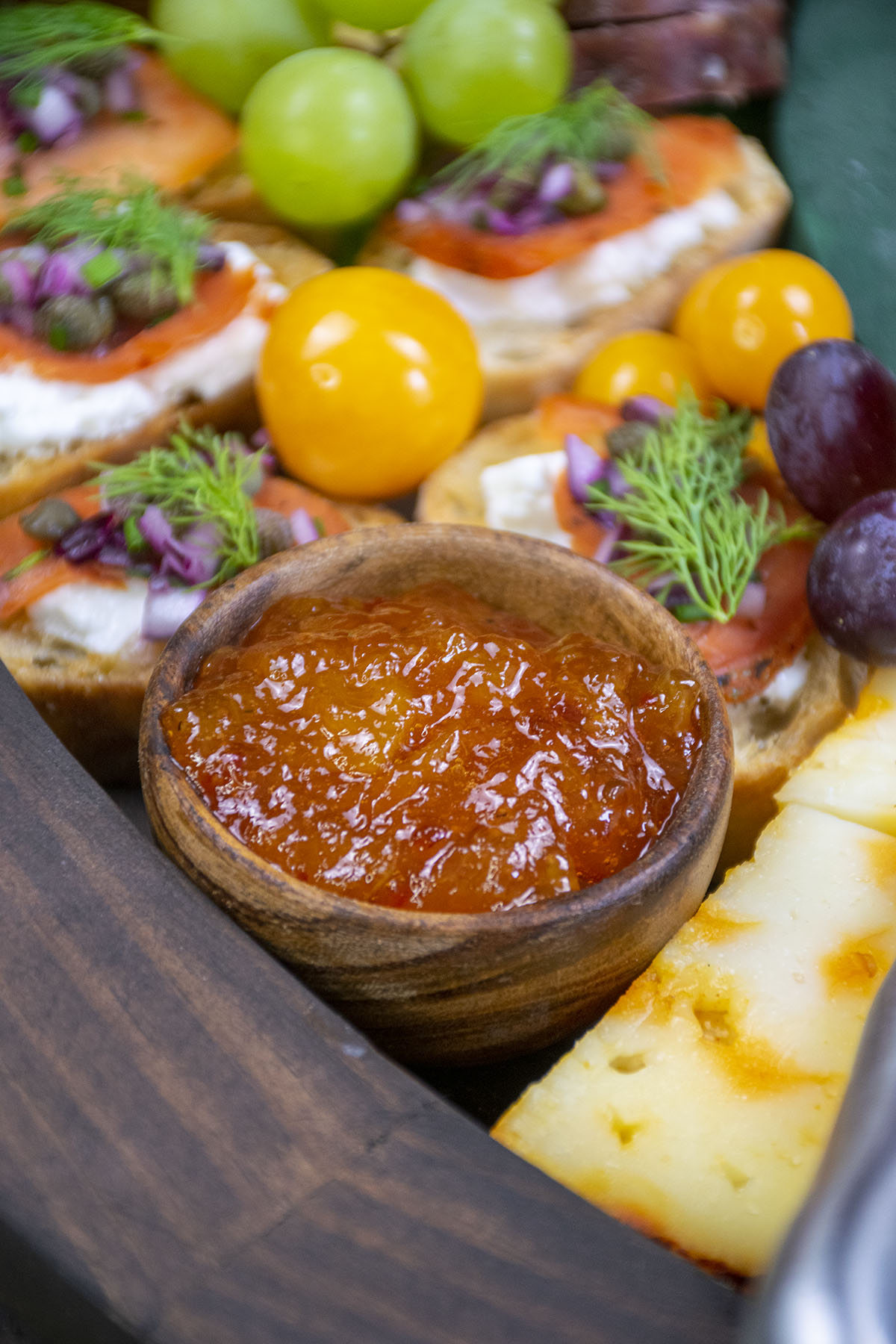 Making "Shirecuterie" aka a Cheese Board fit for Hobbits
Finding all the tasty tidbits to put on your cheese board is an adventure in and of itself.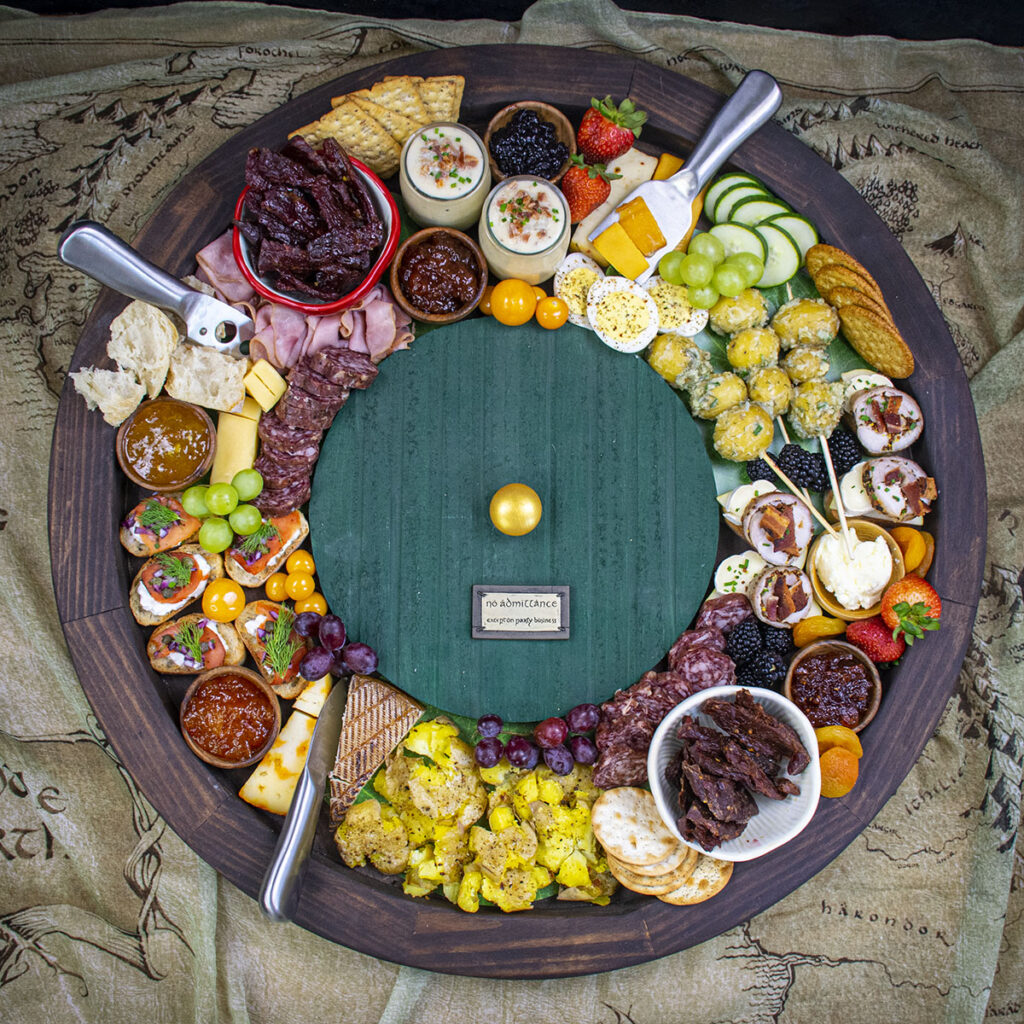 Here are the best fingerfoods you can snack on while (re)watching Lord of the Rings.
Feel free to add your own favorite Lord of the Rings inspired treats to your Shirecuterie board as well! Hobbits do constantly surprise, afterall.
PO-TAY-TOES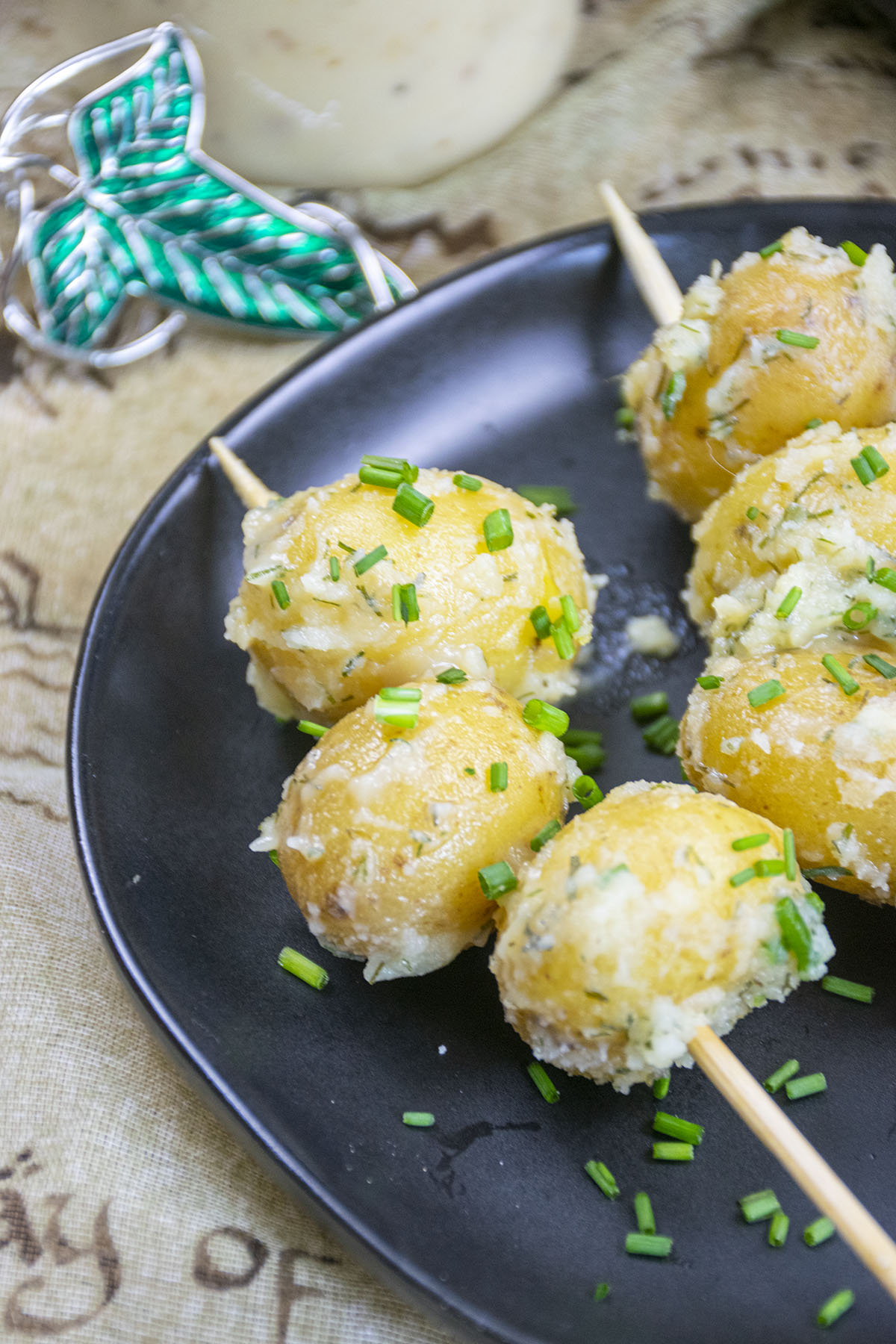 Any fan of Lord of the Rings is now singing that song. For my board, I made potatoes in three different styles, just as Samwise would if he were to be making a cheese board for the Fellowship.
Meat's Back on the Menu, Boys!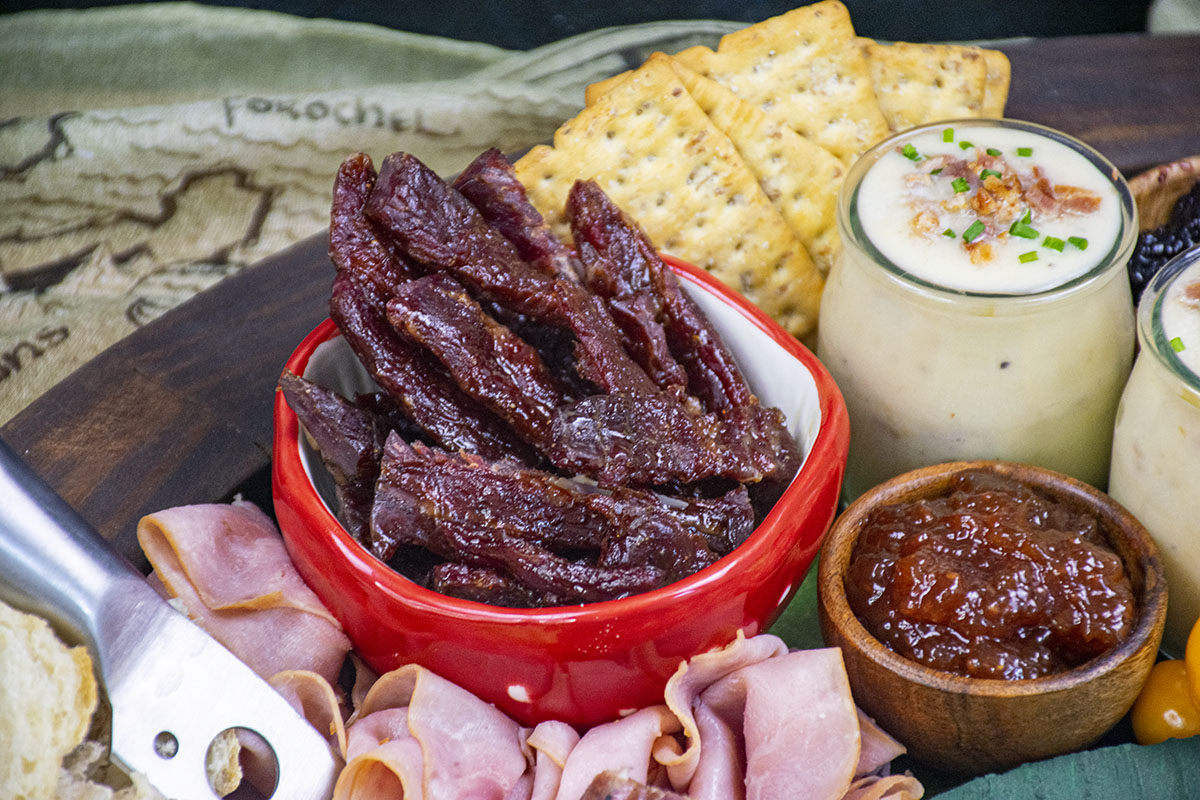 I utilized my local butcher to find homemade jerky. One is sweet – the other is insanely spicy. It's gnarly appearance always reminded me of something an orc would tuck away in a sheep skin pouch.
Gollum vs Smeagol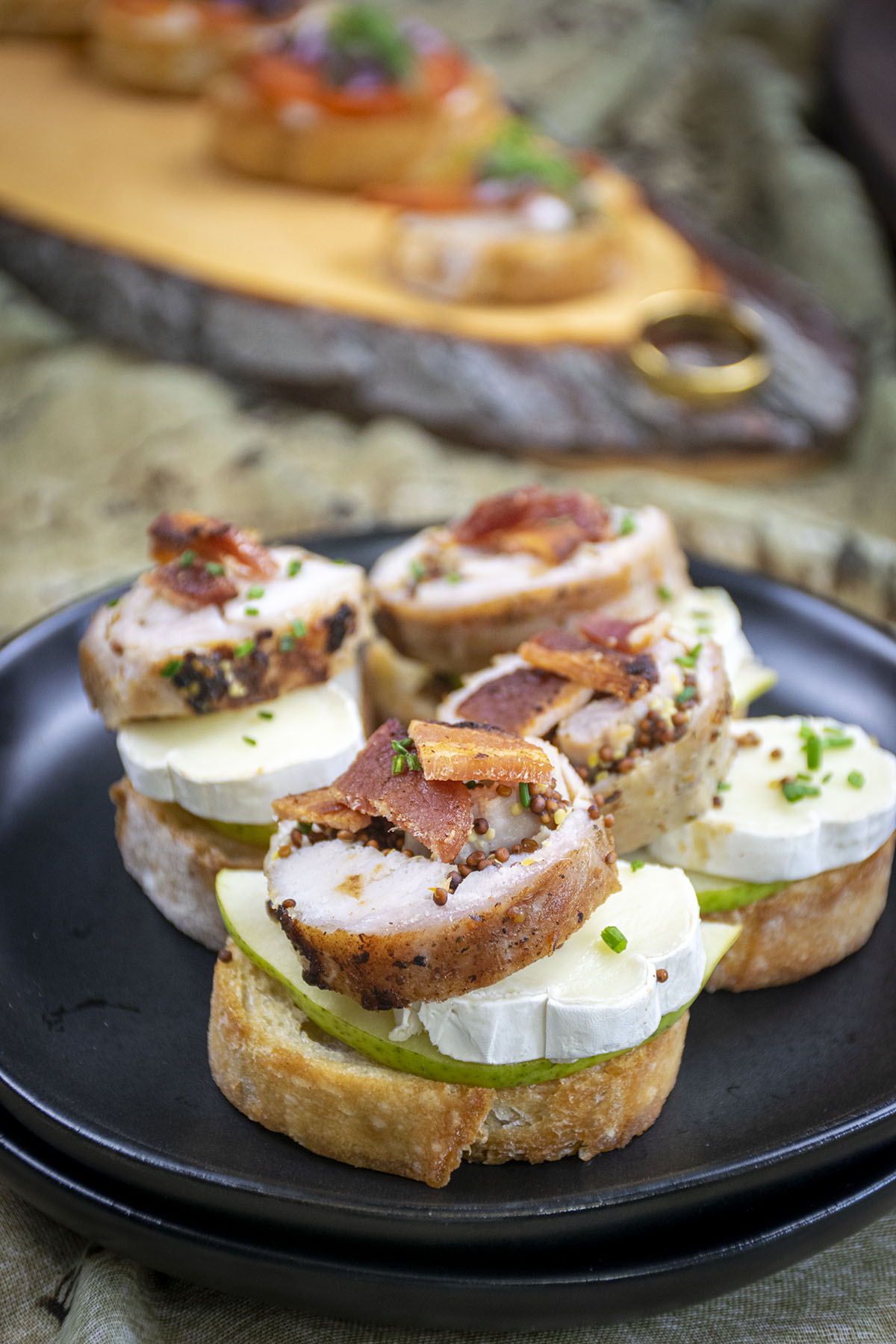 If you are at all familiar with the folks of Middle Earth, then you would know that Gollum and Smeagol are the same character, just split personalities. Represented here as a rabbit tartine and sashimi toast – both croustinis are based off iconic scenes in LOTR.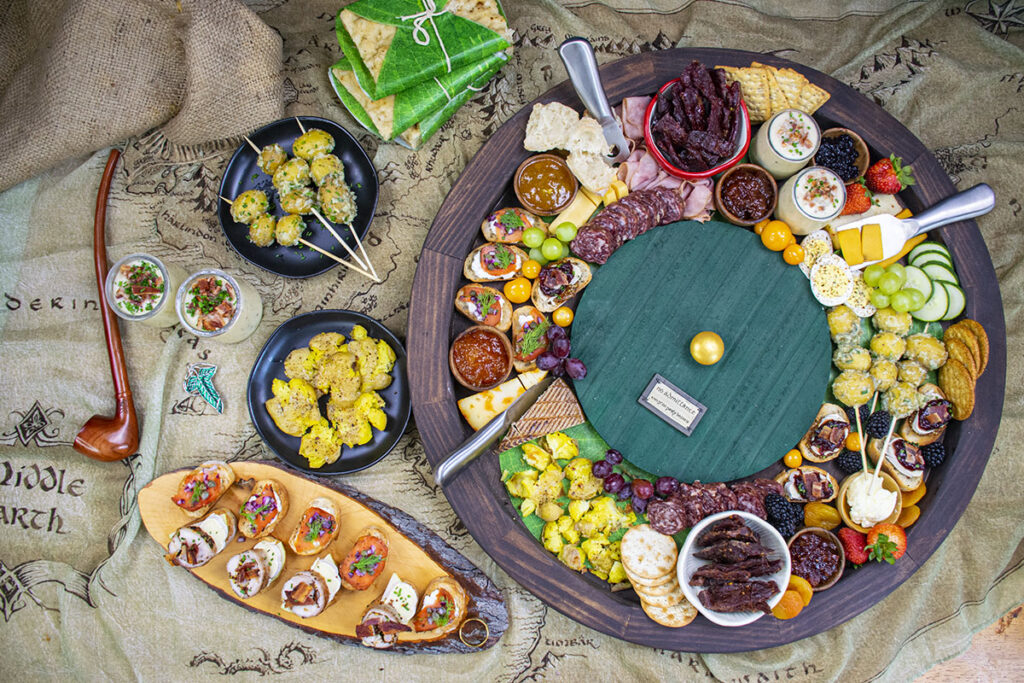 What else would you put on your Shirecuterie board? Let me know down in the comments below!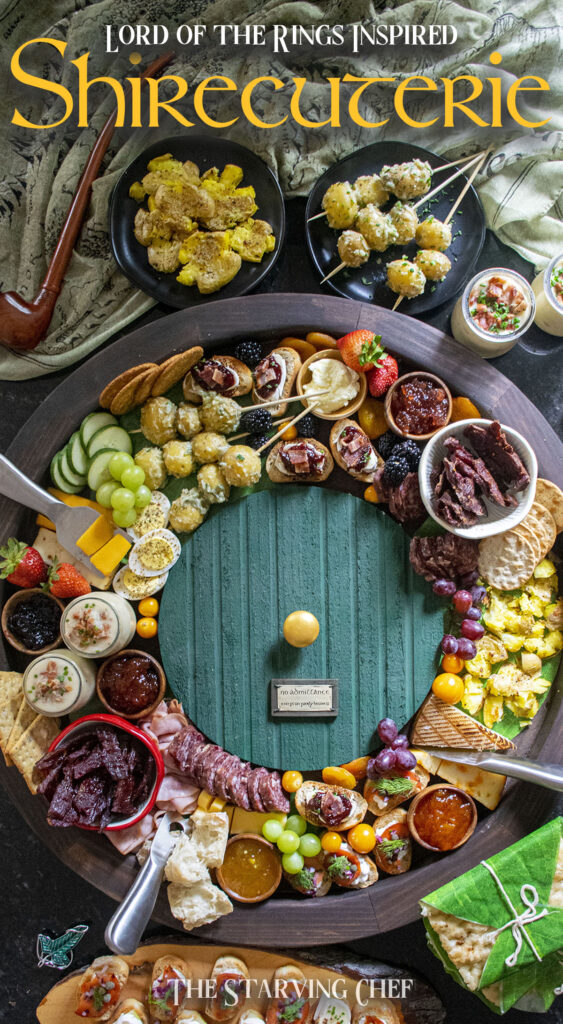 Shoutout to my hubby for custom building the wooden charcuterie board and Hobbit door, specifically for this recipe! Check out his woodworking Instagram @ChuckandMoonbeam
Need More LOTR Recipes?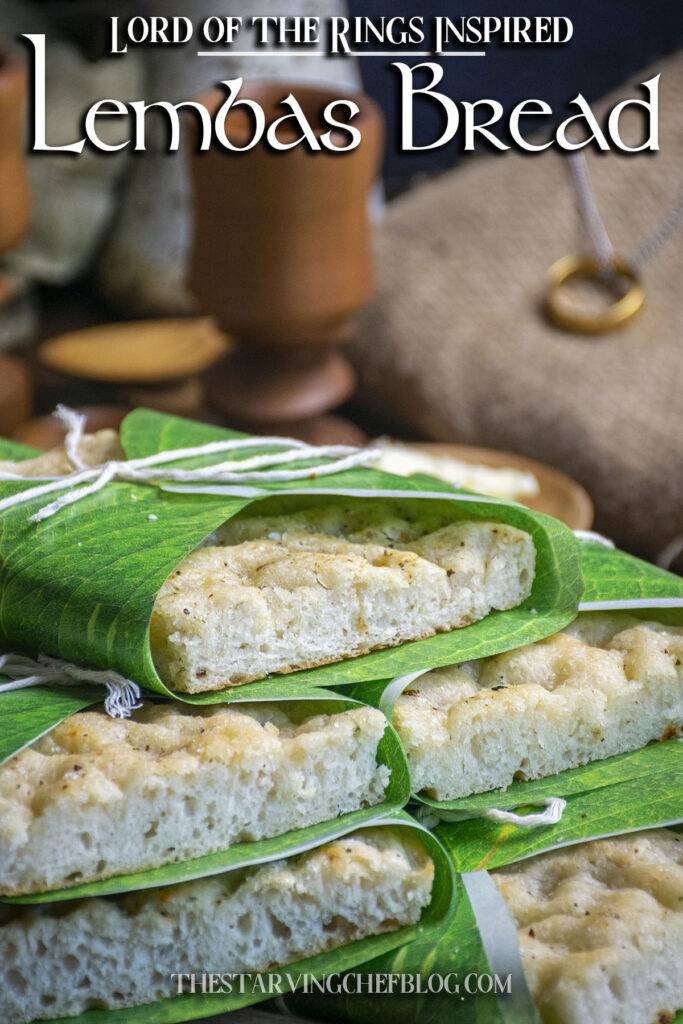 Find more Lord of the Rings recipes here!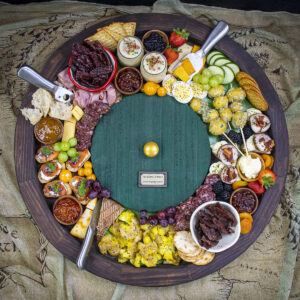 Lord of the Rings SHIREcuterie Board
A cheese board fit for a hobbit – or a fellowship of hungry company!
Ingredients
Cheese Ideas
brie

manchego

butterkase

applewood smoked pepperjack

smoked cheddar

chili chego
Butter, Jams & Jellies
homemade butter

holiday jam

wild blueberry jelly

raspberry peach champagne jam

pineapple mango habanero jelly

hot pepper peach jam
Meat Ideas
sweet BBQ beef jerky

spicy beef jerky

black forest ham

summer sausage

venison sausage

wild boar saucisson
Middle Earth-Inspired
lembas bread

focaccia slices

boiled potato skewers

garlic & dill potato skewers

mashed potato fries

potato soup shooters

loaded potato soup

salted eggs

hardboiled eggs with a sprinkle of salt from the Shire

sashimi toast

lox croustini

rabbit tartine

rabbit roulade croustini
Miscellaneous Additions
cucumber slices

crackers

cherry tomatoes

red & green grapes

Cape gooseberries

blackberries

raspberries

strawberries
Instructions
Assemble all ingredients on a large circular board with a Hobbit-inspired door in the center. Enjoy while marathoning Lord of the Rings!