Foodie Adventures in NYC
The Starving Chef is supported by Hungry People like you. When you make a purchase through an affiliate link on my site, I may earn a little bit of cash on the side (at no extra cost to you) to help keep my kitchen running. Read our disclosures here.
This past weekend I had the pleasure of exploring one of the foodie capitals of the world: New York City! Nick and I are celebrating five years together, so we wanted to commemorate our lives together by creating some fun (and delicious) new memories.
After hours in the car, we were exhausted and starving. Just around the corner from our hotel was Tototo Ramen, a literal hole-in-the-wall restaurant that was packed with people. We were sat at a tiny table, shared with three other people, none of who spoke any English, where we were served the Mega Ramen – a GIANT bowl filled with pork loin, boiled eggs, peanuts, scallions, deliciously thick noodles, spicy sambal and the best broth I have ever tasted.
We wolfed down the ramen in minutes – loudly slurping along with the other patrons at our table. We wanted to make the best of every second of our time in NYC, so once our bellies were full, we headed off to Times Square, just a couple blocks from our hotel.
The next morning we took off to the south side of the city to visit the 9/11 memorial and see the sights of downtown. For breakfast, we popped into one of the most iconic foodie hot spots of NYC: EATALY!
Seriously, the some of most famous chefs have come here, so I had a mini moment as I came up the elevators into the main part of the market.
Eataly Pastries
You can find the best of everything in Eataly, from the finest pastries and breads, top quality meats and cheeses, to simple sandwiches, handmade noodles, incredible coffee and juices, crazy chocolates or fresh produce. There's also a wide selection of cutlery, books and cooking gear.
Eataly Flatbrads
I picked up a kit to make my own mozzarella at home (recipe coming soon) and some crazy expensive pure maple syrup. We decided to split a giant piece of breakfast flatbread before heading out of Eataly. My only regret from our whole trip is that our hotel room didn't have a refrigerator, so I couldn't really indulge on all the finest ingredients I will probably ever see.
From Eataly we headed off to see the famous bull statue at the end of Wall Street, and of course, the newly installed "Fearless Girl" statue directly across from it.
About a block away is Battery Park, where tourists flock to grab ferries to see the Statue of Liberty. We decided our best view of the statue was from the City Pier A bar, where Nick enjoyed a brew (it was Saint Patrick's Day after all) and I got to try a raw oyster for the first time.
From everything I've ever heard about oysters, it tasted exactly as I expected: a salty loogie. Not bad, per se, especially when doused in cocktail sauce and vinegar. After our quick rest, we decided to head of to Chinatown and Little Italy.
The open air markets contained a fascinating variety of seafood and fruits – and again if I had access to a fridge, I would have gotten so many unusual ingredients to try out.
Even though every few feet someone would step into your path asking if you wanted to buy a watch or a purse, Chinatown definitely had the most unique experience, I only wish we had longer to really get a good look at everything (and buy some more of the cheap knock off bags we saw).
From Chinatown we moved to Little Italy. Believe it or not, we walked well over thirteen miles on our first full day in the city. Our feetsies were tired, but we pressed on, only stopping to check out a tiny deli stocked with delicious sandwiches…
…and of course cookies! We were unable to resist these chewie bites of goodness – though I totally forget to get the name of the deli we stopped in!
We braved the subway to return to the hotel to drop off our goodies from the day. We then debated on what we wanted to eat that night. Cleveland has a pretty decent selection of cuisines to try, but we wanted something we don't see a ton of around our little town of Medina: Cuban food. We found a nice restaurant called Guantanamera in the Hell's Kitchen district, and OH MY GAWWWD.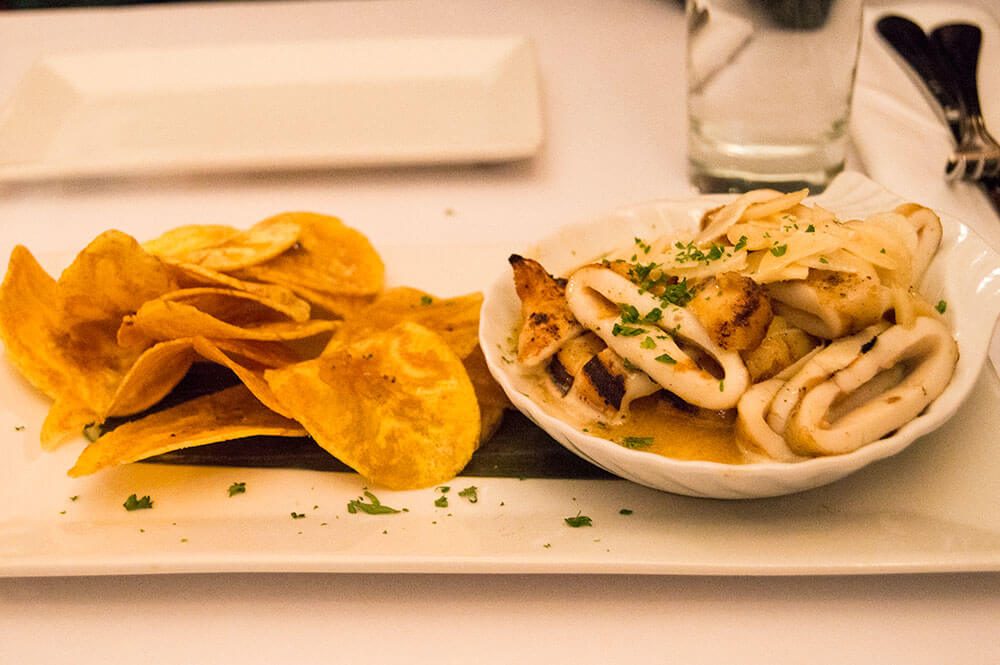 Maybe it was just because we'd spent the entire day walking and were totally famished, but this was some of the most amazing food I'd ever eaten. For an appetizer we got calamares al ajillo, or garlic calamari. The calamari was thick and juicy, yet still soft and tender and served with plaintain chips, which we used to scoop up as much of the leftover garlic sauce we could.
For my main course, I had some super legit paella. I honestly haven't been able to stop thinking about this paella since I ate it. I've made it for myself in the past but that had nothing on the buttery, tender rice that was in this dish. Nick dined on filetillo salteado el chinito, which was absolutely amazing – with perfectly cooked prime beef and sauted onions, peppers, and tomato sauce.
The next morning I was determined to find the best nova bagel in all of NYC, which after some internet suggestions, we decided to take the subway all the way to the upper east side to go to Absolute Bagels.
They literally make all their bagels in their tiny bakery, right behind the counter where you order. The line was at the door the entire time we were there, even though the area outside seemed relatively chill compared to the hustle and bustle of midtown.
With a variety of bagels and flavored cream cheeses to choose from, Nick chose to have an everything bagel while I ate my nova and cream cheese on an onion bagel. Something else I'll never be able to get out of my head is the below pic:
Like seriously, SO GOOD. From there, we walked almost half the length of Central Park to check out the Natural History Museum. We did a lot of walking, and boy do my feet hurt today! But totally worth it to see some super cool dinos and exhibits inside the museum, and of course, get a pic with Teddy Roosevelt.
After the museum, we headed back to the hotel to change our clothes for the main reason (aside from the food and, you know, celebrating our anniversary) we came to New York: to see the Book of Mormon on broadway!
Highly recommend this show, if you are into super raunchy songs and general hilarity, as we are. After the show, we crossed a few blocks in search of sushi, which is one of our favorite foods.
As with every other meal we'd had in NYC, this one was just as delicious.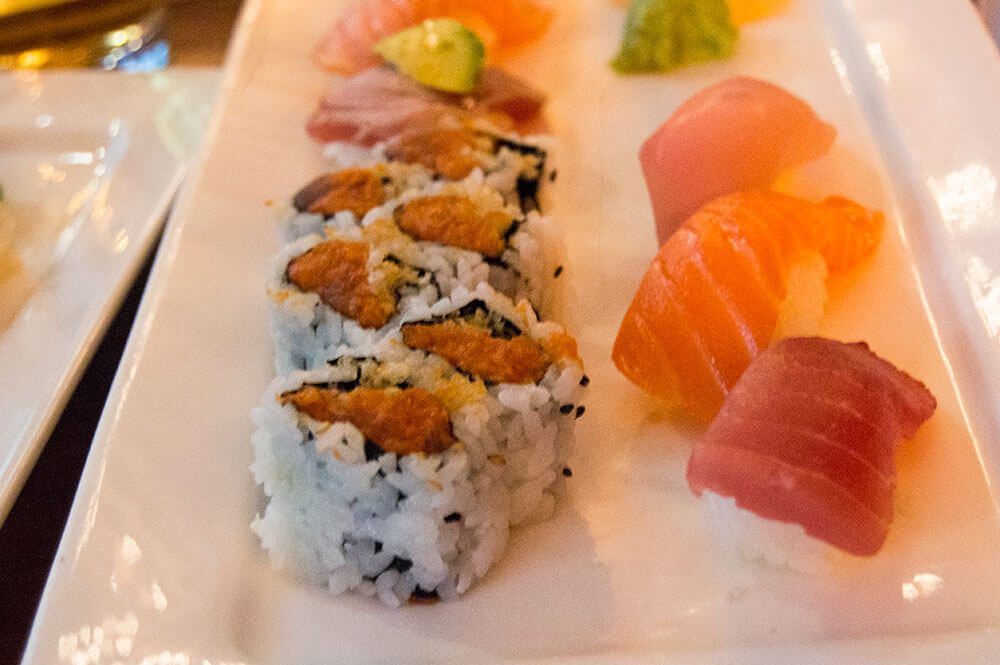 We dined at Natsumi, where we smashed our food in just a few minutes before we headed out to get what is apparently the BEST New York cheesecake in all of Manhattan at Eileen's Special Cheesecake. Nick got the chocolate banana and I had the salted caramel. Hands down the best cheesecake I've had in my lifetime, and well worth being trapped in the subway for forty minutes trying to get back to the hotel to enjoy it. Mine got a little squished, but still tasted sublime.
All in all, our trip was an amazing success. We got to see and experience everything we wanted. Between trips we even grabbed classic NYC pizza and a hot dog from a street vendor. I ate nova and cream cheese bagels for breakfast. We saw all the main attractions and a Broadway show. We were there during St. Patrick's day so we caught a glimpse of the parade. We rode the subways and traversed the entire city. And I couldn't imagine sharing the journey with anyone else! Nick may not have been a foodie when we first started dating, but I think I can pretty safely say I've turned him into one! Here's to many more years of delicious adventuring. Until next time, NYC!