Pizza Pot Pie
The Starving Chef is supported by Hungry People like you. When you make a purchase through an affiliate link on my site, I may earn a little bit of cash on the side (at no extra cost to you) to help keep my kitchen running. Read our disclosures here.
Back in March, most of the world celebrated "Pi Day" – named for being 3/14, which of course is the start of the infamous, endless sequence of numbers known as π. But while everyone else chowed down on sweet and fruity pies, I of course had to use the day as an opportunity to make literal pizza pot pie – complete with a lattice top.
Because, I mean, it really is called pizza pie to begin with. And if you were to take the definition of "pie" literally (Pie: /pī/ "A baked dish of fruit, or meat and vegetables, typically with a top and base of pastry") then pizzas by themselves qualify on a "base of pastry", let alone adding in all the lattice work which is optional anyways – would that make calzones more qualified as pies, if it were though?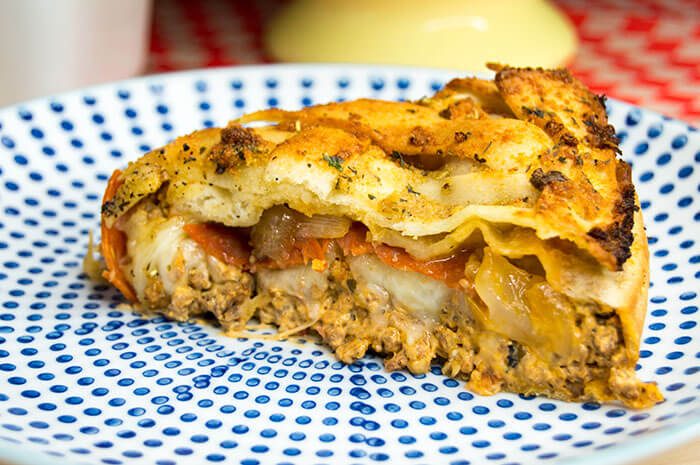 My pizza pot pie was made from thinly rolled pizza crusts then topped with a cheesy ground beef mix, pepperonis, sauted vegetables and mozzarella. Completed with a lattice, also made from thinly rolled pizza crust.
The whole thing was then brushed with garlic butter (because every pizza is better with more garlic!) and baked until perfectly golden brown. Once the pie has set for a bit, you should be able to cut out the pieces and eat them just like extra thick slices of pizza!
Pizza Pot Pie
Pizza pot pie is made from pizza ingredients and completed with a lattice, also made from thinly rolled pizza crust.
Ingredients
16

oz

pizza dough

16

oz

ground beef

15

slices

pepperoni

as desired

8

oz

cream cheese

room temperature

1

cup

mozzarella cheese

¼

cup

Parmesan cheese

½

cup

onions

chopped

½

cup

mushrooms

chopped

¼

cup

cherry tomatoes

halved

3

tablespoon

butter

melted + more as needed to saute

1

tablespoon

garlic powder

1

cup

marinara sauce

for dipping

¼

cup

ranch

for dipping

salt & pepper

to taste
Instructions
Preheat the oven to 425°F. Cut the pizza dough in half. Roll one half extremely thin – about the same thickness of a pie crust dough sheet. Grease a spring-form pan or pie pan with cooking oil. Line the pan with the pizza sheet and trim to fit pan. Roll out the other half of the dough so it is as thin as pie crust. Use a pizza cutter to cut the dough into strips then assemble a lattice pie topper by overlaying the strips of dough in an alternating fashion.

Cook and crumble the ground beef. Stir in the cream cheese until completely incorporated. Season with salt and pepper, then cool for several minutes. While it cools, saute the onions, mushrooms, and cherry tomatoes in a teaspoon of butter for about ten minutes, until the onions have softened.

Spread the beef mixture into the pan lined with pizza dough. Top with the pepperonis, sauted vegetables and other toppings, as desired. Spread on the Parmesan and mozzarella cheeses. Add the lattice to the top of the pie, trimming to fit, and pinching the edges closed.

Melt the butter and stir in the garlic powder. Season with salt and pepper, as desired. Brush the garlic butter across the top of the lattice and any of the exposed sides. Bake for 20-25 minutes, until the crust is golden brown and crisp. Let rest for about 10-20 minutes before attempting to cut, otherwise the filling will seep out. If using a spring-form pan, pop out the pie and slide it onto a serving platter. Serve with marinara and ranch dressing, for dipping. Enjoy!