Mrs. Lovett's Meat Pies from Sweeney Todd
The Starving Chef is supported by Hungry People like you. When you make a purchase through an affiliate link on my site, I may earn a little bit of cash on the side (at no extra cost to you) to help keep my kitchen running. Read our disclosures here.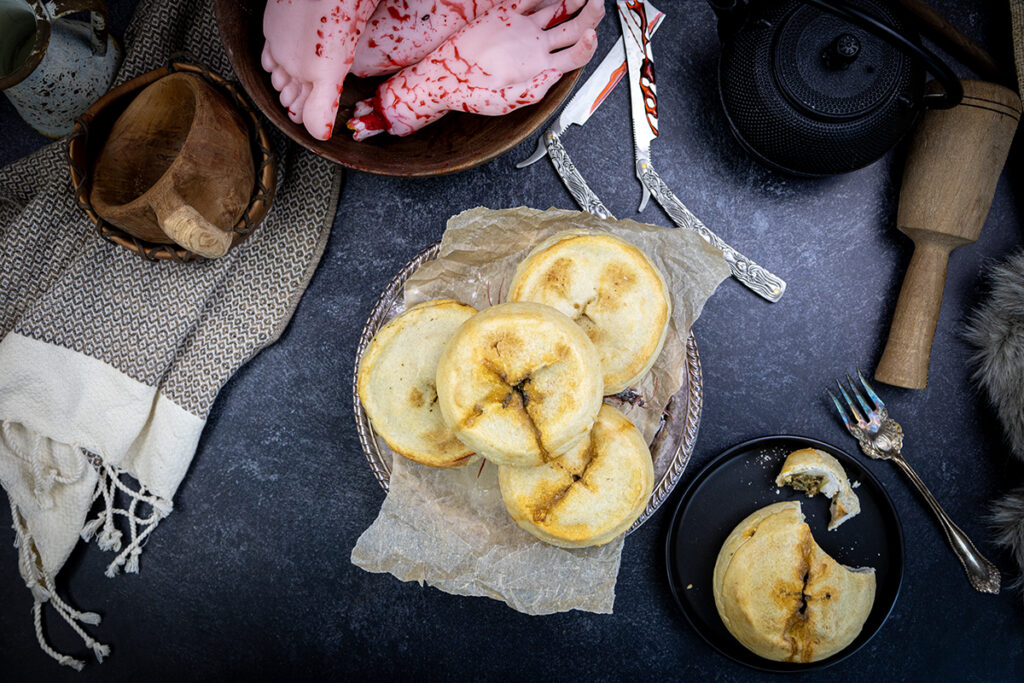 What's Up, Hungry People!
Brace yourselves, because we're diving into the haunting world of Sweeney Todd. Imagine this: a serial killer barber seeks vengeance for his stolen life and lost love. His partner in crime? Mrs. Lovett, a pie-maker with failing sales but a very hot oven. Together, they create a business venture where the meat pies are—to put it lightly—locally sourced from the streets of London.
Sweeney Todd, formerly known as Benjamin Barker, returns to London from an Australian penal colony, armed with a collection of silver razors and a burning desire for revenge. The villainous Judge Turpin, who exiled him on false charges, now keeps his daughter Johanna captive. Sweeney sets up his barber shop above Mrs. Lovett's pie shop and together they concoct a plan: Sweeney will offer the closest shaves in London, while Mrs. Lovett will dispose of the bodies by making them into pies. As they say, "Waste not, want not!"
Things get complicated when a young sailor named Anthony falls for Johanna, and plans to whisk her away. Sweeney, on the other hand, plots to lure Judge Turpin into his chair. With iconic songs like "The Ballad of Sweeney Todd" and "A Little Priest," the tension ramps up to a final bloody confrontation, leaving you questioning who the real monsters are.
Here's What You Need
Flour: Forms the backbone of the hot water crust.
Lard: Adds moisture and tenderness to the crust.
Boiling Hot Water: Helps the lard integrate smoothly into the crust.
Salt: Balances and enhances flavor in both crust and filling.
Bacon: Offers a flavorful fat base for the filling.
Potatoes and Onions: Act as a hearty and aromatic foundation.
Tomato Paste: Gives a touch of color and tanginess.
Mushrooms, Peas, Corn: Add texture and an earthy flavor.
Garlic: Imparts an aromatic kick.
Ground Pork, Spicy Chorizo, Steak: Serve as the protein base with varying textures and flavors.
Ale and Red Wine: Provide depth and complexity.
Frozen Chopped Spinach: Adds a pop of color and nutrition.
Bone Broth: Deepens the flavor and helps thicken the filling.
Fresh Herbs: Add aromatic complexity.
Egg + Water: Create a shiny, appealing crust.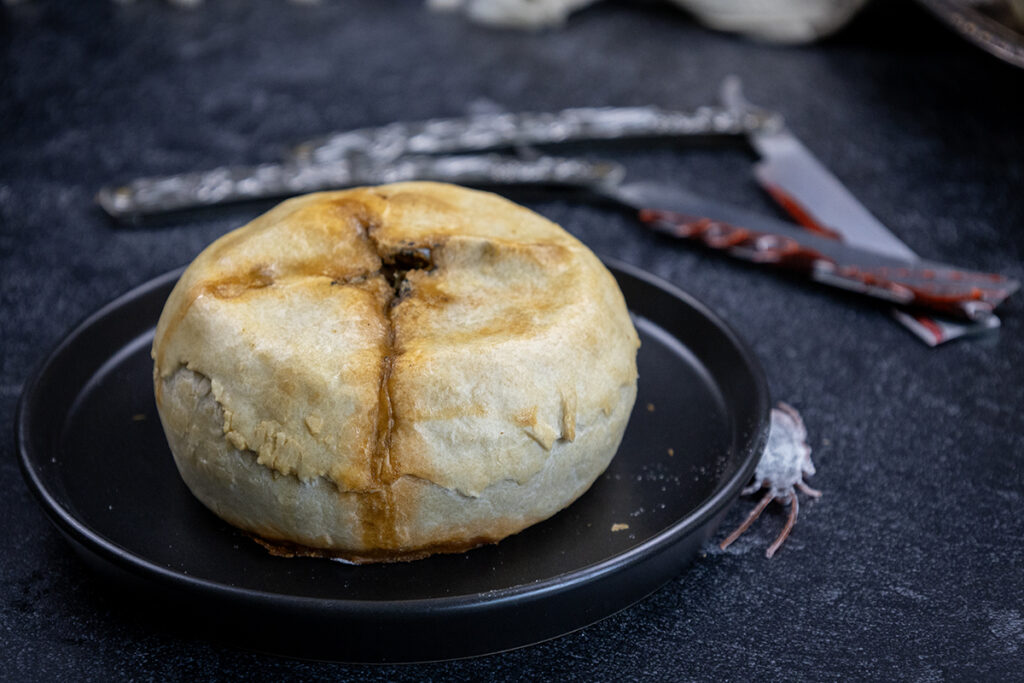 Let's Cook!
To start, fry up some bacon until it's released most of its fatty essence. Use that bacon grease to work some magic on your chopped potatoes, onions, and a dab of tomato paste. Ah, the aroma!
As your veggies soften to perfection, it's time to toss in mushrooms, peas, and corn. Now, in goes the freshly ground meat—nope, we didn't get it from Sweeney Todd, I promise. Stir everything together like you're conducting a kitchen orchestra and throw in some half-finished ales and a dash of red wine.
Feeling fancy? Add chopped spinach to the mix, for that splash of green goodness. Then sprinkle some flour over your developing masterpiece—this will help thicken the filling. Stir in a splash of bone broth and a bundle of herbs like you're a London local, and let it simmer until it's nice and thick. Remember to pull out the herb bundle before moving on; we don't want any unexpected crunchiness.
Hot Water Crust Magic
Next, get ready to be hands-on with some hot water crust. Roll out a lid for the pie, but don't stress about how it looks. Fun fact: back in the 1840s, people didn't even eat the crust, so appearance was an afterthought!
Now, channel your inner London blacksmith and shape a larger ball of dough into a free-standing pie crust using a meat mallet. Once you've filled it to the brim with your meaty concoction, seal it with the lid, pinch those edges tight, and cut a vent into the top for steam to escape.
Before you send it to bake, give your pie a generous egg wash. Then, pop it into a giant furnace—or, your oven preheated to 400°F—and wait for it to turn golden brown.
Perfecting Your Meat Pie
Choosing Your Meat: Opt for a combination of meats like pork, beef, and chorizo to diversify the flavors and textures.
Spice It Up: Feel free to adjust spices to your personal taste, whether it's more garlic or a dash of cayenne pepper.
Crust Handling: Don't overwork the hot water crust; it should be kneaded just until smooth.
Cooling is Crucial: Ensure the filling is cool before assembling to avoid a soggy bottom.
Taste Test
And guess what? These pies taste like pork—that's right, real pork. They're rich and hearty, giving you that warm London pub feel without the grease or grit.
When you dig into Mrs. Lovett's meat pies, just remember: "Attend the tale of Sweeney Todd," because behind each savory filling is a story as complex and layered as a puff pastry.
So, Mrs. Lovett's meat pies have gone from being the worst pies in London to the best pies in your kitchen! All it took was a commitment to locally-sourced ingredients—not to mention a strong stomach for dark humor.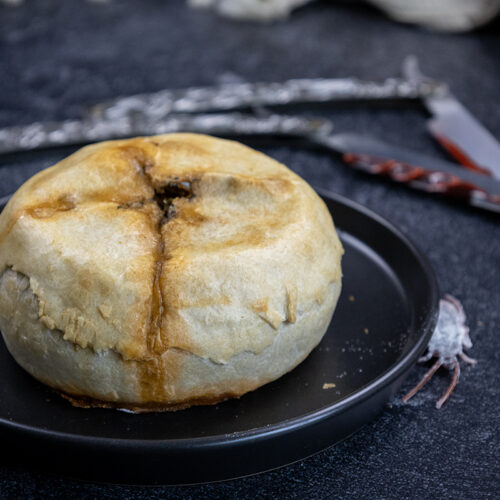 Mrs. Lovett's Meat Pies from Sweeney Todd
This meat pie recipe pays homage to the iconic Mrs. Lovett's pies from Sweeney Todd, featuring a hot water crust and a hearty, flavorful filling.
Ingredients
FOR PIE FILLING
4

strips

bacon

chopped

½

cup

potatoes

chopped

½

cup

onions

chopped

1

tablespoon

tomato paste

¼

cup

mushrooms

chopped

¼

cup

peas

¼

cup

corn

1

tablespoon

garlic

minced

2

cups

ground pork

1

cup

spicy chorizo

1

cup

steak for stew meat

1

cup

ale

¼

cup

red wine

1

cup

frozen chopped spinach

thawed and drained

½

cup

flour

1

cup

broth

1

bundle

fresh rosemary, sage, marjoram

tied with butcher twine

1

egg + 1 tablespoon water

whisked for eggwash
Instructions
Bring water to a rolling simmer and add the lard. Whisk until the lard has melted, then remove from heat.

In a large bowl, combine the flour and salt. Slowly pour in half of the hot water and lard mixture and use a spoon to mix it into a crumbly mixture. Add the remaining water and use your hands to work it into a sticky dough.

Knead the dough until smooth, about 10 minutes. Roll it into a ball and cut into four even portions. Tear off about a tablespoon of dough from each portion. Cover with a damp cloth and set aside to rest while you prepare the filling.

In a skillet over high heat, add the chopped bacon and cook, stirring occasionally, until the bacon has released most of its grease.

Add the potatoes, onions, and tomato paste to the skillet and stir to combine. Cook until the onions are fragrant and the potatoes are starting to become tender, about 10 minutes.

Add the peas, corn, garlic and mushrooms to the skillet and stir until the mushrooms have softened, another 5 minutes.

Add the ground pork, chorizo, and steak chunks to the skillet. Mix into the vegetables and break up the meat so it doesn't clump as it cooks.

Deglaze the skillet with the ale and a splash of red wine. Once most of the liquids have been absorbed into the filling, stir in the thawed spinach and mix well.

Sprinkle the flour over the filling and mix it in until completely incorporated. Pour in the broth and herbs and bring to a simmer.

When the meat is cooked through, about 10–15 minutes, remove the herb bundle. If there's too much liquid in the skillet, continue to simmer until it has mostly evaporated. Remove the bundle of herbs.

Cool the filling to room temperature. Preheat the oven to 400°F.

Use a rolling pin to roll out the top of the pie crust. Then use a mallet or cup to gently shape the larger ball of dough into a freestanding pie crust. The crust should hold its shape when the cup is removed.

Fill the crust to the top with the cooled meat filling and place the rolled-out lid on top. Pinch the edges together and brush the entire pie with egg wash. Cut a small vent into the top of the crust and transfer the pie to the oven.

Bake until the crust is golden brown, about 30–40 minutes. Cool to room temperature before serving. Enjoy!