Omelette Burgers
October 2, 2015 | omelette burger, omelette, burger, Breakfast
The Starving Chef is supported by Hungry People like you. When you make a purchase through an affiliate link on my site, I may earn a little bit of cash on the side (at no extra cost to you) to help keep my kitchen running. Read our disclosures here.
Super Hungry? Jump to the Recipe
This recipe comes to you after three failed attempts at making a perfect omelette. The good thing about omelettes is if you mess them up, you still have some pretty tasty scrambled eggs. We've been on a 'breakfast-for-dinner' kick lately, mostly because I've been super lazy and breakfast is easy, and partially because we are headed out of the country on vacation and I didn't want any leftovers going bad in the fridge while we were away.
This recipe calls for a combination of chorizo and ground beef for the patty, and an English muffin for the buns. I bought mine fresh from our local market, but if you have a hard time finding fresh made muffins, a simple packaged sourdough English muffin will work just the same.

Start by combining the salt, pepper, brown sugar, beef and chorizo together to form two small patties, ones that are just larger than the base of the English muffin, since they will shrink a little when they cook. Cook for 2-3 minutes per side, or until cooked through in the center.

While the patties are cooking, toss the veggies into a pan with a touch of oil. I used peppers, garlic, and red onions in mine, but definitely feel free to use your favorite combination of omelette fillings! The most important thing to remember here is not to use too many vegetables or else the omelette will get too heavy to flip (and this is usually how you'll end up with scrambled eggs). Ideally, you'll want about 4-5 tablespoons of veggies.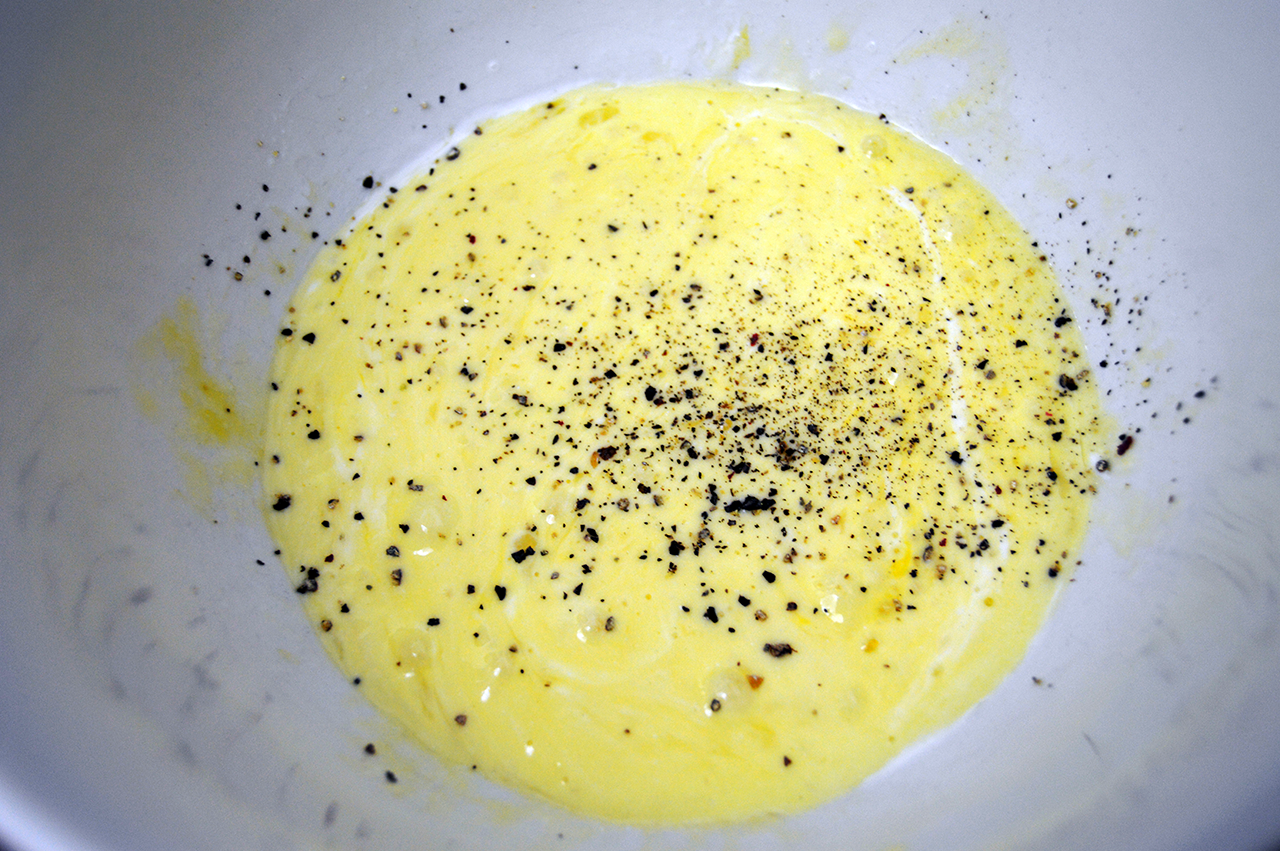 Whisk together the eggs, sour cream, heavy whipping cream, and salt and pepper until light and fluffy. Add another tablespoon of oil to the pan with the peppers and onions, and be sure to coat the bottom of the pan again, or else your omelette will stick!

After my previous failed attempts at creating this recipe, I remembered I had this omelette pan my boyfriend's parents had given me to try out.

And again, after an initial disaster of an omelette (which Nick ate willingly as scrambled eggs) I finally managed to get it just right.

Take care to cook the omelette all the way through, regardless of the method you use to cook it. The firmer the omelette, the easier it will stay together when you cut it.

I used a mason jar lid to cut mine into circles, but an upside down cup or cookie cutter works just as well, as long as the omelette circles are about the size of the English muffin. No worries, the remaining omelette was definitely consumed, it just wasn't pretty enough to photograph.

Finally, assemble the omelette burger! I topped mine with avocado and ketchup and some spicy Havarti cheese. Nick topped his with tomatoes and cheddar. No matter how you top it, it's sure to be delicious (and leftovers for breakfast - kill two meals with one cooking sesh)!

Shop this Post
Omelette Burger
Number of Servings: 4
Prep Time: 30 minutes
Cook Time: 30 minutes
Total Time: 1 hour 30 minutes
Ingredients
6 eggs
4 oz spicy chorizo
4 oz ground beef
¼ cup sour cream
½ cup brown sugar
4 tbsp heavy whipping cream
2 tbsp red onion, chopped
2 tbsp red, orange, yellow, green bell pepeprs, chopped
2 tbsp cherry tomatoes, chopped
2 English muffins
4 tbsp vegetable oil, for sauting
salt & pepper, to taste
favorite cheese, for topping
OPTIONAL TOPPINGS:
ketchup
mustard
avocados
tomatoes
crispy bacon slices
Mouth Feel
Salty
Savory
Sour
Bitter
Sweet
Spicy
Instructions
Combine the chorizo and beef with the brown sugar and a pinch of salt and pepper. Sear the burger patties on each side in a skillet over medium high heat, until cooked through, or about 3-4 minutes per side. When no longer pink in the center, remove from the pan and keep warm.
In a separate pan, heat the vegetable oil over medium heat and add the chopped veggies. Sautee until the onions are translucent and the peppers are beginning to brown.
While the patties and veggies are cooking, whisk together 3 of the eggs, half of the sour cream, half of the heavy whipping cream, and a pinch of salt and pepper. Beat until fluffy.
Add an additional tablespoon of oil to the pan with the veggies and make sure there aren't any 'dry spots' on the pan. Pour in the whisked egg mix, over the top of the veggies.
Let the egg cook for 1-2 minutes, pushing the sides up occasionally to let the uncooked egg to come in contact with the hot pan. Cook another 2-3 minutes When the top of the omelette has only a few 'wet spots' on top, flip the omelette. Continue to cook an additional 2-3 minutes, or until the omelette is cooked through.
Move the omelette to a cutting board and use a mason jar ring to cut 3 evenly sized circles out of the omelette. Separate the English muffin into two pieces.
Arrange the cuts of the omelette on top of the burger patty, and sandwich between the English muffin slices. Top with your favorite burger toppings, and enjoy!
Print