Easy Butterbeer Ice Cream: No Churn, Full of Magic!
The Starving Chef is supported by Hungry People like you. When you make a purchase through an affiliate link on my site, I may earn a little bit of cash on the side (at no extra cost to you) to help keep my kitchen running. Read our disclosures here.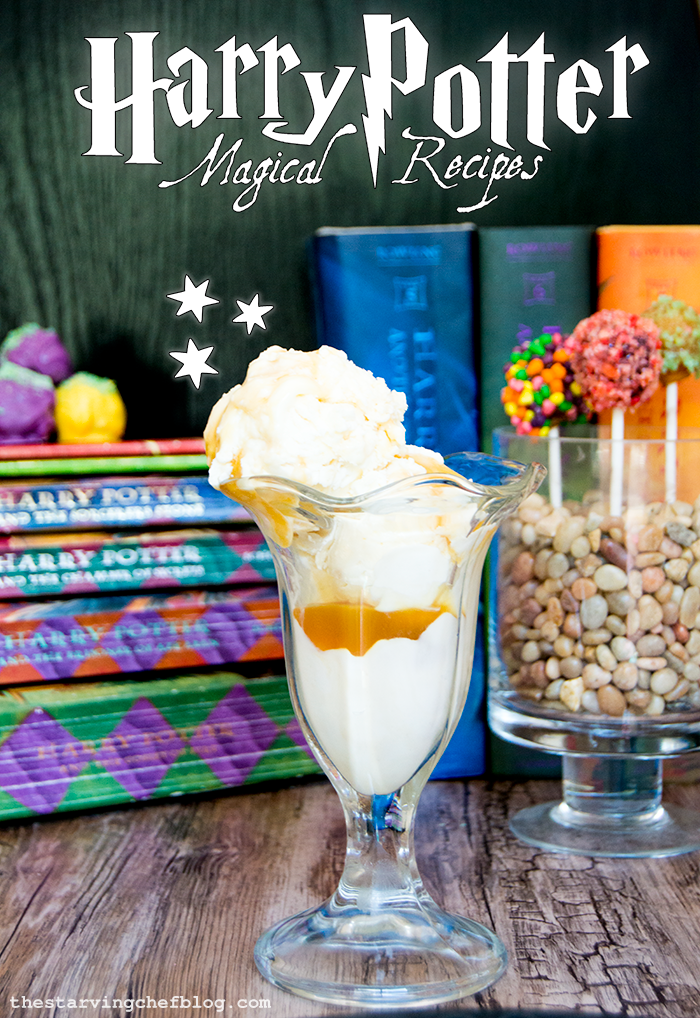 What's Up, Hungry People!
If you've been counting down the days until you can grab your copy of Harry Potter and the Cursed Child like I have (mine's already pre-ordered, thank you very much), or if you're buzzing about the upcoming Fantastic Beasts and Where to Find Them films, then boy, do I have a magical treat for you.
To mark these momentous occasions, I went full-on Potterhead and had myself a Harry Potter movie marathon. And what better snack to accompany such a wizarding event than homemade Butterbeer ice cream?
A Recipe Even Neville Would Nail
This recipe is so Siriusly easy, even Neville Longbottom could whip it up without summoning Professor Snape for help. For our no-churn base, we're sticking to the tried-and-true: heavy whipping cream and sweetened condensed milk. But wait, there's a twist! Instead of keeping it purely two-ingredient, we're adding a smidgen of sugar to improve the texture. And here comes the real magic: swirling in some butterscotch sauce before sticking it in the freezer. That butterscotch will form ribbon-like strands throughout the ice cream, adding a magical touch as if charmed by Hermione herself.
Here's What You Need
Heavy Whipping Cream: This is the foundation of your ice cream. It's whipped to create volume and a creamy texture.
Sweetened Condensed Milk: Adds sweetness and body, working with the cream to make a smooth ice cream base.
Sugar: Fine-tunes the sweetness and contributes to a smoother texture in the finished ice cream.
Butterscotch Topping: This creates those signature ribbons of flavor, making every bite magical and full of taste.
Freezing Time: A Harry Potter Marathon Companion
Here's What You Need to know about freezing this enchanting treat: If you're scratching your head over how long to freeze the ice cream, just tune into the first five Harry Potter movies. By the time Harry's fighting off Death Eaters and Dementors in the later films, your ice cream should be ready for its big debut!
Serve It Up, Hogsmeade Style!
Last but not least, serve this homemade wonder in a mug, just like they do at the Three Broomsticks. Trust me, Madam Rosmerta would approve.
Enjoy! With this Butterbeer ice cream, you'll feel like you've just taken a quick Apparition trip straight to Hogsmeade!
Pro Tips and Troubleshooting
Don't Overwhip: Be careful not to overwhip the heavy cream. Overwhipping will make the texture of your ice cream lumpy.
Temperature Matters: Make sure your heavy whipping cream is cold before whipping. Cold cream whips up faster and creates better peaks.
Swirl, Don't Mix: When adding the butterscotch, gently swirl it into the mixture with a knife. You want ribbons, not a homogenous mix.
Freezer Space: Ensure that your freezer has ample room for the airtight container. Overcrowding can affect how well the ice cream sets.
Serving Suggestions: Feel free to serve in different ways! Though the recipe suggests mugs, ice cream cones or bowls work great too.
Ice Cream Too Hard?: If your ice cream turns out too hard, let it sit at room temperature for a few minutes before scooping.
Check the Lids: Make sure the lid to your airtight container is securely fastened to prevent freezer burn.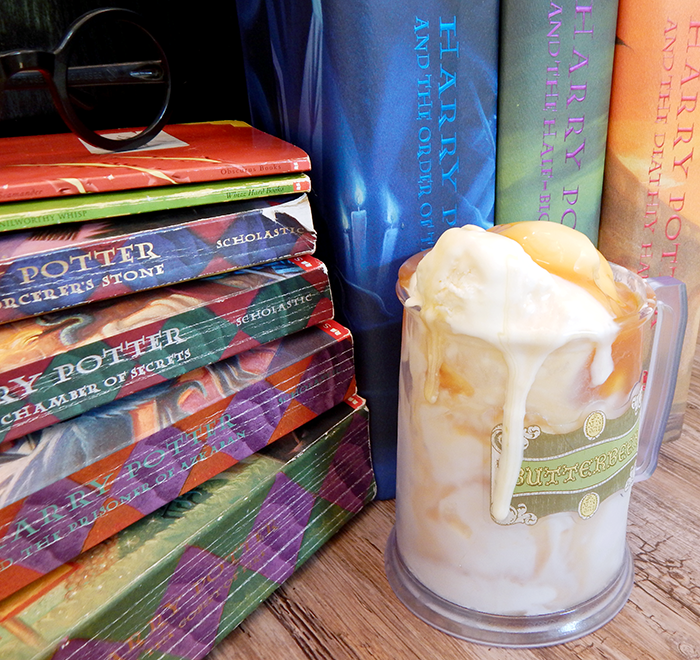 With this butterbeer ice cream recipe, you'll feel like you've scored a private pass to the kitchens of Hogwarts, where house-elves are dishing out magical treats left and right.
Trust me, even if you can't actually Apparate to Hogsmeade, this creamy creation will transport your taste buds there. Whether you're a Gryffindor, Slytherin, Ravenclaw, or Hufflepuff, we can all agree on one thing: this is the ice cream of champions. Until our next magical culinary escapade, keep those wands at the ready and your freezers empty!
No-Churn Butterbeer Ice Cream
A no-churn Harry Potter-inspired butterbeer ice cream so magical, it will make any muggle believe they're in Hogsmeade.
Instructions
In a large bowl, beat the whipping cream until it has doubled in size and peaks have formed. (Don't overbeat, or the texture will be lumpy!)

Gently fold in the sweetened condensed milk until completely combined.

Pour the ice cream base into a pan or bowl with an airtight lid. Drizzle the butterscotch over the base and use a knife to swirl it around, creating ribbons throughout the mixture.

Cover and freeze the ice cream for 6-8 hours, or until it's frozen through.

Scoop the ice cream into mugs, bowls, or cones. Serve with extra butterscotch topping as desired and enjoy!
Video