Deathly Hallows Cookies | Harry Potter Inspired Recipes
The Starving Chef is supported by Hungry People like you. When you make a purchase through an affiliate link on my site, I may earn a little bit of cash on the side (at no extra cost to you) to help keep my kitchen running. Read our disclosures here.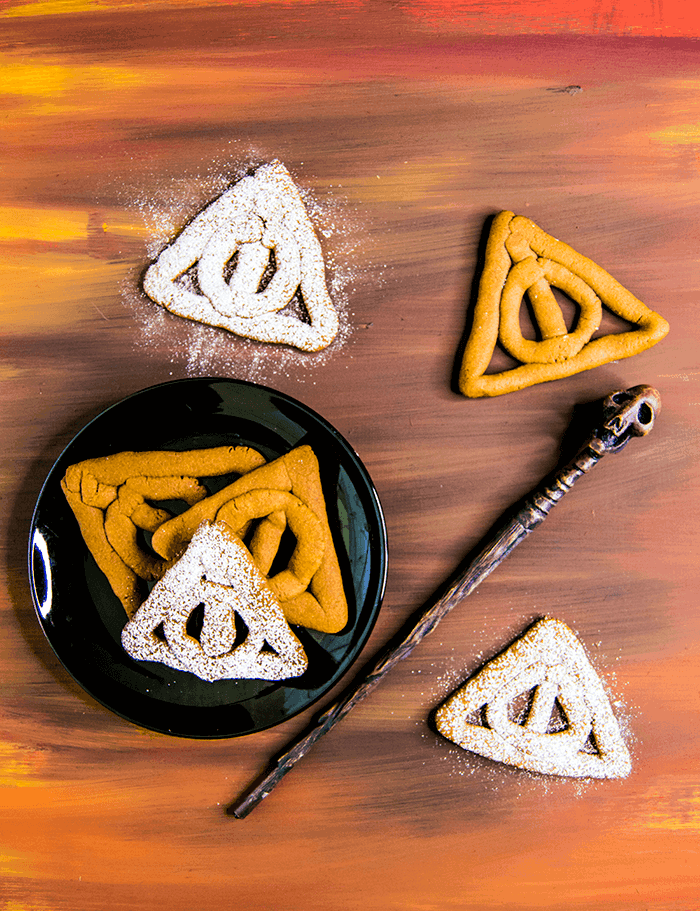 "What are you doing with all those books anyway?" Ron asked.
"Just trying to decide which ones to take with us," said Hermione. When we're looking for the Horcruxes."
"Oh, of course," said Ron, clapping a hand to his forehead. "I forgot we'll be hunting down Voldemort in a mobile library."
– Harry Potter and the Deathly Hallows

If you aren't caught up on the Harry Potter series (and lets be honest, why are you here if you haven't?) be warned there may be mild spoilers throughout this post! The Deathly Hallows represent the three super powerful magical objects that when combined, the holder can conquer Death.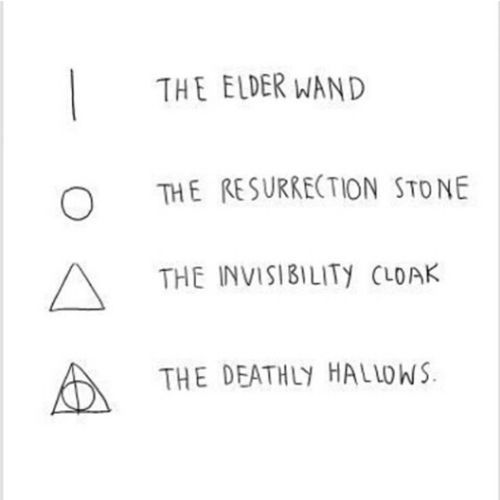 Harry Potter is the only known wizard to have ever been officially the owner of all three hallows, though never at the same time, and I'd like to think after the Battle for Hogwarts and the defeat of Voldemort that the hallows took on a new meaning – hope for the future of the wizarding world. These cookies help represent the overcoming of death, as the witches and wizards who fought hard to save the world from Voldemort, and many lost their lives doing so.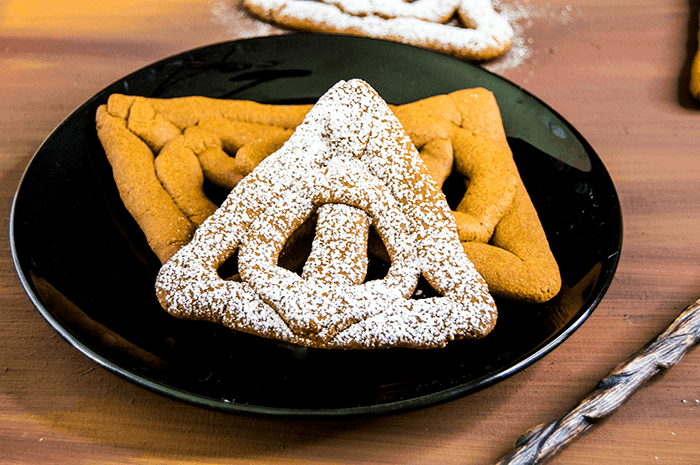 I'm hopeful that the deathly hallows will make an appearance in the next Fantastic Beasts and Where to Find Them movie, as Dumbledore and Grindelwald sought them out together. In fact, I'd be more surprised if the Elderwand doesn't take a more prominent role in one of the next four Fantastic Beasts movies!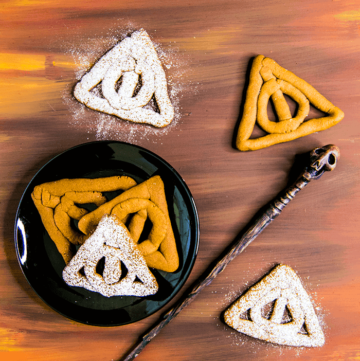 Deathly Hallows Cookies | Harry Potter Inspired Recipes
A simple gingersnap inspired cookie in the shape of the Deathly Hallows from Harry Potter.
Ingredients
2

cups

flour

2

cups

graham flour

1

cup

brown sugar

packed

1

cup

butter

room temperature

½

cup

molasses

3

tablespoons

graham cracker crumbs

1

teaspoon

baking soda

1

teaspoon

vanilla

1

egg

1

cup

powdered sugar

optional, for topping
Instructions
Preheat the oven to 350 F. In the bowl of a stand mixer, cream together the butter, brown sugar, vanilla and egg. In a separate bowl, whisk together the flours, graham cracker crumbs, baking soda and salt.

Turn the mixer on a low speed and slowly pour in the molasses. Beat until fluffy. Then add the dry mixture, 1/2 cup at a time, until totally combined.

Continue to stir the dough on low until a smooth dough forms – it shouldn't stick to the sides of the mixing bowl. Tip the dough out onto a floured surface. Knead a few times then roll into a ball. Chill for about ten minutes.

Pull of 2-3 tablespoon sized chunks off the dough. Roll into a snake-like shape, about 6-8 inches long. Form the snake into a triangle shape. Place on a baking sheet. Repeat rolling out the dough and create a single strip down the center of the triangle. Make a circle and overlap both to create the Deathly Hallows symbol.

Bake for 10-15 minutes, until golden brown and puffed up slightly. Remove and let cool on a rack. Dust with powered sugar as desired. Serve in celebration of You-Know-Who being defeated. Enjoy!