Cuban Huevos Habaneros
The Starving Chef is supported by Hungry People like you. When you make a purchase through an affiliate link on my site, I may earn a little bit of cash on the side (at no extra cost to you) to help keep my kitchen running. Read our disclosures here.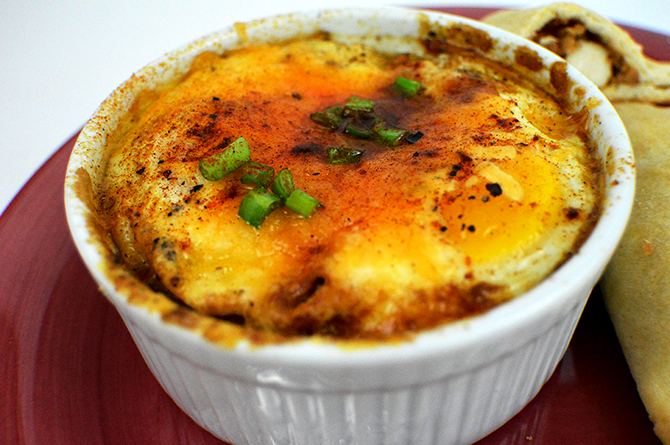 ¡Huevos Locos!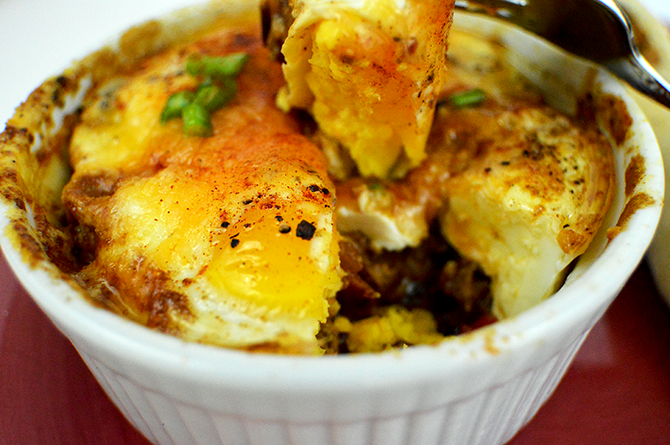 That's right people. These eggs are crazy. Crazy Spicy! Trust me, if you're an allergy sufferer, you'll want to try this recipe – it's guaranteed to clear your sinuses and leave beads of sweat on your forehead. Not convinced? Just ask the habanero I tossed into the sofrito!
This week's challenge was Cuban, so I was excited to finally get to turn up the heat!
¡Vamos!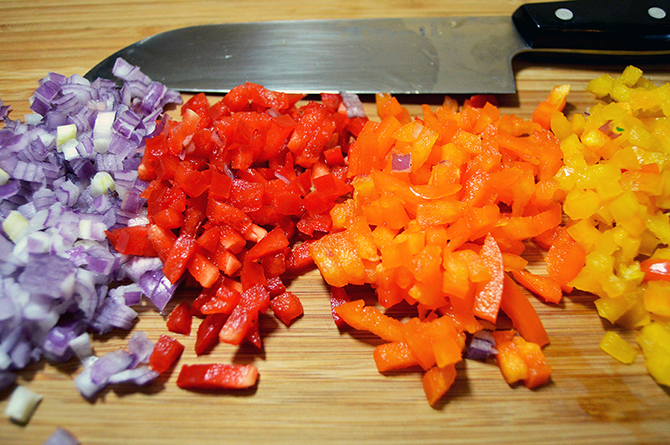 Chop to it and dice up your peppers and onions. Melt butter in a skillet over medium high heat until beginning to brown and bubble, then toss in the peppers and onions.
Stir until onion is beginning to become translucent. Here's where contact wearers (and just about everyone else) need beware. If you've never cut a spicy pepper before with your bare hands then absentmindedly rubbed your eye hours later only to scream in agony because apparently spiciness doesn't just wash off…well, I hope that horror never befalls you.
This adorable little habanero I cut while my hand was covered in a baggie. I've learned that lesson one to many times, and surely will learn it again, BUT NOT TODAY!
Stir in the tomatoes and reduce the heat just to about medium. I used cherry tomatoes because I actually HATE tomatoes, while my boyfriend, Nick, LOVES them. So as a compromise, I just leave the chunks of tomato large enough so I can pick them out of my own dish.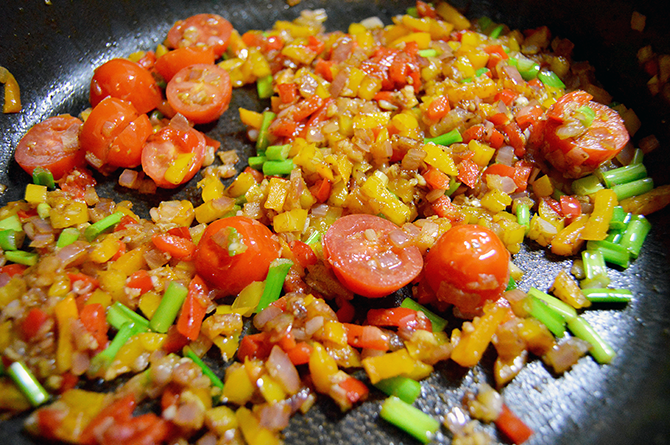 Once the tomatoes are beginning to lose their moisture, separate the sofrito into two ramekins and preheat the oven to 375 F.
Cover the pepper mix with some cheese, if you like.
Then carefully crack two eggs into each ramekin.
And toss a couple slices of butter on top.
Cook in the oven for about 15 minutes, then add some shredded cheese to the tops, then continue to cook until the egg whites are completely set. Mine took about 17 minutes and resulted in perfect soft centered eggs.
I'd be lying if I said that this big bubbly bit wasn't my favorite part. So satisfying to poke with a fork.
Garnish with green onion and a sprinkle of spicy paprika.
Be careful when serving to let the ramekins cool significantly – and remind the eater that it may be very hot!
Serve alongside some incredibly easy empanadas de pollo.
Cuban Huevos Habaneros
Super spicy huevos habaneros inspired by Cuban cuisine!
Ingredients
4

eggs

½

cup

red onion

chopped

½

cup

red, yellow & orange bell peppers

chopped

5

cloves

garlic

minced

¼

cup

tomatoes

chopped

2

habanero peppers

seeds removed & chopped

2

tablespoons

white cooking wine

2

tablespoons

cumin

2

teaspoons

paprika

4

tablespoons

butter

sliced

2

green onions

chopped

1

cup

cheddar cheese

for topping

salt & pepper

to taste
Instructions
Preheat the oven to 375 F. Start by chopping up the peppers, onions, and garlic. Add the peppers and onions to a skillet over medium high heat with 2 tablespoons of butter and saute until the onions are turning translucent. Add the garlic and stir.

Carefully dice the habanero and toss into the pan with the peppers and onions. Add the chopped tomatoes and reduce the heat to medium.

Add the cumin, paprika, and green onions to the skillet and stir until the spices have covered the mix. Add two tablespoons of white wine and bring to a boil until most of the liquid has evaporated.

Split the mix across two ramekins, or fill each ramekin about half-way with the mix. Cover with cheese, then crack two eggs in each ramekin. Place in the oven for 15 minutes.

When egg whites are nearly set, add cheese to the top and let cook another 5 minutes or until the cheese and bubbly and beginning to brown.

Allow to cool for 10 minutes, serve carefully, and enjoy! SPOILERS: IT WILL BE SPICY!