Huevos Locos: Crazy Spicy Eggs to Clear Your Sinuses!
The Starving Chef is supported by Hungry People like you. When you make a purchase through an affiliate link on my site, I may earn a little bit of cash on the side (at no extra cost to you) to help keep my kitchen running. Read our disclosures here.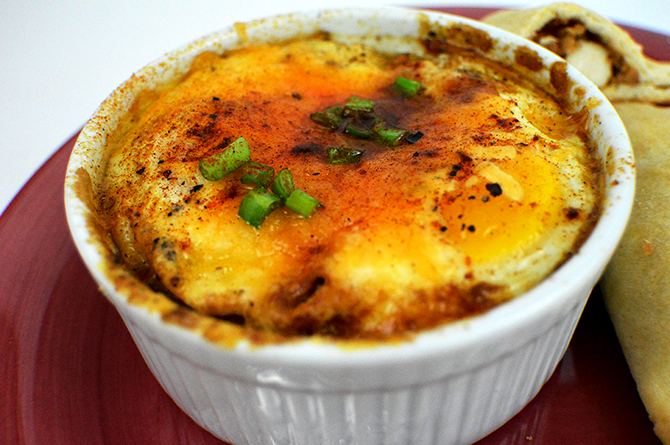 That's right, hungry people. Get ready for a recipe that will blow your taste buds away! These eggs are not for the faint of heart – they are Crazy Spicy! If you're an allergy sufferer or simply love a fiery kick in your meal, you'll definitely want to try this one.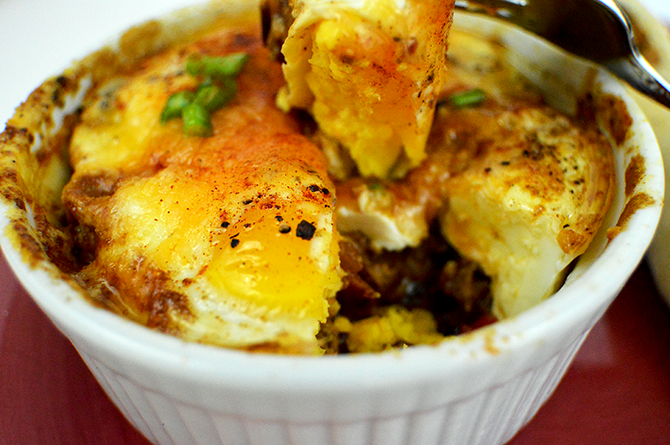 Trust me, it's guaranteed to clear your sinuses and leave beads of sweat on your forehead. Still not convinced? Just ask the habanero I tossed into the sofrito!
This week's culinary adventure took me to Cuba, and I was thrilled to finally get a chance to turn up the heat in my kitchen. So let's get started, shall we?
Here's What You'll Need:
Eggs: The main ingredient, providing the base for the dish.
Red onion: Adds flavor and texture to the pepper mixture.
Red, yellow, and orange bell peppers: Adds color, sweetness, and crunch to the dish.
Garlic: Enhances the overall flavor of the peppers and onions.
Tomatoes: Provides acidity and moisture to the dish.
Habanero peppers: Adds a spicy kick and heat to the dish.
White cooking wine: Adds depth of flavor and balances the spiciness.
Cumin: Adds warm and earthy notes to the dish.
Paprika: Adds smokiness and a hint of sweetness.
Butter: Provides richness and helps sauté the vegetables.
Green onions: Adds freshness and a mild onion flavor as a garnish.
Cheddar cheese: Melts and adds a creamy, cheesy topping.
Salt and pepper: Enhances the overall seasoning and taste of the dish.
Let's Jump Into It!
First things first, let's chop up some peppers and onions. Grab your knife and dice them up into small, flavorful pieces.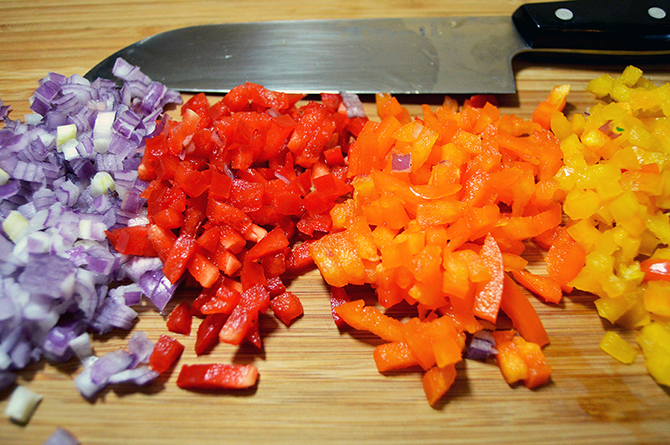 In a skillet, melt some butter over medium-high heat until it begins to brown and bubble. Then, toss in those vibrant peppers and onions.
Keep stirring until the onions start to become translucent.
SAFETY TIP!
Now, here's a little warning for you, especially if you wear contact lenses (or even if you don't). If you've never cut a spicy pepper before with your bare hands and then absentmindedly rubbed your eye hours later, you're in for a world of pain. Trust me, I've learned that lesson one too many times. So, take it from me and make sure to handle those fiery peppers with care. You might want to wear gloves or use a plastic baggie as a makeshift barrier.
Safety first, hungry people!
Once your sofrito is looking fragrant and delicious, stir in some tomatoes and reduce the heat to medium. Now, here's a little confession: I'm not a big fan of tomatoes. However, my boyfriend, Nick, absolutely loves them.
To reach a compromise, I keep the tomato chunks large enough so I can easily pick them out of my own dish. That way, everyone is happy!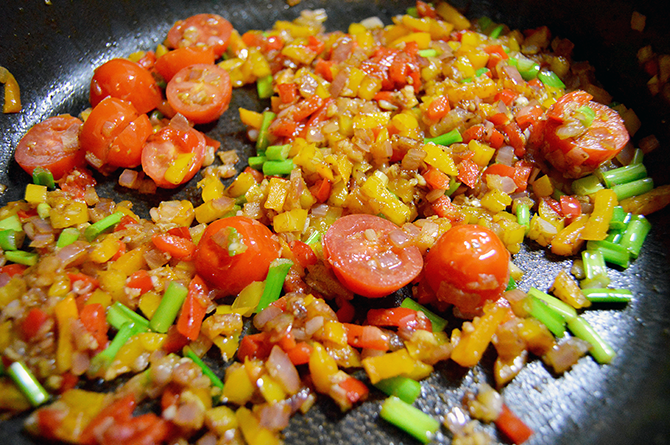 As the tomatoes start to release their moisture and the flavors meld together, it's time to divide the sofrito into two ramekins. Preheat your oven to 375°F (190°C) while you're at it.
Now, if you're a cheese lover like me, go ahead and cover the pepper mix with a generous sprinkle of your favorite cheese. It'll add a creamy and melty goodness to the dish.
Next, carefully crack two eggs into each ramekin. It's like creating little spicy egg nests! And to add an extra touch of richness, place a couple of butter slices on top of the eggs.
Pop the ramekins into the preheated oven and let them cook for about 15 minutes. Once the timer goes off, sprinkle some shredded cheese on top of the eggs, and continue cooking until the egg whites are completely set. In my case, it took an additional 17 minutes to achieve that perfect soft-centered goodness.
Now, here comes my favorite part, hungry people. As the eggs bake, they form big, bubbly pockets of delight. When you take them out of the oven, they're so satisfying to poke with a fork.
It's like breaking into a treasure trove of flavor!
To finish off these spicy eggs, garnish them with some chopped green onions and a sprinkle of spicy paprika. This will add a fresh, zesty kick and a pop of color to the dish.
Before serving, remember to let the ramekins cool significantly, as they'll be piping hot. And don't forget to remind your eaters about the heat level!
Now, these crazy spicy eggs are fantastic on their own, but if you're looking for a mouthwatering side dish, I highly recommend serving them alongside some incredibly easy empanadas de pollo. The crispy exterior and savory chicken filling will complement the eggs perfectly, creating a satisfying and flavorful meal.
Additional Tips & Tricks!
Adjust the spice level: If you're not a fan of intense spiciness, you can reduce the amount of habanero peppers or even substitute them with milder peppers like jalapeños.
Safety first: When handling hot peppers like habaneros, it's advisable to wear gloves or use utensils to avoid direct contact with your skin. The capsaicin in peppers can cause a burning sensation, so take precautions.
Customization: Feel free to customize the recipe to suit your taste preferences. You can add other vegetables like mushrooms or spinach, or even include cooked bacon or sausage for added flavor and protein.
Cheese variations: While cheddar cheese is mentioned in the recipe, you can experiment with different types of cheese such as Monterey Jack, pepper jack, or a combination of cheeses for a unique flavor profile.
Serving suggestions: The spicy eggs are delicious on their own, but you can serve them with a side of crusty bread, tortillas, or even rice to make it a more filling meal.
Preheating the ramekins: To ensure even cooking, you can preheat the empty ramekins in the oven for a few minutes before adding the ingredients. This helps the eggs cook more uniformly.
Don't overcook the eggs: Keep an eye on the eggs while they are in the oven. You want the whites to be set but the yolks to remain soft and runny. Adjust the cooking time accordingly based on your desired level of doneness.
Cooling time: Allow the ramekins to cool for a few minutes before serving. This not only prevents burns but also allows the flavors to meld together and the dish to set slightly.
Garnish creativity: Get creative with your garnishes! In addition to green onions, you can add chopped fresh cilantro, a dollop of sour cream, or a squeeze of lime juice for a burst of freshness.
Enjoy the spice journey: Embrace the spiciness and savor the HEAT!
So there you have it, hungry people!
¡Huevos Locos!
They might be crazy, but they are oh-so-delicious. Give them a try and let the spice take you on a flavor adventure you won't soon forget. Enjoy!
Cuban Huevos Habaneros
Spicy and flavorful baked eggs with a fiery kick from habanero peppers, sautéed peppers and onions, topped with melted cheese and served with a warning to handle with care – a delightful and fiery dish to awaken your taste buds.
Ingredients
4

eggs

½

cup

red onion

chopped

½

cup

red, yellow & orange bell peppers

chopped

5

cloves

garlic

minced

¼

cup

tomatoes

chopped

2

habanero peppers

seeds removed & chopped

2

tablespoons

white cooking wine

2

tablespoons

cumin

2

teaspoons

paprika

4

tablespoons

butter

sliced

2

green onions

chopped

1

cup

cheddar cheese

for topping

salt & pepper

to taste
Instructions
Preheat the oven to 375°F (190°C). Start by chopping up the peppers, onions, and garlic. In a skillet over medium-high heat, add 2 tablespoons of butter, chopped peppers, and onions. Sauté until the onions are turning translucent. Add the minced garlic to the skillet and stir.

Carefully dice the habanero peppers and toss them into the pan with the peppers and onions. Add the chopped tomatoes and reduce the heat to medium.

Add the cumin, paprika, and green onions to the skillet. Stir until the spices have covered the mixture. Pour in two tablespoons of white wine and bring to a boil until most of the liquid has evaporated.

Split the mixture across two ramekins or fill each ramekin about halfway with the mixture. Cover the mixture with cheese, then crack two eggs into each ramekin. Place the ramekins in the preheated oven and bake for 15 minutes.

When the egg whites are nearly set, add cheese to the top and let it cook for another 5 minutes or until the cheese is bubbly and beginning to brown.

Allow to cool for 10 minutes, serve carefully, and enjoy! SPOILERS: IT WILL BE SPICY!