Scotch Eggs | British Food
The Starving Chef is supported by Hungry People like you. When you make a purchase through an affiliate link on my site, I may earn a little bit of cash on the side (at no extra cost to you) to help keep my kitchen running. Read our disclosures here.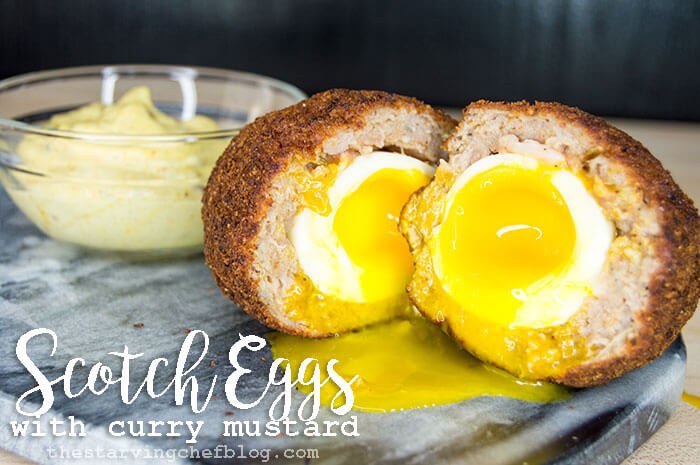 Scotch eggs – or savory (erm, savoury?) eggs – are apparently extremely popular in the UK and can be found practically at every super market. Having never been to the UK myself, I figured this was the closest way to get a taste for myself! These sausage wrapped soft eggs are absolutely delicious – something I've found myself craving ever since I made them! And despite the fact that most of my knowledge of British food comes from the Harry Potter books, I tried to really hard to find the most authentically British recipe out there for this week's challenge, and this is apparently it.
To start, soft boil some eggs. Aim to boil them only for 5-7 minutes, so that the center is still runny. Mine were essentially poached in their shells, making them very fragile to work with. It's important to also let them chill in an ice bath while preparing the meat, to stop them from overcooking.
The outer part of Scotch eggs are made from a combination of ground pork and bread crumbs, along with an array of seasonings. I used a ground Italian sausage for my meat, since I was actually unable to find any just plain ol' ground pork. Close enough for me, though.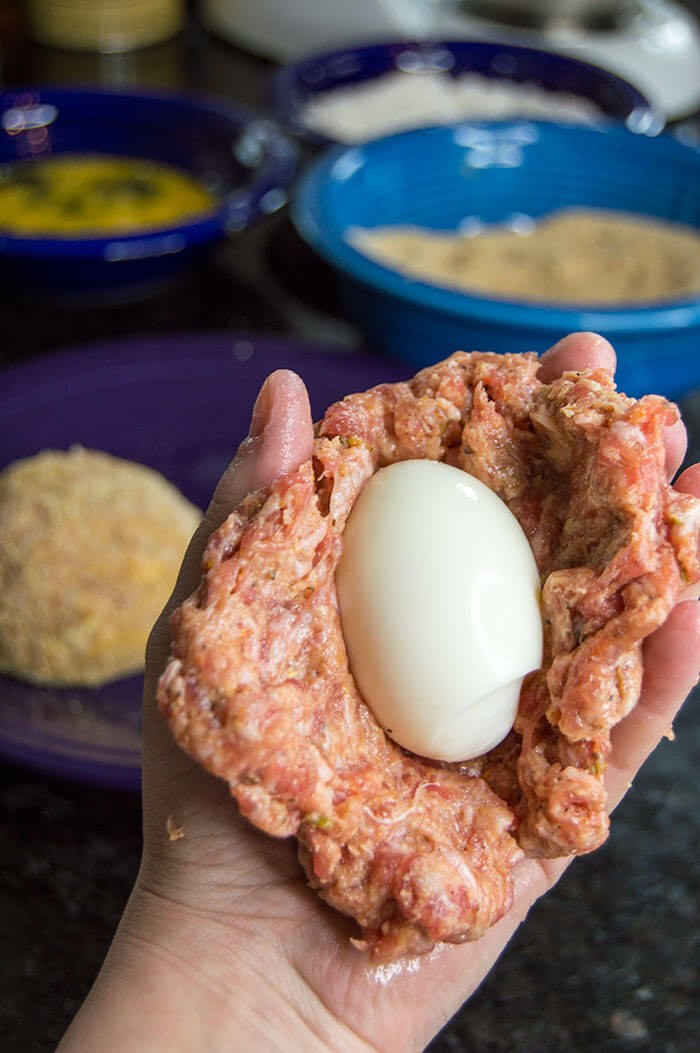 The hardest part of this recipe for me was peeling the eggs – I boiled mine for around five minutes for an extra runny middle, so they were essentially poached in their shells. I had a couple pop while I prepared them, but for the most part, they held up nicely.
Dredge the sausage wrapped eggs in flour, then roll in some seasoned breadcrumbs until completely covered.
After that, just pop them into a deep fryer or pot of hot oil at 350 F and fry until the eggs are a dark golden brown.
While the Scotch eggs cooled to an edible temperature, I whipped up an easy curry mustard for delicious dipping.
The end result was this…
…which admittedly is NOT that appealing. But man, when you slice a Scotch egg open, you are in for a treat. Yolk porn, if you will. You Brits sure know what you are doing…flavor-wise at least!
Scotch Eggs | British Food
An American version of the British classic recipe for Scotch Eggs!
Instructions
Fill a large pot or deep fryer with 2-3 inches of oil and bring to 350 F. While the oil is heating, whisk two eggs in a bowl. Fill a separate pot with water and bring to a boil. Boil the remaining eggs for 5-7 minutes, for a soft center, 8-10 minutes for a hard center. Remove from the boiling water and place in an ice bath. Lightly crack shells to make peeling easier.

Use a stand mixer to mix together the sausage, half of the bread crumbs and the nutmeg, parsley, and dry mustard. Divide the meat into four even sized portions.

Carefully peel the eggs. Take one portion of the sausage mixture and flatten into a thin patty. Place the peeled egg in the center and wrap the meat around the egg so that it is encased in the middle. Repeat with the remaining eggs and meat.

Put the flour in one bowl and the breadcrumbs in another. Season with salt and pepper. Roll the sausage in flour so it is completely covered, then roll in the whisked eggs, and finally place into a bowl filled with bread crumbs so it is coated in crumbs.

Transfer the eggs to the hot oil. Fry for 8-15 minutes, or until the sausage is dark brown and cooked through. Use a slotted spoon to remove the Scotch eggs from the oil and place on a paper towel lined plate. Let cool for five minutes.

In a small bowl, whisk together the mayonnaise, yellow mustard, curry powder and whole grain mustard. Serve alongside a hot Scotch egg.