Tandoori Chicken Naanwich
The Starving Chef is supported by Hungry People like you. When you make a purchase through an affiliate link on my site, I may earn a little bit of cash on the side (at no extra cost to you) to help keep my kitchen running. Read our disclosures here.
What's Up, Hungry People!
Ever get bored with the same ol' burger? Trust me, I get it. I've tried them all—Thai turkey, flying bison, you name it.
But this time, the craving for Indian flavors hit us hard, and I found myself staring at some ground chicken. And that's when it clicked—Tandoori Chicken Naanwich!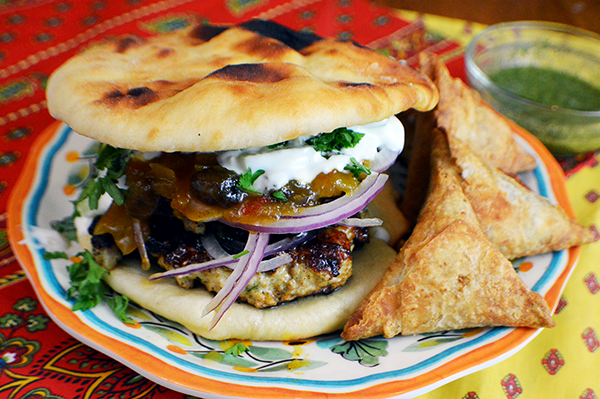 The Show-Stealer: Naan Buns & Condiments
Let's Cook! What sets this burger apart isn't just the curry-kissed chicken patty; it's the naan 'buns' hugging it. And don't even get me started on the homemade mint chutney that I originally made for my samosas (okay, fine, those were from a store, but come on, they were still awesome!).
Here's What You Need
Ground Chicken: Serves as the base protein for the patties, bringing a lighter texture and flavor compared to beef.
Yellow Curry: Adds a vibrant, aromatic spice blend to infuse the chicken patties with Indian-inspired flavors.
Onion Powder & Garlic Powder: Provide depth and complexity to the chicken mixture, making it aromatic and savory.
Cumin: A grounding spice that enhances the earthy, smoky flavors of the chicken patty.
Garam Masala: A quintessential Indian spice blend adding warmth and complex spice notes.
Fresh Parsley: Adds color and freshness, used both in the patty and as a garnish.
Cardamom Pods: The seeds give a unique, aromatic sweetness that elevates the meat mixture.
Golden Raisins: Introduce a touch of natural sweetness that contrasts with the spices.
Red Onion: Provides texture and pungency, enhancing the overall flavor profile.
Green Onion: Adds a mild oniony taste and vibrant color, used in the mixture and as garnish.
Plain Greek Yogurt: Creates a tangy and creamy sauce, balancing the spiciness of the patty.
Ghee: Used to grease the skillet, it adds richness and authentic flavor to the cooking process.
Cucumber: Used in the yogurt sauce for a cool, refreshing crunch.
Lemon Juice: Brightens up the yogurt sauce with a burst of citrusy acidity.
Naan Breads: Serve as the "bun" for the naanwich, bringing an Indian twist to the traditional burger setup.
Major Grey's Chutney: Adds a sweet and tangy component, complementing the savory aspects of the naanwich.
Salt & Pepper: Basic seasonings to enhance all the flavors, making them pop.
This recipe definitely calls for a lot of Indian inspired spices like garam masala, cardamom, and curry powder. Another essential is ghee, which is a clarified butter used in many Indian recipes. I made the yogurt sauce from plain greek yogurt and cucumbers, but relied on my mango chutney from a jar. Whatever you decide to put in your chicken burger is up to you, so be creative!
Prepping the Naan
I prepared my naan the night before using my pizza stone naan recipe, but store-bought naan is a solid plan B. You can usually find it frozen among other ethnic foods or fresh in the bakery section.
Let's Cook!
Combine all those fragrant spices and parsley in a large bowl with the chicken. Next, chop your red and green onions and toss them into the mix, keeping some green onions to sprinkle on top later. Add in the mango chutney and raisins to the bowl and get everything well incorporated.
Patty Formation & Seasoning
Form four evenly-sized patties, each weighing just above a quarter pound. Give them a sprinkle of salt and pepper. Now, you'll want to let them chill for an hour—trust me, ground chicken is a bit more temperamental than your regular beef patty. It needs some "me" time to firm up.
The Sauce & Chill Time
While the patties are doing their thing, whisk together cucumber, lemon juice, and Greek yogurt to make a cooling cucumber sauce. Let that chillax in the fridge as you get on with the rest.
Perfecting the Patty
Cooking these guys is a balancing act. You don't want to overdo it, but no pink interiors, please! Lower heat for a longer time is the way to go. Aim for a golden-brown exterior and an internal temperature of 160°F or until the juices run clear.
Assemble Your Naanwich
Slap those chicken patties between two pieces of naan and crown them with the leftover green onions, parsley, a dollop of mango chutney, and your freshly made yogurt sauce. Serve it up with samosas and that mint chutney I was raving about earlier.
Tips & Tricks for Naanwiches
Use Fresh Spices: If your spices have been sitting in the cabinet for a while, consider getting fresh ones. Stale spices can make your dish less flavorful.
Chill the Patties: Make sure to chill the patties for at least an hour. Ground chicken is softer than beef and can fall apart easily while cooking.
Temperature Check: Use a meat thermometer to ensure the chicken patties reach an internal temperature of 160-165°F. This guarantees they're cooked through but not dry.
Sauce Consistency: If your Greek yogurt sauce turns out too thick, you can thin it with a little water or extra lemon juice.
Non-Stick Pan or Skillet: Ground chicken tends to stick. Using a non-stick skillet or a well-greased grill helps in easy flipping of the patties.
Cardamom Pods: Make sure to use only the seeds and discard the shells. The shells can add a woody texture you'll want to avoid.
Naan Bread Options: If you can't find naan, you can use pita bread or even large lettuce leaves as a gluten-free option.
Toppings: Feel free to switch up the toppings! Try adding some sliced jalapeños for a spicy kick or some avocado slices for creaminess.
Chutney Choices: If you can't find Major Grey's chutney, any mango or fruity chutney will do. Just watch out for varying sugar levels.
Handling Ghee: It solidifies when cool, so make sure it's melted before brushing onto the skillet or grill.
Batch Cooking: This recipe is great for meal prepping! Just form the patties and freeze them individually, then cook as needed.
आनंद लें!
And that's how you turn a simple craving for Indian food into an epic Tandoori Chicken Naanwich that'll have your taste buds dancing! Whether it's a weeknight dinner or you're looking to impress, this naanwich checks all the boxes—flavor, creativity, and that homemade touch.
Until next time, keep those adventurous cravings alive, Hungry People!
Tandoori Chicken Naanwich
Experience a fusion of flavors with this tandoori chicken naanwich, where spiced ground chicken patties meet soft naan, tangy yogurt sauce, and a burst of vibrant chutneys.
Instructions
Mix the ground chicken meat with the yellow curry, onion and garlic powder, cumin, and garam masala. Separate the cardamom seeds from their pods and finely grind the seeds. Add to the meat and spice mixture.

Combine the raisins and Major Grey's chutney into the ground meat along with the chopped red onions and half of the chopped green onions. Chill for at least one hour for the flavors to develop and to make the patties easier to handle.

While the meat chills, stir together the lemon juice, cucumber, and plain Greek yogurt. Chill until ready to serve.

Form the chilled meat into 4 patties, then season with salt and pepper. Heat a skillet or grill to medium temperature then grease by brushing with melted ghee. Sear the chicken patties on both sides and cook until no longer pink in the center, or until the internal temperature reaches 160-165°F. Make sure the juices run clear. Let the chicken patties rest, off the heat, for a few minutes before plating.

Serve the patties between two pieces of naan. Top with the cucumber yogurt, any remaining Major Grey's chutney, sliced red onions, and fresh parsley (or cilantro!) Enjoy!