Aang Rolls | Earth Kingdom | Legend of Korra Recipes
December 15, 2015 | Legend of Korra, Avatar, Sushi, Fruit
Super Hungry? Jump to the Recipe
As we continue our journey through the Avatar universe, we find ourselves with the ever so important, however obscure, fishmonger who prides himself on his Aang Rolls, named for the previous Avatar who once visited his stand. Aang was so impressed by the fishmonger's seaweed wraps that the fishmonger named the treat after him.
While the fishmonger never says what exactly was contained in the seaweed rolls, I'd like to thing that since Avatar Aang was a vegetarian - and fond of sweets - that his roll would be a dessert roll! Filled with strawberries, bananas, and cream cheese, I know these delicious rolls would have certainly been a hit with the Gaang.

Make the sushi by first washing it until the water runs clear, then use the first knuckle rule to ensure the perfect rice. Let the rice cool to room temperature.
I love making sushi, though this is the first time I think I've ever blogged about it. A few tricks I've learned over the years: always keep a bowl of water near by to keep your fingers and utensils wet - this keeps the very sticky rice from sticking to your hands and spoon while working with it. Second thing I've learned - always wrap plastic around your sushi mat!

Arrange the strawberries and bananas on the seaweed or rice, then whatever rolling method you decide to use, roll the sushi into a cylindrical shape.
Make sure you roll the sushi tight or else it might fall apart between your chopsticks and your mouth.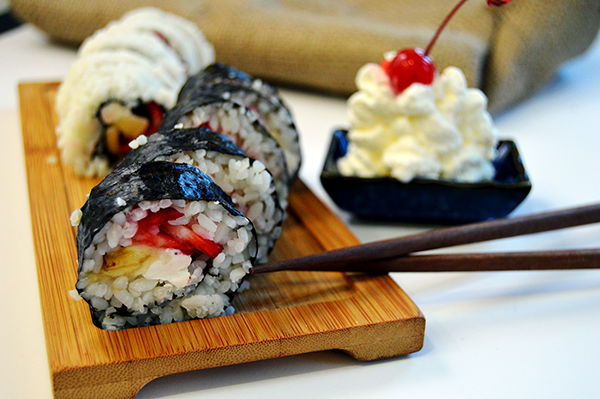 Serve the sushi at room temperature. I included some whipped cream with my Aang Rolls to really sweeten up the dessert. I'd like to think that Aang would have really enjoyed these rolls as much as he's enjoying the ones in the fishmonger's picture.

Shop this Post
Aang Rolls
Prep Time: 25 minutes
Cook Time: 25 minutes
Total Time: 48 minutes
Ingredients
2 sheets nori
2 cups rice + 2 cups water
4 strawberries, sliced thin
1 banana, sliced
¼ oz cream cheese, chilled and cut into strips
whipped cream, for dipping (optional)
Mouth Feel
Salty
Savory
Sour
Bitter
Sweet
Spicy
Instructions
Rinse the rise thoroughly until the water runs clear. Cover the rice with about 1/2 inch of water and bring to a roiling boil. Place a lid on the rice and reduce the heat to low for 20 minutes and do not remove the lid! Fluff the steamed rice with a fork, then let cool to room temperature.
On a plastic wrapped sushi mat, lay out the nori and top with the strawberries, bananas, and cream cheese. Tightly wrap each roll. Remove the sushi rolls and cut into evenly sliced pieces.
Serve with whipped cream and enjoy with your favorite Avatar.
Print