Peppercorn Crusted Filet Mignon with Sea Scallop Filling
The Starving Chef is supported by Hungry People like you. When you make a purchase through an affiliate link on my site, I may earn a little bit of cash on the side (at no extra cost to you) to help keep my kitchen running. Read our disclosures here.
Tonight, this chef is not starving. While my usual approach to cooking is to buy cheap cuts, use value brand ingredients, and just cut corners in general, today is not an average day. My boyfriend, Nick, and I celebrated our third anniversary, so naturally, I had to go all out for this meal. Since our anniversary conveniently lined up with this surf 'n' turf theme, filet mignon and fresh scallops had to be on the menu. Nick will tell you I bought all of this stuff just for a blog post, and not specifically for our anniversary, and I don't know why he's complaining since this means he doesn't have to take me out to an anniversary dinner. So really, we're both benefiting from this meal.
This will literally smell so good, your neighbor's daughter will exclaim loudly while walking up the stairs to their apartment, "Ohhh my god, it smells sooooooooo goooooood!" Begin by cooking your bacon and add the scallops once the bacon is turning crisp. Cook the scallops in the bacon grease for extra amazing deliciousness.
While the bacon and scallops fry, grind peppercorns and coarse salt all over your fillets. Note the paper plate, in true Starving Chef fashion.
Once your bacon is nice and crispy, pat dry with a paper towel then chop finely.
Do the same with the scallops. Such shame to chop these perfectly seared scallops.
Add the bacon and scallops to a small bowl with the cream cheese, egg, garlic, and green onions.
Stir gently to combine so you don't make the scallops disintegrate – inevitably they will start to fall apart regardless, so just be sure to leave some big chunks.
Then slice a horizontal cut down the side of your steak and spread gently to add the filling. If you have cooking twine, you can use it here to hold the stuffed steak together. I however, do not have cooking twine, so I risked it.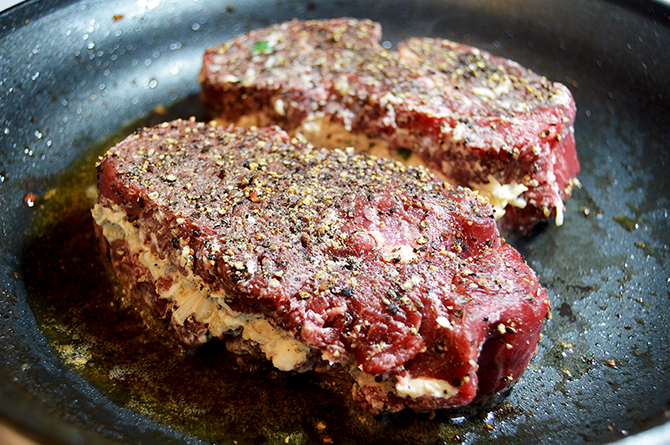 Heat some oil or butter over medium high heat until almost smoking, then add the filet mignon.
At about 4-5 minutes per side, sear until it reaches an internal temperature of 120F for a perfectly rare steak. I love my steak rare and my filet mignon rarer. And there you have it: Filet Mignon stuffed with sea scallops!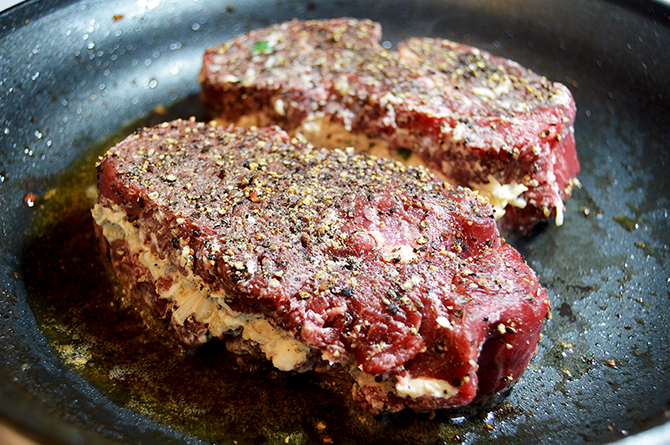 Peppercorn Crusted Filet Mignon with Sea Scallop Filling
Tender filet mignon stuffed with scallops!
Ingredients
2

32 oz filet mignon steaks

room temperature

6

sea scallops

3

slices

bacon

2

oz

cream cheese

room temperature

2

tablespoons

garlic

minced

1

egg

1

green onion

chopped

salt & pepper

to taste
Instructions
Start by cooking your bacon until crispy. When about halfway done, add the sea scallops to the pan to cook in the bacon grease for about 1-2 minutes per side.

Using a pepper grinder, grind up peppercorns and sea salt onto the tops and sides of your filet mignon and bring to room temperature.

Remove the bacon and pat dry with a paper towel to remove any excess grease. Take the scallops out of the pan and pat dry, chop both finely.

In a medium bowl, mix together the cream cheese, scallops, bacon, garlic, green onions, and an egg. The scallop will likely start to fall apart/begin to shred, so only mix until combined and leave it chunky.

Cut a horizontal slice into the side of your steaks then use a spoon to stuff as much filling as you can inside. Use cooking twine to secure your steaks, if desired.

Heat oil (or butter) in a pan over medium high heat. Add the steaks and good for about 4-5 minutes per side for a rare steak, 6-8 per side for medium to well, or until desired doneness.

Rest steaks 10 minutes prior to serving. Serve alongside potatoes, salad, and some surf 'n' turf shrimp bites as an appetizer! Enjoy!